Security
Runecast 6.1 Released with New Features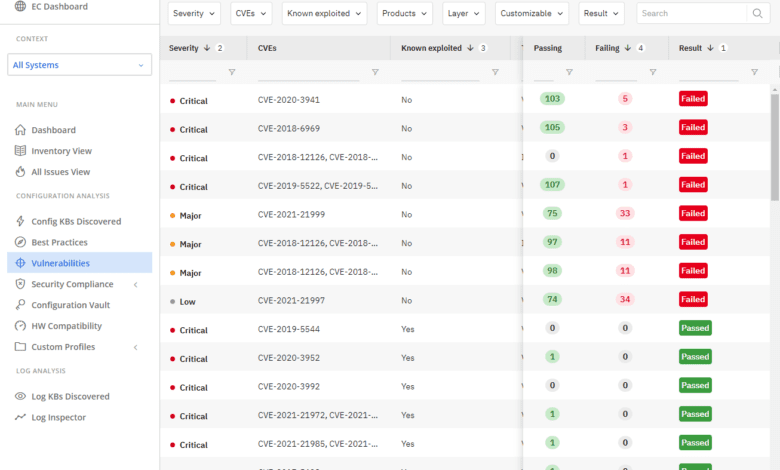 As today's organizations are tasked with managing a wide range of IT systems that transcend beyond on-premises datacenter into cloud environments and everything in between. Hybrid cloud is the new stance of most organizations where a combination of on-premises and cloud resources are used across the board for mission-critical services. Many are now using Kubernetes with their application modernization initiatives. All of these different types of infrastructure and many different technologies from on-premises to the public cloud mean tremendous challenges in terms of security and other concerns. Runecast is a solution that I have long written about and have been impressed with since its early days as a VMware analyzer. However, Runecast has matured and expanded its focus. This fact is clearly seen with the recent release of Runecast 6.1. Let's take a look at Runecast 6.1 released with new features and see how the platform has expanded.
Runecast 6.1 – Expanded focus, technologies, and features
With Runecast 6.1, as mentioned at the outset, Runecast has certainly expanded and grown the Runecast solution far beyond its origins as a VMware best practices analyzer. While it is still arguably the best VMware analyzer on the market, it is now much more than that. Runecast has evolved to become a robust Cloud Security Posture Management (CSPM) platform that allows businesses to audit the security of private cloud data center technologies like VMware vSphere, VMware Horizon, VMware NSX-T, but also public cloud technologies such as AWS and Azure.
In addition, Runecast is now a very powerful Kubernetes Security Posture Management (KSPM) tool that provides businesses running Kubernetes in their environments to audit these for the latest security guidance and posture management analysis. Note the following quote from Runecast:
Runecast is a fully featured enterprise platform that enables your IT teams to save time and energy. The Runecast team of developers and engineers have put their heart and soul into making our platform the best it can be for the CISOs, CIOs, Security and Operations teams that need it most

Runecast 6.1 | New UI & Organizations feature
New features of Runecast 6.1
Note the following new features of Runecast 6.1.
Organizations
Replicate your company structure and allow only required teams to view or manage the systems they are responsible for. The new organizations feature provides a way to run a single Runecast environment and have different teams, departments, and divisions responsible for oversight of their respective area of management. For example, many businesses may have a different team taking care of their vSphere environment compared to their Azure or AWS environments.
In addition, you can carve up the same resources based on departments as well. For example, you could have physical assets located in one part of the world managed by one team, while assets located in a different data center are managed by a different department. All of these configurations are supported in the Runecast interface. You can also align Runecast permissions and visibility based on your Active Directory/LDAP directories. Users can also be assigned to multiple "organizations" and switch between the view they want to see.
Keep in mind, this is different than the Enterprise Console concept where you can see multiple Runecast appliances in a single view. The new organizations feature is for multiple departments within the same Runecast appliance.
KEV correlation
Prioritize reported issues based on correlation with Known Exploited Vulnerabilities (KEV) catalog, containing CVEs exploited in the wild. Runecast is one of the first solutions to include the CISA catalog of Known Exploited Vulnerabilities (KEV). This is a catalog of vulnerabilities that are known to be exploited in the wild.
This is great information to have since it allows businesses to truly prioritize those vulnerabilities found in their environment by Runecast which are actively exploited.
More security profiles
OS support is extended with coverage of DISA STIG profile. vSphere can be evaluated against GDPR. Compliance requirements are only going to increase. Runecast helps to provide the single-pane-of-glass interface across environments for compliance monitoring.
All new issue lists
Unlock new powerful ways of observing, filtering, inspecting, and resolving all the reported issues. The new UI tweaks in Runecast allow IT admins to become more efficient and have better ways of viewing issues across the board. In Runecast, the information you need to see is always a simple click away and Runecast is continuing to add more tweaks with each version to ensure this is the cast in every view.
Final notes
Runecast 6.1 strongly shows the continuing evolution of Runecast from just an analyzer tool to a powerful security solution that covers on-premises and hybrid cloud infrastructure from VMware vSphere, operating systems, VMware Horizon, VMware NSX-T, VMware Cloud Director, AWS, Azure, Kubernetes, compliance standards, security audits, and much more. If organizations are serious about ensuring they have a single view of their compliance and security posture across clouds (private and public), Runecast delivers.
Download a free trial of Runecast 6.1 here:
Read my other Runecast posts here: