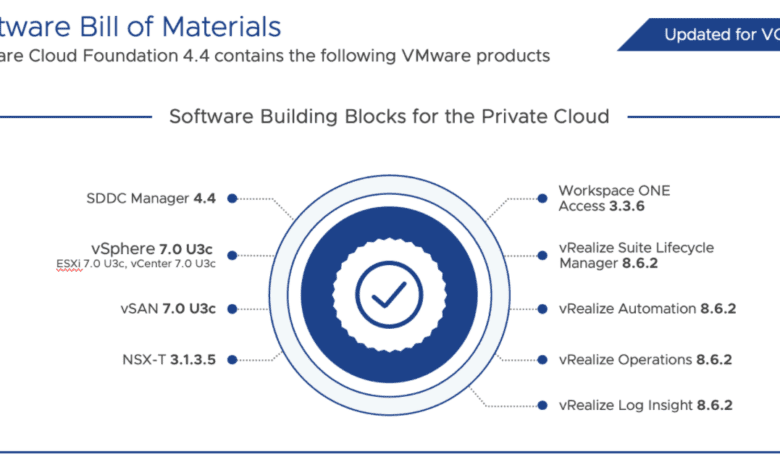 VMware Cloud Foundation provides an all-in-one solution for a complete SDDC stack that can be delivered on-premises and in the cloud. Recently VMware announced the news that VMware Cloud Foundation VCF 4.4 was released with new features. Let's take a look at the latest release of VMware Cloud Foundation VCF 4.4 and see what new capabilities are included with this latest release.
What is VMware Cloud Foundation (VCF)
Before we look at the latest features in VCF, let's see what VMware Cloud Foundation is exactly. VMware Cloud Foundation is a hybrid cloud platform solution from VMware that provides a complete set of software-defined services. These include storage, networking, compute, and built-in security services in an automated solution that can be used for enterprise applications, including on-premises and containerized workloads. It simplifies the deployment, management, and automation of everyday hybrid cloud activities to provide a single integrated solution.
What benefits does it provide?
It provides key benefits including the following:
Faster time to market – 15x faster time to market by helping to accelerate deployment, testing, bring-up, configuration, and provisioning
Easier deployments – As stated, deployment is easier
Lower TCO – Lowering complexity of operations has a direct impact on TCO. VCF can help to reduce TCO by 30-40%
Forward-looking infrastructure that is future-proofed – VCF provides the ability to run traditional (virtual machines) and modernized (containerized) workloads
Integrated Stack – The VCF solution is engineered to integrate the entire VMware SDDC stack with guaranteed interoperability, reliability, and other benefits
Standardized architecture – VCF is built using the VMware Validated Design architecture to eliminate the risk of misconfiguration
Automated lifecycle management – VCF provides unique lifecycle managemet that helps to automate day 0 to day 2 operations
VMware Cloud Foundation VCF 4.4 Released with New Features
What new features are found with the VMware Cloud Foundation VCF 4.4 release? As with previous releases of VCF, the underlying components that make up the VMware SDDC stack are generally updated to newer releases along with the VMware SDDC Manager.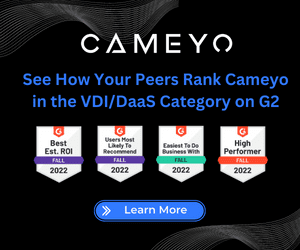 The following new products are part of the bill of materials for VMware Cloud Foundation 4.4:
VMware SDDC Manager 4.4
vSphere 7.0 Upate 3c with Tanzu
vCenter Server 7.0 Update 3c
vSAN 7.0 Upate 3c – supporting enhanced cloud native storage, integrated file services, etc
vRealize Suite – vRealize log insight 8.6.2, vRealize Operations 8.6.2, and vRealize Automation 8.6.2
NSX-T 3.1.3.5 – provides security patches for NSX-T
VMware Workspace ONE Access 3.3.6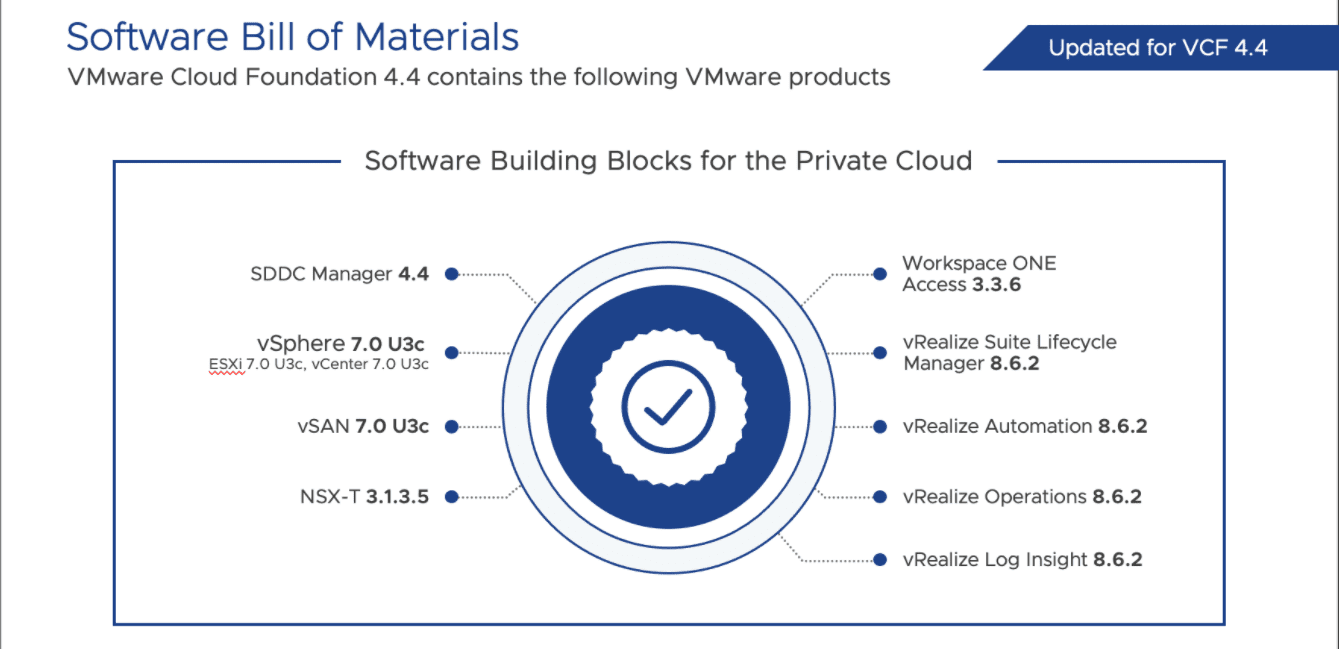 With the underlying component upgrades with VCF 4.4, what new features are exposed with the new release? Per the official VMware blog post covering the VCF 4.4 release, the following new features are part of VMware Cloud Foundation 4.4:
Enhanced AI/ML workload support with NVIDIA AI Enterprise Suite and ability to share vGPUs across multiple instances (read this blog for more details).
Flexible vRealize Product Upgrades:  After upgrading to VCF 4.4, customers will be able to upgrade vRealize products directly through vRealize Lifecycle Manager, instead of waiting for a newer release of VMware Cloud Foundation that has the required vRealize product versions, to become available. Deployment and Upgrade of vRealize products will be managed through vRealize Lifecyle Manager.
Improvements to upgrade prechecks: Upgrade prechecks have been expanded to verify filesystem capacity, file permissions, and passwords. These improved prechecks help identify issues that you need to resolve to enable a smooth upgrade.
Disable SSH on ESXi Hosts : This release allows SSH service to be disabled on ESXi hosts in a VCF instance, following the vSphere security configuration guide recommendation 
User Activity Logging : New activity logs will capture all the API invocation calls, along with sufficient User context. User Login/Logout to the UI will also be captured
Security fixes: This release includes security fixes for Apache Log4j Remote Code Execution Vulnerability (CVE-2021-44228 and CVE-2021-45046, see VMSA-2021-0028 for more information) and Apache HTTP Server (CVE-2021-40438).
As mentioned VCF build 4.4 new features are added by the underlying components upgrades as part of the bill of materials.
Other VMware Cloud Foundation posts
Take note of the other VMware Cloud Foundation posts I have written in the past here:
Concluding thoughts
The VMware Cloud Foundation platform continues to get better, more feature-rich, and more capable traditional/modern workload platform. Learn more about VMware Cloud Foundation here: