vSphere 7
New vCenter Server 7 Update 3c Pre-Update Check Problematic hosts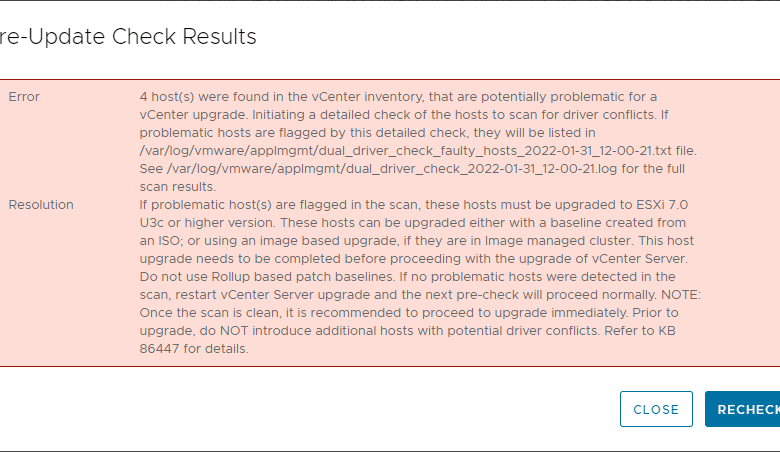 The vSphere 7 Update 3c update dropped just a few days ago and undoubtedly you guys have started updating your home lab environments and possibly even your production environments. With the vCenter Server 7 Update 3c release, VMware has introduced some new pre-update checks to find hosts that may have potential issues with the faulty drivers if you had updated to ESXi 7.0 Update 3 before the release was pulled. Let's take a look at the new vCenter Server 7 Update 3c pre-update check problematic hosts finding and see what this looks like.
Faulty vSphere 7 Update 3 release
If you recall, the original ESXi 7.0 Update 3 release was pulled from the VMware download site due to faulty drivers that could lead to failed upgrades that left hosts in a bad state. However, many, including myself had already upgraded hosts to the original update 3 release before the release was pulled.
VMware has gone back and revisited the upgrade process and added some additional checks in the vCenter Server 7 Update 3c upgrade process to find hosts that contain the faulty third-party driver versions that can lead to issues.
New vCenter Server 7 Update 3c Pre-Update Check Problematic hosts
What will you see with the new pre-update check to find problematic hosts? In my home lab environment, running the original ESXi 7.0 Update 3 release, when attempting to upgrade my vCenter Server 7.0 original update 3 release to 3c, I saw the following error when running the upgrade.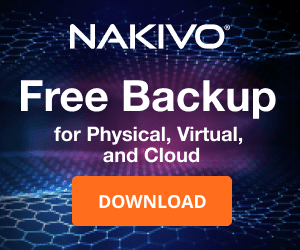 The precheck states:
4 host)s) were found in teh vCenter inventory that are potentially problematic for a vCenter upgrade. Initiating a detailed check of the hosts to scan for driver conflicts. If problematic hosts are flagged by this detailed check, they wll be listed in /var/log/vmware/applmgmt/dual_driver_check_fault_hosts_2022-01-31_12-00-21txt fil. See /var/log/vmware/applmgmt/dual_driver_check_2022-01-31-12-00-21.log for the full scan results.
Resolution: If problematic host(s) are flagged in the scan, these hosts must be upgraded to ESXi 7.0 U3c or higher version. These hosts can be upgraded either with a baseline created from an ISO, or using an image based upgrade, if they are in image managed cluster. This host upgrade needs to be completed before proceeding with the upgrade of vCenter Server. Do not use Rollup based patch baselines. If no problematic hosts were detected in the scan, restart vCenter Server upgrade and the next pre-check will proceed normally. NOTE Once the scan is clean, it is recommended to proceed to upgrade immediately. Prior to upgrade, do NOT introduce additional hosts with potential driver conflicts. Refer to KB 86447 for details.
As you can see above, we are required in this case to deviate from the normal order that we are used to doing for years now with running the vCenter Server upgrade first and then the ESXi hosts. In this case, you have to upgrade the ESXi hosts to ESXi 7.0 Update 3c BEFORE you can upgrade your VCSA to vCenter Server 7.0 Update 3c.
It feels odd to upgrade ESXi before vCenter, but in this special case, it is required
Upgrading to ESXi 7.0 Update 3c
In my physical home lab cluster, I am still using Update Manager, soon to swap to vLCM. However, I quickly uploaded an ESXi 7.0 Update 3c ISO and was able to get the hosts updated to U3c. You can easily do this with the vSphere Lifecycle Manager image-based process as well.
Create a new Update baseline to update to vSphere 7.0 Update 3 using the uploaded ISO.
Attach the new Upgrade baseline to your ESXi hosts that need to be upgraded to ESXi 7.0 Update 3c.
After applying the baseline, remediate your ESXi hosts using the newly created ESXi 7.0 Update 3 baseline.
After upgrading my ESXi hosts in the cluster to ESXi 7.0 Update 3c, I was then able to upgrade to vCenter Server 7 Update 3c.
Wrapping Up
The new vSphere 7 Update 3c release has some quirks due to the previously pulled Update 3 release back in November 2021. It requires you to upgrade your ESXi hosts BEFORE vCenter Server if you are running the problematic ESXi version. The new New vCenter Server 7 Update 3c Pre-Update Check Problematic hosts routine helps to flush out any hosts that need to have the altered workflow for the upgrade process.