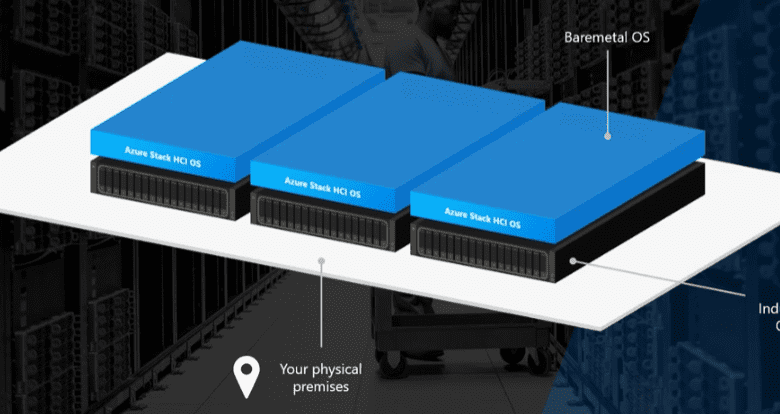 Recently, at Microsoft Ignite, Microsoft announced Azure Stack HCI 21H2 Released Download New Features and detailed some really nice enhancements. Let's detail these.
What is Azure Stack HCI?
In case you haven't heard of Azure Stack HCI, it is the new hyper-converged infrastructure (HCI) operating system running on-premises, delivered as an Azure service. It provides the latest security, performance, and hybrid capabilities. These capabilities include Azure Arc and new management scenarios through the Azure portal. It allows you to run Windows and Linux virtual machines in your data center or at the edge using existing tools.
If you have been using Hyper-V in your enterprise data center, this is the next evolution of virtualization on-premises. It combines the features that you know of with the Hyper-V role and technologies such as Storage Spaces Direct (S2D) and delivers this as-a-Service. As you will see below with the new features announced with Azure Stack HCI 21H2, there will be features and functionality with Windows that you will only get with Azure Stack HCI and not on any other platform.
Azure Stack HCI 21H2 Released Download New Features
What's new with Azure Stack HCI? The new Azure Stack HCI 21H2 features include the following
Windows Server enhancements and announcements
Windows for desktops, laptops, and clients
Azure Kubernetes Service on Azure Stack HCI
Arc-enabled PaaS services on Azure Stack HCI
Windows Server Azure HCI enhancements
Windows Server is one of the most popular workloads you will be running in your Azure Stack HCI environment. With Azure Stack HCI enhancements, Microsoft is making the experience running Windows here better than ever. For new workloads, Microsoft has a special version of Windows Server, called Azure Edition. Windows Server 2022 Azure Edition is coming soon. It is designed specifically designed to run in Azure VMs only, either in the cloud or in edge infrastructure such as Azure Stack HCI.
"Hot patching" allows updating Windows Server without restarting at all. It means you can update Windows Server in production with no downtime. For older workloads running in Azure Stack HCI, Microsoft is offering free extended security updates (ESUs). If you lift and shift onto Azure Stack HCI to secure older workloads on-premises. This includes:
Windows Server 2008/R2
Windows Server 2012/R2
SQL Server 2008/R2
SQL Server 2012/R2
This extends to Azure Stack HCI now as well. New this year, Microsoft is introducing a second option to pay for your Windows licensing through your Azure subscription as a simple add-on subscription fee.
How Microsoft enables Azure benefits to work outside the cloud
How does Microsoft enable Azure benefits to Azure Stack HCI for 21H2? In the latest version, Azure Stack HCI 21H2, there is a built-in attestation feature natively in the operating system. On every node in your cluster, the HCI service obtains a certificate from the root certificate authority and securely stores it within the enclave on each host. Then the HCI SVC exposed a secure REST endpoint accessible only to VMs running on the same HCI cluster. That endpoint can be reached by the VM and specifically by the guest OS, the instance of Windows running in that VM, so it can request attestation to determine if it is running on Azure or somewhere else. When it requests attestation, the HCI SVC service signs the response using the Azure certificate to convince the VM that it is actually running on Azure. That way, the VM can ask if it is running Azure and it gets the response back that it is running in Azure, even though it is running on-premises in Azure Stack HCI.
This is how the guest OS knows that features such as extended security patches are available. So there are no keys you have to install or manage. It is all built into the solution. To purchase Windows licenses directly from Azure, under Azure Stack HCI, you can go to the configuration option in the left-hand blade and click the Windows Server subscription add-on. If you already have a key you can bring that key without issue. However, if you don't have a key, you can easily get this through the Azure portal.
Windows for desktops, laptops, and clients
One of the most popular workloads running in Azure is the Azure virtual desktop service, previously known as Windows Virtual Desktops. With Azure Stack HCI 21H2, the Azure Virtual Desktop for Azure Stack HCI is coming very soon. With the Azure Virtual Desktop service for Azure HCI, you can extend the benefits you love about cloud-managed VDI to your on-premises environment. The control plane for the Virtual Desktop continues to run in the public cloud. You don't have to worry about setting it up or maintaining it. But, your desktops and session hosts can run outside of Azure on Azure Stack HCI. So, you deliver the same end-user experience that your users expect and love from Microsoft, including Windows 10 & 11 enterprise multi-session.
Now instead of the traffic doing a round trip to the cloud, you can get lower latency and faster response times with direct access to remote session hosts using a technology called RDP short path which is available in preview now. This is great for latency-sensitive workloads such as video editing or computer-assisted design that you want to do using a Windows Virtual Desktop.
Azure Kubernetes Service on Azure Stack HCI
Microsoft is targeting cloud-native application development and innovation. Last year, at Microsoft Ignite, they release the public preview of the Azure Kubernetes Service on Azure Stack HCI. AKS is the fastest-growing service in Azure compute. One of the things customers love about it is the pace of innovation. With AKS, Microsoft is continuously supporting the latest Kubernetes versions, management functionality, and continuously responding to customer feedback. With AKS on Azure Stack HCI, you can run the entire control plane for AKS on your own on-premises Azure Stack HCI cluster. You get the same push-button experience found in Azure for deploying a new Kubernetes cluster.
With Arc-enabled Kubernetes, you can connect your on-premises Kubernetes cluster up to Azure to take advantage of integrations such as GitOps for continuous integration and deployment. Since the preview last year, Microsoft has reached general availability in May of 2021. Since then, Microsoft has been delivering monthly updates to the service, including fixes, enhancements and other improvements.
Arc-enabled PaaS services on Azure Stack HCI
AKS is not just something that can be used as an administrator to manage your own containerized applications. It is also a critical infrastructure that allows you to run other PaaS services on Azure Stack HCI. These include SQL managed instances, PostgreSQL Hyperscale, App services, Functions, Logic Apps, and API management. With these services coming to on-premises using Azure Arc and Azure Stack HCI, it provides new opportunities for businesses to take advantage of these Azure services on-premises.
Azure Stack HCI 21H2 Download
How do you download Azure stack HCI 21H2? To download the new Azure Stack HCI 21H2 release, you can join the Azure Stack HCI preview channel here: Join the Azure Stack HCI preview channel – Azure Stack HCI | Microsoft Docs
Make sure the cluster is online, and that the cluster is registered with Azure.
If your cluster is still running Azure Stack HCI, version 20H2, be sure to apply the latest Feature updates before joining the preview channel. See Update Azure Stack HCI clusters.
Make sure you have the latest version of Windows Admin Center installed on a management PC or server.
Connect to the Azure Stack HCI cluster on which you want to install feature updates, and select Settings from the bottom-left corner of the screen. Select Join the preview channel, then Get started.
You'll be reminded that preview builds are provided as-is, and are not eligible for production-level support. Select the I understand checkbox, then click Join the preview channel.
You should see a confirmation that you've successfully joined the preview channel and that the cluster is now ready to flight preview builds.
Once you are enrolled with the preview build, you can install the latest preview build using Windows Admin Center.
Wrapping Up
Azure Stack HCI 21H2 Released Download New Features contains many new capabilities that will allow customers to run even more Azure services and benefits on-premises. I am personally excited about the Windows Server Azure Edition with hot patching, and Azure Virtual Desktops (AVD) running on-premises. As shown above, you can download and run the preview version without cost in your environment by signing up and deploying through Windows Admin Center.