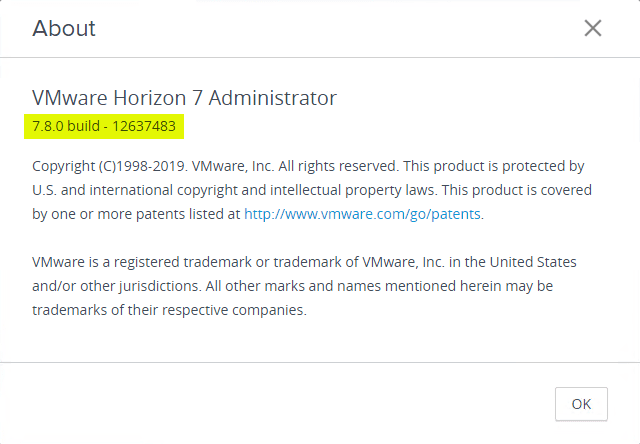 Just a few days ago VMware released Horizon 7.8 with a ton of great new benefits including more features being added to the Horizon Console which is he new modern HTML5 interface for administering Horizon View. VMware certainly has as the end goal feature parity with the Horizon Administrator. I have a Horizon 7.7 environment running in the home lab, so I wanted to get started upgrading the Horizon 7.7 environment to 7.8. In this post we will take a look at Upgrading to Horizon 7.8 Connection Server to see what this process looks like and how the Connection Server can be easily upgraded.
Horizon 7.8 Upgrade Notes and Things to Be Aware Of
There is a lot of great documentation that can help plan out any VMware Horizon upgrade. One of the first places to get started with any installation or upgrade of VMware solutions is the VMware Interoperability Matrix that helps to determine what VMware solutions/versions a particular product is compatible with. You can visit the VMware Interoperability Matrices here. Just a quick pull of all the VMware solutions that Horizon 7.8 is compatible with includes the following.
VMware Horizon 7
7.8.0
Horizon Cloud Service on IBM Cloud
19.1
VMware Unified Access Gateway
3.5
3.4
3.3.1
3.3
3.2.1
3.2
3.1
VMware App Volumes
2.16.0
2.15.0
2.14.3
2.14.2
2.14.0
2.13.3
2.13.2
2.13.1
2.13.0
VMware Cloud on AWS
1.6
1.5 P2
1.5 P1
VMware Horizon Clients
5.0.0
4.10.0
4.9.0
4.8.1
4.8.0
4.7.0
4.6.1
4.6.0
4.5.0
4.4.0
4.3.0
4.2.0
4.1.0
4.0.1
4.0
3.5.2
3.5.0
3.4.0
3.3.0
3.2.0
vRealize Orchestrator Plug-in for Horizon
1.5.0
1.4.0
1.3.0 – VMware Horizon vRO Plugin
VMware Identity Manager
3.3
3.2
3.1
3.0
VMware NSX for vSphere
6.4.4
6.4.3
6.4.2
6.4.1
6.4.0
6.3.7
6.3.6
6.3.5
6.3.4
6.3.3
6.3.2
6.3.1
6.3.0
VMware NSX-T
2.3.1
2.3.0
VMware PowerCLI
11.2.0
11.1.0
11.0.0
10.2.0
10.1.1
10.1.0
10.0.0
6.5.4
6.5.3
6.5.2
6.5.1
6.5.0
VMware ThinApp
5.2.4
5.2.3
5.2.2
VMware Tools
10.3.10
10.3.5
10.3.0
10.2.5
10.2.0
10.1.15
10.1.10
10.1.5
10.1.0
10.0.9
10.0.8
10.0.6
6.0 U1 – VMware Tools from VMware ESX/ESXi
6.0.0 – VMware Tools from VMware ESX/ESXi
VMware User Environment Manager
9.7.0
9.6.0
9.5.0
9.4.1
9.4.0
9.3.0
9.2.2
9.2.1
9.2.0
VMware vRealize Operations for Horizon
6.6.0
VMware vRealize Operations Manager
7.0
6.7
6.6.1
6.6
VMware vCenter Server
6.7 U1
6.7.0
6.5 U2
6.5 U1
6.5.0
6.0 U3
6.0.0 U2
6.0.0 U1
6.0.0
VMware vSAN™
6.7 U1
6.7
6.6.1 U2
6.6.1
6.6
6.5
6.2
VMware vSphere Hypervisor (ESXi)
6.7 U1
6.7.0
6.5 U2
6.5 U1
6.5.0
6.0 U3
6.0.0 U2
6.0.0 U1
6.0.0
A few notes from the release notes to pay attention to in regards to the upgrade:
When you upgrade to this release, upgrade all Connection Server instances in a pod before you begin upgrading Horizon Agent, as described in the Horizon 7 Upgrades document.
After you have performed a fresh install or upgraded all Connection Server instances to Horizon 7 version 7.2 or later, you cannot downgrade the Connection Server instances to a version earlier than Horizon 7 version 7.2
Another great resource to take a look at before performing the upgrade is the Horizon 7.8 Upgrades page that helps to walk through upgrading the various Horizon components.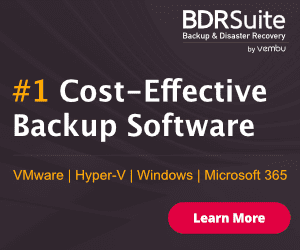 https://docs.vmware.com/en/VMware-Horizon-7/7.6/horizon-upgrades/GUID-504805D9-6645-438B-B3C5-F56EF6E38E77.html
In the Preparing Connection Server for an Upgrade guide, there are things to take note of before upgrading to prepare the environment.
Tasks to Perform on Only One Instance in a Replicated Group
Before you begin upgrading any Connection Server instances, perform the following tasks using only one of the instances. Because the instances are replicated, the settings on one instance are the same as the settings on the others:
If Connection Server is installed in a virtual machine, take a snapshot of the virtual machine.For instructions on taking snapshots, see the vSphere Client online help. If you ever need to revert to this snapshot and if you have other Connection Server instances in a replicated group, you must uninstall those instances before you revert the master to the snapshot. After you revert, you can reinstall the replicated instances and point to the instance you reverted.You can label the snapshot Upgrade Preparation Phase.
Open Horizon Administrator and document all the global settings and settings for desktops and pools: Pools section and Desktops section in the Inventory tree, and the Global Settings section in the View Configuration tree.For example, take a screen shot of the applicable settings.
Use the vdmexport.exe utility to back up the LDAP database. For instructions, see the administration guide for your current version of the Horizon 7 Administration document.
Tasks to Perform for Each Instance Just Before Upgrading
Verify that the virtual or physical machine on which the current Connection Server instance is installed meets the system requirements for the new version.See Horizon Connection Server Requirements.
Document the IP address and system name of the machine on which Connection Server is installed.
Determine if your company has written any batch files or scripts that run against the View database on the Connection Server instance, and if so, document their names and locations.
Open Horizon Administrator and document all the settings that are specific to this instance.For example, go to View Configuration > Servers > Connection Servers, select the Connection Server instance in the table and click Edit. You can take a screen shot of each tab in the Edit Connection Server Settings dialog box.
Upgrading to Horizon 7.8 Connection Server
Below are the screenshots taken from upgrading my VMware Horizon Connection Server to 7.8.
Horizon 7.8 Connection Server file downloaded from VMware:
VMware-Horizon-Connection-Server-x86_64-7.8.0-12637483 – 275 MB in size. The installation wizard launches when executing the Connection Server 7.8 file.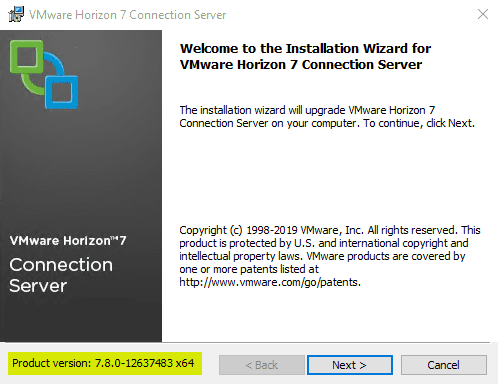 Accept the EULA.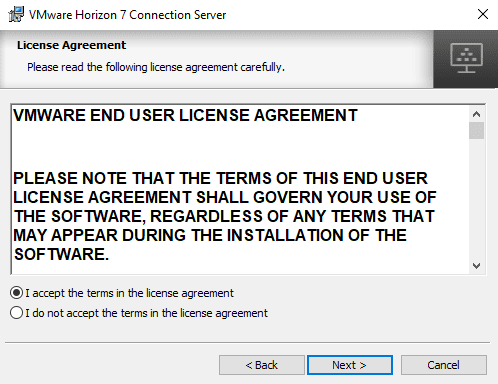 A message pops up in this version of Horizon detailing the change in authentication behavior including no longer listing out the user domains.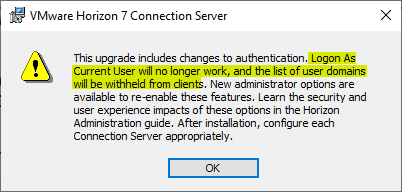 Choose if you want to join the VMware Customer Experience Improvement Program.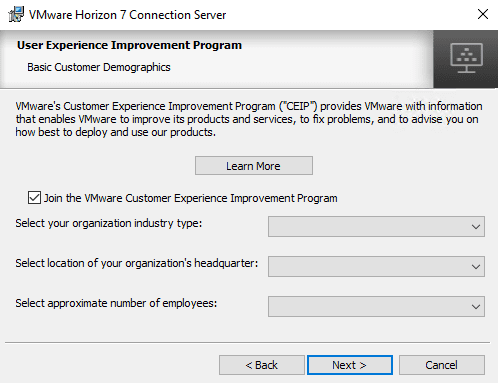 The upgrade is ready to begin. Choose to Install.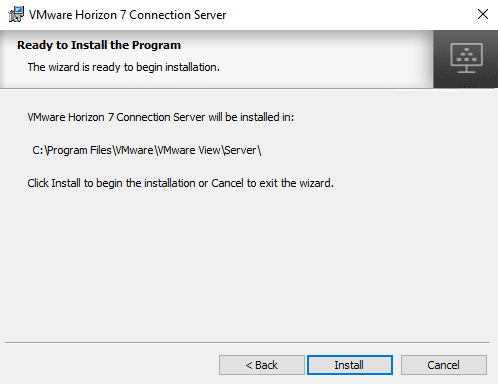 Installer proceeds.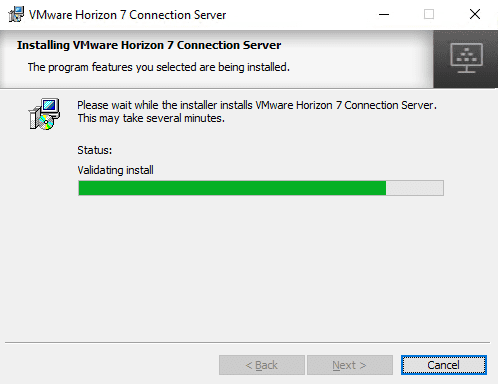 After just a few moments, the VMware Horizon 7.8 installer will complete. You can choose if you want to view the latest documentation.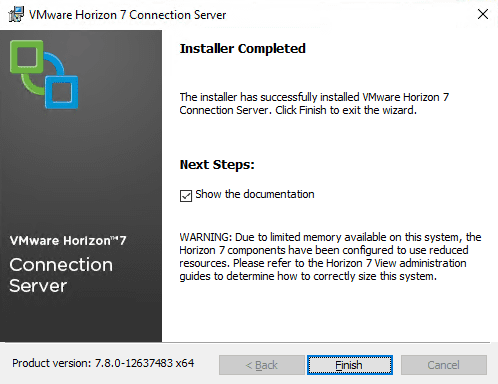 After installing, I launched the Horizon Console interface in Horizon 7.8.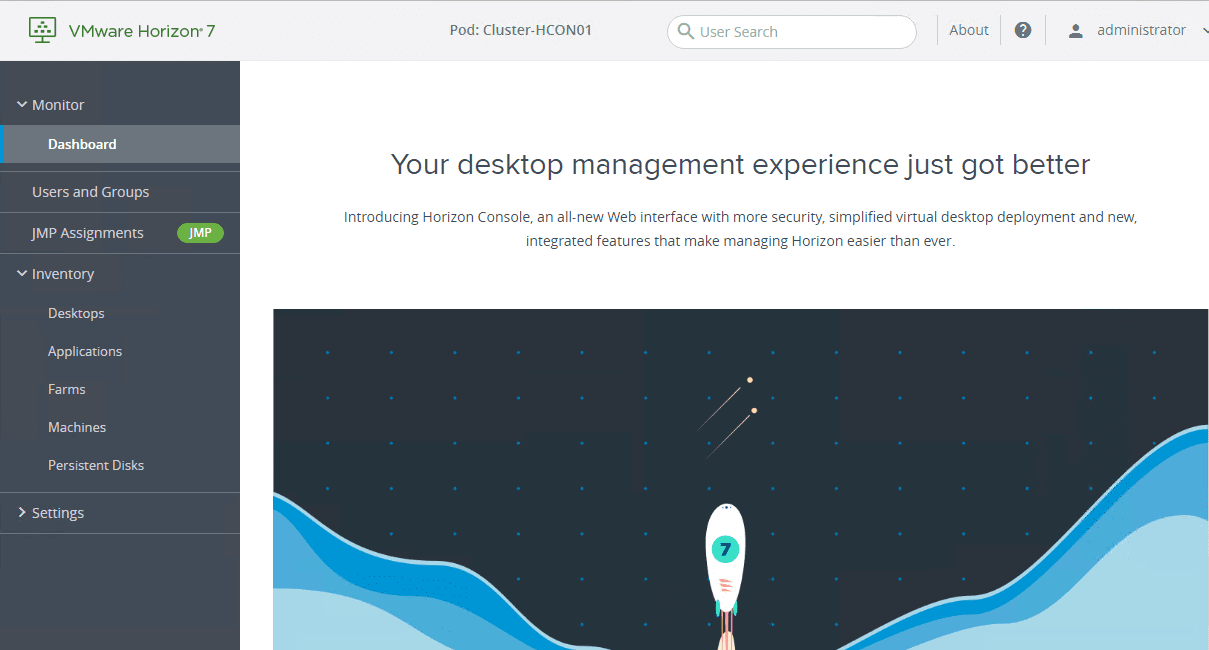 In the Horizon 7.8 Horizon Console, I launched the About from the upper right hand corner to see the current build version to verify the version installed is Horizon 7.8 and it is.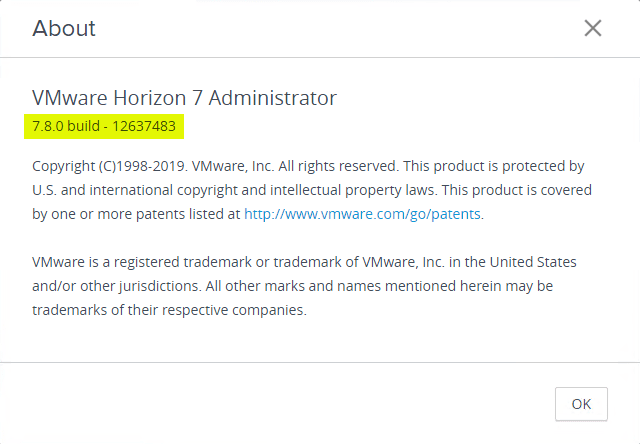 Wrapping Up
The process of Upgrading to Horizon 7.8 Connection Server is very straightforward and involves running the VMware Horizon 7.8 Connection Server installer. There is more work in reading through the documentation as well as taking other VMware products and solutions into account before upgrading. The actual process will not take any amount of time to complete. Again, just for emphasis, be sure to check out the VMware Interoperability Matrices, and other Horizon 7 Upgrade documentation before proceeding with the upgrade/install.