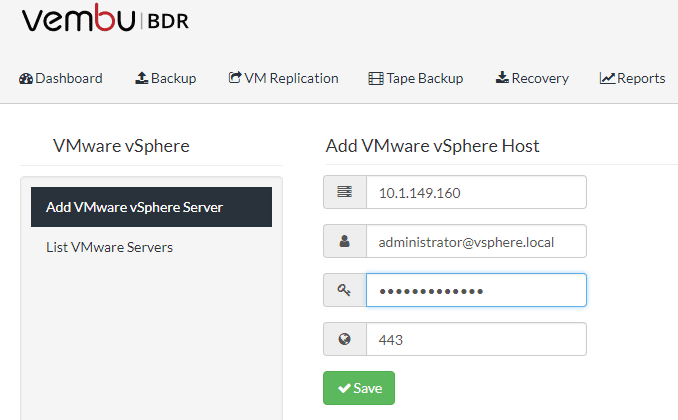 One of the frustrating things about new hypervisor releases is the supportability of the new release from backup vendors. This is always a deal breaker for upgrading in production environments if data protection is broken. With the release of VMware vSphere 6.7, the race has certainly been on for backup vendors to introduce support for vSphere 6.7. I am a bit surprised that we have seen vendors take as long as they have with introducing support for this release since it is a hot one. However, Vembu recently released big news with support for VMware vSphere 6.7 with Vembu BDR Suite 3.9.1 Update 1. Vembu is a great backup vendor that is extremely versatile and provides wide coverage for backing up various environments from VMware, Hyper-V, KVM, and physical environments. Let's take a closer look Vembu BDR Suite Backup Supports VMware vSphere 6.7 with the new update 1 release.
Vembu BDR Suite Backup Supports VMware vSphere 6.7
With the release of the Vembu BDR suite 3.9.1 "Update 1" release, it appears the race to support of backing up VMware vSphere 6.7 has been won.  Be sure to check out the great post from Paul Braren here who is officially keeping up with the latest news on which vendors currently support VMware vSphere 6.7.  In the official notes for this "Update 1" release, Vembu states the following:
With SP1 update, Vembu BDR Suite now supports backup and replication of VMs from VMware vSphere 6.7 environment
To download the latest release of Vembu BDR Suite 3.9.1 including the Update 1 patch, visit the download site here:
Note, when you pull down the installer, you should see the Update 1 designation which denotes VMware vSphere 6.7 support.

After installation, the official build number for the VMware vSphere compatible release is 3.1.1 [3912018060720].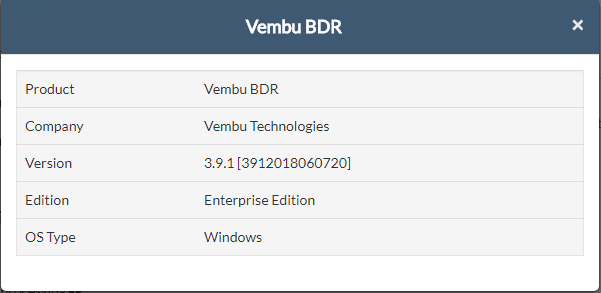 After installation, the first task was to see if I could successfully connect to my VMware vSphere 6.7 vCenter Server.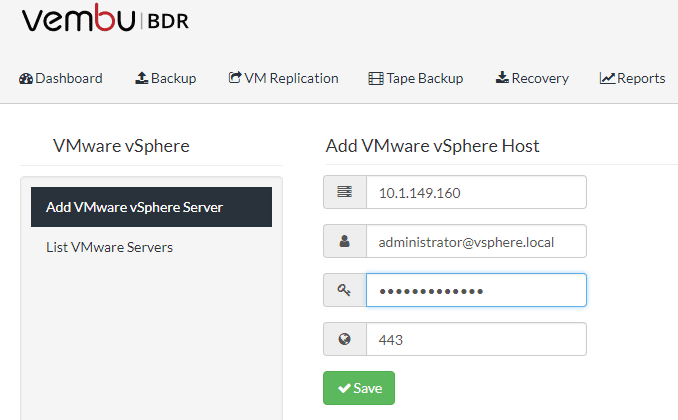 Success!  No errors, or issues.  The connection was established successfully.

The Vembu BDR Suite Server 3.9.1 Update 1 instance was able to enumerate the VMware vSphere 6.7 servers without issue.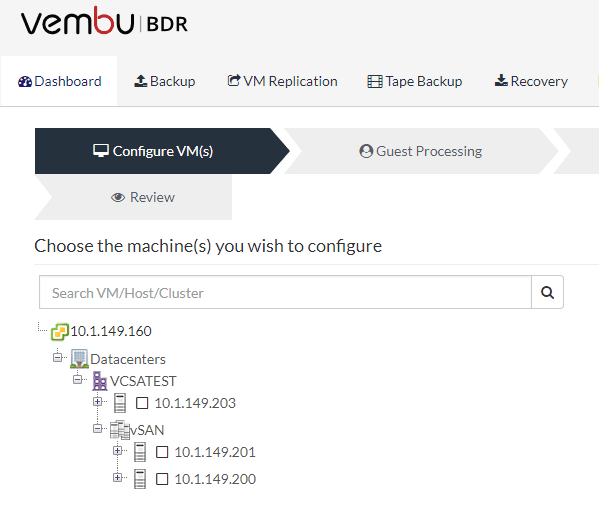 After nexting through the backup job creation wizard, the job is ready to be created.  I have selected to run the job immediately after saving.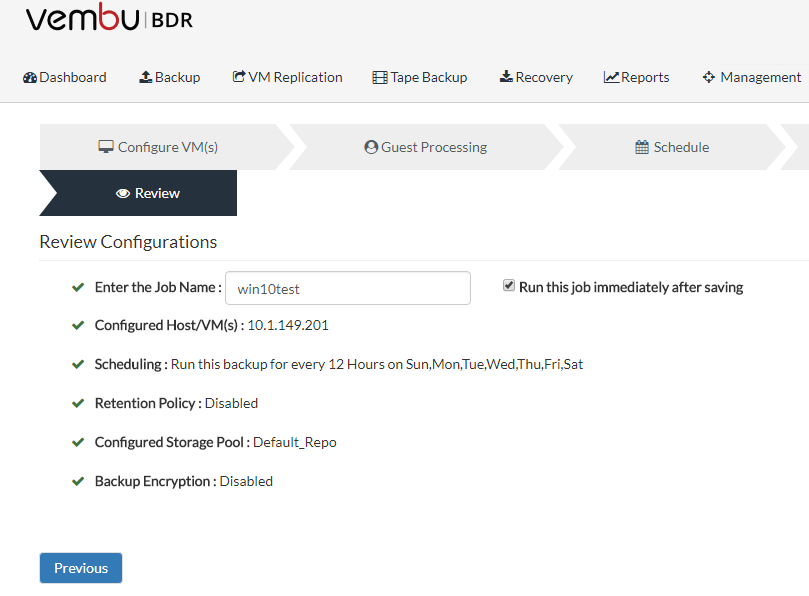 The backup job of a Windows 10 workstation virtual machine finishes successfully.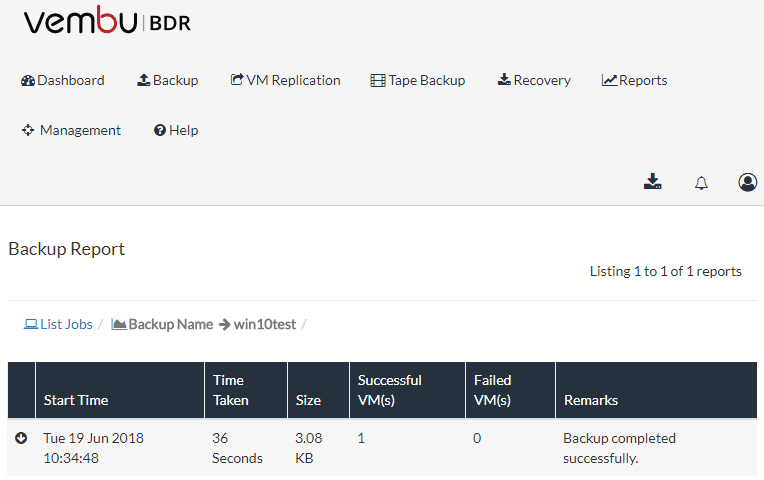 Vembu BDR Suite 3.9.1 Features
Aside from the new VMware vSphere 6.7 support found in Vembu BDR Suite 3.9.1 Update 1, there are many great new features and functionality in Vembu BDR Suite 3.9.1 as well.  Be sure and take a look at the in depth look at new features found in the release in our coverage post here:  Vembu BDR Suite 3.9.1 Released with Standard Edition.
However, just as a quick run through of features and functionality in BDR Suite 3.9.1, highlighting the new Standard Edition, it includes the following:
Agentless incremental image-level backups of VMware and Hyper-V

VMware vSphere agentless protection interacts with the vSphere VMware vStorage APIs (VADP)
Hyper-V hosts can be backed up agentlessly.  Vembu's Hyper-V CBT driver allows recording Changed Blocks so backups happen efficiently.

Quick VM recovery

Vembu functionality that allows booting any incremental VM and physical machine disk image backup instantly, right from the Vembu backup storage!

Instant File Recovery

Vembu provides instant File Recovery option for the users to restore specific files and folder of their choice directly the UI

Efficient Storage Management

VembuHIVE is a tremendously powerful file system that is configured on top of the Vembu storage repository and allows for instantly gaining access to virtual machine disks in a number of formats

Cross Platform Migration

Vembu provides crossplatform mobility.  VMware and Hyper-V virtual machine backups can be migrated to the hypervisor of your choice including VMware, Hyper-V and KVM.

Granular Recovery for Microsoft Applications

Vembu's BDR Suite allows for true application aware backups that provides granular recovery of Microsoft Applications such as Exchange Server and SQL Server and ensures the backups from these mission critical applications are consistent, minimizing restore time and RTOs.

RTOs of less than 15 minutes

Approaching near CDP (continuous data protection) Vembu RPOs limit data loss to, at most, 15 minutes with the 15 minute restore points backing mission critical VMs

Unrestricted Storage Scaling

Vembu's Storage Pooling allows for aggregating storage across a number of storage devices (DAS, SAN, NAS) and presenting this logical storage volume to Vembu BDR Server to target for backup data
Concluding Thoughts
Vembu BDR Suite is a great data protection solution that is extremely powerful, versatile, and now supports VMware vSphere 6.7.  With the news that Vembu BDR Suite Backup Supports VMware vSphere 6.7, Vembu becomes the first major backup vendor to introduce compatibility and support with VMware's newest hypervisor.  This definitely places Vembu in a great position when compared to the other major players in the field and helps to gain visibility to their platform.  If you have not heard of Vembu before or would like to get your hands on a version for testing in your lab, download a free, fully functional trial version here:  https://www.vembu.com/vembu-bdr-suite-download/
Don't miss out on new posts! Sign up!