Self hosted
TrueNAS vs Synology: Best Network Attached Storage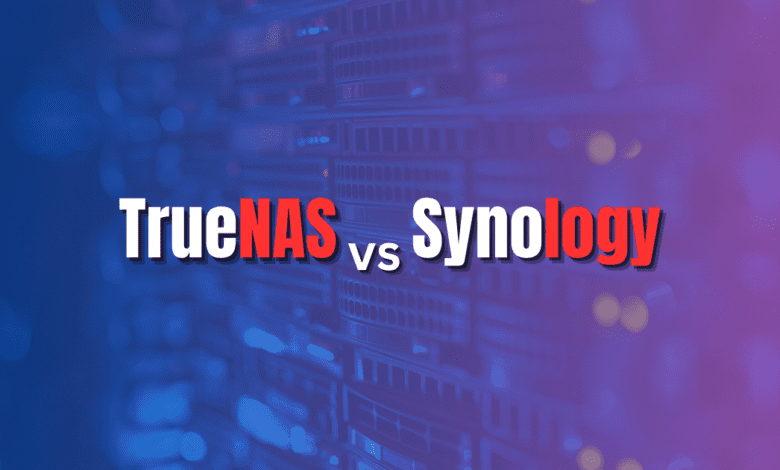 I have been testing a lot lately with TrueNAS Scale as I decided to install it on bare-metal on an older Supermicro from which I had migrated my VMware vSphere environment. Since I already had a Synology DS1621xs+ NAS, I wanted to give you guys my thoughts on running both in the home lab environment for a bit now. Let's look at the TrueNAS vs Synology comparison and compare and contrast these two really great NAS solutions.
Comparison overview
What is Synology NAS?
Synology has long been a prominent name in the network-attached storage space with its lineup of prosumer and enterprise-class proprietary NAS devices. Synology DSM, Synology's operating system, is installed on the Synology NAS devices. DMS is intuitive and easy to use, even for those unfamiliar with Synology devices or without experience working with them.
One of the major wins for Synology is that "it just works," and you don't have to worry about tinkering with the device when you get it to figure out how to start serving out resources. DSM has a lot of built-in apps that you get, which make spinning up things like Plex very easy. You just install the app and configure it to your needs, and you are off and running.
Below is a look at the DSM desktop.
What is TrueNAS?
TrueNAS is an open-source NAS operating system that lets you turn your hardware into a powerful storage appliance. TrueNAS Core is the successor to FreeNAS, which many remember, and it now has two flavors you can download: TrueNAS Core and TrueNAS Scale. Many prefer TrueNAS Scale since it is based on Debian Linux, which is compatible with a much larger set of hardware, compared to TrueNAS Core, which is based on FreeBSD.
So, in essence, unlike Synology, TrueNAS isn't hardware AND software like Synology. It is a NAS operating system like the Synology DSM OS that you can install on anything, from a VM to bare-metal server hardware.
Below is a screenshot of my TrueNAS Scale installation running on Supermicro server hardware.
TrueNAS vs Synology: their operating systems
The operating systems of TrueNAS and Synology are both powerful in their own ways. Both look excellent and are user friendly, which I think is extremely important. The new TrueNAS SCALE release has a redesigned user interface that looks even better than previous versions. It is the superior operating system if you like to tinker and like all the "nerd knobs."
On the other hand, Synology's DSM has many capabilities, including Synology Hybrid RAID and a user-friendly interface. It appeals to home users who seek a balance between functionality and ease of setup. In other words, if you like a "set it and forget it" type solution, Synology is rock solid.
ZFS vs BTRFS: File System between TrueNAS vs Synology
BTRFS, used in Synology NAS, is known for its flexibility. It has features like snapshotting, self-healing, and easy recovery. It's a modern file system with built-in data integrity checks crucial for protecting against data corruption.
TrueNAS, on the other hand, uses ZFS, which is renowned for its robustness and high data integrity. ZFS offers features such as snapshot capabilities, built-in compression, and deduplication. It is efficient at managing and protecting large volumes of data. TrueNAS SCALE 23.10's OpenZFS 2.2 enhances these features, providing users with a highly reliable and scalable file system solution.
While both BTRFS and ZFS offer significant advantages for data security and storage management, ZFS's design is particularly suited for systems with many disks. It is often noted for handling complex RAID configurations without sacrificing performance.
Synology DSM 7.2: Data Security and Performance
Synology's DSM 7.2 provides full-volume encryption, an upgrade from the previous shared folder-level encryption. It helps to remove limitations caused by many nested folders. It also helps to enhance performance.
One of the things I really like about Synology over the course of time I have used them is their quick stance to patch and keep security updates coming to DSM.
Also, Synology has other security features, such as Synology Drive, which offers remote wipe capabilities for administrators.
Synology units are quite performant as well. My DS1621xs+ has two NVMe drives that are used as a cache tier in front of my SATA hard disk array.
TrueNAS Scale Data: security and performance
While I think Synology slightly edges TrueNAS on the security front, TrueNAS also has a very good solution for checking and applying updates. The interface with the new 23.10 release makes this even easier.
In terms of performance, TrueNAS is hard to beat with the ZFS file system and the ability to throw any type of hardware at your storage that you want. You can also configure cache tier devices in front of your ZFS volumes. Also, while you are limited to the hardware provided by Synology, with TrueNAS, the sky is the limit in terms of performance.
Comparing hardware
When it comes to TrueNAS vs Synology hardware, Synology NAS storage is a hardware solution running Synology DSM. The hardware is perfectly matched to the DSM software, which is an advantage in some cases since, as a user, you don't have to think about compatibility or what hardware components to use. You have to buy the NAS to get the software.
This is both good and bad. In terms of knowing that everything will work as expected from a compatibility perspective, that burden is on Synology since they provide the hardware and software together. However, this is also limiting since you won't always be able to take advantage of the latest hardware. Instead, you will have to wait on Synology.
With TrueNAS, hardware wise you can bring COTS hardware to the table and simply load TrueNAS on top. While I think Synology is still a great solution to 100% know you won't see hardware compatibility issues, with TrueNAS Scale now based on Debian, this is almost a non-point since just about any hardware will work with TrueNAS.
Also, I don't see a lot of home labbers doing this, but IX Systems does sell TrueNAS-certified hardware that you can purchase that has been validated to work with TrueNAS.
Of course, you can also buy the fastest and newest server/storage hardware, install TrueNAS, and take advantage of the latest and greatest performance, which is something you can't do with Synology. However, to balance this argument out, most home users with home labs who want to stream media and other typical use cases for NAS devices are probably not interested in having the latest and greatest processor, RAM, and storage as this will cost a fortune.
Software Ecosystem and Apps
One of the great things offered by both TrueNAS vs Synology is the ability to run third-party apps easily. These are generally run in the backend as Docker containers that allow the apps to be spun up easily.
Synology DSM has a Package Center that allows you to easily install packages to extend the capabilities and functionality of your Synology DSM device. You can also use the Manual install method to also install custom Docker containers that are not found in the Package Center.
TrueNAS also has this same concept under the Apps section. One thing I have noticed is that between Synology and TrueNAS, TrueNAS does seem to have the larger selection of apps. This is especially true with open-source apps that you would think would be found in most catalogs.
However, if you search for Jellyfin on both, you will see we don't find this in the default Synology Package Center. You do see this app in TrueNAS. Now, we can manually install Jellyfin in Synology without issue. But, it is a point to note that it will require extra steps instead of being found in the Package center.
However, arguably, I think one of the big wins you get with Synology is professional software and "pay for" quality software apps that you won't get with TrueNAS out of the box. An example of this is Synology's Active Backup solution that allows you to back up your home lab environment (unlimited VMs, servers, PCs/Mac) for free with your purchase of the Synology device!
This is a huge win, I think, if you are running many virtual machines and other resources and data in a home lab data center.
Below is a shot of an unconfigured instance of Active Backup for Business. As you can see, you can back up Synology NAS devices, PC/Mac, Physical servers, File servers, and Virtual Machines.
Security and Reliability
In comparing TrueNAS vs Synology, the TrueNAS SCALE platform brings the features of ZFS, known for its integrity and ability to handle multiple drives failing without data loss. Synology's DSM 7.2 also has features like full-volume encryption, helping to ensure important data stored on your Synology NAS device is secure. Also, hybrid RAID technologies in the Synology world make sure your data is protected in the event of a hardware failure.
Also, a good point to note about both solutions is they support 2FA out of the box:
Cost and investment
Evaluating TrueNAS vs Synology from a cost perspective helps to shed light on some decisions that ones will need to make. Synology devices run on their own hardware, which means you pay a premium for the hardware that is not the latest technology.
However, if you decide to buy a Synology device, you are looking for that seamless experience where everything works, and you are ready to start setting up your apps without any tinkering or much configuration.
Also, I think it is a tremendous value added to Synology with the Active Backup business edition you get for free when you purchase a Synology NAS. It means you have a free backup solution for your home lab or small business.
With TrueNAS, you can fully customize your hardware. You are in charge of the hardware, including chassis, CPU, RAM, storage types, etc. That said, you get better value from your hardware since you can get more bang for your buck by configuring your own server/storage hardware.
However, with TrueNAS, you don't get some of the seamless software solutions you get with Synology like Active Backup mentioned, or some of the other Synology cloud apps and services.
Connectivity and Expansion
In the comparison of TrueNAS vs Synology, Synology has many connectivity options, including 10 Gb connections on the newer NAS devices along with expansion slots to add more connectivity. You can also stack Synology units to increase and scale out your storage solution.
TrueNAS has many connectivity options since you can configure your own hardware solutions and with the drivers included with Debian Linux. This combination is great in thinking about expandability.
User Experience
When it comes to user experience, the setup and daily management of the NAS are important to consider. TrueNAS SCALE supports many advanced features like virtualization support and running Docker. It can also provide the basics for home users with a straightforward installation process and an intuitive interface.
Synology's DSM has a polished and intuitive interface, and it takes a different approach (much like an Apple approach), focusing on a more plug-and-play setup. For those who are not quite as tech-savvy but still need a reliable NAS device for media streaming, backup, file sharing, and some light virtualization, Synology NAS is a great choice.
TrueNAS: more nerd knobs and tinkerability
Synology: more Apple-like approach of hardware/software integration and built-in apps that don't require much technical expertise
TrueNAS vs Synology: Community and Support
Synology has a strong community of users and many resources you can find across the Internet (forums, blogs, YouTube, etc).
TrueNAS has a very strong community where users can find support. Both platforms offer extensive documentation and user forums, ensuring that users have access to the help they need.
Wrapping up
Many, when they read blog posts like this, want to see a clear winner. However, I think TrueNAS vs Synology is decided based on what you are looking to do and what features you are looking to have. I personally think you won't be disappointed by either solution as they are the leaders in their respective spaces (Synology, closed-source proprietary commercial solution, and TrueNAS, open-source highly customizable hardware/software solutions).
To me, it comes down to the following. If you like to configure your own hardware and have full control over your solution, TrueNAS is the winner. If you are looking for a storage solution that just works and has lots of really nice features, including free Active Backup for business that can back up your home lab, Synology is hard to beat.