Kubernetes
Best Kubernetes Management Tools in 2023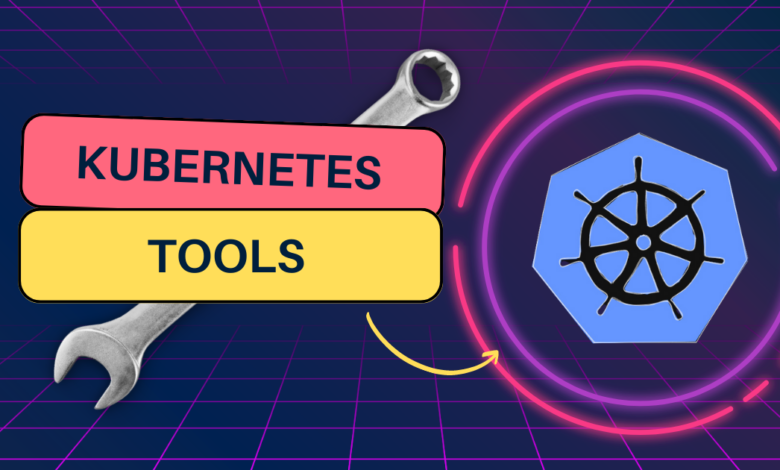 Kubernetes is everywhere these days. It is used in the enterprise and even in many home labs. It's a skill that's sought after, especially with today's push for app modernization. Many tools help you manage things in Kubernetes, like clusters, pods, services, and apps. Here's my list of the best Kubernetes management tools in 2023.
What is Kubernetes?
Kubernetes is a popular tool that helps manage applications that are put into containers. It includes balancing work across computers, directing traffic, and finding services. All these things make deploying applications easier. The Kubernetes API makes it simpler to put containerized applications to work.
Understanding Kubernetes and Its Ecosystem
Managing Kubernetes clusters requires specialized tools designed for efficiency and control. These Kubernetes cluster management tools range from handling simple operations to more complex tasks like monitoring costs. The management of Kubernetes involves various levels of complexity, from basic cluster tasks to advanced cost analysis.
Kubernetes Environments: On-Premises and Hybrid
Kubernetes can be deployed in different settings, including on-premises, hybrid environments, or entirely in the cloud. Factors like cloud costs, the use of infrastructure as code, and fundamental monitoring techniques help in choosing the right Kubernetes environment. These elements collectively determine the best approach for your specific needs.
Exploring the Best Kubernetes Management Tools
Below are some popular Kubernetes tools that I have used in my home lab and production environments, each with different tools and capabilities, ranging from Kubernetes deployments to monitoring and managing Kubernetes clusters.
We will consider the following to manage Kubernetes clusters:
kubectl
Rancher
Lens
Openlens
Headlamp
K9s
Portainer
Kubeapps
1. kubectl
The kubectl tool is the go-to command line tool for working with a Kubernetes cluster. It's a command line tool that enables Kubernetes admins to configure, manage, monitor, and troubleshoot their Kubernetes clusters.
kubectl is more than just a command-line tool. It is instrumental in managing your clusters and helps in efficiently troubleshooting Kubernetes environments. It's not only for viewing, it can also easily deploy YAML files and manage applications through custom policies.
You can view your Kubernetes nodes in the cluster in just a quick few commands.
kubectl get nodes
You can also view all your resources in the cluster.
kubectl get all -A
Using kubectl to view your Kubernetes namespaces.
kubectl get ns -A
Below, we are getting all our services.
kubectl get service -A
2. Rancher
Rancher, the same company behind k3s, is an excellent Kubernetes management platform that provides a full stack for teams who want to run Kubernetes. You can easily spin up a new Kubernetes cluster in on-premises and in the cloud using Rancher. Even vSphere environments can benefit from Rancher's features. It fully automates running Kubernetes without the need for Tanzu management if you want to go that route.
It is simple to install and configure and runs as a single Docker container in its simplest form.
You can download and install Rancher from here: Enterprise Kubernetes Management | Rancher
3. Lens
Lens offers a user-friendly Kubernetes dashboard. With features for Kubernetes cost monitoring and deployment, it's a suitable tool for developers and DevOps teams. Its integration with Helm charts allows easy deployment of containerized applications.
Lens provides a beautiful dashboard IDE experience to work with Kubernetes clusters in your environment and is a full client install. So, it is not a web-based dashboard that you spin up as a container, etc.
You get detailed information on your pods, services, daemon sets, networking, etc.
Download Lens here: Lens | The Kubernetes IDE (k8slens.dev)
4. OpenLens
OpenLens, a fork of Lens, focuses on multiple clusters and offers diverse tools for managing Kubernetes clusters. It provides security tools, and a built-in monitoring stack you can easily deploy for cluster metrics, making it ideal for complex Kubernetes cluster management.
Many are switching to OpenLens from Lens, since Lens is now nagging to pay for a subscription.
Cluster metrics and command line access from the OpenLens interface.
Easily scale your pods.
Check out my video covering Openlens here:
You can download the OpenLens install here: https://github.com/lensapp/lens/releases
Comparing Lens and Openlens
While Lens is the commercial tool from Mirantis it offers a free version as well that nags about a subscription. OpenLens looks identical to Lens with most of the features minus the enterprise team collaboration found in Lens.
5. Headlamp
Headlamp stands out for its ease of use in managing Kubernetes clusters. It emphasizes Kubernetes deployment and monitoring, offering features like application deployment and management tools for Kubernetes resources. Headlamp's focus on user experience makes it an appealing option.
It also has a built-in package manager allowing you to easily install applications in your Kubernetes clusters managed by Headlamp.
Download Headlamp here: Your Kubernetes Experience | Headlamp
6. K9s
K9s is a great tool for managing Kubernetes clusters. It also lets you monitor Kubernetes and works well with other command-line tools. K9s is an excellent choice for a command line-driven solution. It has a very well-thought-out menu system that enables easily navigating around your clusters, viewing details, and even making configuration changes.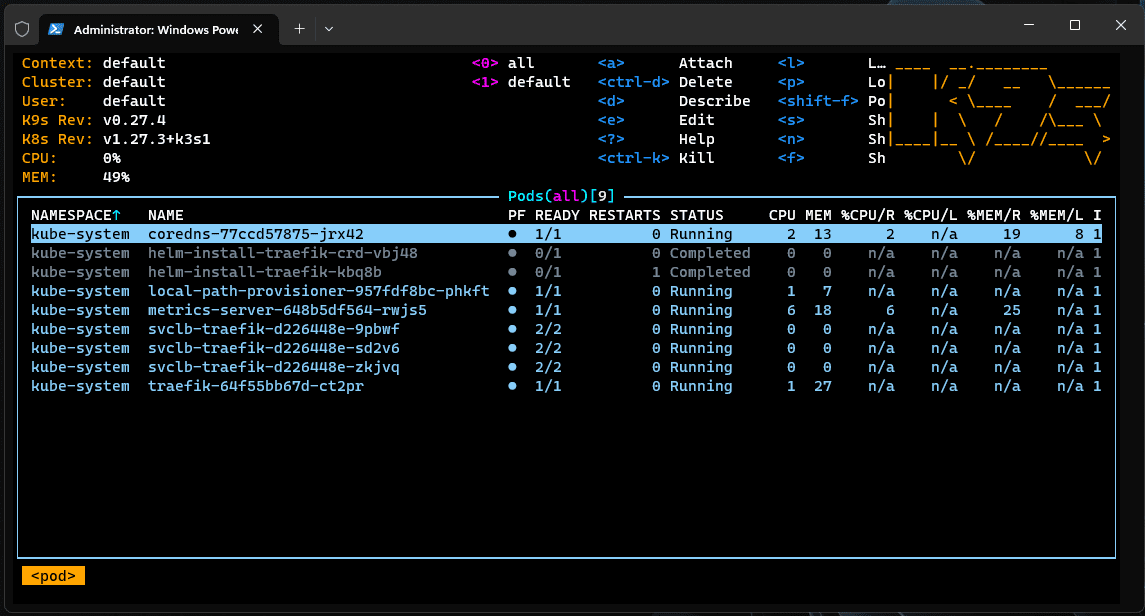 Download K9s here: K9s – Manage Your Kubernetes Clusters In Style (k9scli.io)
7. Portainer
Portainer provides a powerful solution for managing Kubernetes clusters, with features for container orchestration and Kubernetes applications management. With recent versions of Portainer, you can even deploy a fully functional Microk8s cluster right from Portainer! Super cool.
Portainer allows you to deploy and manage your new Microk8s cluster, choose the version, use custom templates, etc.
You can download Portainer here: Install Portainer
You can also check out my full write-up on deploying Microk8s with Portainer: Mikrok8s Automated Kubernetes Install with new Portainer Feature
Portainer security features
Portainer stands out with its robust security features, ensuring secure Kubernetes deployments. Other tools like service mesh can enhance security measures and fill gaps in your current setup.
8. Kubeapps
While I don't consider Kubeapps quite as powerful for all around management as the other tools we have covered, it is a great Kubernetes application dashboard. After you deploy Kubeapps, you can then easily deploy and install additional applications in your Kubernetes environment.
You can edit the YAML code for your applications, upgrade apps, etc.
You can download Kubeapps here: Kubeapps | Home
Monitoring and Security Considerations
Effective Kubernetes management also includes robust monitoring and security tool provisions. Various tools offer different monitoring capabilities, from kubectl's basic monitoring to Lens' advanced Kubernetes cost monitoring. Understanding cluster state, services, and deployment health ensure effective Kubernetes management.
Utilizing tools like Prometheus and Grafana and custom policies can also fill gaps in your security and monitoring strategies.
Frequently Asked Questions
How Does Managing Kubernetes Clusters Differ in On-Premises and Hybrid Environments?
Managing Kubernetes clusters in on-premises environments allows for more control and customization but may require more hands-on maintenance. In contrast, hybrid environments enable a blend of on-site and cloud resources, which can aid in managing cloud costs and offer more flexibility. Kubernetes cluster management tools like Portainer can be especially useful in navigating these differences.
What Are Some Strategies for Large Kubernetes Deployments?
Large Kubernetes deployments often require robust monitoring and efficient traffic management. Tools like K9s and OpenLens are designed to handle large-scale operations, offering functionalities like Kubernetes cost monitoring, cluster metrics, and advanced load balancing. Service mesh and app mesh are often implemented to ensure smooth traffic flow and security within large deployments.
Can kubectl Be Used for Multiple Kubernetes Clusters?
Yes, kubectl is versatile enough to manage multiple Kubernetes clusters. By configuring the right context and utilizing command-line tool functionalities, kubectl can switch between different clusters, making it suitable for various Kubernetes cluster management tasks.
How Do Kubernetes Management Tools Aid in Security?
Security in Kubernetes is multifaceted and requires a comprehensive approach. Kubernetes management tools like Portainer offer built-in security tool integrations, and provisions like service discovery and custom policies help in securing the Kubernetes environment. Additionally, service mesh can be employed to add an extra layer of security to Kubernetes deployments.
What Is the Role of YAML Files in Kubernetes?
YAML files are central to Kubernetes as they define the desired state of resources within the cluster. Kubernetes tools like kubectl utilize YAML files to deploy applications, manage Kubernetes resources, and define custom policies. They enable a clear, readable format to manage complex Kubernetes applications and configurations.
How Do DevOps Teams Benefit from Tools Like Headlamp?
Headlamp, as a Kubernetes tool, offers features specifically tailored for DevOps teams. From application deployment to container orchestration, its user-friendly interface aids in managing Kubernetes clusters and deploying containerized applications seamlessly. It serves as an essential component in the collaboration between development and operations.
Wrapping up
The tools we have listed are by no means all the management tools available for Kubernetes. However, the Kubernetes management tools listed are ones I have personally used and highly recommend. Management tools are great not only for DevOps team members but also home lab enthusiasts, and many of the key features in the tools mentioned will greatly speed up your Kubernetes management workflows.
I'd love to hear what you're using. Is there a tool you are using and highly recommend that I have missed? Please share it in the comments.
Other posts you may like