Security
Top Open Source Firewalls in 2023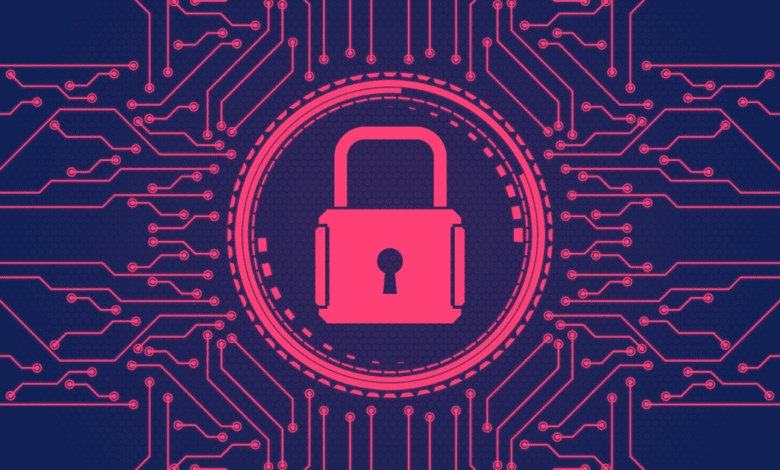 A key part of any secure network is the firewall. I have been running open-source firewalls in the lab and other environments for years now. This post delves into my picks for the top open-source firewalls in 2023. We will examine each firewall's key features and discuss how they might cater to your unique needs.
Why Run an Open-Source Firewall?
An open-source security platform is an ideal choice for many reasons. Being open source, they're freely available for anyone to use, offering free and paid applications based on the complexity and support you need.
The 'open-source' in open-source firewall software means you have access to the source code. This gives you unmatched flexibility, allowing for customization of your network security needs.
Another strength lies in their community support. Since these tools are open-source, they're backed by dedicated online communities of developers and users who contribute to their continuous improvement, enhancing their firewall features over time.
Moreover, open-source firewalls often offer web-based management interfaces that make configuration and administration tasks simpler and more intuitive. They can be installed on a hardware device or run as a virtual machine as a virtual appliance in your home lab. This versatility allows for seamless integration into your existing network infrastructure.
Let's check out a list of the top open-source firewalls in 2023. The ones on the list are actively maintained, which was one of my requirements to include on the list.
pfSense: An open-source firewall favorite
pfSense leads the pack as one of the top open-source firewalls in 2023 and is one that I have used and really like in the home lab. This FreeBSD-based software presents an all-encompassing solution for those seeking to bolster their network security. It even rivals leading network firewalls in the enterprise space.
Key Features of pfSense
From a network address translation function to an effective intrusion prevention and detection system, pfSense doesn't skimp on features. Its stateful firewall and VPN gateway capabilities stand out, allowing you to handle internal and external network traffic efficiently. External clients can connect to internal networks by enabling VPN access via pfSense VPN options, like Wireguard, Tailscale, and others.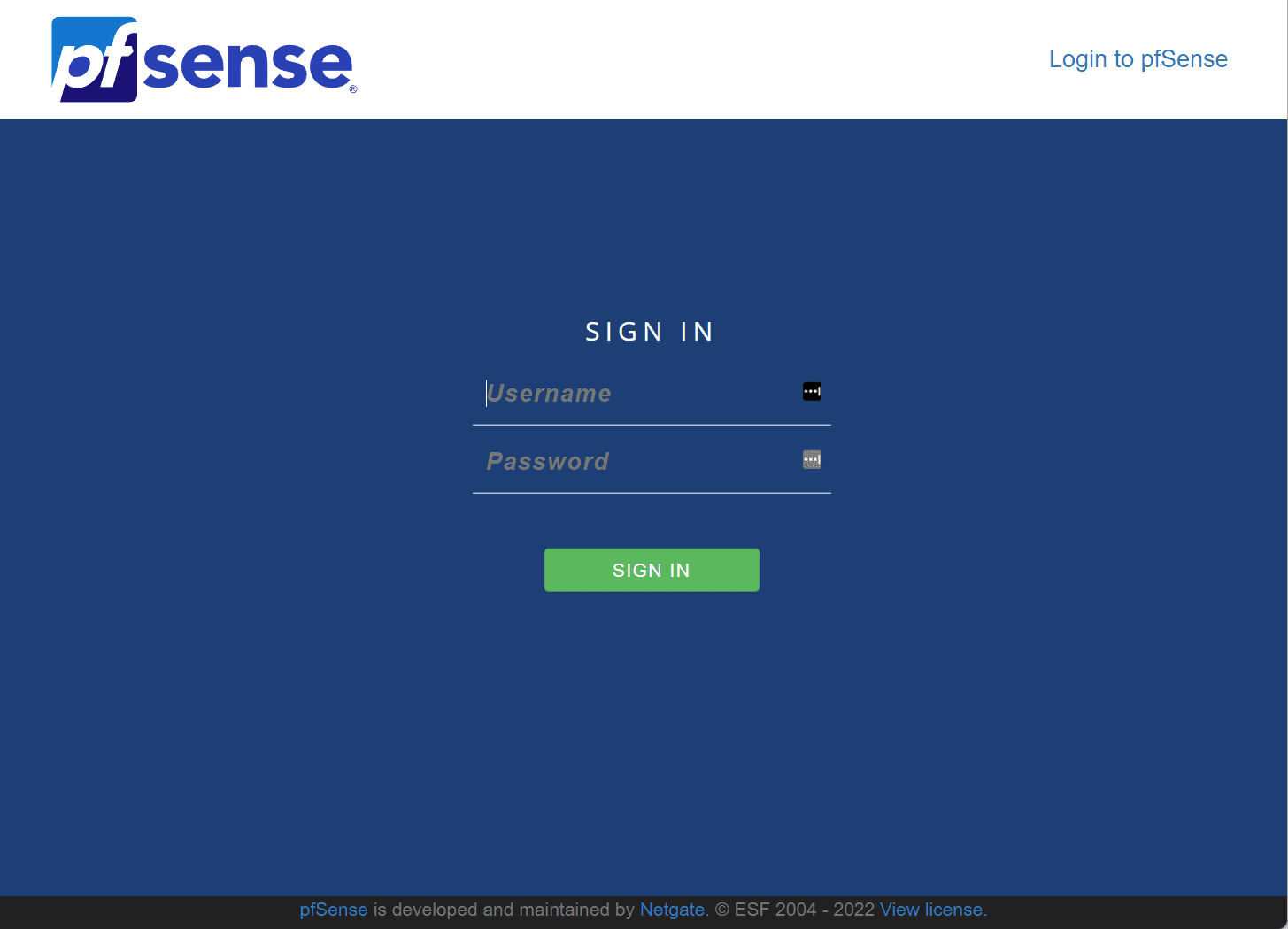 High availability, advanced routing, multiple backend servers NAT, and network traffic shaping are other valuable features offered by this open-source firewall. It also is accessible using a web-based interface that provides all the right UI features for administration and management.
pfSense Plus and pfSense CE
There is a newly added distribution for pfSense, called pfSense+ "plus", that adds additional features and will include many other features not found in CE as more time passes. Home lab users can upgrade to pfSense Plus for free! Check out my blog covering this process in detail here: pfSense Plus vs CE: Complete Comparison.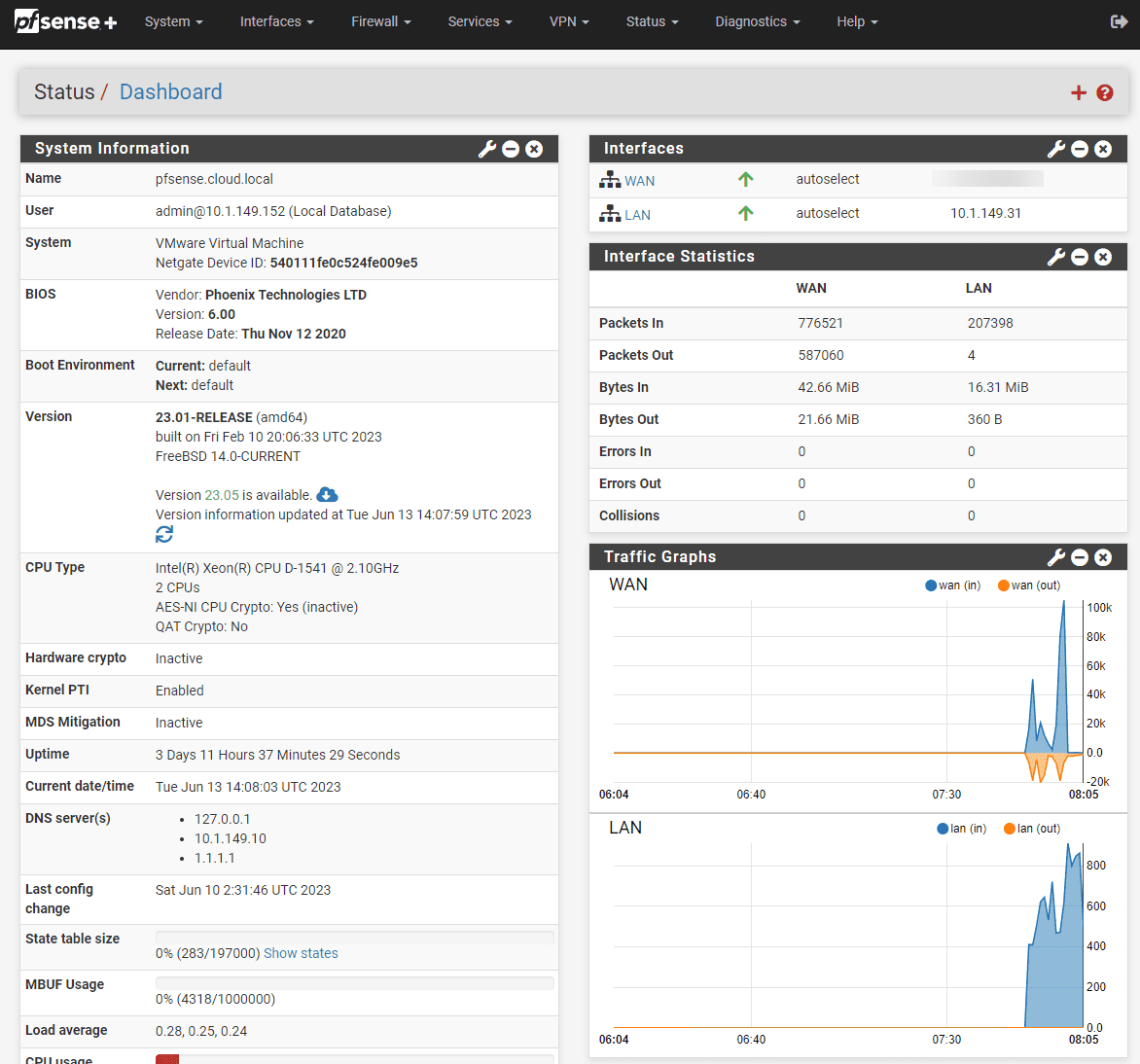 pfSense for Home Labs: The Pros and Cons
For home lab enthusiasts, the benefits of pfSense are many. Its advanced capabilities give it a distinct edge, allowing you to manage your network traffic efficiently. You can also run pfSense on hardware or virtual machine platforms.
However, its broad array of features may prove overwhelming for beginners. On the other hand, this complexity could be an asset for those with more advanced skills, offering them a flexible, robust, and customizable firewall solution.
Learn more about and download pfSense here: pfSense® – World's Most Trusted Open Source Firewall.
OPNsense: User-friendly and feature-rich firewall
Next on our list is OPNsense, another powerful FreeBSD-based open-source firewall solution that stands out due to its user-friendly and intuitive web-based user interface.
OPNsense's Key Features
OPNsense comes equipped with features designed to offer extensive protection to your network. Like pfSense, it has a stateful firewall, intrusion detection and prevention, and network address translation capabilities. But it also introduces unique features such as an inline intrusion prevention system and full mesh VPN routing, significantly enhancing its usability.
OPNsense in Your Home Lab: The Upsides and Downsides
It offers an excellent balance between user-friendliness and advanced features. The intuitive web interface simplifies the configuration process, making it more accessible for less tech-savvy users.
However, some users might find its extensive feature set intimidating, particularly those new to managing firewall systems. Depending on your resources, it may need more than other open-source firewall solutions, which might be a drawback for some home labs with limited resources. Most home lab hardware will be able to run OPNsense without issue.
Learn more about and download OPNsense here: OPNsense® a true open source security platform and more – OPNsense® is a true open source firewall and more.
Untangle NG Firewall: Simplicity Meets Sophistication
Coming in third on our list is Untangle, a Linux-based firewall, NG firewall that offers a blend of simplicity and sophistication for your home lab network security and offers a beautiful web-based management interface.
Arista has bought Untangle, and the interface in the past year or so has updated its appearance to match more of the Arista branding. However, Untangle's core features and capabilities are the same as they have been so far from the outset.
Untangle's Key Features
Untangle shines with its collection of key features. Besides the core stateful packet inspection, firewall functionality features network traffic shaping, virtual private network (VPN) support, and an integrated intrusion prevention system. Other noteworthy features include web filtering, ad-blocking, and virus scanning, all neatly organized in a unified threat management interface.
One area as well I feel that Untangle shines is in Reporting. It has a powerful reporting module allowing you to query and find events across all the modules in the solution. This feature is golden when you troubleshoot connectivity and want visibility into your network traffic.
Untangle for Home Labs: Pros and Cons
The Untangle solution is known for its user-friendly web interface. Configuring firewall rules or setting up a VPN, even for novices, becomes a breeze. It also enables detailed network flow monitoring, ensuring you stay on top of your inbound and outbound traffic.
However, Untangle's advanced features and comprehensive firewall system are part of its paid version. The free version, while still a robust Linux firewall, lacks some more sophisticated functionalities.
One nice thing about Untangle is the Home Protect Basic and Home Protect Plus, which offer great home lab features: Configurator | Edge Threat Management – Arista.
Learn more about and download Untangle (now Arista Edge Threat Management) here: Edge Threat Management – Arista.
IPFire: A Dedicated Firewall for Optimal Network Security
Fourth on our list is IPFire, an open-source, free Linux firewall based on IPCop, that establishes and maintains a secure network environment in your home lab.
Key Features of IPFire
IPFire, known for its custom kernel and intuitive user interface, offers essential firewall features like stateful packet inspection, network address translation, and an effective intrusion detection system. Its advanced firewall features include support for multiple DNS clients and DHCP server capabilities, providing extensive protection for your network.
IPFire in Home Labs: Advantages and Disadvantages
IPFire is a great choice for home labs due to its flexibility and scalability, accommodating networks of varying sizes. Its color-coded web interface simplifies network management tasks, making it an appealing choice for both novice and experienced users.
However, IPFire's hardware requirements might be a stumbling block for some users. The system needs a dedicated machine to run optimally, potentially increasing the overall cost for your home lab setup.
Download and learn more about IPFire here: www.ipfire.org – Welcome to IPFire.
MikroTik RouterOS: The Versatile Open Source Firewall
MikroTik RouterOS is a comprehensive open-source firewall solution that packs a punch regarding versatility, features, and functionality. It is one of those "everything and the kitchen sink" kind of solutions that can do anything you ask it to.
Key Features
MikroTik RouterOS offers robust features, including a stateful firewall, network address translation, and VPN server functionalities. Its support for numerous industry routing protocols is noteworthy, making it a versatile solution for diverse network setups.
MikroTik RouterOS for Home Labs: Strengths and Weaknesses
The strength of MikroTik RouterOS lies in its versatility. With a wide array of configurable options, it is ideal for home labs that demand flexibility and features. It is not every day you can find a free router that supports MPLS, not that you need that in the lab 🙂
However, its command-line interface, while powerful, may be daunting for beginners. Mikrotik's learning curve is steep compared to other firewalls with more intuitive, web-based interfaces. You can use the Winbox utility to manage your Mikrotik installation making it much easier than 100% command line.
Learn more about and download Mikrotik Router OS here: MikroTik Routers and Wireless – Software.
VyOS: A Fully Open Source Network Operating System
VyOS takes the fifth spot on our list, standing out as a fully open-source network operating system built on the Linux platform, offering a range of firewall functionalities.
Key Features
VyOS provides robust features, including a stateful firewall, network address translation, intrusion detection, and VPN support. Also, its routing platform supports various industry routing protocols, providing a comprehensive network security solution.
VyOS in Home Labs: The Good and the Bad
VyOS is a good choice for home labs, thanks to its impressive routing capabilities and customization options. It can run on both hardware and as a virtual machine, adding to its flexibility.
However, as with MikroTik RouterOS, VyOS primarily operates via a command-line interface. This might challenge users who prefer graphical interfaces or are uncomfortable with command-line operations.
Learn more about and download VyOS here: VyOS Community.
OpenWRT: A Linux-Based, Customizable Firewall
OpenWRT is a Linux-based open-source firewall that offers great flexibility and customization, taking the sixth spot on our list.
OpenWRT's Key Features
OpenWRT provides essential firewall functionalities like stateful packet inspection, network address translation, and intrusion detection. It stands out with its customizability, allowing you to add or remove features according to your specific needs.
Below is a screenshot of installing OpenWRT.
The OpenWRT interface.
OpenWRT for Home Labs: Pros and Cons
For home labs, OpenWRT offers flexibility that's hard to beat. Its customizability allows you to build a network security system that aligns perfectly with your needs.
However, this customization comes with a learning curve, especially for beginners. Advanced users who have experience with Linux servers might find it more accessible.
Download and learn more about OpenWRT here: [OpenWrt Wiki] Welcome to the OpenWrt Project.
UFW (Uncomplicated Firewall): The Beginner-Friendly Firewall
As we near the end of our list, we introduce UFW, a user-friendly open-source Linux kernel firewall known for its simplicity and ease of use.
Key Features of UFW
UFW offers fundamental features, including stateful packet inspection and network address translation. Its biggest draw is its simplicity. With fewer advanced features, it's straightforward to configure and manage, even for beginners.
Viewing the options for UFW.
Advantages and Disadvantages
UFW could be a great starting point for home labs, especially for beginners. Its simplicity makes it easy to set up and maintain. You can install Ubuntu Server and turn it into a router, and you can easily use UFW to control your network traffic.
However, its lack of advanced features could limit its usability for more complex network configurations or users seeking more sophisticated firewall functionalities.
Learn more about UFW Firewall here: UncomplicatedFirewall – Ubuntu Wiki.
CSF (ConfigServer Security & Firewall): A Robust application firewall solution
Last, we have CSF, an open-source firewall that offers a robust security solution for your home lab. It is less of a network firewall and is an application firewall. It sits in front of Apache or other web servers and scrutinizes connections to your web servers, looking for signs of attacks. If attacks are discovered, it can automatically block IP addresses.
CSF Key Features
CSF offers a comprehensive suite of features like stateful packet inspection, intrusion detection, and network address translation. Additionally, it includes security features such as login failure detection and security hardening.
CSF for Home Labs: The Pros and Cons
CSF offers a mix of ease of use and advanced features, making it suitable for both beginners and advanced users. However, it is command-line based, which might be a challenge for those unfamiliar with the command-line interface.
Also, it is not a network firewall in the sense of the other firewalls on the list. However, it is a great tool that can be used for application-level protection for your web servers.
Learn more about CSF here: ConfigServer Security and Firewall (csf) – ConfigServer Services.
Video covering the basics of home lab security
Check out my video below covering home lab network security best practices, including VLANs, Firewalls, micro-segmentation, etc.
Frequently Asked Questions
What is a Stateful Firewall?
A stateful firewall, also known as a stateful inspection firewall, is an advanced type of firewall that monitors and keeps track of network connections. It examines both inbound and outbound traffic based on the state, port, and protocol, ensuring high network security.
What is Network Address Translation (NAT)?
Network Address Translation (NAT) is a method where a network device (like a firewall) translates the IP addresses of network packets that are moving across the network. NAT allows multiple devices on a private network to access the internet using just one public IP address.
How Does an Intrusion Detection System Work?
An intrusion detection system (IDS) monitors network traffic for suspicious activity and known threats, sending alerts when potential security breaches are detected. It's a crucial component of any comprehensive firewall system.
What is a VPN Gateway?
A VPN gateway is a networking device connecting two or more devices over a VPN connection. It enables devices in different locations to connect securely over the internet.
Wrapping Up
There are many powerful open-source firewalls that you can use to protect your home lab or even production environments. Contrary to some beliefs that open-source firewalls are dangerous to use, many can argue it makes them more secure since the source code is constantly scrutinized.
Whether you opt for pfSense's comprehensive offerings, Untangle's user-friendly interface, or the lightweight nature of Vyos or UFW, your choice should align with your technical skills, network requirements, and the resources you have at hand.
Remember, open-source firewalls are more than just free software; they represent a community-driven effort toward building better, more secure, and user-friendly firewall solutions. They are a testament to the benefits of community collaboration in the technology sector, and they can provide advanced users the opportunity to contribute to the source code and improve the firewall features.
Don't miss out on new posts! Sign up!