Storage
Is Intel Optane Worth It? Awesome vExpert Opportunity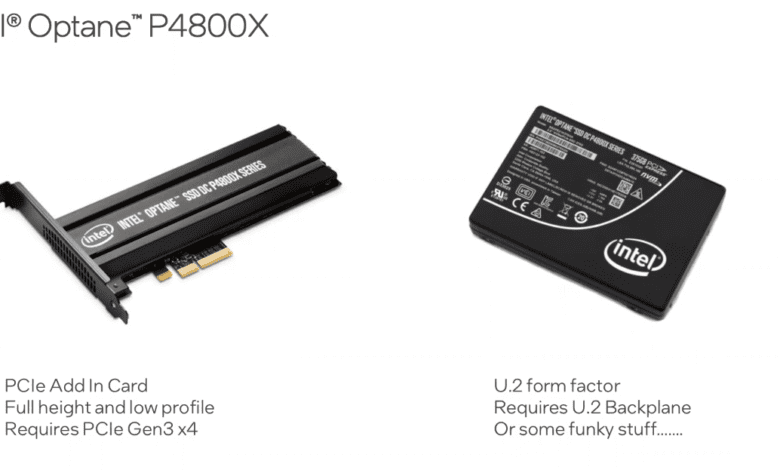 Many have heard that Intel Optane is a significantly faster storage solution than traditional and even the modern NVMe storage devices we all know and love. With Optane memory, even faster access to storage is possible due to the design of how the Intel Optane solution works.
Intel Optane Memory can be a persistent or primary storage device solution. The VMware vExpert program has many great benefits. However, I recently heard about an opportunity with the vExpert program to potentially get my hands on a bundle of Intel drives as part of a giveaway.
What is Intel Optane Memory Modules?
Intel Optane is a 3D Xpoint non-volatile memory co-developed between Intel and Micron, providing fast data access. It accelerates computer performance by making it more responsive, durable, and adaptable.
Optane combines 3D XPoint memory with the Intel advanced system memory controller, interface hardware, and software to create a high-performance storage technology, resulting in a fast SSD that improves boot time load times and solid-state drive performance in a single drive configuration.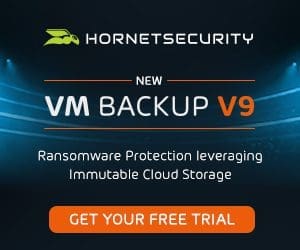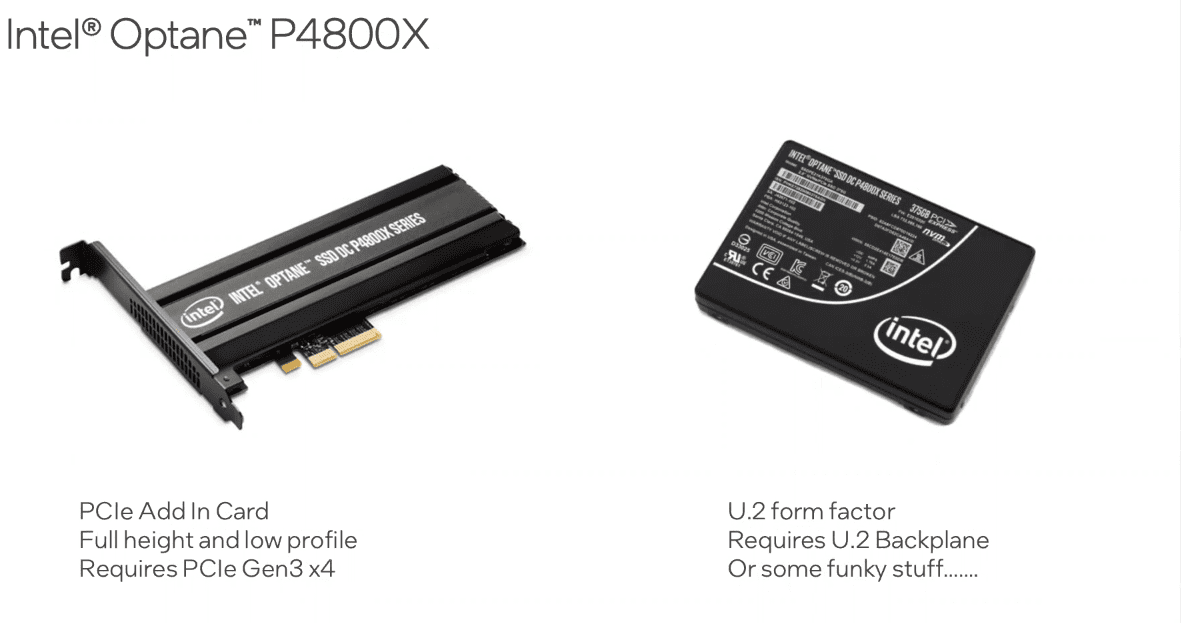 Lower latency
An Optane drive can move high-speed data storage closer to the computer's processor and has up to 1000 times lower latency and greater endurance than NAND memory technology used in NVMe drives.
Performance benefits
You will see tremendous performance improvements if you use Optane memory to replace SSD caching and other storage device drives. Intel Optane Memory is well-suited for cache files in front of high-capacity HDD drives.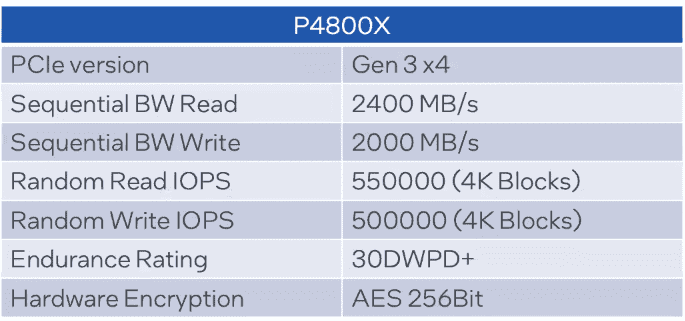 It is great in use cases where you need to improve the performance of the write speed of commonly used data and read speed for multiple applications. The caching algorithm will come into play.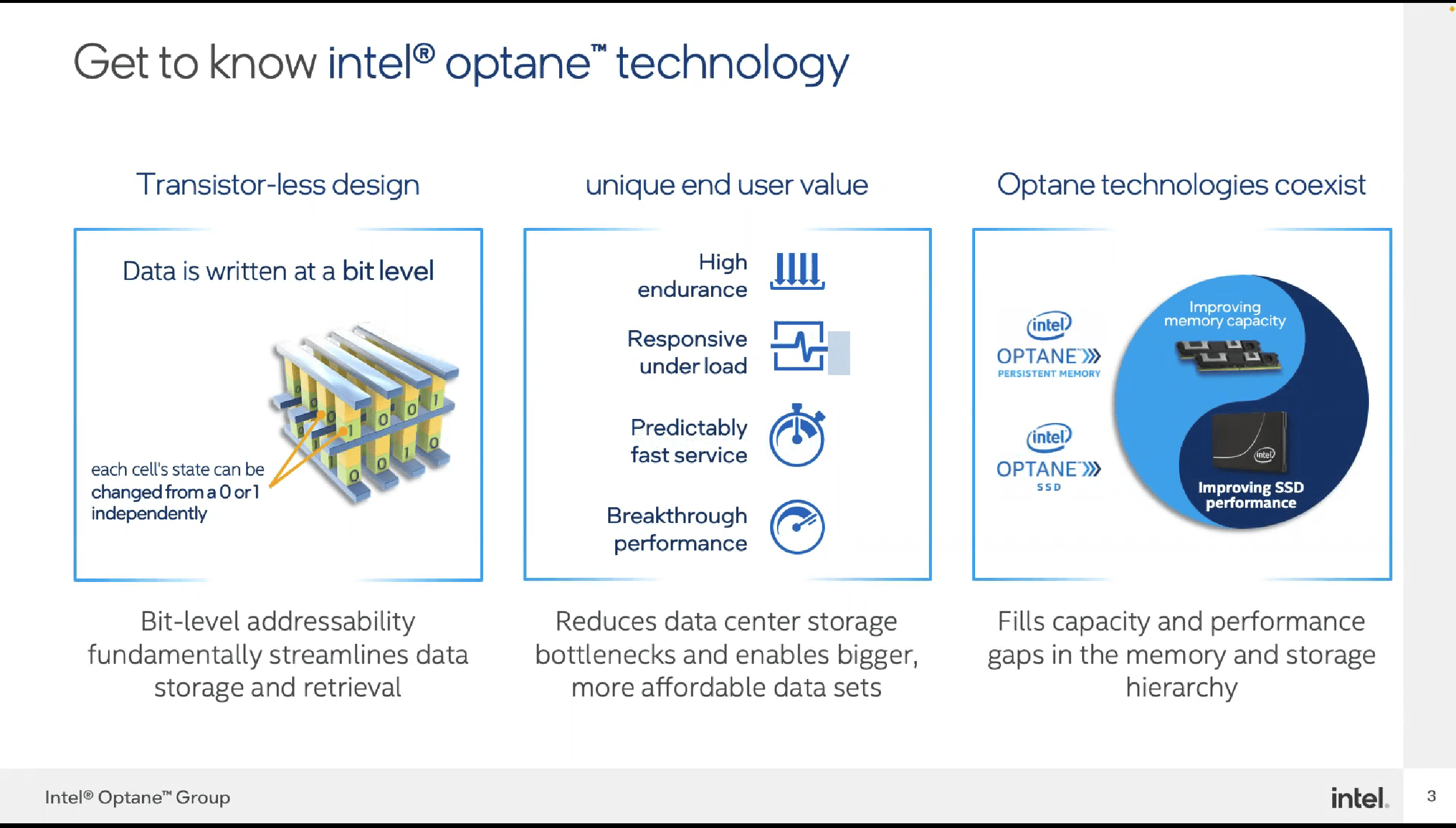 Persistent memory
It is also quick enough to be used as persistent memory modules that can replace RAM to a certain extent. It can be effectively used in memory-tiering technology.
They also don't have transistors compared to NAND drives. NAND read and write data in pages, and these become stale. Backend processes migrate data to a new page. To write the data, they have to write that new page. Old data is replaced in this way.
Unlike NAND solid state drives, Optane doesn't have this process at all. Optane writes the data in place and doesn't have to move the data to make the change. It keeps its high performance and maintains endurance.
Form factors
Intel Optane drives come in many different form factors, including:
PCI card

U.2 slot

M.2 slot
Access time
Intel Optane storage is extremely fast, with ultra-low latency. It leads to extremely quick access times for HDD performance using the SSD, much faster than a hard disk drive. Optane makes loading times of important data extremely fast, whether it is installed in desktop pcs or a server as cache memory.
Gaming and other real-world use cases
Gaming and other real-world use cases on PC benefit from the blazing speed delivered by Intel Optane memory cache. Instead of buying more RAM, often faster storage will allow having a system with less memory overall as the hard drive is often the bottleneck. With the M.2 Optane solution, you can even run this in a laptop. Laptops may be the most limited.
Isn't Intel Optane Memory going away?
If you are like me, you are wondering about Intel Optane memory and its future. As we all know, Intel has killed Optane moving forward. Wouldn't this eliminate the chance of using it or thinking about using it? Not necessarily.
Intel Optane is going to be around from Intel's perspective through 2025. So, it is still alive and well for the time being. You can still get it and use it, especially in the home lab environment, which is where I am keen on testing it out and benefiting from the additional performance it brings to the table.
How does Optane fit into the VMware vSphere ecosystem?
Optane is really desirable in VMware vSAN as a storage technology, especially if you place these high-performance cache devices in front of hard disk drives in a slower hybrid configuration. One of the reasons it is so beneficial is the endurance of the cache drive in vSAN.
Write endurance benefits for caching
The write endurance of the drive determines the size of the storage capacity for the cache devices or flash memory. So, when looking at needing more storage space for the cache tier, Optane helps to offset this storage capacity requirement, due to its endurance. Below, is a graphic from the vExpert webinar covering the Intel Optane solution and the sizes of the drives that you need between traditional NAND endurance and Intel Optane.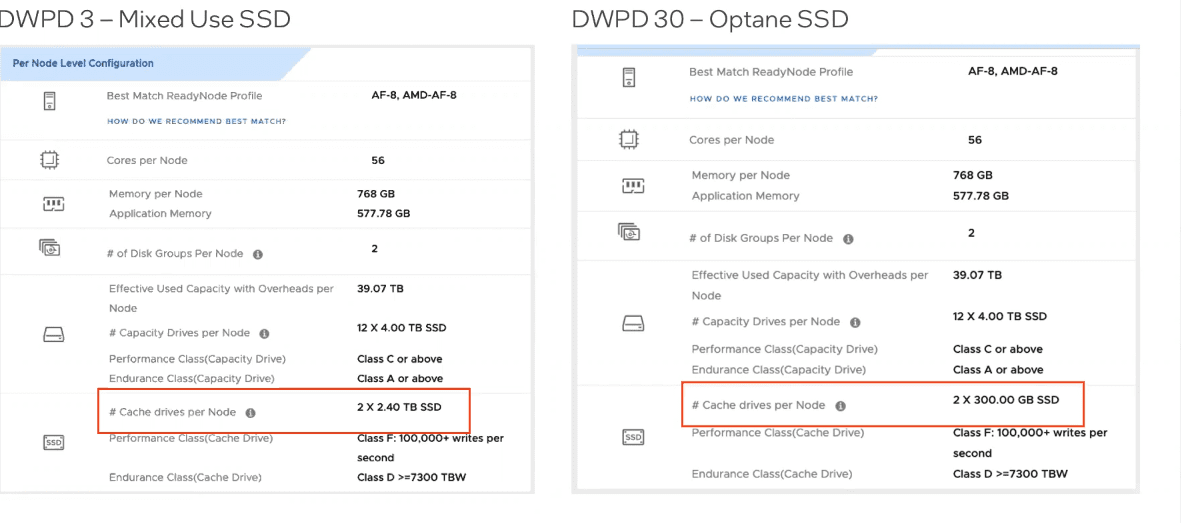 Original Storage Architecture vs Express Storage Architecture
The Intel Optane drives are a great drive to put in a disk group for a cache drive in the original storage architecture. However, in the new Express Storage Architecture, you can also use Optane drives, although the 4800 series for example is not certified with Express Storage Architecture. It will still work, though, as this will only be a warning.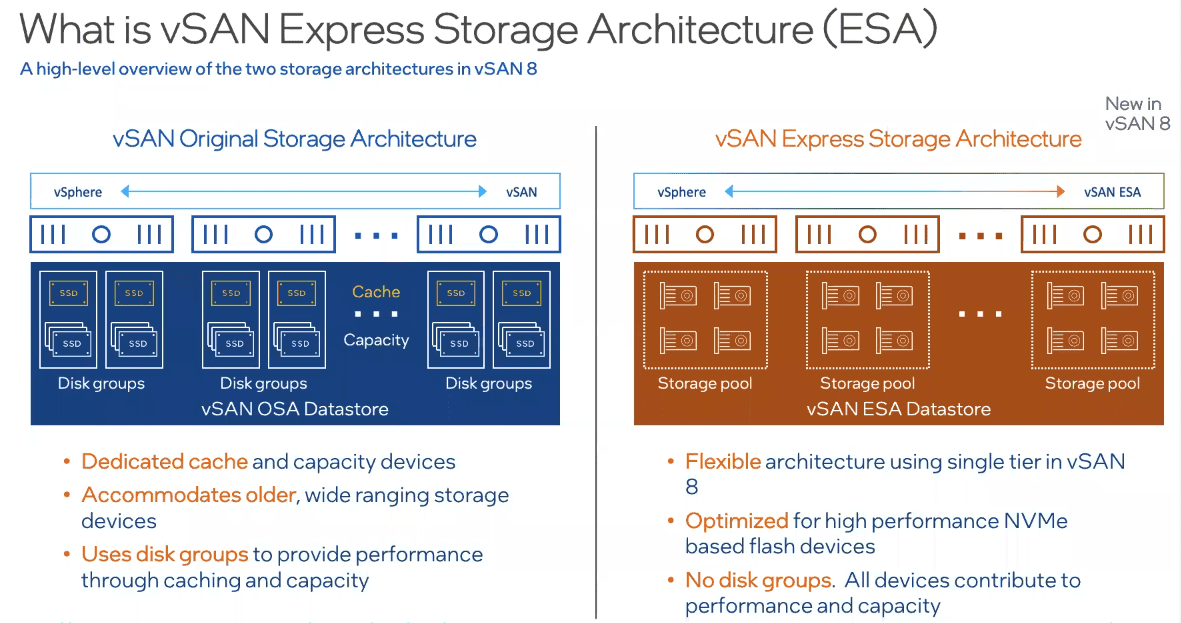 Awesome opportunity for vExperts from Intel and VMware
As a vExpert, we have an awesome opportunity to be chosen for a giveaway of Intel Optane Memory drives for use in the home lab. In a joint collaboration between Intel and the vExpert program, 60 vExperts will be chosen to win a bundle of Intel Optane Memory drives for use in the home lab environment.
This opportunity is excellent if, like me, you haven't had the opportunity to play around with Intel Optane memory technology in the lab environment to put it through its paces, using non-volatile memory of the Optane drives in front of your vSAN disk groups and experiment with it in the ESA configuration as well.
Home lab connectivity options
There are many great add-on cards and adapters to retrofit your servers using Intel Optane easily. There are many PCI cards and adapters where you can adapt the connections of U.2 drives to M.2 and plug these into existing backplanes and other available ports.
Many of these options are available from Amazon for super cheap and allow easily get the Intel Optane solution into your servers. These adapters can help bridge the gap between the technologies you have configured in your existing server.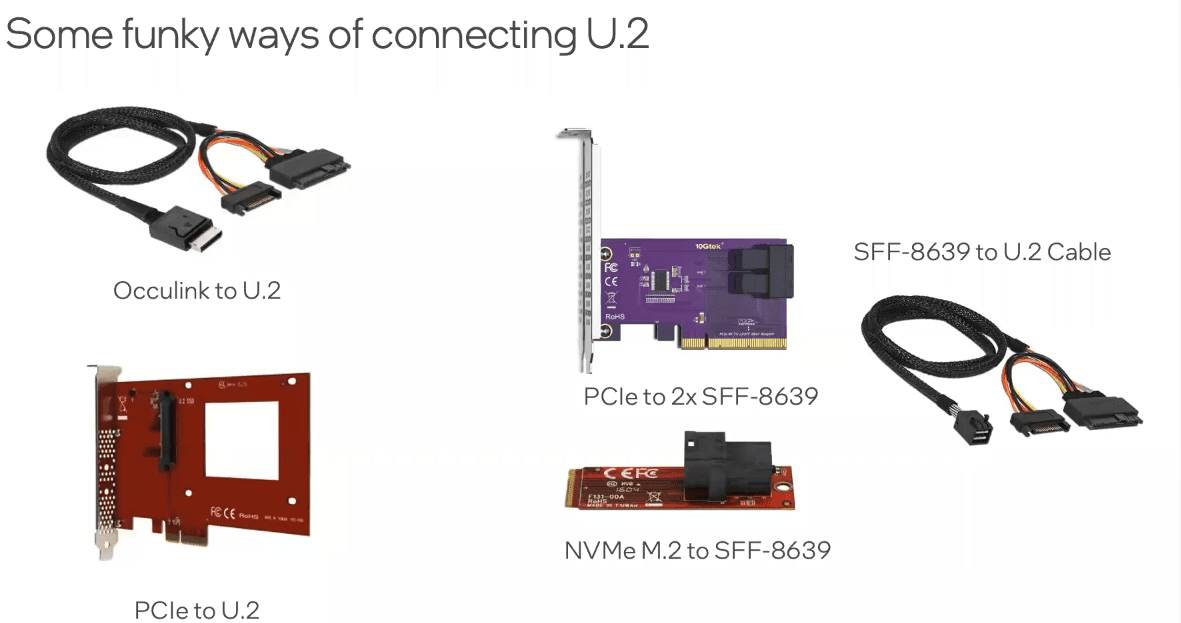 Wrapping Up
This is an excellent opportunity for VMware vExperts as it will allow many vExpert home labbers to get their hands on the Intel Optane solution. I will be humbled if chosen to work with this technology. However, if not, it will be great to see the results from the vExperts who are chosen and able to introduce Intel Optane memory into their home lab environment and the results they can achieve.