vRealize Suite
Upgrade vRealize Automation with vRealize Suite Lifecycle Manager vRSLCM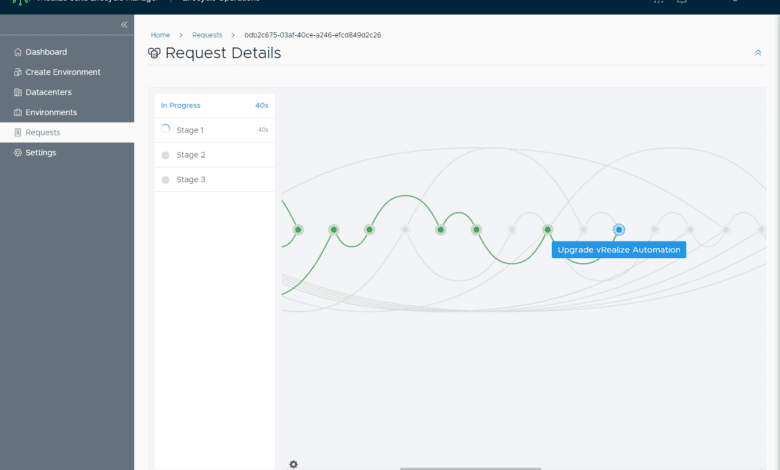 I have been doing a bit of upgrading and updating the home lab environment recently. One of the solutions that I run in my VMware-powered home lab environment is vRealize Automation. I have this, and my vRealize Operations Manager environments managed and maintained with vRealize Suite Lifecycle Manager (vRSLCM). Let's look at how to upgrade vRealize Automation with vRealize Suite Lifecycle Manager vRSLCM, as it provides a straightforward way to upgrade your vRA environment to the latest version.
What is vRealize Suite Lifecycle Manager (vRSLCM)?
If you are not familiar with vRealize Suite Lifecycle Manager (vRSLCM), you need to be. If you run many of the vRealize Suite solutions in your home lab environment or production, vRSLCM makes managing the lifecycle state of these solutions much easier. You can use vRSLCM to deploy these solutions initially, onboard solutions you have already provisioned manually (using import), and then manage the lifecycle of these solutions using the built-in patching and upgrading functionality.
New Features of vRealize Automation 8.8
You may wonder, why do I need to upgrade to the latest version of vRealize Automation? It contains many great new features, including the following:
vRA Migration Assistant supports vRA 7.6 only
Azure properties under protectedSettings is now encrypted
Allow global configuration of memory allocation limits
Support change owner Day2 action for single user that is part of an AD group
Support file upload component in Custom Forms
Enhance day-2 operations for TKGs clusters- Update K8s version, Update Tanzu Cluster VM classes, Scale worker nodes
Approval policy now includes multi-level approvals
Provisioning now supports an approval policy with limit > 2 days
Request ID is now displayed in deployment request history
Disk resizing and VM tagging – Scale and minor feature fixes in vRA/VCD integration
Custom forms supports workflows with legacy presentations from vRO java client
Ability to provision NSX-T On-Demand VLAN Segments – VCT support
Custom Naming has been revamped to include expanded functionality
You can read the full vRealize Automation 8.8 release notes here:
Upgrade vRealize Automation with vRealize Suite Lifecycle Manager vRSLCM
Let's look at the vRealize Automation upgrade process with vRealize Suite Lifecycle Manager vRSLCM and see the steps involved. First, it is assumed you already have a vRealize Automation environment already onboarded into vRSLCM and managed. Without vRSLCM managing your vRA environment, you won't be able to have it manage the lifecycle operations.
Next, download the VMware vRealize Automation 8.8.0 Update Repository from VMware. We will use this to upload to our vRSLCM appliance to upgrade vRealize Automation.
Next, we add the product binary to the vRSLCM appliance.
You can jump over to the Requests dashboard and see the request for adding the update repo ISO.
Click the Upgrade button next to vRealize Automation.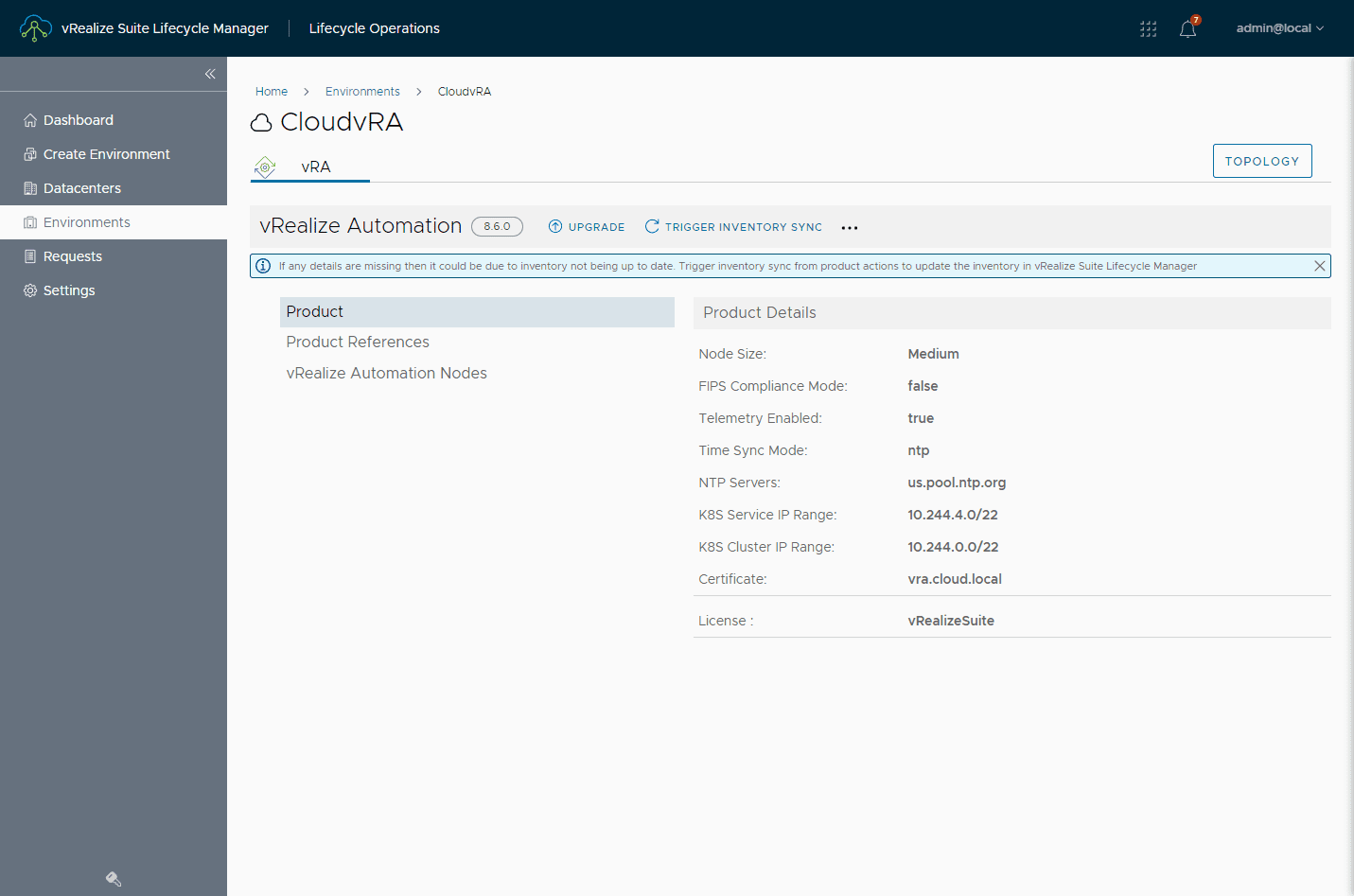 This will launch the Proceed to Upgrade dialog box. You can trigger an inventory sync to ensure you have the latest details about the solution's inventory. Click Proceed.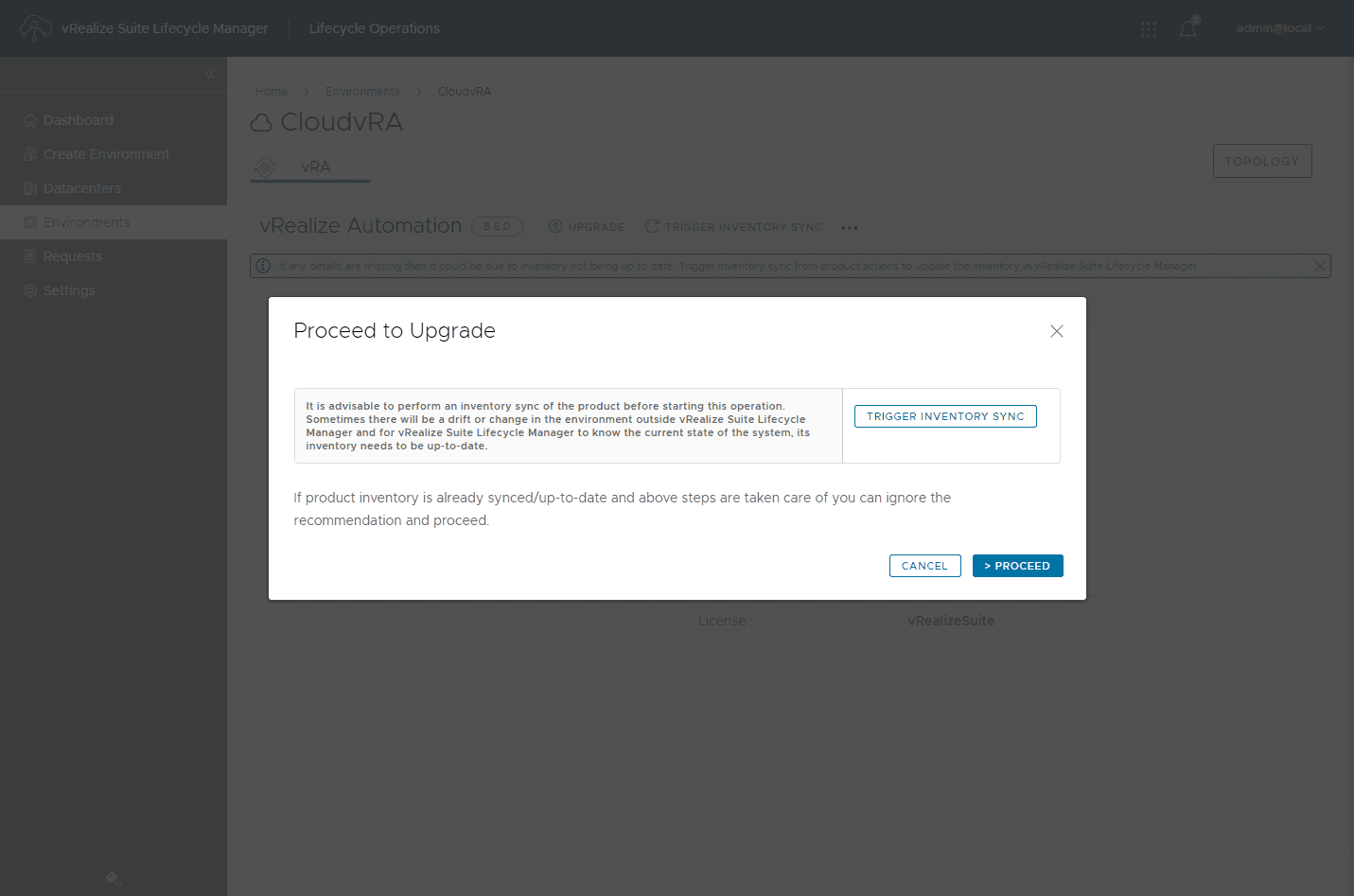 The request to add the update repo completes successfully.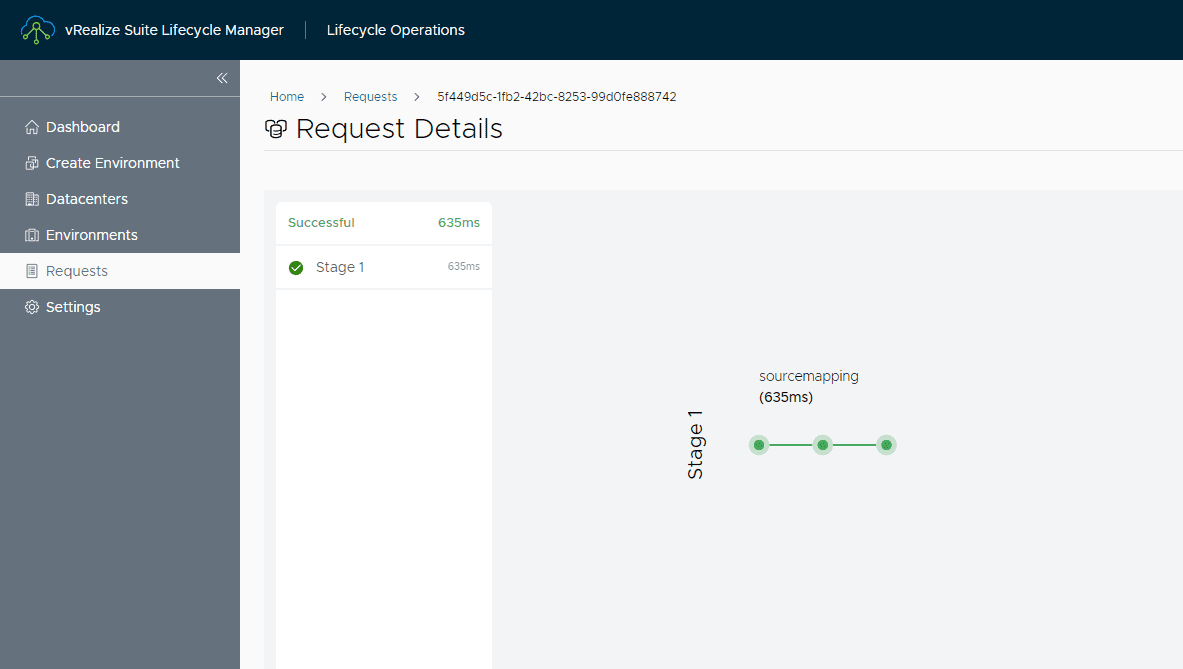 The wizard launches for configuring the details fo the upgrade. Select the relevant information:
Repository Type
Product Version
Repository URL (when Repository URL Repository type is selected)
Click Next.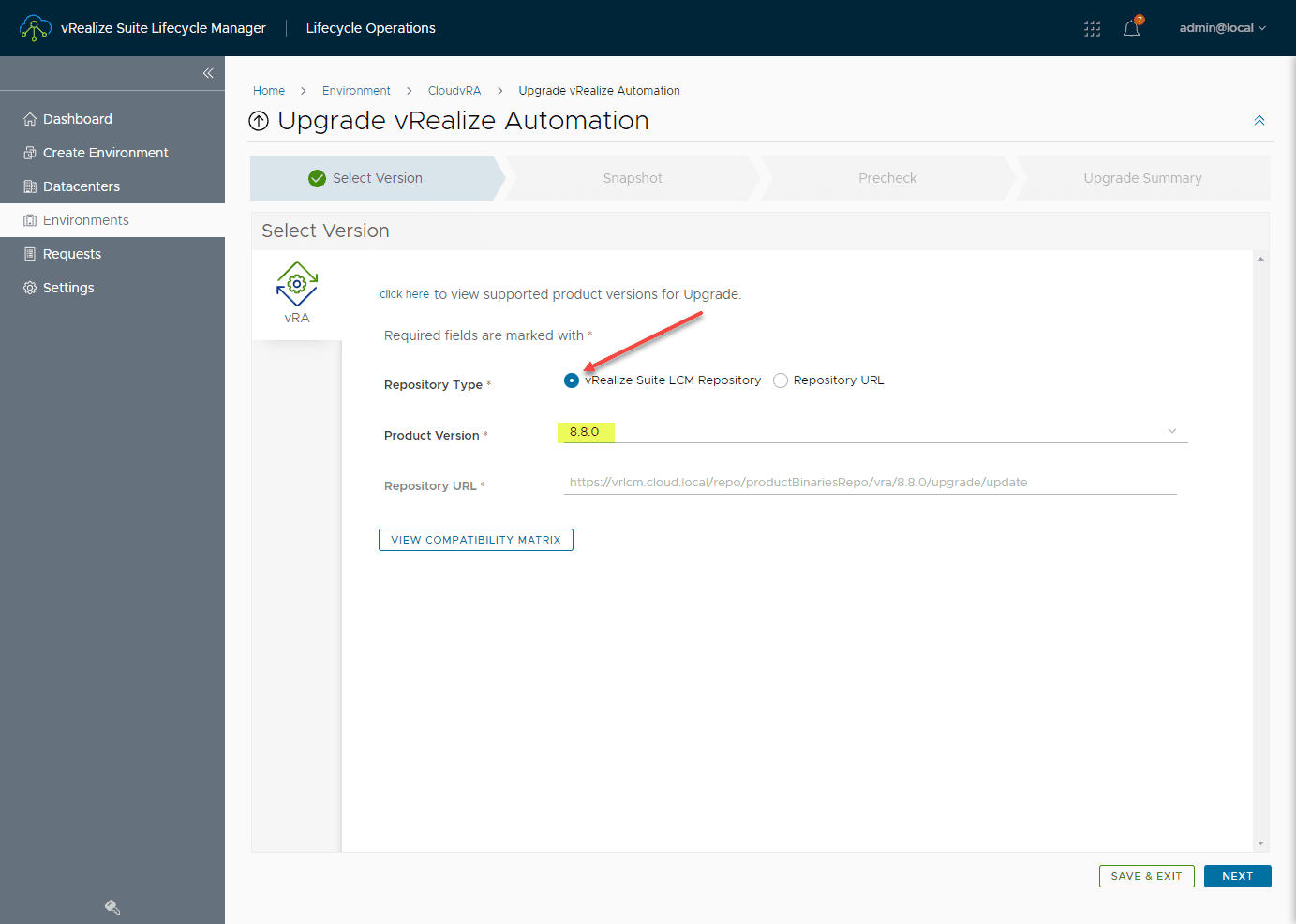 Take a snapshot of the vRA appliance. The wizard will automatically take a VM snapshot of your existing vRA appliance. Click Next.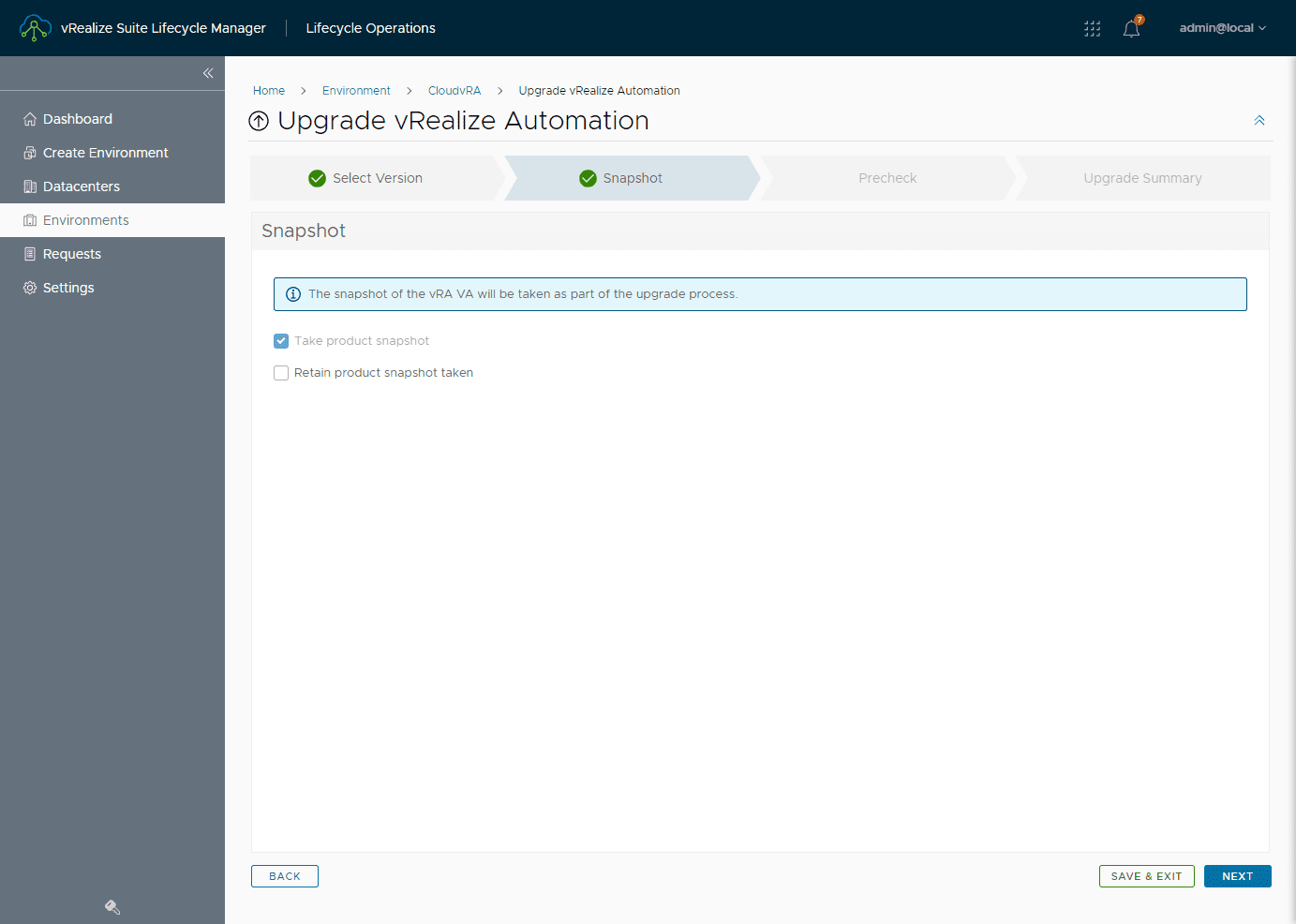 Click the Run Precheck button to run a precheck of the environment before proceeding. As you can see, this is required before you can click Next.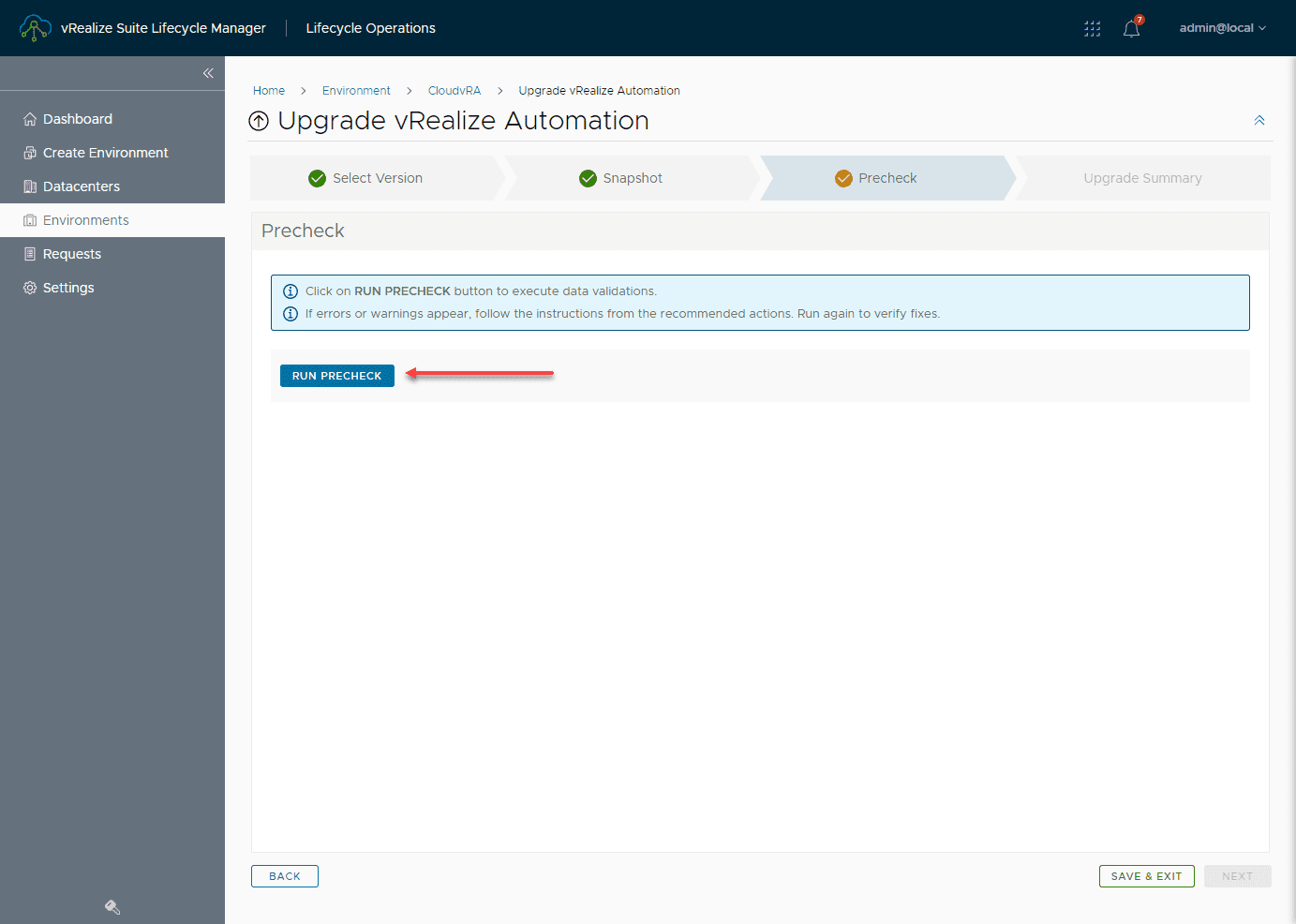 Select the I took care of the manual steps above and am ready to proceed, acknowledging you have taken care of the requirements listed. Click the Run Precheck button.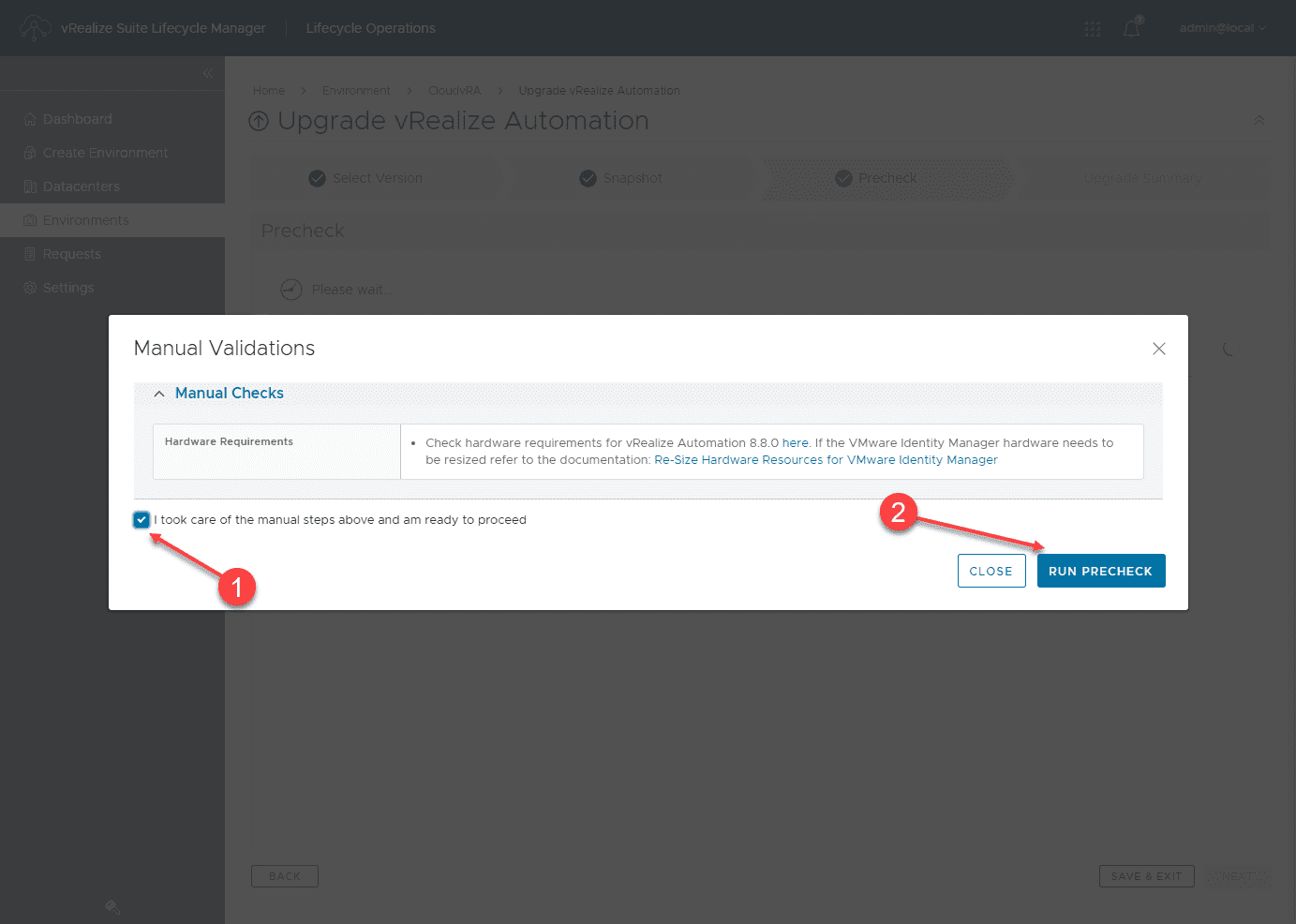 The precheck runs and is successful. Click Next.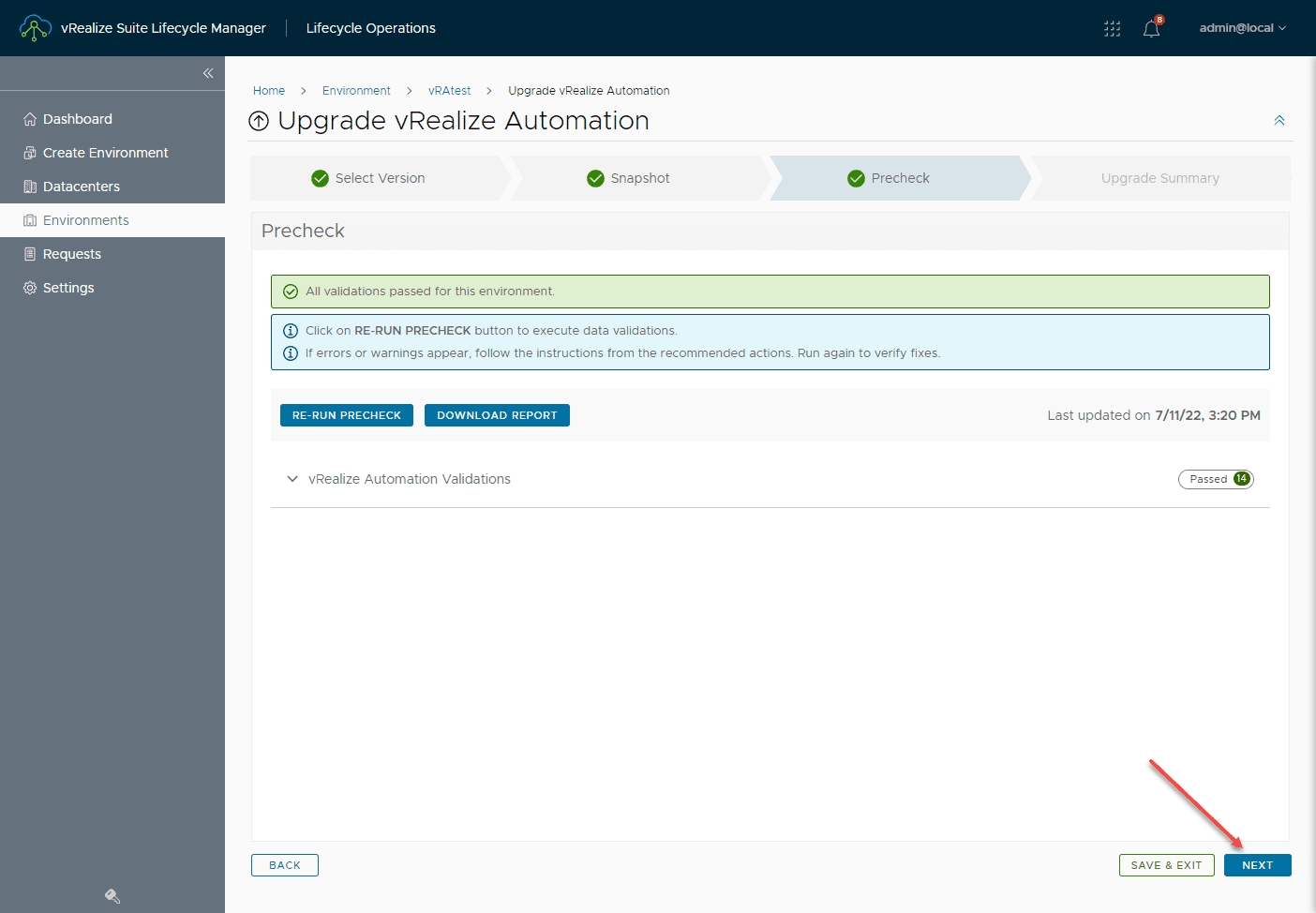 Finally, we are ready to proceed with the Upgrade. View the details on the Upgrade Summary screen. Click Submit.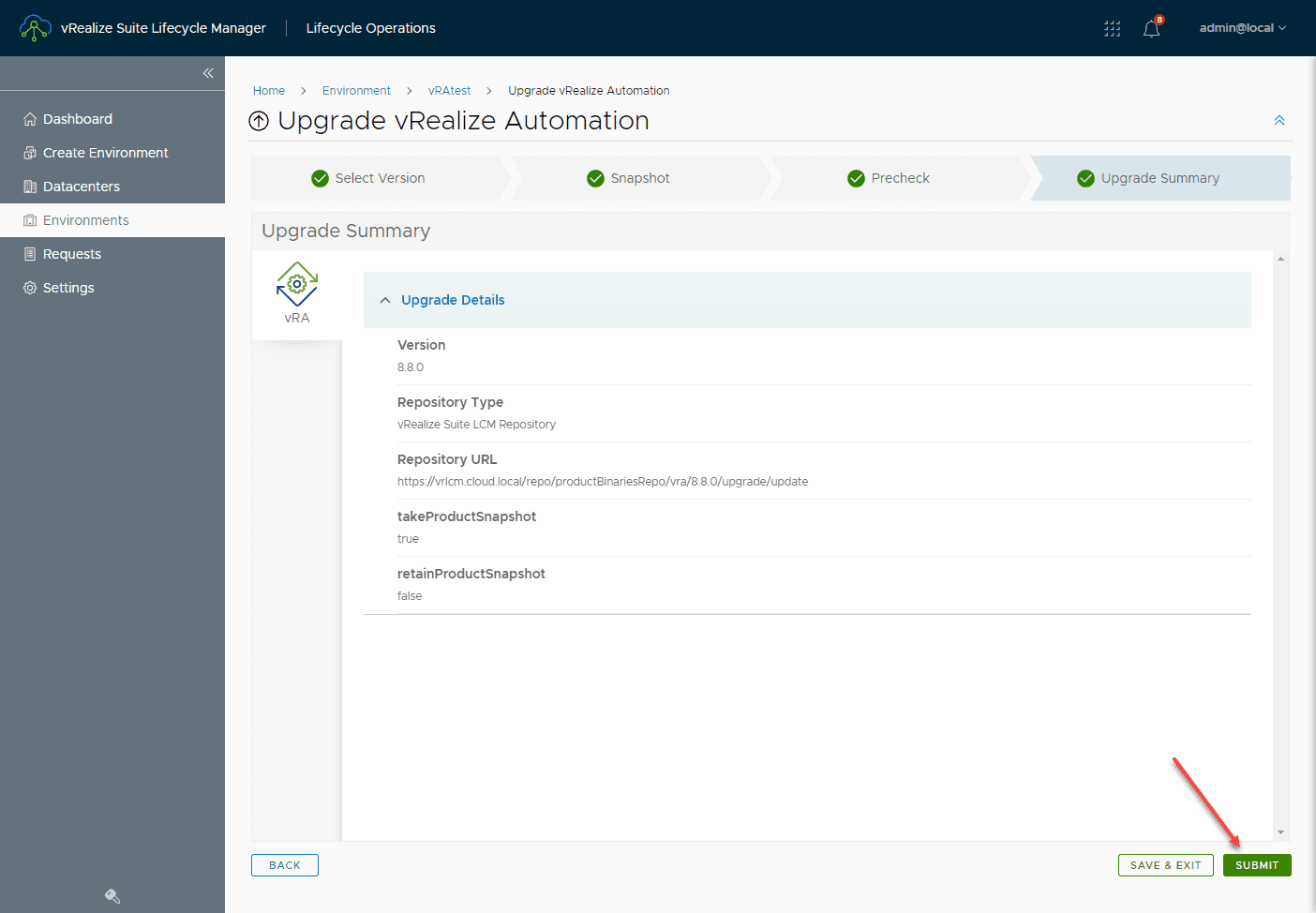 If you navigate to the Requests dashboard, you should see the upgrade process working its way through the upgrade of vRealize Automation. As a note, depending on the performance of your vSphere hosts, this process will take quite a long time.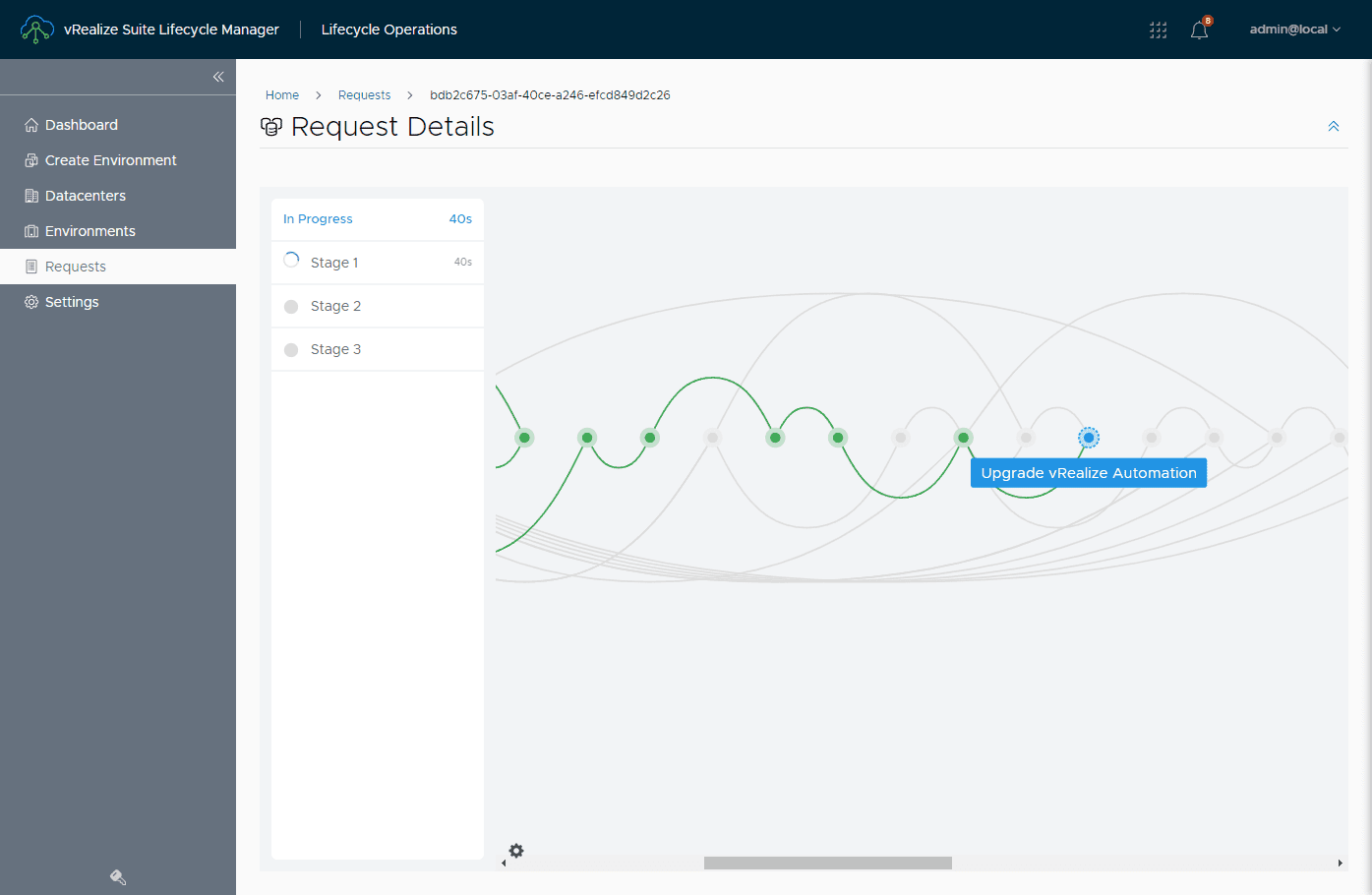 Wait for the process to finish, and you should be good with a newly upgraded vRealize Automation environment.
Upgrade vRealize Automation FAQs
Why upgrade vRealize Automation? There are many great new features in the latest version of vRA to note. See the features listed above, or look at the official release notes: vRealize Automation 8.8 Release Notes (vmware.com)
What is vRealize Suite Lifecycle Manager? It is a tool that allows managing all your vRealize solutions from a single pane of glass. It allows deploying vRealize solutions, managing them, and also managing lifecycle operations for vRealize
How do you upgrade vRealize Automation with vRSLCM? You do this by downloading the update repo, adding this to vRSLCM, and then executing an upgrade on your vRA appliance. During the upgrade process, vRSLCM will take a snapshot of the vRA VM. This snapshot is deleted after the upgrade is successful.
Wrapping Up
The vRealize Automation upgrade process is easily accomplished using the vRealize Suite Lifecycle Manager solution. It allows easily managing lifecycle operations such as upgrades. Hopefully, this walkthrough will help anyone who may have been intimidated to use vRSLCM for upgrading vRA. It takes much of the stress out of upgrading your vRealize environments with good checks and balances, prechecks, built-in snapshots, etc.