Backup Software
NAKIVO Backup and Replication v10.7 Beta Released New Features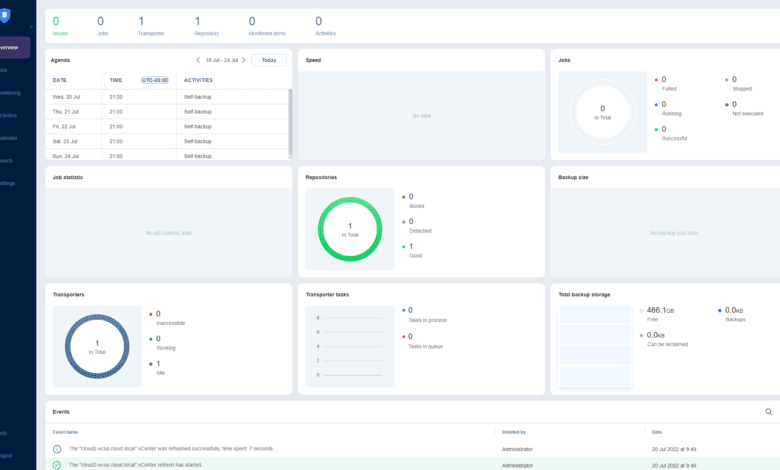 NAKIVO continues to deliver great new features and enhancements as part of its regular beta and GA release cadence. It is apparent that, like most backup vendors, they have their eyes set on the clouds with new features that deliver great new cloud storage and backup capabilities, helping to give organizations options to protect their data, align themselves with the 3-2-1 backup best practices methodology, and fight threats like ransomware. Let's take a look at NAKIVO Backup and Replication v10.7 Beta released new features and see what new enhancements are delivered with this release.
NAKIVO Backup and Replication v10.7 Beta New Features
With the NAKIVO Backup and Replication v10.7 Beta released new features include the following that help to bolster the cloud capabilities, storage options, and ransomware protection of the NAKIVO solution:
Backup to Azure Blob storage
Native Microsoft 365 Change Tracking
Microsoft Teams Backup
Wasabi Immutability
Overview Dashboard
Backup to Azure Blob storage
There is no question that organizations today are transitioning into multi-cloud organizations that like to cherry-pick the features and services from various cloud hyperscalers to create an overall cloud strategy that aligns with their business.
The ability to backup to Azure Blob storage is new with the NAKIVO Backup and Replication v10.7 Beta release. It means you can now create backup repositories in Microsoft Azure Blob Storage containers and benefit from a scalable and affordable block storage platform.
You can also send backups and backup copies to Azure Blob repositories and perform instant full or granular recovery, depending on what you need. Another great feature of the new storage location is the ability to enable immutability for backups in Azure Blob for anti-ransomware protection.
Below, you can see a few screens of the Create Backup Repository wizard. With the Cloud option, we now see Microsoft Azure Blob Storage listed.
You can now choose Azure Blob Storage on the Vendor screen.
On the Name & Location screen, you can name the repository and then add your Azure Account you want to use for the Blob Storage location.
Native Microsoft 365 Change Tracking
We have all long been familiar with the concept of change tracking when backing up virtualized environments. Change tracking features provide tremendous benefits regarding time to perform backups and the amount of storage required to back up business-critical workloads.
NAKIVO now brings change tracking to your Microsoft 365 backups with the new Microsoft 365 Change Tracking feature. Faster backups mean backups are much leaner in terms of storage and network bandwidth requirements. With v10.7 Beta, you can take advantage of Microsoft's native change tracking functionality and leverage the capability for incremental backups of your Microsoft 365 data.
Microsoft Teams Backup
Microsoft Teams has seen explosive growth over the past couple of years as organizations have shifted to a hybrid work strategy. Microsoft Teams enables organizations to collaborate and communicate on business-critical tasks, regardless of location.
However, thinking about the shared responsibility model that is well-documented by Microsoft, protecting your cloud Software-as-a-Service data is your responsibility, not Microsoft's. This responsibility includes protecting your Teams data.
In the inventory section of settings in the NAKIVO Backup and Replication v10.7 Beta appliance, you can choose SaaS Microsoft 365.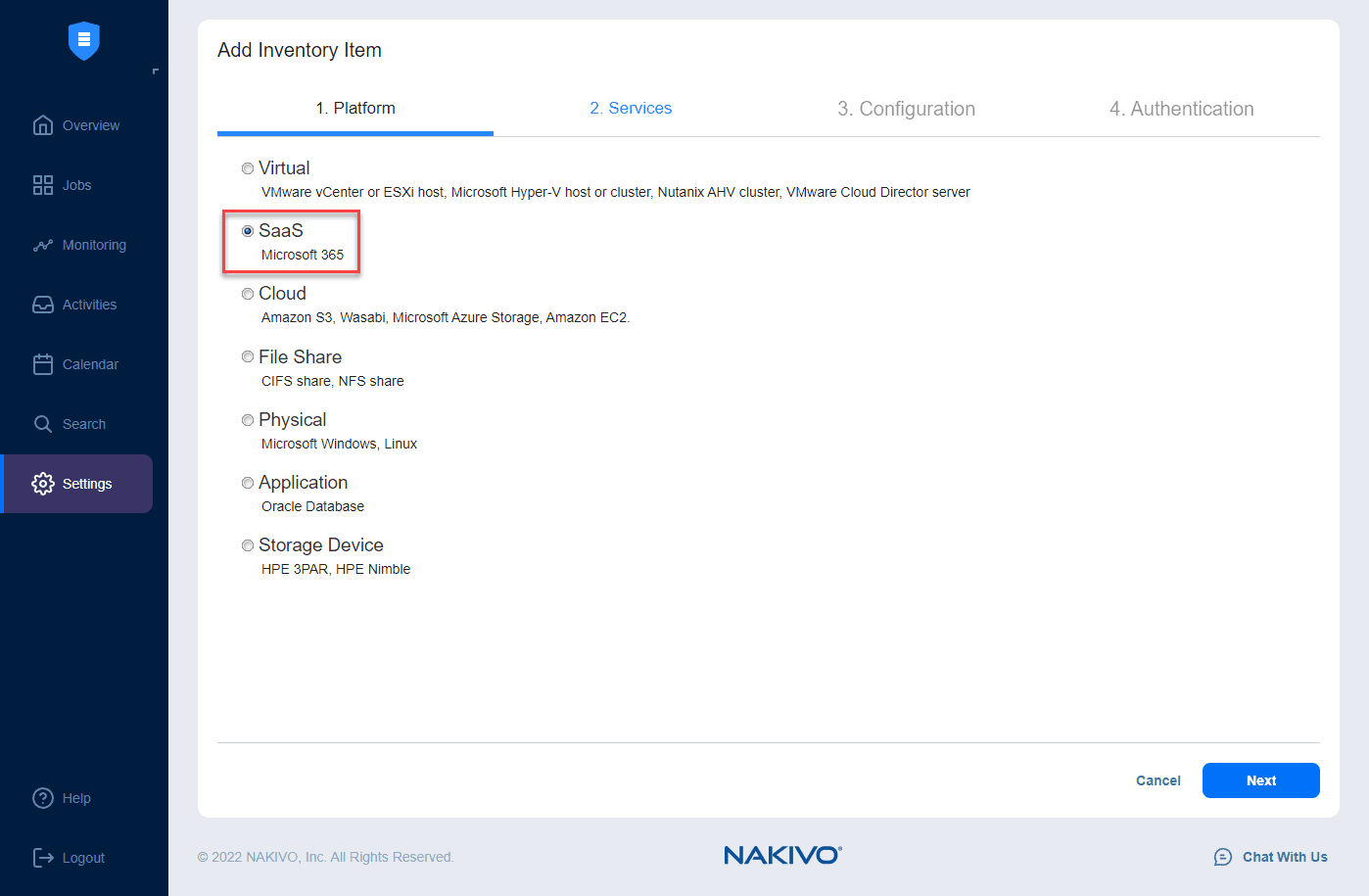 After selecting SaaS Microsoft 365, on the Services screen, you can select the specific Microsoft 365 services you want to backup, which now includes Teams.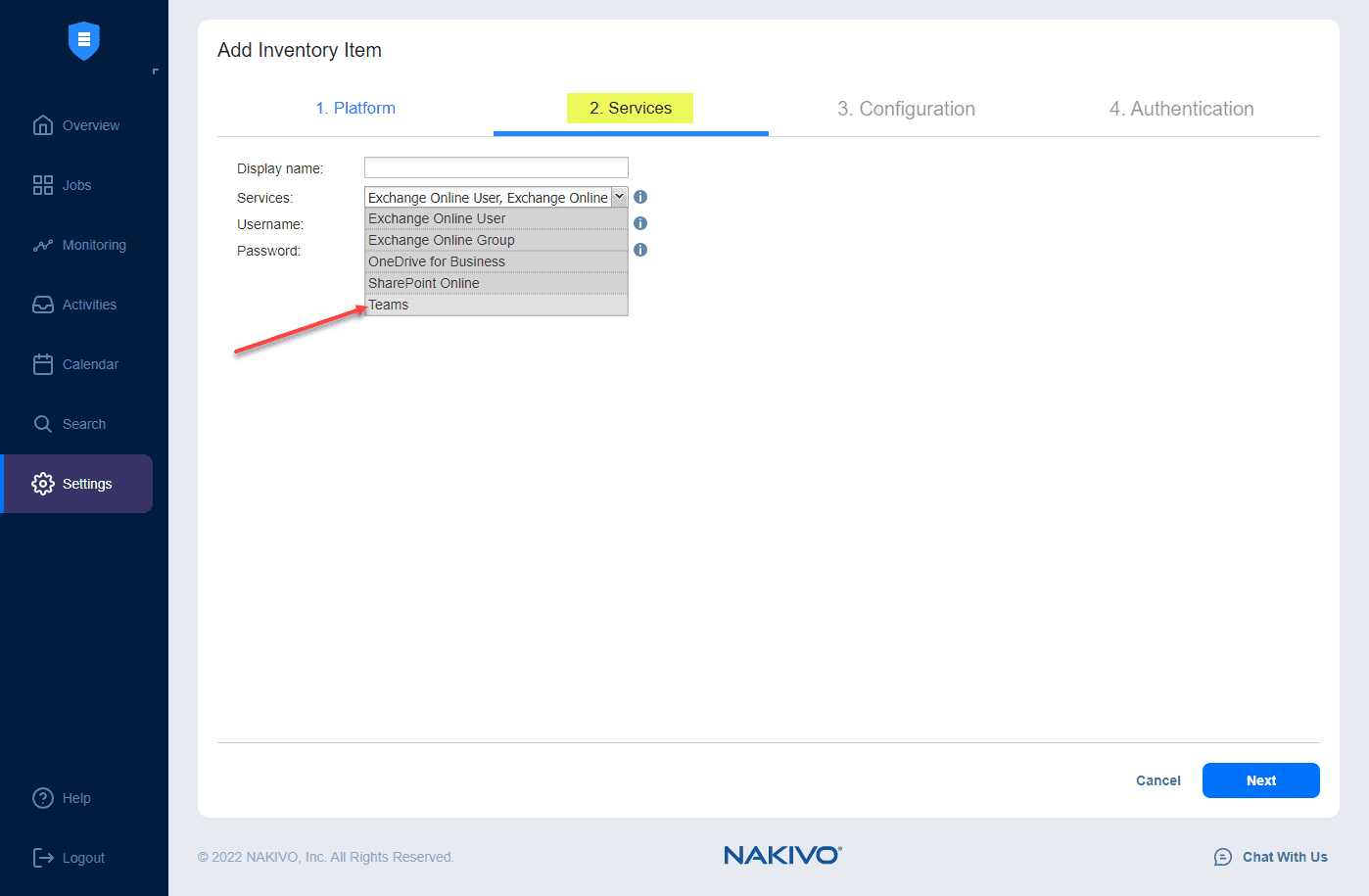 Wasabi Immutability
Another great cloud storage option provided by NAKIVO Backup & Replication v10.7 Beta is Wasabi cloud storage. NAKIVO introduced the capability to backup to Wasabi Hot Cloud Storage back in the v10.0 release.
However, with NAKIVO Backup and Replication v10.7 Beta, NAKIVO is adding a much-requested feature across any backup storage provider – immutability. In case you are wondering what immutability is (as we mentioned this with Azure Blob Storage as well), it is the ability to set a flag that basically makes changes to your data impossible for a certain period. So, even if ransomware gets "line of sight" access to your data, it will be unable to make any changes if the immutability flag is set.
This new feature helps improve ransomware resilience and prevent data loss by making backups and backup copies stored in Wasabi cloud storage immutable. As mentioned, immutable backups are protected from modifications or deletions, including accidental deletion, intentional corruption, and encryption by ransomware. However, you can still read from the data as it remains available for recovery.
Immutability is a great way to protect your data from ransomware, and having this capability across your cloud storage repositories helps to bolster your "offsite" backups even further.
Overview Dashboard
One of the great things to see over the past few NAKIVO Backup & Replication releases is that NAKIVO is growing from just simply being able to backup your data to a more robust data protection and monitoring solution for your enterprise environment. If you recall, the NAKIVO Backup & Replication v10.5 release added IT Monitoring to the solution.
The monitoring solution allows VI admins to monitor their VMware vSphere environments and the key performance indicators (KPIs) that are relevant to troubleshooting and root-cause analysis (RCA).
The NAKIVO Backup & Replication v10.7 Beta release adds a really great new dashboard called Overview. The NAKIVO Backup & Replication v10.7 Beta Overview dashboard provides a real-time overview of your data protection activities, making it easy to spot any issues and monitor business-critical protection activities in the environment.
The dashboard includes numerous widgets covering various areas of the solution, such as:
Job states
Repositories
Transporters
Monitored items, etc.
Again, this allows you to detect any potential issues and take measures to resolve them promptly. One of the things I noticed from the Overview dashboard is that many of the items are hyperlinked from the dashboard so that you can jump to the relevant configuration settings and other dashboards in the NAKIVO interface. It allows quickly moving around to various parts of the NAKIVO interface.
NAKIVO Backup and Replication v10.7 FAQs
Is NAKIVO Backup & Replication free? Yes, there is a NAKIVO free offering that provides protection for 10 workloads and 5 Microsoft 365 users for a whole year with the following features: ransomware-free backups with immutability, multiple storage locations, instant granular recovery, instant VM recovery, IT monitoring for vSphere, and simple administration. You can learn more about it here: Free Edition | NAKIVO Backup & Replication
What is the NAKIVO Backup & Replication v10.7 beta release? This is the newest NAKIVO Backup & Replication Beta release showcasing the latest features and capabilities of the NAKIVO platform, including new Azure Blob Storage target with immutability, Wasabi immutability, Overview Dashboard, Teams backup, Microsoft 365 change tracking.
What are immutable backups? Immutable backups like NAKIVO can perform provide a special flag that makes it impossible for ransomware to modify, delete, or encrypt your backups of business-critical workloads
Can NAKIVO backup Microsoft 365 environments? Yes, it can. NAKIVO continues to add Microsoft 365 capabilities to the platform. With the NAKIVO Backup & Replication v10.7 Beta release, you can now backup Microsoft Teams. You can also backup Exchange Online, OneDrive for Business, and SharePoint Online.
Wrapping Up
The new NAKIVO Backup and Replication v10.7 Beta release is a great new release full of features for enterprise customers leveraging on-premises, hybrid cloud, multi-cloud, and Software-as-a-Service (SaaS) solutions. NAKIVO is definitely bolstering the capabilities and features provided to customers and giving them the tools needed to effectively backup their data, no matter where it exists on-premises or in the cloud.
You can download the new NAKIVO Backup & Replication v10.7 Beta release here: NAKIVO Backup & Replication 10.7 Beta – Now Available!
Read my other posts covering NAKIVO here:
Don't miss out on new posts! Sign up!