Backup Software
NAKIVO Backup and Replication v10.5 GA New Features Download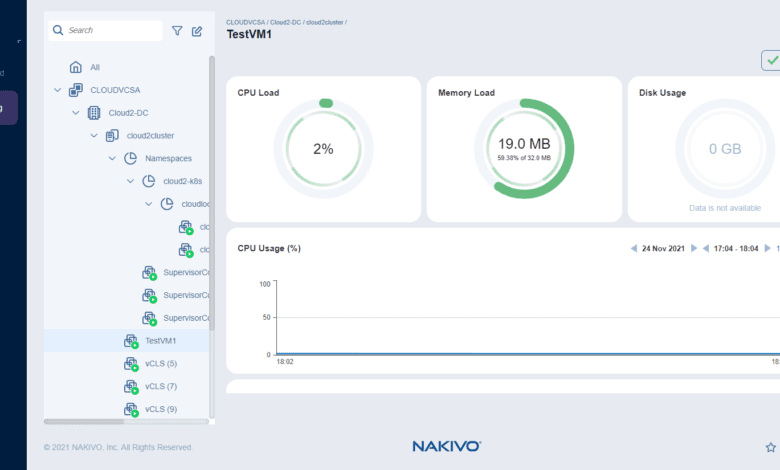 It seems like it wasn't long ago that we covered the new features of NAKIVO Backup & Replication v10.5 beta. NAKIVO's workflow for new releases is great and allows customers and potential customers to try out the newest features in beta form before the GA release. Just a few weeks later now, NAKIVO has released NAKIVO Backup and Replication v10.5 GA new features download for production environments. Let's take another look at NAKIVO's flagship product and see what features are included.
NAKIVO Backup and Replication v10.5 GA New Features Download
NAKIVO has included two new enhancements with the release of v10.5 GA. These are:
VMware Monitoring
Hardened Virtual Appliance
Microsoft 365 (Auto Set Permissions)
VM Template Backup
Let's take these one-by-one and see how these add to the features and functionality of NAKIVO in your environment.
VMware Monitoring
Monitoring and data protection are two very closely related activities. Both serve the purpose of protecting the accessibility of your data. Monitoring helps to identify if something is going on with business-critical workloads running in the environment and identify anything that could potentially impact the availability of those workloads and, by extension, your data. Backups, of course, protect the data itself. These go hand-in-hand.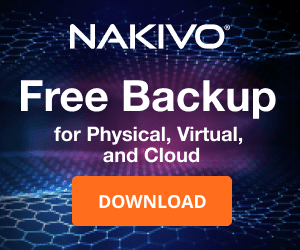 With this release, NAKIVO has added the functionality to monitor your VMware vSphere environment. This is a great new feature, especially for environments that currently have no monitoring solution in place. NAKIVO allows administrators to add their VMware vSphere vCenter or ESXi servers to the dashboard and monitor basic performance metrics for workloads, hosts, etc.
With NAKIVO adding the new monitoring feature to the solution, organizations now have both monitoring and data protection in a single all-inclusive interface, without logging into multiple dashboards and consulting multiple solutions for information with multiple logins.
With the NAKIVO monitoring solution, you can currently monitor:
Adding Monitored items
One of the things that I like about NAKIVO compared to other data protection solutions is the ease of use provided by the solution. Everything is intuitive and easy, even if you have never used the platform before. They have managed to maintain this simplicity in monitoring resources in your VMware vSphere environment.
The process to start monitoring your vSphere environment is comprised of the following:
You simply add your vCenter Server to your NAKIVO inventory
Choose which resources you want to monitor – VM or policy based
Below, we are adding a new vCenter Server to the NAKIVO inventory.
After adding your vCenter Server or ESXi host, you can then navigate to the Monitoring dashboard to Add Monitored items.
In the Eit Monitored Items List you can choose between Items and Policy. The Items interface allows you to place a checkmark next to the items you want to monitor. You can place a check next to your datacenter to choose everything.
Apply some of the same logic that exists in the data protection side of things, NAKIVO also has an interesting take on how you can onboard items for monitoring by applying Policy-based monitoring to monitor items that meet certain rules. These can include:
VM name
VM Template name
VM tag
VM location
VM Template location
Name of VM datastore
Name of VM TEmplate datastore
Name of VM network
Name of VM Template network
Size of VM
Size of VM Template
Amount of VM RAM
Number of VM CPU sockets
other characteristics…
Below is the view of the monitoring metrics pulled for a monitored VM. As mentioned, these are fairly basic at the moment. However, there is no question NAKIVO will be feverishly adding new features to the monitoring functionality in future versions. It will be great to see what features land in v10.6 and higher.
Hardened Virtual Appliance
There is not a more important topic today for organizations, information technology infrastructure, and business-critical data than security. Businesses must give the due attention needed to secure their data. Ransomware gangs are increasingly targeting data protection solutions so they can effectively encrypt, not only the production data, but also the backup data.
The reason for this is simple. If backup data is encrypted along with the production data, there is no chance the business can recover their business-critical data from backup and will be forced to either pay the ransom or suffer the consequences of losing all their data. This outcome for most companies is not acceptable. Unfortunately, in this case, companies normally choose to pay the ransom to get their data back which only fuels the ransomware pandemic.
Ensuring your backup infrastructure is "hardened" or hard to compromise is a great step in the direction of securing your business-critical backups. The harder it is for attackers to compromise, the more likely it is that attackers will spend their time elsewhere.
With the NAKIVO Backup & Replication v10.5 release, NAKIVO is taking steps to further secure the NAKIVO platform. These steps include hardening their virtual appliance offering. I already think NAKIVO is well ahead of the game with their Linux-based virtual appliance. However, NAKIVO has further hardened the solution in this release from a security perspective by changing and hardening the following areas:
NAKIVO has updated the underlying Ubuntu platform from 18.04 to 20.04
NAKIVO has deprecated the use of the root account and are no longer using it for operations
There is a new nkvuser account. NAKIVO is now using this account as the default user enabled after deployment
Account lockouts are invoked with bad SSH attempts
Shared memory is secured
They have effectively built-in immutable backups in the hardened NAKIVO virtual appliance
When you couple the new security features found in NAKIVO Backup & Replication v10.5 with features that have been recently added such as:
Two-factor authentication
Immutable backups
AD integration
Microsoft 365 Auto Set Permissions
NAKIOV Backup & Replication can now automatically check and set the required API permission in your Microsoft 365 accounts before adding them into the NAKIVO inventory.
VM Template Backups
NAKIVO Backup & Replication v10.5 can now backup and recover custom VM templates in your VMware vCenter environment or ESXi hosts.
Other general improvements
Other general improvements for NAKIVO Backup & Replication v10.5 include:
The solution can now display full license information, including full licensing model breakdown and used/licensed workload details.
More consistent format for alarms and notifications.
Improved two-factor authentication for Active Directory users.
Improved tree UI component for easier management of large item sets.
Backup copy jobs now skip data unpack/pack if the source and target Backup Repository share the same type and compression.
The solution more easily identifies backups with corrupted recovery points.
Enhanced tracking of virtual machines in Microsoft Hyper-V clusters during job runs.
Data unpack is now skipped for new backup copy jobs. A mapping run is required to apply the improvement for existing backup copy jobs.
Support for Asustor ADM 4.0.
VMware Virtual Appliance and Nutanix AHV Virtual Appliance are now based on Ubuntu 20.04 LTS.
Transporters can now be grouped into transporter pools. If this option is selected during the job creation process, only the transporters that belong to the selected transporter pool shall be used during the job run. This can be useful for allocating resources of the specific transporters to the job.
Wrapping Up
NAKIVO Backup & Replication v10.5 is another great release from NAKIVO that adds the features of Monitoring and hardened Virtual Appliance to the list of features supported by NAKIVO. It is great to see backup vendors like NAKIVO taking security seriously and introducing the technical tools that allow businesses to solve this very difficult challenge in the enterprise effectively.
Download a free trial version of NAKIVO Backup & Replication v10.5 here: