VDI
Remote Device Management Client with ThinMan Server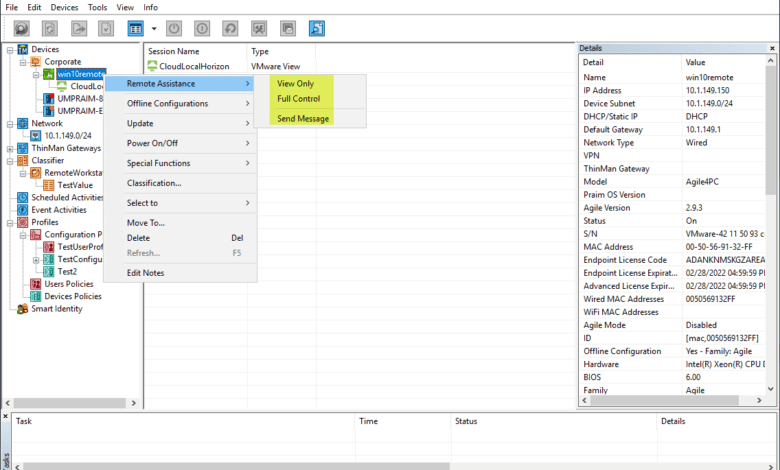 Organizations today have had to streamline their IT operations due to the significant shift to a remote workforce. In addition, with the change to a hybrid workforce, many workers are leveraging physical stations or endpoints to connect to VDI and remote desktop infrastructure for business-critical resource access. VDI, in particular, has become an invaluable technology supporting IT operations efficiently and uniformly scaling the provisioning of digital workplaces. However, it can be challenging to support and efficiently scale up solutions. Also, providing security and automation management of the respective physical clients scattered across remote sites and the Internet can be a challenge. Praim ThinMan enables organizations to have the tools needed to close the circle of management, automation, and security for local and remote endpoints. It helps to solve efficiently the challenges of unified control and management of devices across the Internet. Let's look at Remote Device Management Client with ThinMan Server.
The management challenge
IT admins and IT operations teams are tasked with managing IT infrastructure, wherever this infrastructure resides. However, using legacy or traditional management tools, it can be challenging to effectively manage tens, hundreds, or thousands of workstations scattered across remote sites (company branches) and also potentially located in the homes of remote workers.
VDI and remote desktop technologies have helped organizations modernize accessing business-critical resources, providing centralized management and security benefits. However, companies must provide their workers a way to access these virtualized desktop resources, regardless they are within the company headquarters or connected from remote. In particular, it means also remote workers will have a physical device at their location to connect to the VDI environment in the data center. Businesses may opt to use thin clients, physical workstations, or assigned laptops to remote workers. Some companies may also allow employees to "bring your own" (BYO) devices.
Even with centralized management of server-side resources, businesses can struggle to effectively and securely manage end-user clients, especially if these are remote. The more such a management is neutral to divide the location the more companies can uniformly automate it. So how can organizations close the circle of management and automation to include the management of physical endpoints?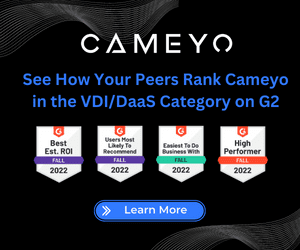 Remote Device Management Client with ThinMan Server      
Using Praim ThinMan, organizations have the tools to provide streamlined, seamless management and automation to remote clients. You can do this across heterogeneous clients, remote networks, and users. Praim ThinMan Server provides the capabilities needed for organizations to provide the effective management they need for today's hybrid workforce. These capabilities include:
Zero Config deployment and configuration of new devices
Provide patch, update management and third-party software installation of remote client devices (selective, based on events or scheduled)
Provide daily administration automation for end-user client workstations, such as power-management
Provide remote support, including remote desktop assistance for users having issues
Even more advanced features for security and authentication
Let's take a look at the robust capabilities and features provided by Praim ThinMan and see how these empower IT operations teams to effectively carry out management, deployment, configuration, and remote support tasks.
ThinMan Profiles
Praim ThinMan Server has the concept of profiles that allows streamlining configuration and implementing zero-config, among other tasks. With Praim ThinMan configuration profiles, you can capture the configuration of a specific device.  Admins can then apply the configuration profile to additional devices. Furthermore, it effectively replicates and configures devices, so this process is automatic on the first startup (zero-config).  Below, we are saving the configuration of a particular device as a template.
You can then apply the template to a configuration profile.
Profiles provide configuration automation and allow differentiating the configuration of devices based on type, subnet, or other characteristics you can freely define in ThinMan Server.
Apply updates and install third-party software
Managing system updates across your remote client estate is a challenge. However, it is critical to ensure security for remote clients. Providing updates for your Praim endpoints and installing third-party software is easy using Praim ThinMan Server.
Using ThinMan Server, any managed device can be updated or configured with third-party software using the Update functionality. 
You can also schedule these activities using the Scheduled Activities function in ThinMan Server. Below, note how you can add various actions on a scheduled basis. These activities include updating, applying a device image, creating a device snapshot, or other tasks.
Power management

Power management can also prove to be challenging for physical devices. However, ThinMan Server can easily provide power management for remote clients. You can control startup, shutdown, power off, and other tasks. Using ThinMan, you can create your inventory based on ThinMan classifiers and tag your scheduled tasks, such as power management activities, with these classifiers. This capability enables granular targeting of managed ThinMan Server devices. 
Remote assistance
One of the IT tasks providing support for remote workers is remote assistance. What if a remote worker needs someone to troubleshoot their environment? What if they need to show the helpdesk an error message they are receiving on their desktop?
Praim ThinMan Server enables the IT helpdesk to provide remote assistance to any endpoint, no matter where it is located. In addition, if ThinMan Server is located in the cloud, the IT helpdesk technician can also assist while being located remotely from the ThinMan Server.
Other features
ThinMan Server also provides many other features we have not highlighted here. These include:
Ability to streamline and customize your endpoint management and save your time (and money)
Ability to define user profiles and integrate with Active Directory to make the configuration of your endpoints customized based on the user and manage access authentication also enabling cards or 2-factor authentication (User+ pack).
If you have a very large IT administration team and infrastructure, you can enhance security and business continuity with the Admin+ pack.
If you have a very distributed structure, you can optimize the management of the network and remote offices with the functions of ThinMan Gateway (Network+ pack).
In particular, from ThinMan 8.4.0, the Admin+ feature pack offers the possibility to run instances of ThinMan remote console from the cloud, that connects to the endpoints through the WSS secure protocol. This offers full flexibility and huge benefits in supporting nomadic workers, that move (for instance with a laptop) from office to home, allowing also IT members to operate and support their end-users from remote. 
Wrapping up
Remote Device Management Client with ThinMan Server provides the capabilities to satisfy the advanced needs in user management (such as customizing the configuration of the workstation or adding access security). It also allows easily solving technical hurdles in managing the corporate network and remote offices (to meet specific requirements, reduce bandwidth and optimize remote actions).  Keeping your endpoints always aligned with your security policies, automating the distribution of updates and certificates will enhance your whole infrastructure security from the borders. Finally, it further strengthens security and business continuity using the ThinMan additional feature packs provided.
Learn more about the features and capabilities of ThinMan Server at the official Praim site here: Centralized Endpoint Management Software | Praim
---