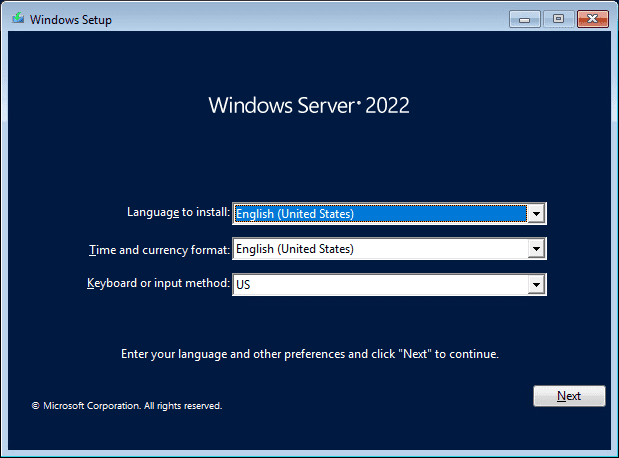 After the latest Microsoft Ignite, there is renewed excitement over the Microsoft Windows server's next version. The new Windows Server is Windows Server 2022 and contains quite a few notable features that provide the latest and most fully-featured Windows Server version to date. This post will take a look at Windows Server 2022 Public Preview new features download install to look at the details of this latest Windows Server release.
Windows Server 2022 new features
There are new capabilities and improvements brought about with Windows Server 2022. Microsoft is continuing to improve on security features and Azure hybrid capabilities as part of the overall feature set with Windows 2022. Let's take a closer look at what is offered in the following three areas:
New advanced security features
New Azure hybrid features
New Container features
New large-scale application support
1. New advanced security features
Windows Server 2022 brings a new set of security features known as secured-core server. The secured-core server features are a powerful set of protective features Microsoft has bundled together in a single configuration set made possible by way of Windows Admin Center. Secured-core servers offer many features and functionality. What are those?
With Windows Server and Azure Stack HCI systems, Microsoft has worked with various OEM partners to provide a solution including a set of hardware, firmware, and drivers that allow bringing together the secured-core functionality from hardware to software.
Secured-core functionality includes:
Hardware-root of trust – Using TPM 2.0 Windows Server 2022 is able to provide a secure store for sensitive information like cryptographic keys and data.
Security in Firmware – There are new vulnerabilities and threats that are presented in the firmware of various hardware platforms. Ransomware and other malware like Trickbot are using firmware as a new attack vector. With processor support for Dynamic Root of Trust of Measurement (DRTM) technology, secured-core servers are able to isolate security critical hypervisors from attacks from ransomware and other threats.
Virtualization-based security (VBS) – VBS protects against many different vulnerabilities using the isolation capabilities provided to privileged parts of the operating system such as the OS kernel. Using VBS, customers can also enable capabilities like Credential Guard to help protect domain credentials.
With Windows Server 2022, customers have great capabilities as part of Secured-core and Windows Server 2022 together. These include:
Enhanced exploit protection – Working with new hardware advancements, allows integration of new security features at the hardware layer. Using these new hardware advancements and Windows Server 2022 together, applications can be secured from compromise.
Connection security – Windows Server 2022 introduces TLS 1.3 enabled by default, which helps to protect business-critical data. TLS 1.3 eliminates weak algorithms and helps to enhance security over older TLS versions.
Improved container account security – Modern applications are making use of containers in a large way. Windows Server 2022 helps to improve account support for containers and containerized applications. You can enable support for group Managed Service Accounts (gMSA) as the recommended Active Directory identity solution without domain joining the Windows Server 2022 container host.
Improved SMB protocol security – The new secure server communications allow SMB communications to be secured with AES-256 bit encryption.
2. New Azure Hybrid features
In one of my previous posts regarding Windows Server 2022, I made the observation that the next version of Microsoft Windows Server would have the most robust set of hybrid Azure features of any Windows Server version to date. Window Server 2022 has certain delivered on that expectation. Microsoft is tightly interweaving capabilities and features from Windows Server 2022 into Azure and vice versa.
Using Windows Admin Center, the new hybrid capabilities are easy to enable and interact with. One of the major features with Windows Server 2022 is deeper and extended integration with Azure Arc. What is Azure Arc? I covered this in a blog post here:
Also, straight from Microsoft, Azure Arc is described this way:
"Azure Arc simplifies governance and management by delivering a consistent multi-cloud and on-premises management platform. Azure Arc enables you to manage your entire environment, with a single pane of glass, by projecting your existing resources into Azure Resource Manager. You can now manage virtual machines, Kubernetes clusters, and databases as if they are running in Azure. Regardless of where they live, you can use familiar Azure services and management capabilities. Azure Arc enables you to continue using traditional ITOps, while introducing DevOps practices to support new cloud native patterns in your environment."
Windows Server 2022 helps to further simplify the integration from on-premises versions of Windows Server to Microsoft Azure. Windows Server 2022 enhances the Storage Migration Service so that customers can migrate file servers from NetApp FAS to Windows Servers. The Storage Migration Service continues to allow customers to have an easy path forward to migrate from legacy file servers in the environment.
3. New Container Features
The world of containers is constantly evolving and is certainly the technology underpinning most modern applications. Most vendors, including Microsoft, are betting big on containerized technologies. With each new version of Windows Server, Microsoft is adding new features and capabilities in regards to containers.
With Windows Server 2022, Microsoft is adding improvements to Windows Containers. This includes:
Application compatibility
Windows Container experience with Kubernetes
Now gMSA can be enabled (mentioned above), without a domain join
Greatly reduced Windows Container image size
Support for host-process containers for node configuration, IPv6, and consistent network policy implementation with Calico
With Windows Admin Center, Windows Server 2022 includes the ability to easily containerize .NET applications.

You can host the .NET application on the Azure Container Registry and then deploy it to other Azure services including Azure Kubernetes Service
4. New large-scale application support
Windows Server 2022 supports tremendously large-scale business applications that require large amounts of resources. This includes:
48TB of memory
2048 logical cores
64 physical sockets
Microsoft Ignite Windows Server 2022 overview video
You can download the Windows Server 2022 Microsoft Ignite video here:
Download and Install
Even though the new Windows Server 2022 is now "public preview," you still have to sign up on the Windows Server Insider Preview portal for downloading the newest ISO/VMDK. You can do that here:
Concluding Thoughts
Windows Server 2022 is going to be the most advanced Windows Server operating system to date. It is clear that Microsoft is continuing to tightly integrate Windows Server with Microsoft Azure, improve security, introducing new container features, and improving large-scale business application support for much larger resource requirements.
The Windows Server 2022 Public Preview New Features Download Install is definitely full of new features and additions to the latest Windows Server version. Keep a check here as I will be posted more Windows Server 2022 content over the coming weeks.