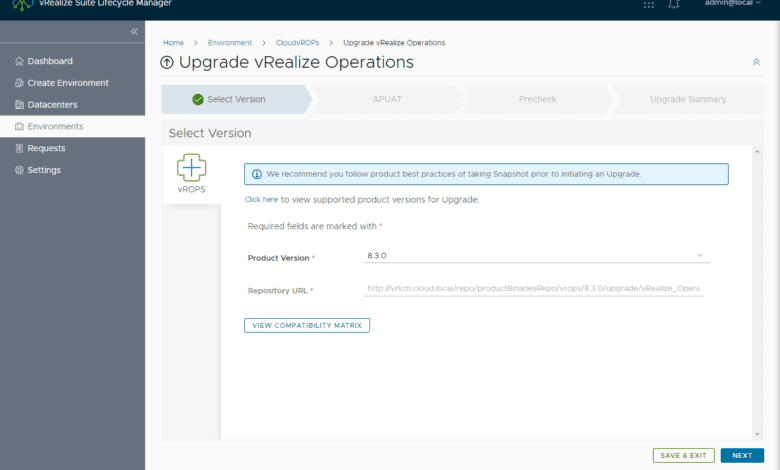 In parallel with the news of VMware Cloud Foundation 4.2, VMware has also updated its vRealize Suite with v8.3. The new updates include updates to both the portfolio of on-premises and SaaS solutions for the vRealize Suite. The updates are across the entire line of vRealize Suite products and solutions including VMware vRealize Automation 8.3, VMware vRealize Operations 8.3, VMware vRealize Log Insight 8.3, vRealize Suite Lifecycle Manager 8.3 VMware vRealize Network Insight 6.1 and VMware Skyline; along with enhancements across VMware vRealize Operations Cloud, VMware vRealize Log Insight Cloud, and VMware vRealize Network Insight Cloud. In this post, we will look at vRealize Suite 8.3 changes features and download to get a feel for enhancements across the portfolio.
vRealize Suite 8.3 Changes Features and Download
Let's get an overview of the enhancements in the following vRealize solutions:
vRealize Automation 8.3
vRealize Operations 8.3
VMware vRealize Log Insight Cloud
VMware vRealize Network Insight 6.1
VMware Skyline
vRealize Automation 8.3
The vRealize Automation platform just keeps getting better with each release. With vRealize Automation 8.3, it delivers further enhanced solutions for customers who need to deliver automation across a number of different use cases prevalent today. These include multi-clouds, network automation, and DevOps. It does this with actionable insights, better security and improved performance.
What's new with this release?
Property Groups – Now you have the ability to create, update, read, and delete property groups based on predefined data. Customers can reuse groups of properties and track resource usage. With vRealize Automation, it makes VMware Cloud Templates development even more powerful and allows reusing attributes and keeping
Security Properties – Security is constantly coming into focus across many different verticals of every organization. Now you have the ability to create a secure variable in Cloud Assembly and have this applied to your cloud template or ABX action. Sensitive variables can now be secured much better in encrypted form. It introduces a new method to produce secure variables for your projects and the ability to consume these in a secure way.
VMware NSX-V to NSX-T migration – VMware is helping customers get on board with migration from NSX-V to NSX-T, even in vRealize Automation with 8.3. This release now supports NSX-V to NSX-T migrations. NSX-T is the NSX version moving forward. The NSX-V product line is certainly in a sunset phase with VMware nudging customers to begin planning to migrate from NSX-V to NSX-T.
Platform enhancements – The new release of vRealize Automation 8.3 has better performance, deployment speed, increased efficiency and is quicker completing tasks. You can now distribute a deployment across different cloud zones.
vRealize Operations 8.3
The new VMware vRealize Operations 8.3 is powered by predictive analytics that allows organizations to successfully implement a self-driving environment for better optimization, scale, and the ability to easily meet the challenges of hybrid and multi-cloud environments.
What do the new vRealize Operations 8.3 and VMware vRealize Operations Cloud feature? The new release includes:
Cloud Management Assessment – VMware has now introduced the Cloud Management Assessment. It is the next evolution of the vSphere Optimization Assessment found in vROPs. The CMA expands the assessment using a broader set of business use cases such as VMware Cloud on AWS, preparing to use VMware Cloud Foundation and managing public cloud environments including AWS, Azure, Google, and others, and Horizon management.
Data Security Standards – The new vRealize Operations 8.3 meets the FIPS standard (Federal Information Processing Standard) 140-2 and also follow the STIG (Security Technical Implementation Guide) for U.S. Federal data security requirements.
20-second Peak Metrics – There are a couple of new options in regards to the granularity of which data is collected in vRealize Operations. If you are using vROPs Cloud, you can turn on 20-second metrics collection for your vCenters with 3-days of retention. If you are using either on-premises or Cloud vROPs you can leverage 20-second peak metrics. This allows you to see the peak value observed during that five-minute window for VMs and Pods.
New cloud enhancements – There have been new improvements across the landscape of vRealize Operations Cloud. These include many new and improved VMware on AWS features and functionality within vROPs. Also, there have been new cloud regions for vRealize Operations Cloud introduced.
VMware vRealize Log Insight Cloud
This update introduces enhanced ML analytics for errors and VMware Knowledgebase correlation, ERI-FIPS compliance. It also includes VMware HCX and VMware SRM log integration and data archiving support.
VMware vRealize Network Insight 6.1
The network has not been left out of this upgrade of the vRealize platform. VMware vRealize Network Insight 6.1 has been released and provide several enhancements to the vRNI platform. These include:
Customization capability enhancements – Users can now customize persistent pinboard dashboards. The enhancements allow preserving the filter state at the time of pinning. It also allows user to pin no result pins.
Multi-cloud – New VMare Cloud on AWS edge router interface statistics have been added to help improve troubleshooting
NSX-T Integrations – NSX Intelligence data can now integrate more easily showing application-centric network operations and troubleshooting visibility
VMware SD-WAN – There are now new analytics intent for better SLA monitoring and visibility with SD-WAN link utilization and metering
VMware Skyline
VMware is continuing to improve the VMware Skyline product for better visibility into potential issues and support requests across teams. The latest release of Skyline Advisor has expanded visibility into vulnerabilities that Skyline identifies as well as improved Support Request visibility. There are 31 new proactive findings in the Findings and Recommendations section.
Findings catalog – With the new catalog, it provides increased visibility into at-risk issues and vulnerabilities
Improved Support Request Visibility – The new feature provides Skyline Administrators visibility into support requests across teams. This helps to make it easier to use Log Assist for automate support log bundle uploads.
vRealize Suite 8.3 Download Links
Below are a few of the download links for the updated products with vRealize Suite 8.3.
Concluding
The new vRealize Suite 8.3 Changes Features and download looks to be well worth the upgrade efforts which VMware has improved with this release. VMware is continually aligning the business with more cloud-focused infrastructure and the new enhancements with vRealize Suite 8.3 certainly show that to be true. So, get your downloads and vRealize Suite Lifecycle Suite engines running and get updated to 8.3!
Don't miss out on new posts! Sign up!