VMware
Backup vCenter Server to Windows File Share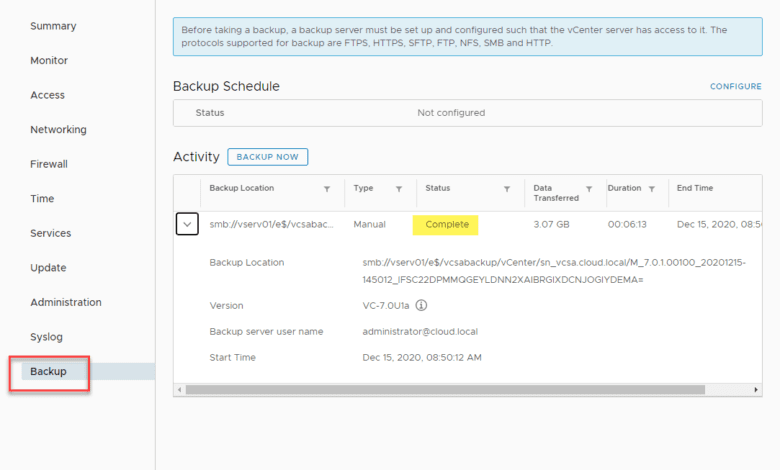 Backing up your VMware vCenter Server is of paramount importance in your VMware vSphere environment. This becomes even more important if you are running vSphere Distributed Switches and other highly vCenter-centric vSphere infrastructure. You want to protect your vCenter Server in multiple ways. One of the great features of the modern VMware vCenter photon-OS-based virtual appliance is the ability to provide high-level backups of your vCenter Server appliance, including the database. VMware has expanded the backup capabilities provided by the vCenter Server appliance over the past several versions. In this post, we want to look at one, in particular, Backup vCenter Server to Windows file share, and see how you can do this.
vCenter Server Backup Best Practices
Most understand that vCenter Server is the "crown jewels" of your vSphere environment. It is centrally involved in most vSphere operations and is required for most enterprise features and functionality. Protecting it is essential to your disaster recovery plan for your vSphere environment.
VMware has done a great job at offsetting any issues you might experience with vCenter going down. For instance, if your vCenter Server goes down, your cluster does not all of the sudden break and your VMs power off. You may not notice anything wrong if vCenter is down. However, it is the other ancillary solutions and other services that rely on vCenter where you may soon notice an impact.
This may include your backup solution, any monitoring you have tied to vCenter, as well as other VMware solutions that make their connection to your vSphere environment by way of vCenter Server APIs. So, it is critically important to get your vCenter Server back up and running as soon as possible.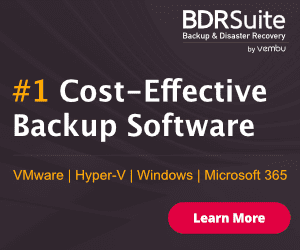 Backup and data protection is much like security. It requires various "layers" to truly be successful. You do not want to have all your "eggs in one basket" when it comes to protecting your core infrastructure.
With that being said, I highly recommend you have an image-level backup of your vCenter Server. An image-level backup will allow you to restore your vCenter Server back to an identical healthy copy prior to an issue in the environment that might take your vCenter Server down.
Most backup vendors have a process to recover your vCenter Server. This generally involves making a connection from your backup solution directly to a specific ESXi host and performing backups this way so the snapshot creation is performed outside of the vCenter Server itself. This is a great place to start. However, there is another form of vCenter Server backup that you want to take advantage of. This si the vCenter Server Backup within the VAMI interface of the VCSA appliance itself.
To get to the VAMI interface, you navigate to:
https://<your VCSA FQDN or IP>:5480
The port designation here will take you directly to the VAMI interface as opposed to the vSphere Client.
Built-in vCenter Server Backup in the VCSA
The vCenter Server Backup is a really easy way to backup both the configuration and database of your vCenter Server and schedule the backups of these important settings and data from vCenter Server. The backups can be sent over the following protocols:
FTPS
HTTPS
SFTP
FTP
NFS
SMB
HTTP
In the beginning, we didn't have the ability to make use of SMB as a protocol that was valid to use for vCenter Server backups. However, now it is fully supported.
I might add, one downside that hopefully, VMware will address with a future implementation is the SMB backup requires you have SMBv1 enabled on the server that is serving as the target of your backup.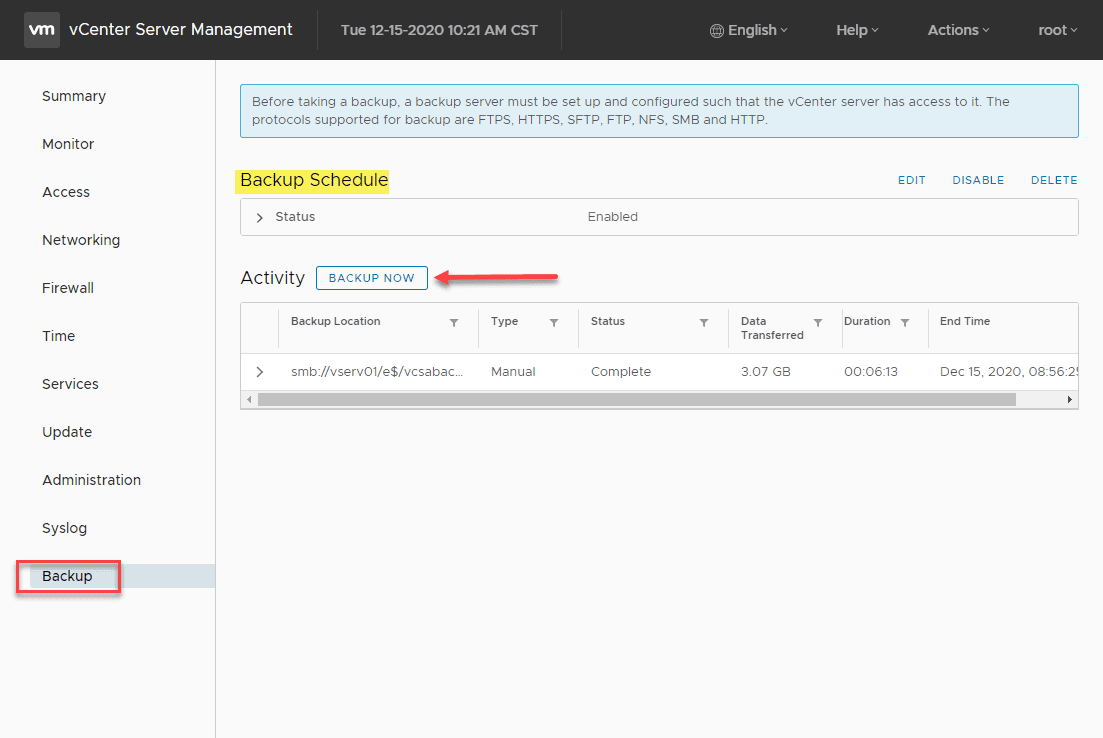 Backup vCenter Server to Windows File Share
When the vCenter Server backup feature was first introduced in the VAMI interface of the VCSA appliance, protocols were limited that you could use to perform a backup. Now let's take a look at how to backup Center Server to Windows file share. Click the Backup menu and then Configure under the Backup Schedule.
This will launch the Create Backup Schedule dialog box. As you can see, there are many options you can configure including:
Backup location
Backup server credentials
Schedule
Encrypt backup
DB Health check
Number of backups to retain
Data
One thing I found when configuring a Windows file share target for my vCenter Server backup, the username cannot be in the NETBIOS format.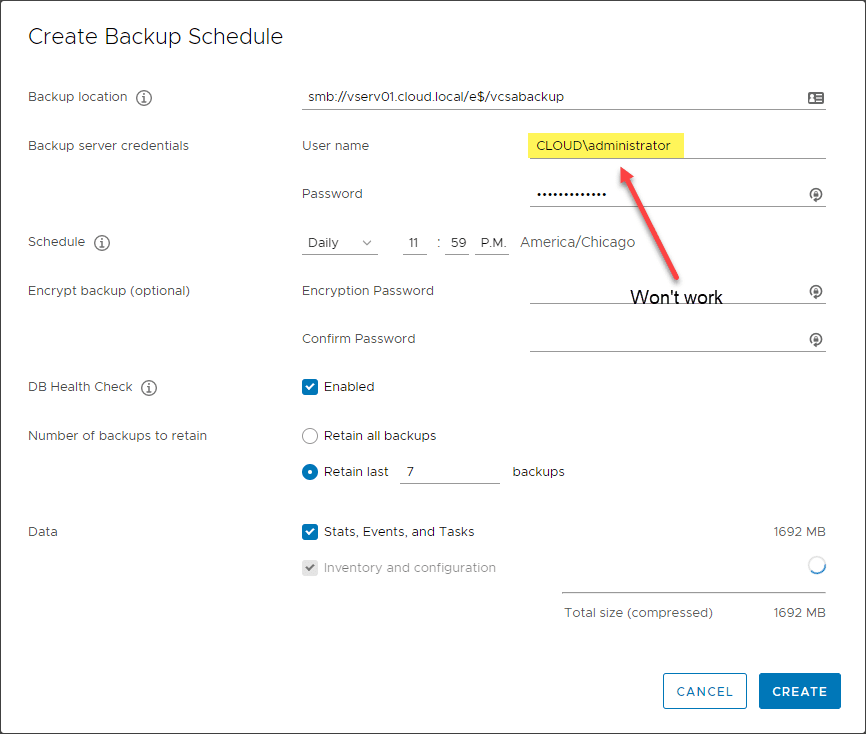 The error received using the NETBIOS username format.
Instead, you need to use the UPN username format. This works. Note, the error will be leftover if you tried the NETBIOS format as I did. One of the other features you will notice in the dialog is the ability to have the schedule prune old backups for you. This is a nice feature that allows you to have easy retention set on the vCenter Server backups without having to perform out-of-band file pruning another way.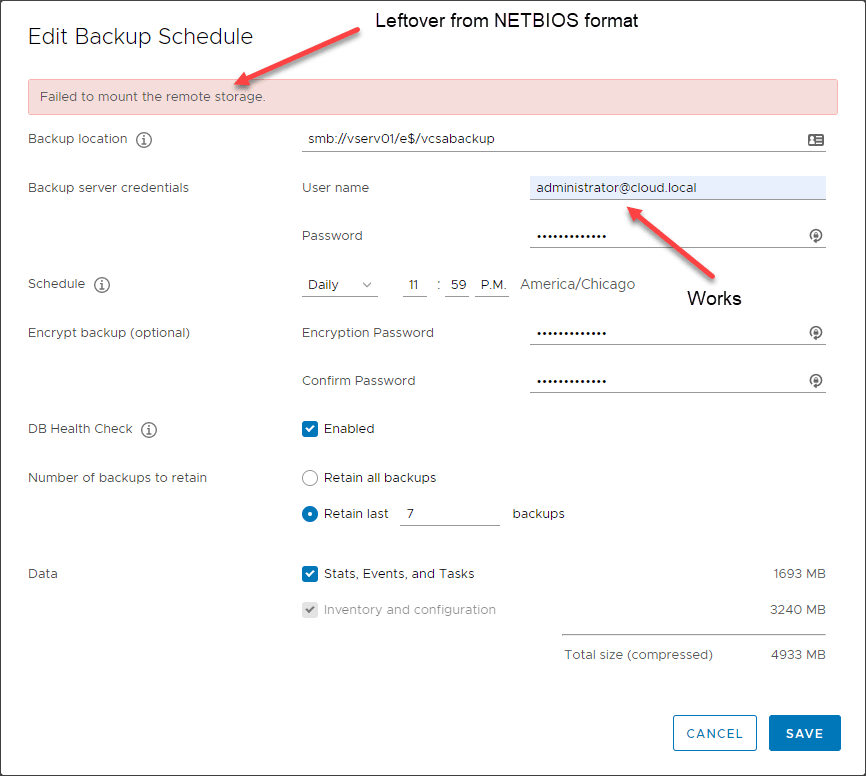 The backup schedule is now created successfully. If you want to test it out, you can run an ad-hoc backup by clicking the Backup Now button.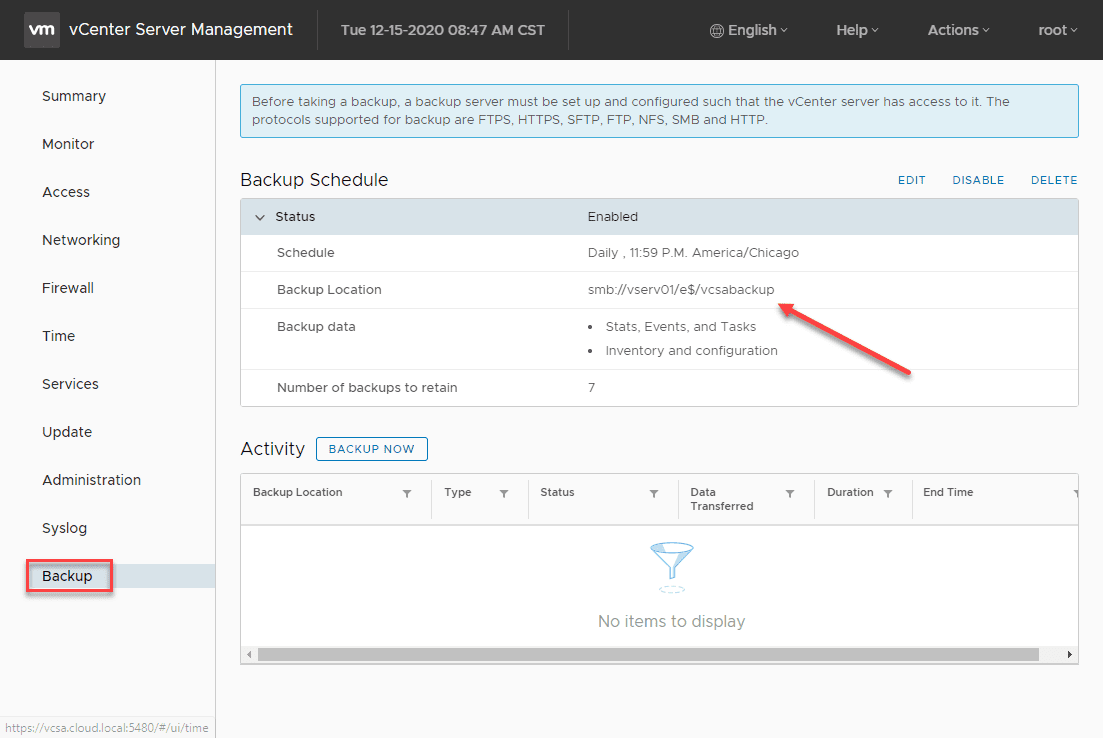 You can check the box to Use backup location and user name from Backup Schedule to fill in those details. You will still need to enter the password.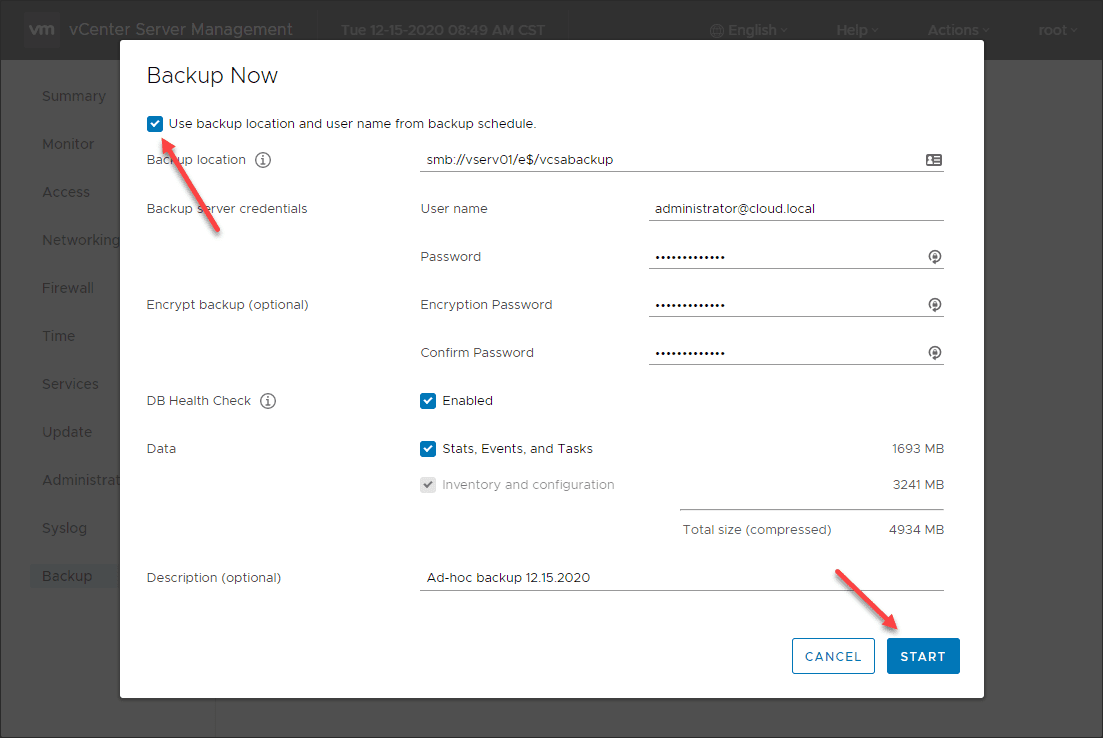 Backup of vCenter Server begins.
Depending on the size of your vCenter Database and other configuration, the backup operation should finish in a few minutes.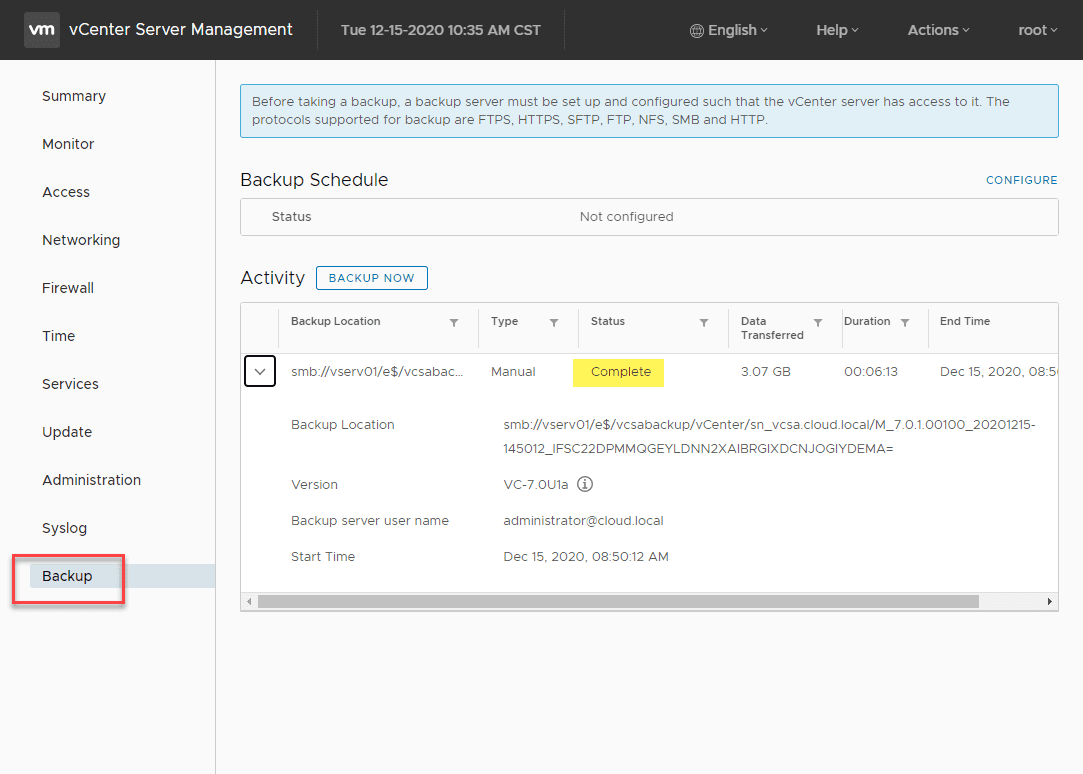 The vCenter Server Backups are a great way to get another layer of protection on your vCenter Server easily. Many will appreciate the functionality of Backup vCenter Server to Windows File Share since most have a general-purpose file share in the environment that makes the time to get this up and running super easy and quick. It is nice to use the tools we have in the box and the vCenter Server backup is one of those tools that is a no-brainer to get set up and start using.