vSphere 7
VMware vCenter Server 7 New Features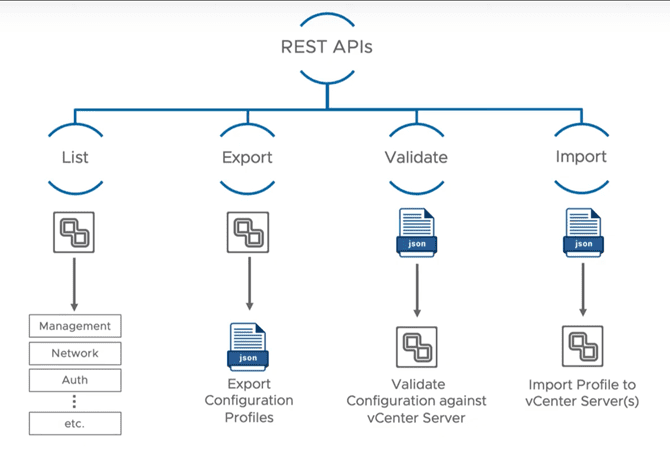 The cornerstone of VMware vSphere infrastructure is the vCenter Server. It is the vSphere component that unlocks all the enterprise features of vSphere and allows all the great features that we know and love about the solution. VMware vSphere 7 is a revolutionary move forward for vSphere. VMware vCenter Server 7 is also a major leap forward in terms of management infrastructure of the next generation of vSphere. Let's take a look at VMware vCenter Server 7 new features and see what new functionality is unlocked in this next generation vCenter release.
VMware vCenter Server 7 New Features
In this look at vCenter Server 7, we will focus our look at the following new features found in the new vCenter Server release:
vCenter Server Profiles
Update Planner
Simultaneously Upgrade & Converge
Multi-homing support
VM Template Management and Versioning
vCenter Server 7 vSphere Client
With vCenter Server 7, VMware has a fresh take on the view of vCenter Server in the vSphere client. They have made a concentrated effort to make information more readily available and easier to see in the vSphere client. In the summary view of the vCenter Server, you can quickly see the following information regarding the new vCenter Server 7 node.
Version
Build number
Last update
Last file-based backup of the server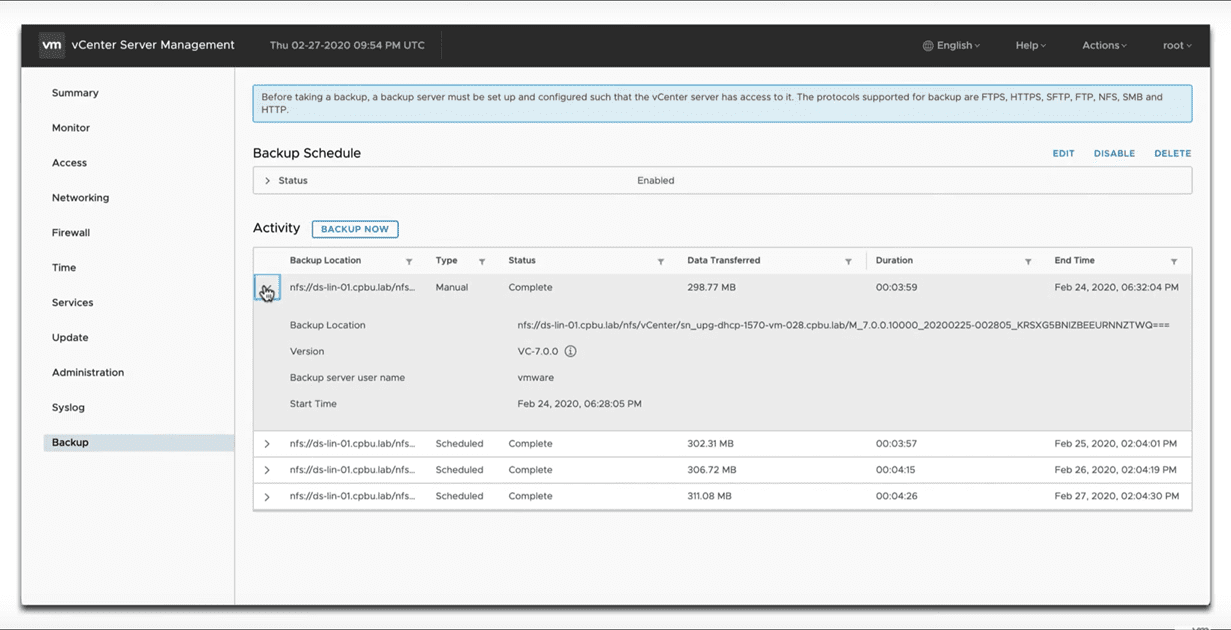 vCenter Server Profiles
VMware vCenter Server Profiles is a new feature in vCenter Server 7 that provides an API interface that allows a vSphere administrator to export the configuration of one vCenter Server and then import that configuration into another vCenter Server. This is accomplished using (4) REST APIs:
The List API returns a listing of the configurations that are exportable. The admin can export as JSON and then edit if needed. The validate API allows checking the configuration in regards to the target vCenter Server. The import API is run to import the desired configuration changes to the desired vCenter Server.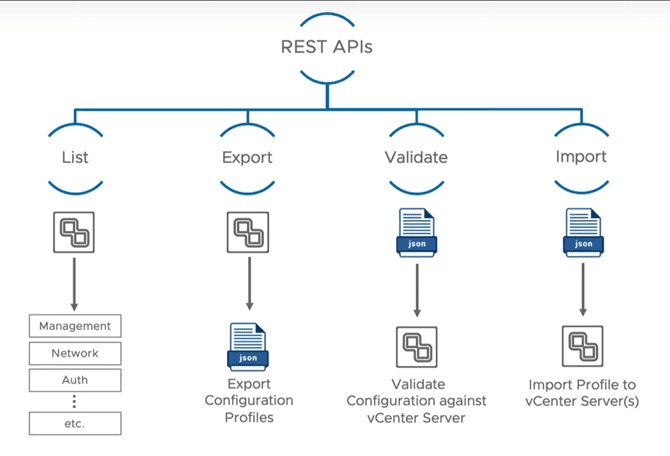 vCenter Server 7 Upgrade Planner
One area of management that VMware has really concentrated a lot of effort on in this release is lifecycle management. This includes the lifecycle management of both vCenter Server as well as the ESXi hosts as well.
Update planner is part of vSphere Lifecycle Manager which is a new feature found in vCenter Server 7 that officially replaces the classic Update Manager. This is used to perform vCenter Server updates. It handles updates, patches, and upgrades from this new Update planner for simplifying the lifecycle management of vCenter Server.
Simplified Upgrade and PSC Convergence
Upgrade and Converge in One Operation. When upgrading, if the SSO domain contains external Platform Services Controller, the vCenter Server upgrade process converges those PSCs to embedded vCenter Server during the process. The installer will alert to this process as well as the Migration assistant. Proper decommisioning of the PSCs must still take place after the upgrade.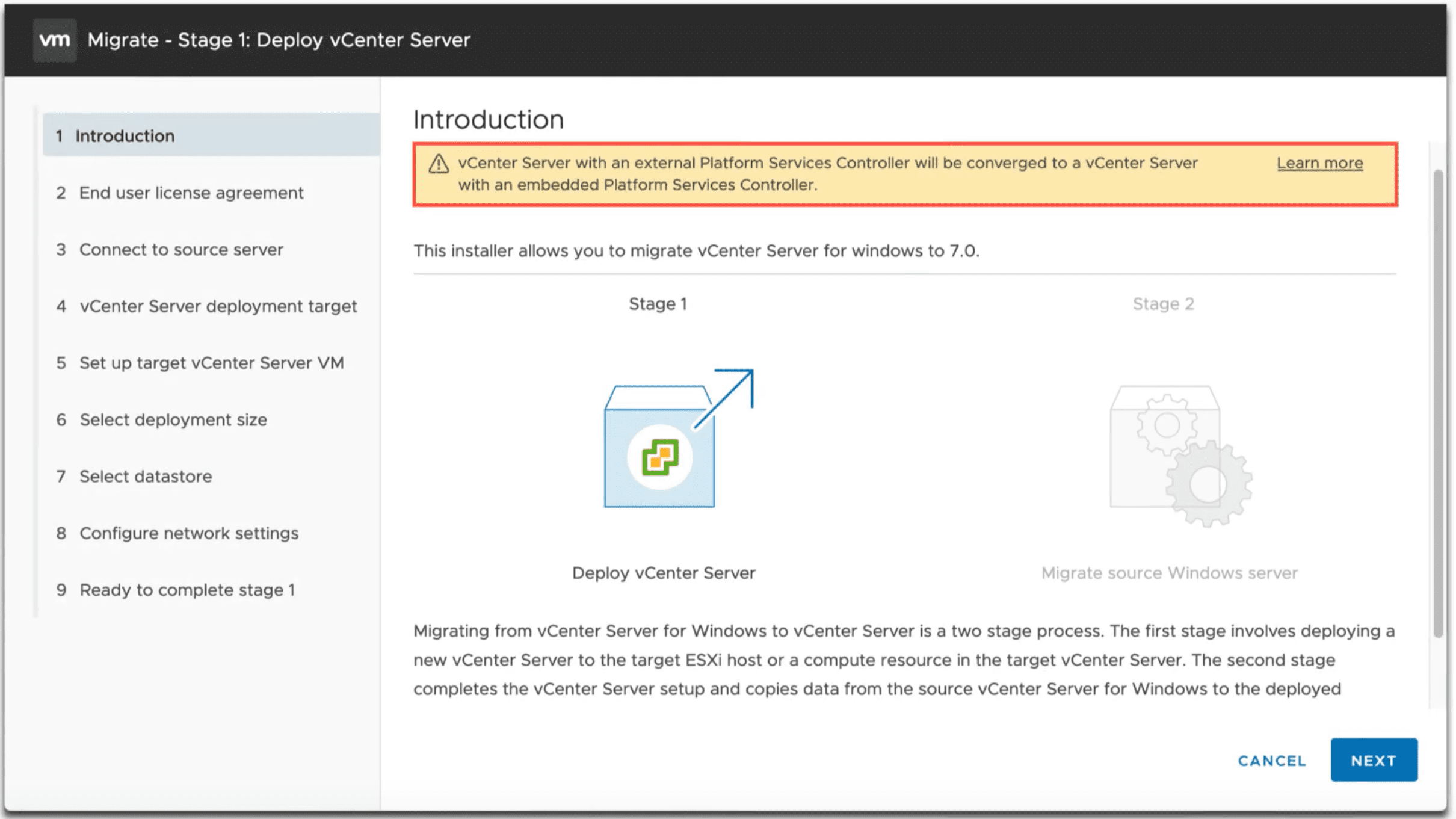 vCenter Server 7 Supports Multi-Homing NICs
In times past, you may have ran into times when it would have been nice to be able to have more than one NIC card assigned to your vCenter Server for certain network segmentation objectives. Businesses who may have wanted to creat custom configurations for management networks may have been a bit limited with previous vCenter releases.
Now, vCenter Server 7 supports multi-homing of NIC cards in a single appliance. This can certainly provide more options when it comes to network configurations and segmentation of management networks for various business needs. An important note with the the new architecture allowing the multi-homing NIC configuration is that NIC 1 will always be reserved for vCenter HA.
New Check In and Check Out Functionality for VM Templates
The Dev Ops revolution has created the necessity for changes to be tracked and versioned throughout the environment. Things like Github and others have made versioning a basic functionality in most environments. With vCenter Server 7, VMware has brought this concept to the world of VM templates in the content library.
A new feature is check in and check out operations for updating virtual machine templates. Checking out the templates allows tracked edits to be made. Checking them back in saves the new changes and versions the template.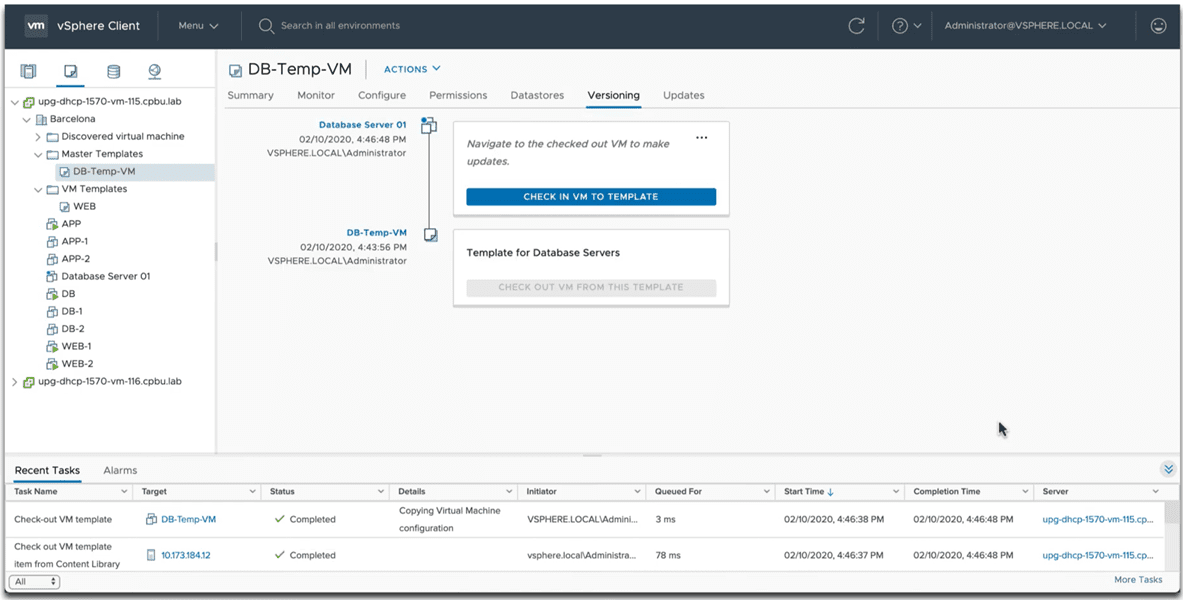 It seems that a requirement for the check in and check out functionality and versioning to be available is the virtual machine templates will need to be stored in a VMware content library.
Wrapping Up
It seems there are many great VMware vCenter Server 7 New Features that will serve to make this the most capable version of vCenter Server to date. VMware has really given a lot of attention to lifecycle management and operations with this release which is awesome.
It is great to see that simplicity is always at the heart of how VMware designs their solutions and with each release this keeps getting better and better. Stay tuned for further deep dives into these new features.
Don't miss out on new posts! Sign up!