Workstation
VMware Workstation Pro 16 and Fusion 12 New Features
VMware announced another major release in the form of the new workstation line of products today with the announced release of VMware Workstation 16 and Fusion 12. Great new technology and capabilities are found in the new release. Let's get right down to VMware Workstation Pro 16 and Fusion 12 new features and see what is in store for customers looking to upgrade to this latest and greatest workstation release.
VMware Workstation Pro 16 and Fusion 12 New Features
Before getting into the technical new features, how about new "and better" pricing? VMware has settled on new and cheaper pricing for the release of VMware Workstation 16 and Fusion 12. Now the price for an upgrade is $99 and new licenses will run $199. This is down from $149 and $249 respectively.
Not only is it great to get new features but a price cut to go with it is another great incentive to upgrading to this latest release of Workstation Pro and Fusion.

Now, let's talk about the technical new features and capabilities. These include the following: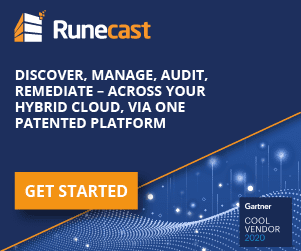 Containers and Kubernetes features
vSphere 7 support
DirectX 11 and OpenGL 4.1
Dark Mode UI
Sandboxed Graphics Rendering Engine
Linux Host – Vulkan Graphics Rendering Engine
Improved Accessibility
USB 3.1 Support
Let's take a bit closer look at each one of these one by one.
Containers and Kubernetes
The last tech preview of VMware Workstation contained a new CLI tool – vctl. This allows user to push, pull, build and run OCI container images and you can also deploy kind Kubernetes clusters.
It contains a Docker compatible implementation of containerd. It will be shipping with both Fusion and Workstation Pro.
vSphere 7 Support
You can now connect to your vSphere 7 environment with the new versions to perform many different operations including remote virtual machine management in your vSphere environment. You can also perform configuration settings changes, provide workload mobility, and compability between desktips and data center virtual environments.
DirectX 11 and OpenGL 4.1
Workstation 16 supports gaming with Direct3D 11, aka DirectX 11 or OpenGL 4.1. The configuration now allows gamers to dedicate up to 8 GB of vRAM to 3D accelerated guest operations to allow maximizing your gaming experience and 3D app performance.
A note here – you must configure guest VMs with 16 GB or more of RAM to allow allocating 8 GB to vRAM.
Dark Mode UI
Dark mode seems to be king these days across the board with most applications. New with Workstation Pro and Player UIs, VMware has added a new Dark Mode UI. According to the official blog post, it looks amazing.
Sandboxed Graphics Rendering Engine
The new version of Workstation offers an enhanced security model when it comes to the graphics rendering engine. It is called the new Sandbox Renderer (SBR). The new SBR runs the graphics engine in a new separate threat that is ran with reduced privileges which helps to reduce the attack surface of the underlying platform.
Linux Host: Vulkan Graphics Rendering Engine
The new rendering engine with Workstation 16 takes advantage of the new Vulkan API. It can deliver DirectX 10.1 and OpenGL 3.3 to virtual machines even with integrated Intel GPU.
Improved Accessibility
New compliance accessibility standards including VPAT Section 508 for helping everyone to take advantage of virtualization.
USB 3.1 Support
New support added for USB 3.1 virtual devices. This opens up the possibility and compatibility to pass USB 3.1 devices to virtual machines with fully supported drivers.
VMware Workstation for Labs
VMware Workstation provides a great platform for creating lab environments, testing, playing around, and learning new technologies. Also, it is a great way to have different workstation environments for different purposes such as a "browsing VM" for doing browsing for better security.
You can even build your vSphere lab inside of VMware Workstation. I have used VMware Workstation to spin up some impromptu labs as well as run a more permanent lab on a laptop that I had when traveling around before provisioning a proper home lab environment.
The great thing with the new features that are provided with VMware Workstation 16 is you can learn the latest and greatest technologies, including containers with the new vctl cmd line and Kubernetes functionality.
Additionally, it interacts with and works well with VMware vSphere 7 so you can manage and configure your vSphere 7 environment from VMware Workstation Pro 16. Cool stuff.
Wrapping Up
I use VMware Workstation on a daily basis and couldn't imagine not having this tool in the arsenal of tools I use daily for many different reasons. I will never go back to the days of having all tools loaded on the host.
VMware Workstation Pro 16 and Fusion Pro 12 New Features include some really great items that I am looking forward to having as part of the VMware Workstation toolset.
Check out the official blog post release here: