Networking
GestioIP vs phpIPAM Comparing IP Address Management IPAM Solutions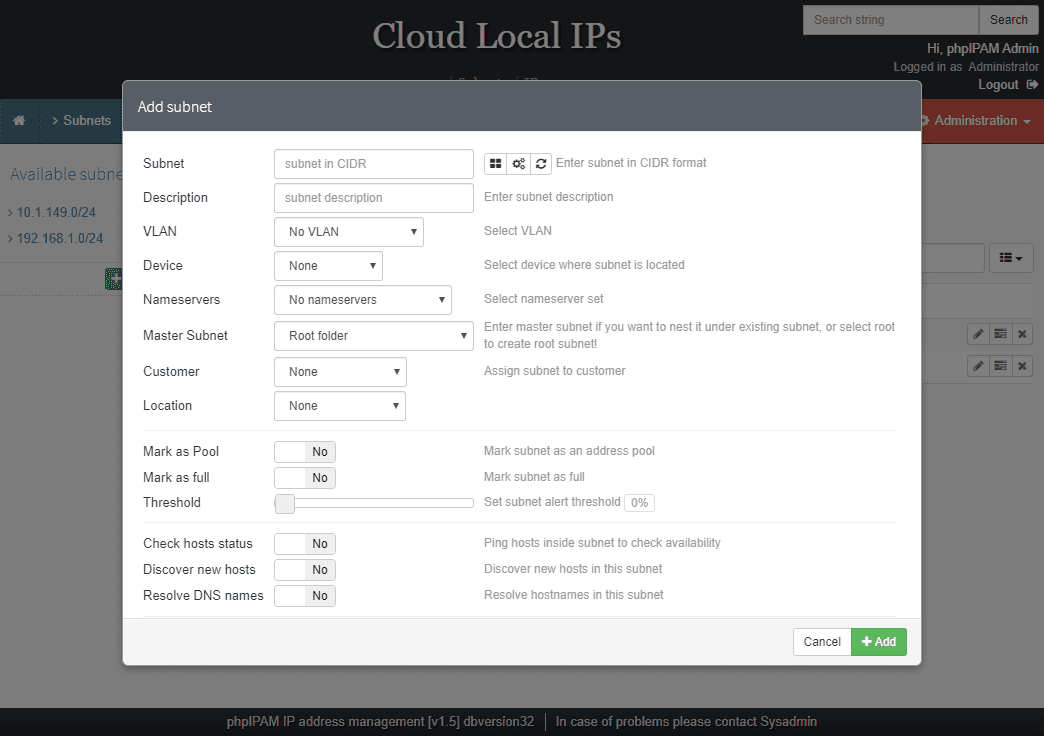 I have been looking at various IPAM solutions in the home lab over the last few months and especially looking at open source offerings. I had settled on GestioIP a few months back with managing the home lab network and keeping track of the various subnets, VLANs, and such that I had spun up. One of the downers of the solution was the antiquated interface that really looks archaic compared to other solutions out there. However, I was extremely optimistic with the latest news when I looked at the Gestio website offering a new interface as of version 3.5.1 In the meantime, I also spun up a copy of phpIPAM in the lab since it comes highly recommended by many of my cohorts and home labbers. In this post, GestioIP vs phpIPAM comparing IP Address Management IPAM solutions , I wanted to detail just a few things to compare between the two solutions and my thoughts on both.
phpIPAM Address Management
The phpIPAM solution is a very popular open source IP address management (IPAM) solution that provides a very light, modern interface, with very useful IP address management capabilities. Architecturally, it runs on a MySQL database backedn, using jQuery libaries, ajax and HTML5/CSS3 features.
Official website:
It has an extremely long list of features including the following:
IPv4/IPv6 IP address management
Section/Subnet management
Automatic free space notation for subnets
Visual subnet dispaly
Automatic network scanning to discover hosts in your networks
PowerDNS integration
NAT support
Domain authentication
REST API endpoints
VLAN management
VRF management
IPv4/IPv6 calculator
….many more
Installation
The installation of phpIPAM wasn't terrible, however, I found blogs that I found on the Internet to be more useful than the official documentation on the phpIPAM website.
However, it didn't take very long to get the solution installed and up and running. As you can see below, the interface is very pleasing to look at, very modern, and easy to navigate.
GestioIP IPAM Solution
GestioIP is also an open source solution that will run on top of your favorite Linux distribution and touts many great features as well when it comes to network management.
Official website:
This includes the following functionality and features:
HA solution available
Integration with Microsoft and Bind DNS server
VLAN management
Management for leased lines
Management for autonomous systems
Network discovery via SNMP
Automatic host discovery via ping/DNS/SNMP
VLAN discovery via SNMP
One-click ping and DNS A/PTR check
Shows free network ranges
Split/join/scaling up/scaling down networks (host entries)
Integrated subnet calculator
Statistics
Fully-auditable
Import from spreadsheets
Data export
API endpoints exposed for programming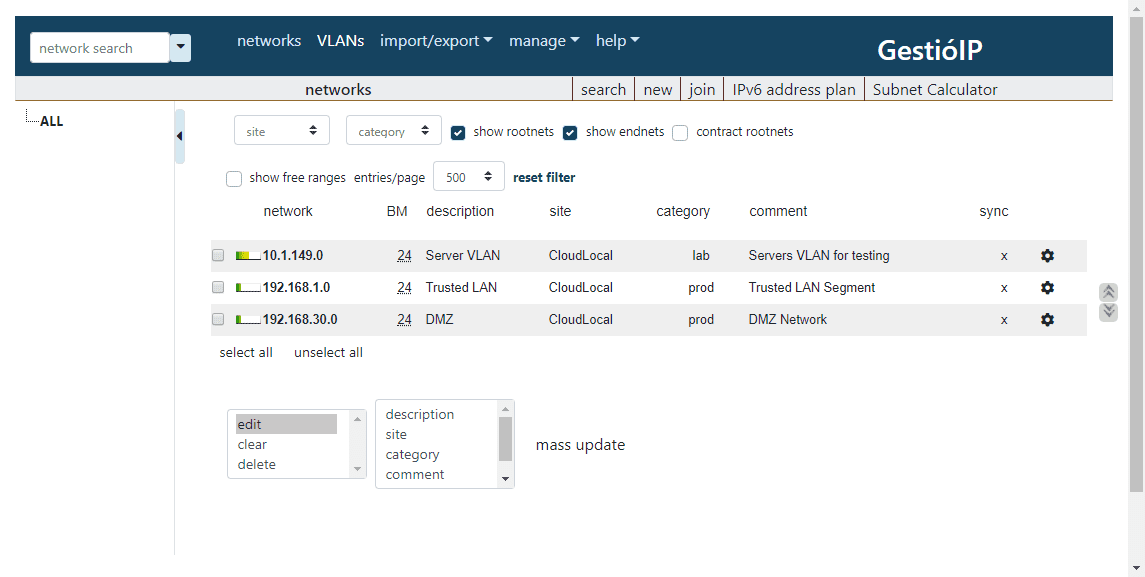 Installation
The installation of GestioIP I would say is on par with phpIPAM. Both are easily installed just doing a quick search on the net. I will say, for my purposes the GestioIP documentation was more helpful. The downloadable installation guide was more on-spot for me during the installation of the two solutions: https://www.gestioip.net/docu/GestioIP_3.4_Installation_Guide.pdf
GestioIP vs phpIPAM Comparing IP Address Management IPAM Solutions
In my testing both the GestioIP and phpIPAM solutions performed very well and both solutions allow you to keep track of the often difficult and arduous task of managing address space in a lab environment or even production.
Every IT administrator is going to be different when it comes to how they use their IPAM solution or what information they expect to get. However, for me, the goal is simple, I want to be able to store what IPs I have in use, which ones I have provisioned that may no longer be needed, have these dynamically updated, and also be able to retrieve the information quickly.
I like both solutions when it comes to storing your IP information. One observation I have between the two IPAM solutions – GestioIP and phpIPAM is that GestioIP seemed to me for my purposes to be less cluttered and more information specific. I found that I could both see information more quickly and find what I needed a bit more quickly and intuitively.
One thing I don't like with the phpIPAM interface is that the statistics are displayed at the top of your networks screen rather than the addresses themselves. I know this is petty, but you have to scroll down to the actually addresses displayed. With GestioIP, the statistics are also at the top of the network screen but do not obscure seeing the addresses quickly.
One thing I don't like with Gestio, you have to actually pick that you want to search for a host. If you don't, you won't get the expected return. It seems a bit silly to have the "network search" as the default as you are more likely to be searching for hosts rather than networks for the most part.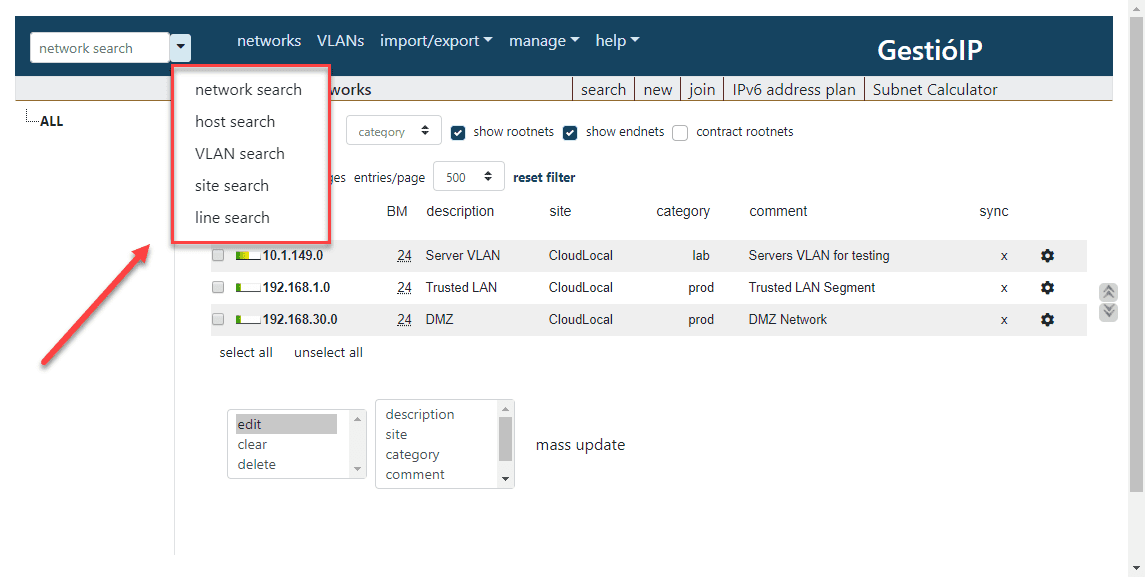 Below you can see the search functionality in phpIPAM.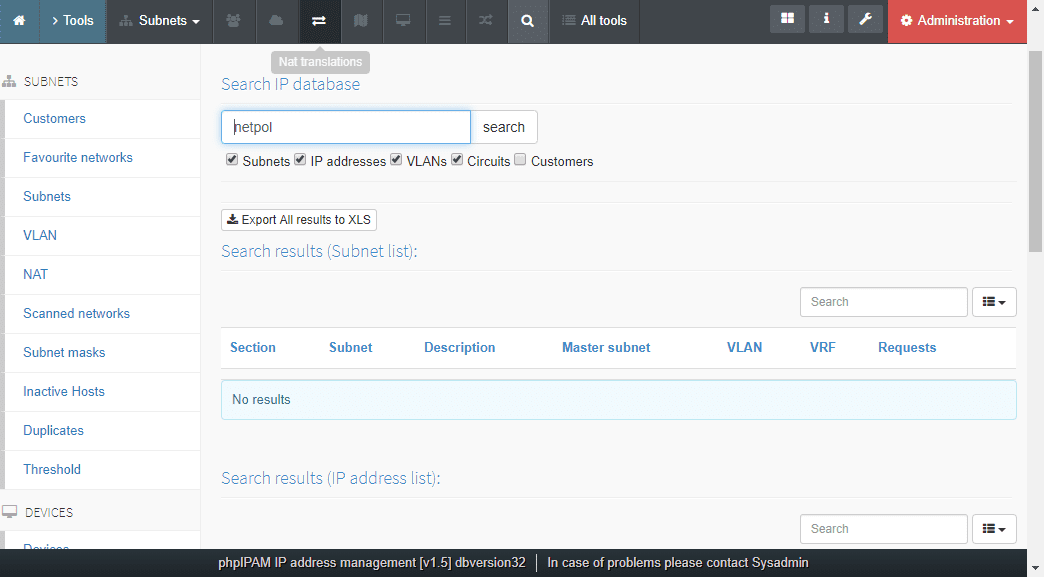 Adding Networks
Below are screenshots of adding networks/subnets in both GestioIP and phpIPAM. As you can see, phpIPAM has many more options that can be configured/added when adding a subnet.
Auditing
Below are a screenshots of auditing changes in both solutions.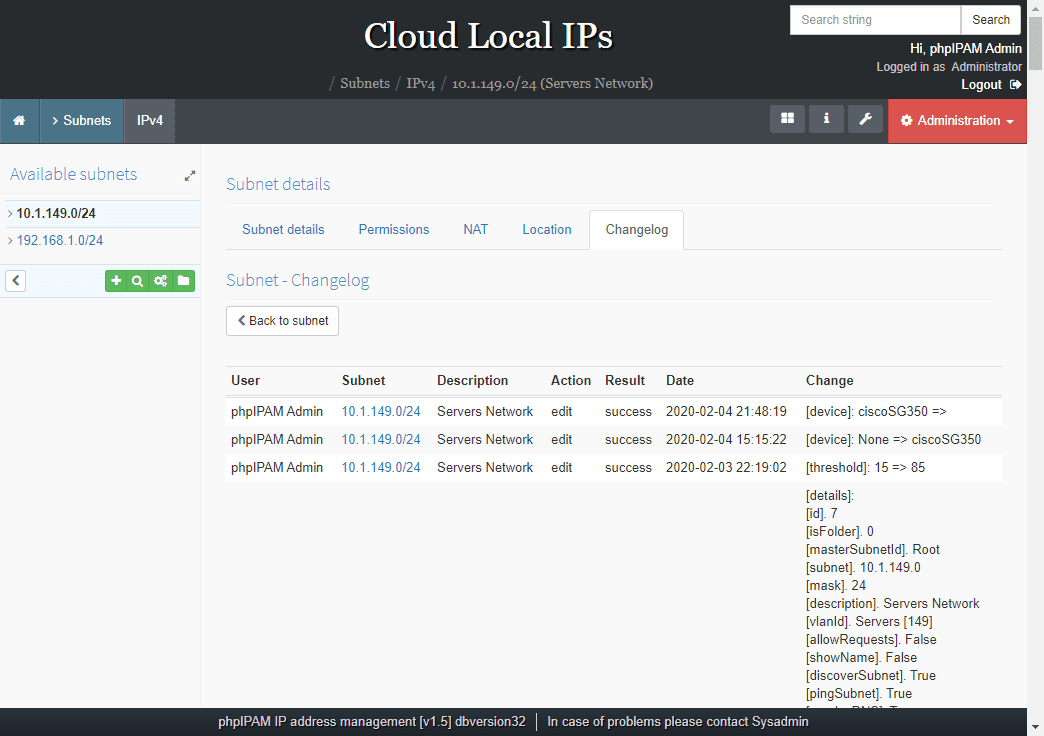 phpIPAM Pros and Cons
Pros:
Easy to install, many good blog post walk throughs
Automatic IP scanning
Very clean interface
Tons of functionality
Can do just about anything you want
Shows statistics and other information intuitively
Email alerting
Cons:
For my tastes, the address information is not displayed in a focused manner as I would like to see. It seems the statistics are a bit more in focus with phpIPAM than the addresses. However, this is nit picking I know
GestioIP Pros and Cons
Pros:
The interface with 3.5 is worlds better than the old interface
Very focused address management with IPs being the center of the interface functionality
Automatic IP scanning
Very intuitive
Easy to install
Lots of features
Cons:
Email alerting is a more manual process
Older versions before 3.5 have antiquated interface so you need to make sure to get this latest version
Don't miss out on new posts! Sign up!