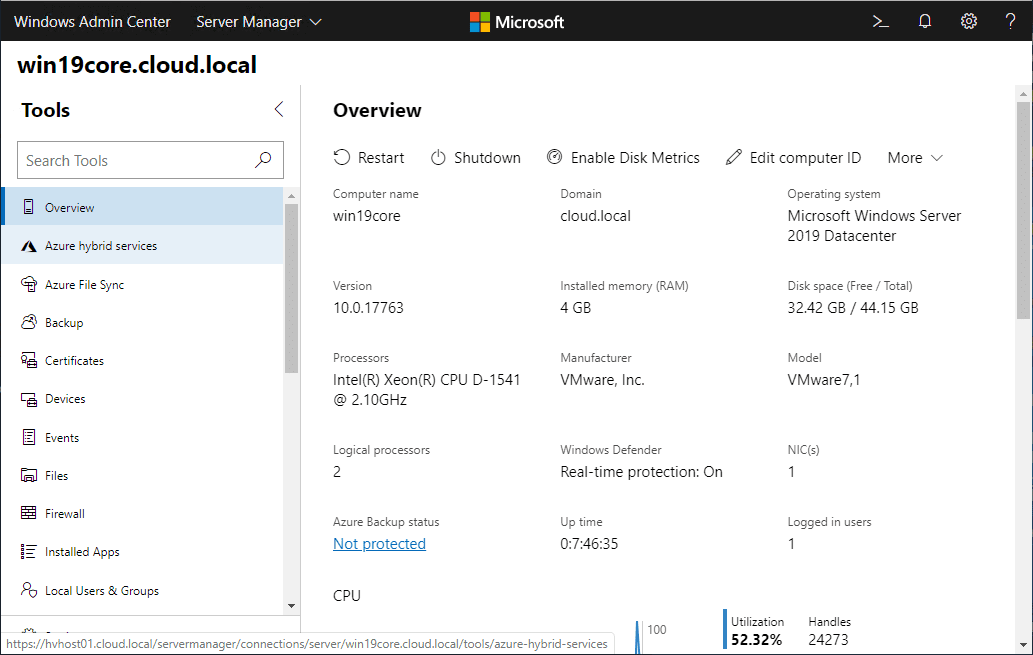 Windows Server Core has finally matured and transitioned into the primary operating system that you should deploy when thinking about deploying a Windows Server platform in your environment. The days of GUI are numbered, especially with the recent developments in Windows Server technologies in terms of management and configuration features. If you are new to Windows Server Core fundamental concepts, we want to change that. Let's take a look at Windows Server Core 2019 management fundamentals to give you a good idea of things to be aware of and familiar with in migrating to a Windows Server 2019 infrastructure built on top of Windows Server Core technology and managing it.
Why Windows Server Core?
You may wonder, why the big push for Server Core when the Windows Server Desktop Experience has served us well for the past few decades. The answer is really many things, but it comes down to efficiency and security.
Windows Server Core provides many advantages including it is leaner than Desktop Experience, has a smaller footprint, has less to manage than its GUI counterpart, and has a smaller attack surface.
When looking for your Hyper-V platform, running Hyper-V on top of Windows Server Core is the smart choice. This has actually been the recommendation from many for quite some time. However, now, the tools and capabilities of Server Core have finally matured to the point where that may definitely be feasible for many.
Windows Server Core 2019 Management Fundamentals
Let's take a quick look at the following Windows Server Core 2019 fundamentals to be aware of to get up to speed in deploying your environment using Server Core instead of Windows Server 2019 with Desktop Experience installed.
Windows Admin Center
If you want to know the number one thing to be aware of with Windows Server Core, Windows Admin Center is "IT". Windows Admin Center (WAC) was introduced in conjunction with Windows Server 2019 as the next-generation management platform for managing Windows Servers.
With Windows Admin Center you can have the best of both worlds by using Windows Server Core on the backend and having an all-inclusive management tool where you can have GUI management access to everything in one place.
WAC is a web-based management tool that can be access in Gateway mode, meaning it is installed on one server and allows managing other servers from the one WAC console.
Below is an example of having a Windows Server Core 2019 server added to a Windows Admin Center console. As you can see, you have powerful management capabilities, all in one location. You can manage:
Once you install specific roles and features on the Windows Server Core server, you get those management capabilities as well. For instance, once you install the Hyper-V role, you will see the Virtual Machines and Virtual Switches management menus allowing management of your VM environment on your Windows Server Core server.
Get to know Windows Admin Center with Windows Server 2019 Core management fundamentals as it is certainly going to be the way to do things moving forward.
Use Feature on Demand (FoD) App Compatibility
One of the management challenges with Windows Server Core has been the lack of being able to run management consoles and features locally on the Windows Server Core installation.
Microsoft has introduced something called Feature on Demand (FoD) App Compatibility. This allows installing an additional subset of features on your Windows Server Core installation that provides a ton of additional consoles that you can run locally.
It is also easy to install. If your Windows Server Core server has Internet connectivity, you can add this from Windows update online.
By installing this, you will have additional consoles available like Resource Monitor and the MMC Console that can be great tools for troubleshooting.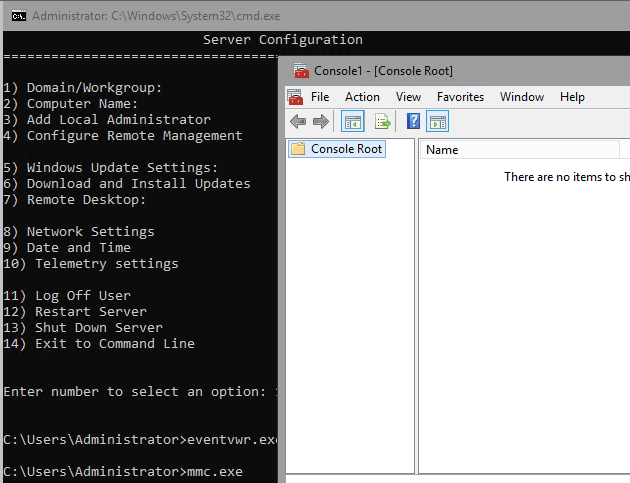 Use SCONFIG locally in Windows Server Core
This utility is widely known, however, in case you are not already familiar with this one, the sconfig command is the "blue box" that launches with Windows Server Core installations that provides 15 or so things you can do easily through a "Command line GUI if you will" to perform some of the basic initial configuration tasks that need to accomplished with Windows Server Core installations.
Even though this has been around a long while, it is still relevant and still works quite well with Windows Server Core 2019. You can do things like:
Use PowerShell Remoting
PowerShell Remoting allows you to run the PowerShell console connected to your remote Windows Server Core server from your local admin workstation. This allows you to run PowerShell commands on your remote Windows Server Core server like you were logged into the console.
This is a great way to easily copy and paste commands into the PowerShell console and run them on the remote Windows Server Core installation.
There are many articles out there on how to setup PowerShell remoting. However, I want to tie this back into the Windows Admin Center utility. With WAC, you actually have PowerShell Remoting already built into your console without dealing with the configuration of getting PowerShell remoting working.
Windows Admin Center takes care of all of this in the background and allows you to connect to the remote PowerShell window right from the Windows Admin Center dashboard.
Wrapping Up – Final Thoughts
The Windows Server Core 2019 Management Fundamentals include many great tools that are available today that were not available in previous Windows Server Core releases.
Microsoft has done a great job of listening to its customers and the rapid adoption of Windows Server Core 2019 has shown that they have delivered on the previous gaps in management tools and capabilities.
IT admins now have the tools needed to effectively manage Windows Server 2019 especially with tools like Windows Admin Center and Feature on Demand.
Check out some of our Windows Server 2019 and Core articles here:
Don't miss out on new posts! Sign up!