Backup Software
Vembu BDR Suite v4.0.1 Released New Features and Enhancements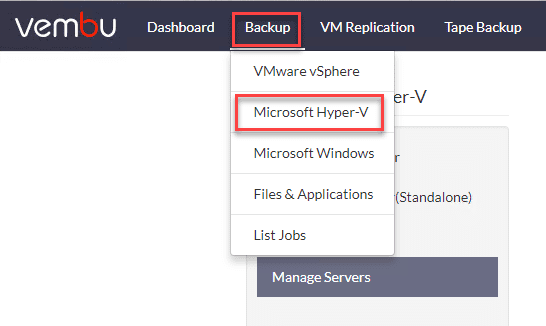 Vembu BDR Suite is one of the most versatile data protection solutions available on the market today and continues to get better and stronger across various platforms. Vembu BDR Suite provides businesses an extremely versatile and capable solution able to use both on-premises and public cloud resources to architect the industry standard 3-2-1 backup best practice methodology. Vembu has continued its momentum as a growing data protection solution to be reckoned with, competing with the likes of Veeam and many other in terms of features, functionality, and especially price. Recently, Vembu released Vembu BDR Suite v4.0.1 which Vembu describes as including significant enhancements and bug fixes that are geared towards performance improvement. In this post, we will take a look at Vembu BDR Suite v4.0.1 released new features and enhancements to explore the new features introduced in ths release that makes this the most powerful Vembu release to date.
Vembu v4.0 Features and Enhancements
Before covering the new features added in v4.0.1, let's recap the features added in v4.0. Vembu BDR Suite v4.0 contained powerful new features, especially in the realm of Hyper-V data protection. To recap, the following new features were released with Vembu BDR Suite v4.0:
Hyper-V Cluster support – critically important for data protection solutions set to protect Microsoft Hyper-V. Hyper-V Clusters are the architecture that will be used in the realm of production Hyper-V environments. Vembu BDR Suite v4.0 allows businesses to properly protect Hyper-V cluster configurations easily and seamlessly.
Shared VHDX backups – A native feature in the realm of modern Hyper-V implementations, the Shared VHDX allows customers to easily implement guest clustering with virtual machines having the ability to have shared disks between them. Vembu can properly protect these configurations of shared disks in v4.0.
Hyper-V Checksum Based incremental backups – Vembu introduced their own new checksum based resilient changed tracking that allows Hyper-V environments to correctly be tracked for changes effectively and efficiently.
Credential Manager Enhancements – Functionality with credential manager has been improved with this release allowing easier management of credentials for connecting data protection jobs to virtual machines.
Disks added retroactively are automatically added to backup jobs – Newly added disks are automatically added to the backup jobs protecting virtual machines that have disks added.
Enhanced reporting – Better reporting for VM recovery operations has been added in v4.0
Live Recovery to VMware enhancements – Customers can now edit the VM hardware configuration beforehand. This includes CPU, memory, and other features.
Reconnection attempts for network failures – Vembu will try to reconnect to a virtual machine being protected in the event of a network failure during the backup job.
New APIs and capabilities – New APIs and capabilities in querying these APIs have been added in v4.0
Vembu BDR Suite v4.0.1 Released New Features and Enhancements
Vembu has really concentrated on the overall performance of the product in v4.0.1. The following are enhancements found in this newest release of Vembu BDR Suite v4.0.1:
Apache and PHP – Latest versions have been implemented in this version to improve performance and security of BDR Suite.
Quick VM Recovery on VMware environments – Significant performance improvements implemented in this process with Vembu BDR Suite v4.0.1
New Rescan Option for Hyper-V clusters – This allows installing the Vembu Integration Service module on newly added Hyper-V cluster nodes that have been added or if a node was not available initially.
Parallel Processing – New parallel processing has been implemented in v4.0.1. By default this is set to 5 jobs, however can be changed as needed.
New ability to added Hyper-V hosts or choose existing hosts – This can now be done while performing Live Recovery to Hyper-V hosts.
Progress information added for Proxy installation in Vembu BDR Suite v4.0.1.
All of these new features equal massive new performance increases in very critical operations performed in Vembu BDR Suite v4.0.1. Especially with the parallel processing option now allowing the ability for Vembu to simultaneously work through data protection jobs configured in the BDR Server console along with the various change tracking technologies implemented, data protection operations will complete quickly and efficiently.
Vembu BDR Suite v4.0.1 Resources
If you have not heard of Vembu BDR Suite, be sure to check out the free, fully functional download of the product via the trial download link listed below. Additionally, you will see the links for the release notes, upgrade guide and installation guide.
Wrapping Up
I have been using and testing Vembu BDR Suite for a few years now and the product has continued to get more powerful and exponentially better with each release. While there are many great data protection solutions on the market today, you will be hard pressed to find a solution that offers more features, better value, and more functionality for the price. Vembu BDR Suite v4.0.1 Released New Features and Enhancements brings the most powerful functionality to the Vembu product line to date. Whether you are protecting VMware, Hyper-V, or physical workloads, Vembu offers a solid, "swiss army knife" product that can do it all and do it well.
Don't miss out on new posts! Sign up!