Networking
Can't pull an ip address when connected to Cisco switch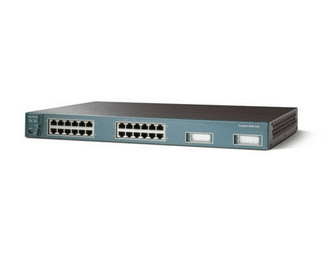 Recently in working with a client who had provisioned a new edge switch in an office setting which happened to be a Cisco 3550 XL switch (old switch by today's standards), I wanted to post a short note about setting up a Cisco switch straight from the box.  In setting up a cisco switch one needs to make sure there are certain things in place to get TCP/IP communication working for hosts connected to the switch.  In this case, the switch had the write erase command ran before so everything was set to out of the box factory default no configuration.  Assuming this switch would simply assume the "dumb switch" mode, everything was plugged in and the switch powered on, however nothing was connecting to the network.

All ports were setup default in vlan 1.  One of the first things we needed to do was set an IP address for the switch so we could communicate with it from the outside.
config t
int vlan 1
ip address 10.10.10.50 255.255.255.0
Also, as the switch was not handing out IP addresses itself, we needed to point it in the right direction of the DHCP server by setting the ip helper address
config t
int vlan 1
ip helper-address 10.10.10.1
Once we had set the ip-helper address on the switch, we could then pull an IP address from the DHCP server.  DHCP in this particular environment also set the DNS addresses for the clients that received IPs, so we were covered on DNS as well.  You will most certainly want to make sure you have your passwords setup on the switch as well for security purposes.  See our post here about some basic Cisco setup commands.
Keep in mind that on most cisco switches you have to setup these bare minimum requirements to make sure your connected hosts can communicate with the network.  Also, make sure the switch mode is STAT as the buttons on the front of the switch can sometimes get pushed and keep the switch from communicating.  If it is in another mode, simply cycle through the modes with the button on the front of the switch.
Don't miss out on new posts! Sign up!