If you are a weather geek like myself, you are excited about weather apps!  In this day and age, the average person has access to tons of weather information that just a few years ago would only have been available to meteorologists in one of the national weather service centers.  Weather apps have become widely available for smartphones that provide up to date informaton including satellite, radar, temperature, and other atmospheric readings.
We don't see many "apps" period for Windows in general.  So when I saw the Weather Channel advertise the free Weather Channel app for Windows, I knew that I would have to give it a try.  The weather app is a free download once again and runs on Windows platforms.  I installed this on my laptop which is a Windows 7 Professional x86 machine.
The installation process is smooth with this app.  However, one thing I don't like is that if you aren't paying attention, you will be installing a couple of addons and toolbars.  The upside is that they do give you the option to either "accept" or "decline" the offers for the toolbars and misc addons.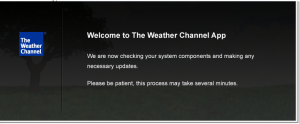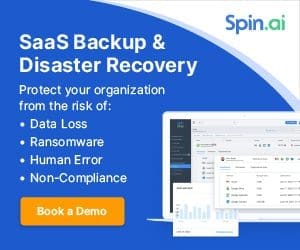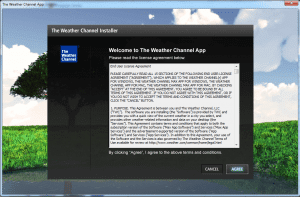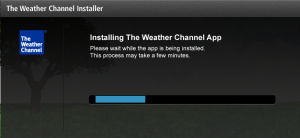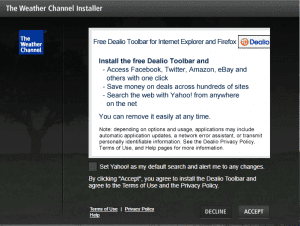 One of the toolbars that you are prompted to install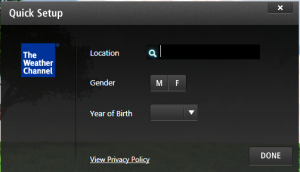 After the installation you are prompted to set the location
What is good?
One of the best features of the app is that it is free
The application is one of very few apps for Windows that provides exclusive functionality for this platform
The provided information is good.  Users get satellite, radar, precipitation data, temperature, and other sources of information
What was not so good?
The application is full of ads
If you are not careful with the installation you will be installation miscellaneous toolbars for IE and Firefox
You cannot maximize the app for full screen use.  This was a really big disappointment.  In viewing radar and other screens, you cannot fill the screen with the app.  There is no maximize button.
Final Thoughts
The Weather Channel app for Windows provides a neat and functional weather app for Windows.  The information provided is good and the application is easy to navigate.  The app is not without its flaws such as being full of ads and possible addons for IE and Firefox that a user could install without necessarily want to install.  However, all in all, the app is one of few apps for Windows that users can download and use to keep track of the weather.
The app is available from the Weather Channel for download here.