Android
Android Wifi Tether Installation and Configuration

One of the coolest things that you can do once you have rooted your Android device is install Wifi Tether software which allows your phone to become a mobile hotspot for other devices that need Internet connectivity.  This is extremely handy if you have a WIFI only device and there is no available, open, or free wifi hotspot nearby to connect to.  To obtain the software, simply navigate to the link https://code.google.com/p/android-wifi-tether/
Note *** Please read the disclaimer on the wifi tether website as the use of the program may violate your carrier's terms of service.***
One of the easiest ways to obtain the .apk installation file for your Android device is to use a barcode reader and snap the QR code which is found on the site.  This will take to directly to the software download which saves time and is simply easier.  Once you have downloaded the installation file, you will need to install the .apk package onto your device.  This should take no time at all.  Here we are running Cyanogenmod 7.1 on our SGSII and version 3.1 Beta 7 has worked great.
After you have installed the installation package, you should have the Wifi Tether application listed in your applications tray.  After launching the application you will simply see a large Wifi indicator icon in the middle of the screen.  Tapping this icon enables or disables the wifi tether.  The wifi indicator changes to yellow when the tether function is enabled and you will see download and upload statistics in real time at the bottom of the screen.  See the screenshots below.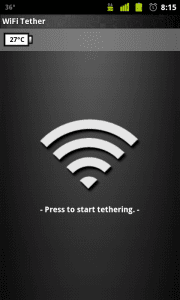 Another really nice feature is the battery temperature indicator at the top left of the application screen.  This allows you to keep a close check on the battery temp as extended use of the application can drive the battery temperature up.  In using the application for extended intervals on the SGSII, we haven't had a problem here with battery temp getting out of control, but it is definitely a good fail safe and indicator built in to the program.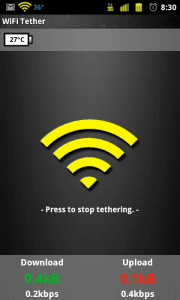 This is a screenshot from the program being in use.  As you can see the tether indicator changes to yellow and you have statistics displayed at the bottom.
Program Options
One of the other really nice things about this app is the myriad of controllable options you have available.  Take a look at the screenshots below which come straight from the configurable options with the app.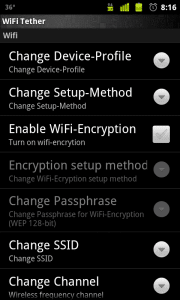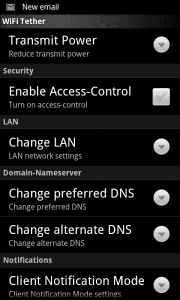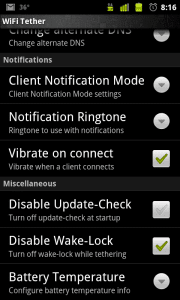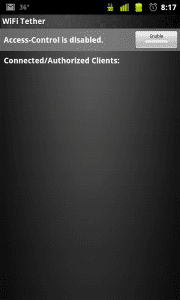 Final Thoughts
When someone might wonder why they would want to root their Android device, this is one of those reasons.  Having the ability to turn your Android phone into a wifi hotspot is a killer feature that can come in extremely handy if you are needing access to a wifi device in a pinch.  The wifi tether app is an extremely powerful and stable app that allows you to enable this feature on your rooted phone.

Don't miss out on new posts! Sign up!