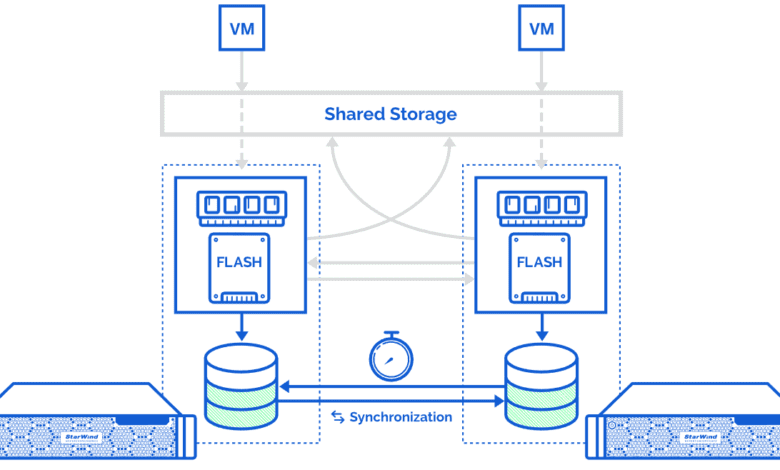 The StarWind Virtual SAN solution is one of the easiest ways to run software-defined virtual SAN in Hyper-V. It has many great features that were recently updated to provide an even better solution with faster replication. Let's look at the latest release of the StarWind VSAN solution for Hyper-V and the new features.
What Is Hyper-V Server?
Hyper-V is Microsoft's virtualization hypervisor solution that allows organizations to run virtual machines and containers and provides hybrid connectivity with Microsoft Azure with Windows Admin Center.
With Hyper-V, organizations can create Hyper-V replica machines for site replication. It can use virtual Fibre channel adapters with your Hyper-V Server and can be managed with Hyper-V Manager.
Hyper-V provides load balancing, virtual networking functionality, and replication without additional licensing. You can manage various aspects of your Hyper-V hosts and VMs with Hyper-V Manager, Server Manager, Failover Cluster Manager, etc.
Hyper-V also allows for the creation of virtual fibre channel adapter configurations to allow virtualizing workloads that were dependent upon physical fibre channel adapters.
What is StarWind VSAN?
You may not be familiar with StarWind VSAN. However, it is a powerful software-defined solution allowing you to have a turnkey way to provide shared storage for your Hyper-V environment. It offers many benefits for running your virtual machine environments. Hyper-V Virtual SAN follows suit with the trend today of running hyper-converged environments.
Eliminate shared storage
StarWind VSAN takes a modern approach to eliminate the need for physical shared storage. It uses internal disks housed in physical servers between the hypervisor hosts. It works with Hyper-V, VMware vSphere, KVM, and Xen. The StarWind vSAN solution caters to small to medium-sized businesses and edge locations.
You do not need any special channel adapter hardware configured to hook up shared storage, since this is available using the internal disks in the hosts and accessible using network connections.
"True" two-node configuration
Unlike many of the other big-box solutions for virtual SAN, StarWind's solution can operate in a truly two-node configuration with transparent licensing and has great support bundled in with the solution. It provides fault tolerance for each Hyper-V host storage with high-performance replication, all without the need to add hardware.
Virtual SANs have a lot of potential and benefits from a management standpoint. Without the need to manage an external storage solution, the virtual SAN presents virtual disk storage to your virtualization solution.
Command center management
StarWind VSAN includes the Command Center application, which is a virtual SAN manager. It is a powerful tool that provides administration, configuration, and visibility of your virtual storage.
Native Hyper-V storage solutions
In the Microsoft Hyper-V world, the native hyper-converged software-defined storage solution is Storage Spaces Direct. Storage Spaces Direct (S2D) uses internal storage in the Hyper-V nodes to create a logical storage volume comprised of the contributed storage from each Hyper-V host.
However, one of the challenges with Storage Spaces Direct is that it is historically difficult to configure and requires PowerShell commands and other configurations to get up and running. Windows Admin Center has drastically improved the management of S2D. However, Windows Admin Center still does not have all of the features and configuration capabilities that are available from PowerShell.
Storage Spaces Direct requires Windows Datacenter licensing, so it could be cost-prohibitive for small organizations that only need to run a few virtual machines.
Below is an example of creating a new HCI cluster with Windows Admin Center
StarWind Hyper-V Virtual SAN
If you are running Windows Server with Hyper-V and local storage attached, StarWind vSAN allows running virtual machines with high availability between the Hyper-V nodes using the StarWind storage solution. It does not require the Storage Spaces Direct solution.
The StarWind solution does not require Windows Datacenter licensing and provides a great solution for those needing smaller and even larger environments.
New features with StarWind VSAN for Hyper-V
With the latest release of StarWind vSAN for Hyper-V, there are many new features, including the following, which you can find on the official release notes page.
Core features and enhancements
Excluded asynchronous replicas, LSFS, and LWC from the project.
Encrypted secret passwords for chap authentications.
Fixed the crash during the creation of the replica.
Fixed the crash for time-outed I/O requests.
Fixed the spurious lost connection.
Updated the TLS version to 1.2 (used for email notifications).
Minor fixes and updates.
Synchronous Replication
Added synchronization journal places on a disk with two working strategies:
Best Performance: The strategy provides better I/O performance while all device nodes are in a healthy state. But it can't guarantee fast synchronization in all cases.
Fast Recovery: The strategy provides faster recovery in all cases but requires an I/O overhead for each write operation.
Fixed the node majority logic during storage degradation.
Journal Synchronization
The major new feature with this release of StarWind vSAN is the Journal Synchronization feature. What is Journal Synchronization? Let's first describe the problem with traditional synchronization between storage nodes.
Challenge with traditional data synchronization
With modern software-defined storage, synchronization is the process that increases availability and allows the storage to stay in sync, which is essential for critical applications.
However, due to hardware or software failures, there can be periods when a large amount of data needs synchronizing and can take a long time.
Increased data loss risk
This situation decreases your potential availability as storage synchronization has not yet been completed. Any additional failure in the hardware or software layer will result in data loss. In addition, during a synchronization period, the storage subsystem performance is impacted by the additional I/O coming from the synchronization process and data transfers.
How the synchronization journal solves the challenge
StarWind's new Journal Synchronization feature increases uptime and reduces downtime risks using a new synchronization journal stored on separate storage.
StarWind only needs to synchronize the changes written to the storage using the synchronization journal while one of the partners was out of sync. This greatly reduces the amount of data needing to be replicated and the impact on storage and performance.
Using this approach, the StarWind replicated devices become available within minutes, not hours. It allows businesses to drastically increase resiliency and uptime while minimizing the impact on critical applications. The new journal synchronization performance impact is minimal since you do not need to synchronize the data already written to the node.
Wrapping Up
The new StartWind vSAN for Hyper-V Virtual SAN journal synchronization feature drastically reduces data synchronization and makes the StarWind solution extremely attractive for those wanting software-defined storage between multiple Hyper-V nodes and decreasing downtime resulting from failures while increasing the uptime and resiliency of critical apps.