VMworld
VMware VMworld renamed to VMware Explore!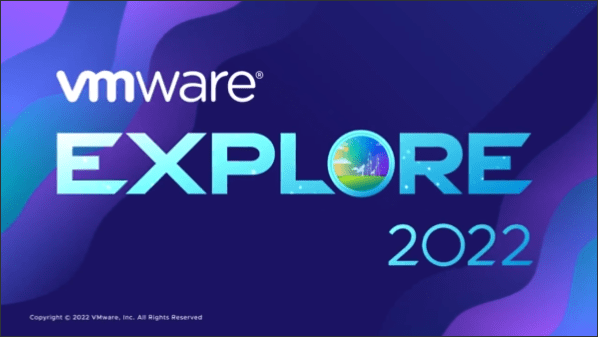 There will no longer be a VMworld event if you haven't heard the news. But, for those that know, love, and plan on attending VMworld and future VMworlds, don't panic! VMware has renamed the VMworld even to VMware Explore. Why have they changed the event's name, and what does that mean in terms of content, attending, locations, sessions, etc.? Let's look at VMware VMworld, renamed VMware Explore, and see what this means.
Why did VMware rename VMworld to VMware Explore
VMware has never been a company to sit on its laurels and accept the status quo. The VMworld event has been a staple of the tech community for 18 years now. However, VMware is moving forward with efforts to reinvent itself, even with the tech show. It is no longer a company that simply develops a hypervisor and allows you to run virtual machines. VMware has transcended to a multi-faceted software company driving innovation in every industry sector, with a hyper-focus on multi-cloud technologies, from public to private to edge environments.
To communicate this shift in focus, VMware has announced VMware VMworld renamed to VMware Explore, an event that will focus on building and operating a multi-cloud native platform with VMware's innovative line of solutions in the mix. However, one of the key differences with VMware Explore will be the non-VMware-led content and speakers. VMware brings in fresh outside views from other vendors, industry leaders, experts, etc. This will include community leaders, developers, executives, VMware customers, and VMware partners as part of the sessions.
VMware invites all attendees who want to engage in enterprise applications, cloud architecture, infrastructure, end-users, networking and security, and many others to help discuss, reinvent, shape, and build a new world of multi-cloud technologies.
VMware has not mentioned the sessions would be available live-streamed as in previous VMworlds, due to the pandemic. However, there will be access to on-demand content after the in-person events are held in US and Europe. As has been the case previously, the on-demand content is free to view but requires you have a VMware ID for access.
What types of content will be presented at the VMware Explore conference?
With VMworld renamed to VMware Explore, how does this affect content? Content related to multi-workload, multi-cloud, and multi-workspace IT environments will be presented where presenters will demonstrate how to build and operate your cloud-native platform, facilitate and accelerate cloud transformation for your business, and secure your hybrid workforce.
If you can't tell already, the focus of VMware Explore will be cloud, cloud, and more cloud.
What are the dates, locations, and costs of VMware Explore?
VMware Explore will be held on the following dates and locations:
August 29 – September 1, 2022: VMware Explore US – San Francisco, California, USA, at the Moscone Center
November 7 – 10, 2022 – VMware Explore Europe – Barcelona, Spain, Fira Gran Via
Other events:
Brazil: October 19 – 20
Singapore: November 15 – 16
Japan: November 15 – 16
China: November 17 – 18
VMware Explore cost?
A full conference pass for VMware Explore will be $2,195 for the US event and €1,475 for the Europe event.
What about health and safety regulations in place for the VMware Explore event?
With the event, VMware is committed to the health and safety of our customers, partners, employees, and team members. Below are the COVID-19 guidelines for VMware Explore. VMware will continually update the guidance if changes are made leading up to the events. Revisions will be made according to guidance from the Centers for Disease Control (CDC) and federal, state, country, and local requirements and requirements set forth by the specific venues and cities.  
Current known health and safety guidelines 
Up-to-date vaccination or COVID-19 testing is required.
Indoor and outdoor masking is recommended.
Enhanced cleaning will be performed throughout the venue and program areas.
Hand sanitizer will be available throughout the program.
Do not attend if you are feeling ill or have any symptoms of COVID-19.
We encourage you to review the health and safety protocols for the Moscone Center in San Francisco. 
For additional information about current policies in Spain, please see the following:
Up-to-date vaccination or negative rapid antigen test is required to enter Spain.
Indoor masking is required inside the Fira Gran Via, unless actively eating and drinking.
To learn more about COVID-19 protocols in Spain, visit the Spanish Ministry of Health website.
Can you still view the VMware VMworld events online?
Yes these are still live for the past three years. You can view those here:
Final Thoughts
VMware has never disappointed me for the past 18 years in the products, solutions, and technology leadership they provide. Undoubtedly, VMware VMworld renamed to VMware Explore will allow further innovation in solutions, services, and overall technologies offered by VMware and will help drive thought leadership for organizations looking to transform their business from a technology perspective.
Don't miss out on new posts! Sign up!