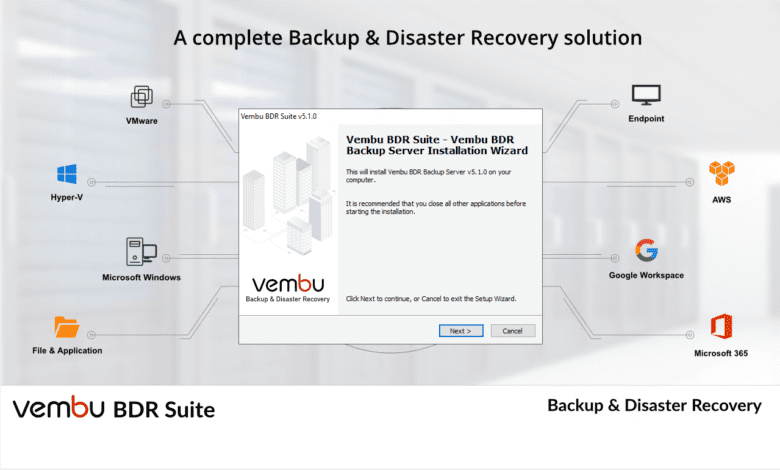 One of the backup vendors that I have worked with the past few years is Vembu. Vembu provides a rock-solid solution that is affordable and provides many excellent features for the enterprise space. The Vembu BDRSuite v5.0 release was a landmark release in the product line that added tons of new features and functionality to the product. The Vembu BDRSuite v5.1 release builds on the features of v5.0 with additional new functionality that helps to provide even more features to the platform. Let's take a look at Vembu BDRSuite v5.1 released new features added to see what additional capabilities are included.
Download Vembu BDRSuite v5.1 here:
Recap of Vembu BDRSuite v5.0 features
Before looking at the newly added features in v5.1, let's recap the features and capabilities that are new to the v5.0 release. The v5.0 features are massive and include:
Hyper-V VM replication
Instant boot live migration
Parallel VM processing
Rotated drives as backup repository
Optimized backup with where-it-left-off
GFS (Grandfather-Father-Son) retention
Synthetic full backup
Backup job template
Multi-host backup support
Application item-level recovery from web GUI
Microsoft 365 SharePoint online backup
Microsoft 365 Teams Backup
Backup for Google Workspace
Backup for AWS
With Vembu v5.0, Vembu has strengthened its feature-set to include many new cloud capabilities and additional core backup features that improve performance and additional recovery/replication functionality.
Vembu BDRSuite v5.1 Released New Features
The new major features included with Vembu BDRSuite v5.1 include:
Object Storage Backup Repository
Backup Copy
BDR Cluster Deployment
Object Storage Backup Repository
The ability to use cloud object storage as part of the overall backup architecture design provides an additional protective layer for allowing the recovery of business-critical data. Amazon's AWS S3 storage and S3 compatible storage is a popular choice in the enterprise for object-based storage. The new Vembu BDRSuite v5.1 provides the ability to target Amazon S3 storage which extends the options available for designing and building out resilient backup plans.
Backup Copy
The 3-2-1 backup best practice methodology has been a staple in the enterprise to provide a best practice framework for ensuring data is resilient and available at all times. With the new Vembu BDRSuite v5.1 release, you can now create a copy of your primary backup data and store this data in a different backup repository.
This feature allows easy creating multiple copies of your backups in additional repositories, located in a different data center, region, etc.
BDR Cluster Deployment
With Vembu BDRSuite v5.1, Vembu has introduced a new feature that allows clustering of BDR servers. Instead of scaling up a single BDRSuite Server, the new option allows more easily scaling resources when these are needed. Now, you can install multiple BDRSuite Backup Server instances and these will work together for load balancing and high availability, again instead of scaling up CPU and RAM on a single BDR Suite server with more resources.
Other enhancements as part of the Vembu BDRSuite v5.1 release
There are other smaller enhancements to note with the BDRSuite v5.1 release. These include the following:
Backup database optimized now for better performance
Reconnection attempts for the backup replication to Offsite DR Server
Option to run the tape backup jobs immediately after saving it
Option to run the tape backup jobs on-demand from the BDR & ODR Server
The VM listing on the tape backup recovery page has been improved
Automatically backup the tape agent database daily for disaster recovery scenarios
Restore OneDrive/Group OneDrive files & folders to local storage drives
Download Microsoft 365 Calendar & Contact items directly from the BDRSuite Backup Server UI
Restore Google Drive files & folders to local storage drives
Download Google Workspace Calendar & Contact items directly from the BDRSuite Backup Server UI
AWS EC2 Instance level Recovery
Installing Vembu BDRSuite v5.1 installation process
One thing I want to call out is the work Vembu has done on the installation front. They have continued to improve the installation experience and the ease with which you can get up and running on Vembu v5.1. The installation process is essentially a "next, next, finish" process.
One of the new options you will see during the installation process is the ability to select Cluster installation which has been added with the addition of the BDR Cluster Deployment feature.
The Vembu installation will also pop up the Getting Started screen that helps to know which tasks need to be completed to have a functional Vembu Backup server. As you can see, this consists of the following to get up and running with backups:
Register Backup Server
Configure Backup Repository
Add Data Sources for Backup
Configure Backups
Wrapping up and impressions
The Vembu BDRSuite v5.1 Released New Features build on the v5.0 functionality. Vembu is definitely concentrating on bolstering its cloud capabilities and also providing tools for organizations to build out robust backup topologies using hybrid infrastructure and cloud storage. With advanced threats today, such as modern ransomware, organizations must take advantage of new ways to protect data and adhere to the 3-2-1 backup best practice methodology to protect data.
Read my other Vembu posts here: