VMware
RVtools: Free VMware best practices and health analyzer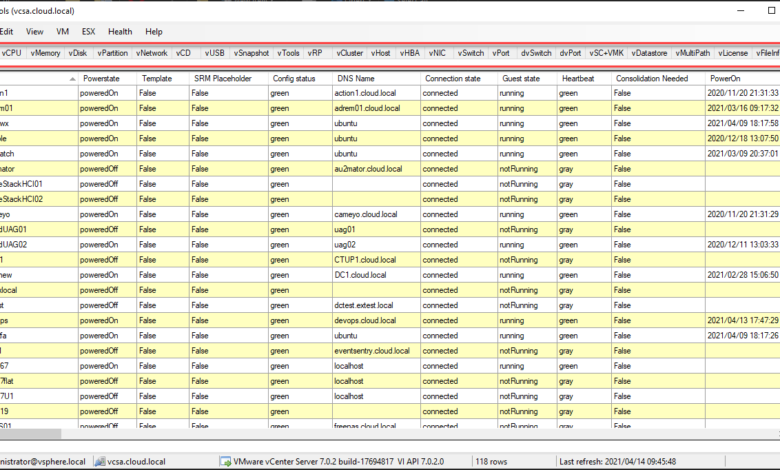 As your VMware virtual environment grows and expands in terms of hosts, vSphere clusters, and virtual machines just to name a few, the health of your environment can deteriorate if left unchecked for best practices and other health metrics. As we all know, there are a lot of tools available that monitor VMware vSphere and other types of environments. However, I want to highlight a gem of a tool that is approaching 1.5 million downloads that provides a powerful way to keep a check on your VMware vSphere environment and quickly identify underlying issues. The tool is RVTools. Recently a new version of RVTools was released, adding many new enhancements. Let's look at RVTools: free VMware best practices and health analyzer download and see features and capabilities offered by RVTools.
What is RVTools?
RVTools is an installable utility written in .NET 4.6.1. It connects to your VMware vSphere environment using the VMware vSphere Management SDK 7.0 and CIS REST API. This allows RVTools to query and pull all relevant information about your vSphere virtual environment.
RVTools is able to list information about VMs, CPU, Memory, Disks, Partitions, Network, CD drives, USB devices. Snapshots, VMware tools, Resource pools, Clusters, ESX hosts, HBAs, Nics, Switches, Ports, Distributed Switches, Distributed Ports, Service consoles, VM Kernels, Datastores, multipath info, license info, and health checks.
The information can be exported to csv and xlsx file(s). With a xlsx merge utility, it's possible to merge multiple vCenter spreadsheet reports to a single xlsx report. This allows easily creating reports and viewing information about your vSphere environment.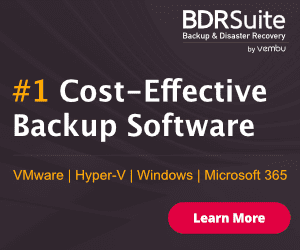 What I like about RVTools is the ease of which you gain visibility to underlying issues and other details of your VMware vSphere environment. When consulting for various businesses and companies, one of the first things I like to do is connect to the environment using RVTools as it gives a quick overview of the state of the environment and many of the common issues that happen over time such as snapshots, Zombie disk files, VMware tools issues, and many others.
RVTools also provides one of the easiest ways to get certain inventory information your VMware vSphere environment. This includes VM versions, datastores, health information, etc.
RVTools 4.1.3 new features
Actually 4.1.3 is a slight bug fix, however, 4.1.2 included quite a few enhancements, including these that caught my attention with the 4.1.2 release:
New vUSB tab page – see VM's with a connected host USB device
New experimental feature (vFileInfo) that displays the files found on all datastores
All relevant VM tab pages now have a new column indicating whether it is an SRM placeholder
On vInfo tab now up to eight network cards are displayed
vnetwork tab shows the order number of the NIC
vNetwork tab page – IP column split into ipv4 and ipv6 columns
The vDisk tab page new columns – disk key and disk path
On vHealth tab page the vSN folder names are now displayed with their friendly folder names instead of the GUID
On the vRP tab, new columns resource pool path, total number of VMs in resourcepool
On the vHost tab you can see total number of VMs on host and vSAN fault domain name
vDatastore tab shows the total number of VMs on the datastore
The vHealth tab shows new security message if ESXi shell or SSH service is runnning on the host
Installing RVTools
Installing RVTools is basically a "next, next, finish" process. Below are the installation screenshots during the installation of RVTools 4.1.3.
Running RVTools
After the quick and easy installation of RVTools, launch it and connect to your vCenter Server. I am using the SSO administrator in the lab environment. RVTools also allows you to use Windows session credentials as well.
After signing into your vCenter Server in your vSphere environment, RVTools will take a few seconds to query the environment and then will display the information in a very easy to read table format with tabs across the top to display specific information pertaining to each area of functionality.
Highlights of RVTools capabilities
One of the great features of the RVTools utility is the vHealth tab. What is the vHealth tab? The vHealth tab checks for 21 possible Health checks in your environment.
VM has a CDROM device connected!
VM has a Floppy device connected!
VM has an active snapshot!
VMware tools are out of date, not running or not installed!
On disk xx is yy% disk space available! The threshold value is zz%
On datastore xx is yy% disk space available! The threshold value is zz%
There are xx virtal CPUs active per core on this host. The threshold value is zz
There are xx VMs active on this datastore. The threshold value is zz
Possible a zombie vmdk file! Please check.
Possible a zombie vm! Please check.
Inconsistent Folder Names
Multipath operational state

Degraded = One or more paths to the LUN are down, but I/O is still possible.
Further path failures may result in lost connectivity.
error = The LUN is dead and/or not reachable.
lostCommunication = No more paths are available to the LUN.
Off = The LUN is off.

Virtual machine consolidation needed
Search datastore errors.
VM config issues
Host config issues
NTP issues
Cluster config issues
Datastore config issues
Warning if ESXi shell is enabled on host
Warning if SSH is enabled on host
Within a few moments, you will have visibility to most of the usual issues that are common to VMware vSphere environments. The vHealth tab is one of the favorites of RVTools. However, there are many other valuable tabs and information presented by RVTools. Don't be fooled by just the columns you see initially. If you look at the bottom of the window, you will see the slider slides far to the right. The amount of detailed information you get with RVTools is incredible.
Do you want to see detailed information about the VMware Tools installed in your virtual machines?
We all know how it can cause issues when you have CD images connected to virtual machines. RVTools easily shows all VMs that have ISO images attached to the VM.
These are only a few of the tabs and information that you can benefit from viewing in RVTools. If you have not used this tool or are not familiar with what it can do, be sure and download the utility and use it to better understand the health and best practices in your vSphere environment.
Final Words
Hopefully, you have enjoyed RVtools: Free VMware best practices and health analyzer and how you can use it. This is a simple tool to install and within a few minutes, you will probably know more about your vSphere environment than you did before installing RVTools. Be sure to check out and download RVTools in the link below: