vSphere 7
Failed to Load Crypto64.efi ESXi 7.0 Update 2 Fix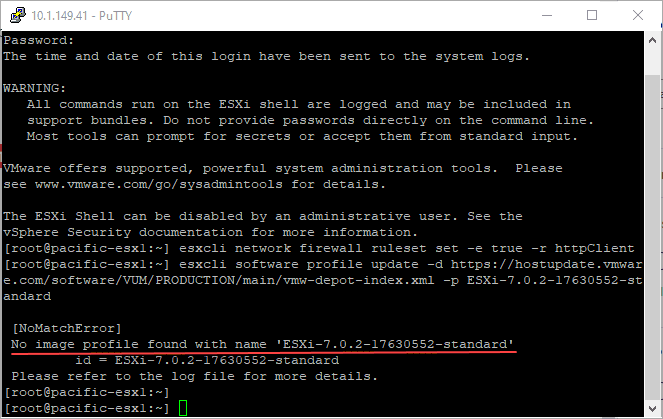 It wasn't just a few days ago that VMware released the new vSphere 7.0 Update 2 release to the world. It includes tremendously powerful new features and capabilities, including a long list of new features in both vCenter Server as well as VMware vSAN. Many are itching to get their lab environments and others upgraded if they have not done this already. As a note here – VMware vSphere ESXi 7.0 Update 2 has been temporarily pulled due to an issue with the installation of vSphere ESXi 7.0 Update 2. There is an official update that has been posted that provides the details of the problem. I wanted to help give visibility to this issue with a new post here to help share what has been seen and possible workarounds.
Failed to Load Crypto64.efi ESXi 7.0 Update 2
What is the issue that is experienced with the upgrade for some to vSphere ESXi 7.0 Update 2? Many users reported they were seeing the following screen after upgrading:
What leads up to this issue? This seems to be a result of customers who use either a custom baseline in vSphere Lifecycle Manager (vLCM). In addition, the other upgrade methods that fail include using:
esxi software vib install
esxi software vib update
VMware notes this is only an issue that is experienced when users are using a UEFI boot host upgraded from an earlier version of ESXi 7.0.x release such as Update 1, using a patch baseline.
Is this still happening with upgrades to ESXi 7.0 Update 2?
VMware has proactively pulled the current image profile for ESXi 7.0 Update 2. The image profile that was posted previously, ESXi-7.0.2-17630552-standard, is no longer found if you try to perform an update using esxcli or other tools that hit the update repository.
What is the current guidance on the ESXi 7.0 Update 2 release? While VMware has a couple of workarounds posted for the issue, their current recommendation is to not upgrade to ESXi 7.0 Update 2 due to the issues being seeing under these specific circumstances with the upgrade.
What if you if you have pulled the ISO image down and started the upgrade and ran into the issue before hearing about the current issues experienced with the release?
Workaround for the Crypto64.efi ESXi 7.0 Update 2 upgrade error
Even though the official KB lists a couple of workarounds, these are essentially the same workaround, just different ways to boot from the ESXi 7.0 Update 2 ISO file. The resolution?
Boot your failed ESXi 7.0 Update 2 host from the ISO image for ESXi 7.0 Update 2 and perform an upgrade using the media.
There is no question that VMware is working feverishly on a patched version of ESXi 7.0 Update 2 as this is a flagship release. All in all VMware's track record with new releases has been rock solid. This is one of the more major issues they have had with a release, however, all in all, this was not seen by everyone. It seems to occur under a specific set of circumstances with the ESXi 7.0 Update 2.
My experience with the ESXi 7.0 Update 2 upgrade
So far, I have updated my vSphere home lab environment with ESXi 7.0 Update 2 and vSAN configuration without issue using the "flawed" ESXi 7.0 Update 2 release version and did not see the issue. For my hosts, I used an upgrade baseline and vSphere Update Manager (VUM). I run all Supermicro lab hosts and have not seen any issues.
Post in the comments if you have experienced this unusual error in the new ESXi 7.0 Update 2 release and if you found other workarounds other than the upgrade option listed in the VMware KB article.