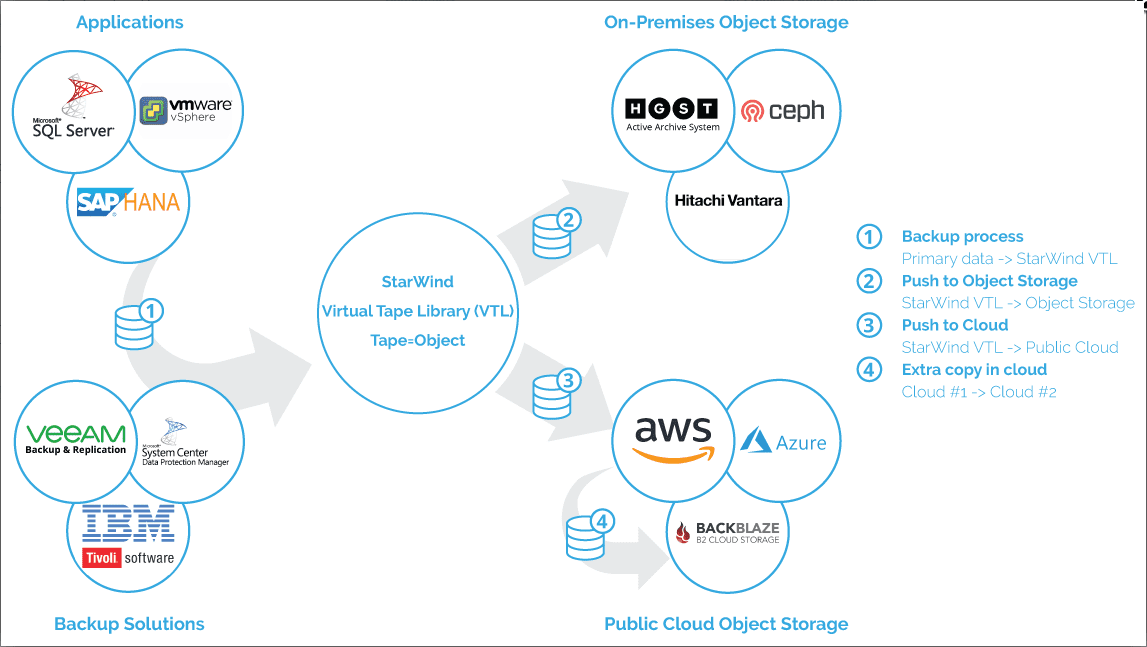 StarWind provides a wealth of products and solutions that offer tremendous value to SMB and enterprise organizations. From StarWind Virtual SAN (VSAN), StarWind Virtual Tape Library, and StarWind NVMe-oF Initiator, StarWind provides many great products that allow organizations to have access to cutting-edge technologies that allow their business to innovate at a rapid pace and meet technical challenges head-on with effective solutions. The StarWind OEM solutions allow vendors and system integrators alike to take advantage of StarWind's already solid solutions to make up the core offerings of their own solutions. Let's take a closer look at StarWind new OEM solutions and how these allow vendors and integrators to deploy solutions more rapidly.
Solutions and not products
Businesses today are not interested in more "products." Rather, businesses are interested in having effective solutions to business and technical challenges. Products in themselves are meaningless if they do not solve real-world problems faced by businesses. Today organizations are having to move at a much faster pace than ever before.
StarWind New OEM Solutions for Vendors and Integrators
To begin with, what OEM solutions are offered by StarWind for system integrators and vendors? StarWind provides the following:
StarWind Virtual SAN OEM – Perhaps the best known of the available StarWind products, StarWind VSAN, provides software-defined storage that allows delivering high-performance fault-tolerant storage solutions for all of your business-critical workloads. StarWind VSAN allows for satisfying many different use cases such as video surveillance & analytics, healthcare, finance, and autonomous vehicles.

StarWind Virtual SAN (VSAN) is a powerful software-defined storage solution that allows aggregating local physical server storage together into a logical storage pool. It does this by mirroring internal hard disks and flash between servers. You can use any number of different hypervisors with the solution. This includes Microsoft Hyper-V, VMware vSphere, Linux KVM, or Xen. The solution's sweet spot includes enterprise remote offices and branch offices (ROBO) environments and small and medium businesses (SMB) and edge.
StarWind allows organizations to use commercial off-the-shelf (COTS) hardware to provide the underlying hardware layer underneath StarWind VSAN. It also provides a true two-node configuration that, unlike other solutions, does not require the use of a witness node.
StarWind Virtual Tape Library OEM – The StarWind virtual tape library allows vendors the ability to augment tape-centric application processes with object and cloud storage support for long-term archival and vaulting. This helps to eliminate the manual processes involved with physical tapes while still protecting data from ransomware and other threats prevalent to your data today.

Data is air-gapped on virtual tapes to keep them safe from malicious processes
StarWind NVMe-oF Initiator OEM – StarWind provides the only Windows-certified software NVMe-oF initiator available on the market. This allows bringing customers access to NVMe performance latency that allows boosting application performance.
Advantages of Using StarWind Solutions
There are many advantages in system integrators and vendors using the OEM solutions provided by StarWind. These include the following:
Dedicated technical team – StarWind support is available for integrators and vendors using StarWind solutions to design, perfect, and support the overall solution utilizing StarWind components.
Extended support – The support provided by StarWind helps to extend in-house technical support by simply becoming an extension of your business, supporting your solution to customers. This includes support during the development, positioning, marketing, finance, and support in the entire process.
Creative freedom – StarWind works with vendors even to alter the underlying software to accommodate creativity and ingenuity of solutions. StarWind embraces thinking outside the box, and the OEM solutions highlight this.
Custom Use Cases Enabled by StarWind OEM solutions
There are many different use cases that are opened up for system integrators and vendors using StarWind solutions. This include:
High-performance computing – Using the StarWind NVMe-oF initiator, customers can have enhanced performance for various use cases, including modeling, simulation, and data analytics.
Mission-critical workloads – StarWind VSAN stands out among many other software-defined storage solutions on the market. Customers utilizing StarWind's VSAN solution do not have to worry about HCLs and can even have a truly two-node configuration for their VSAN configuration without the need for a witness node.
Media & entertainment – Using StarWind VTL, organizations can easily add object storage tiering and support without changing any workflows.
Wrapping Up
StarWind New OEM Solutions for Vendors and Integrators provide great new offerings that allow solution providers to build their ecosystem of products around StarWind technologies. This includes StarWind VSAN, Virtual Tape Library (VTL), and StarWind NVMe-oF.
Building these types of solutions and capabilities from scratch could be extremely challenging and would require vendors to "reinvent the wheel" when developing solutions for customers. By leveraging the StarWind ecosystem of solutions, they have access to build their solutions around tried and proven technologies from StarWind.
In the process, they are getting the technology and the support and development capabilities of StarWind to customize solutions if needed to fit the technical applications of custom solutions.