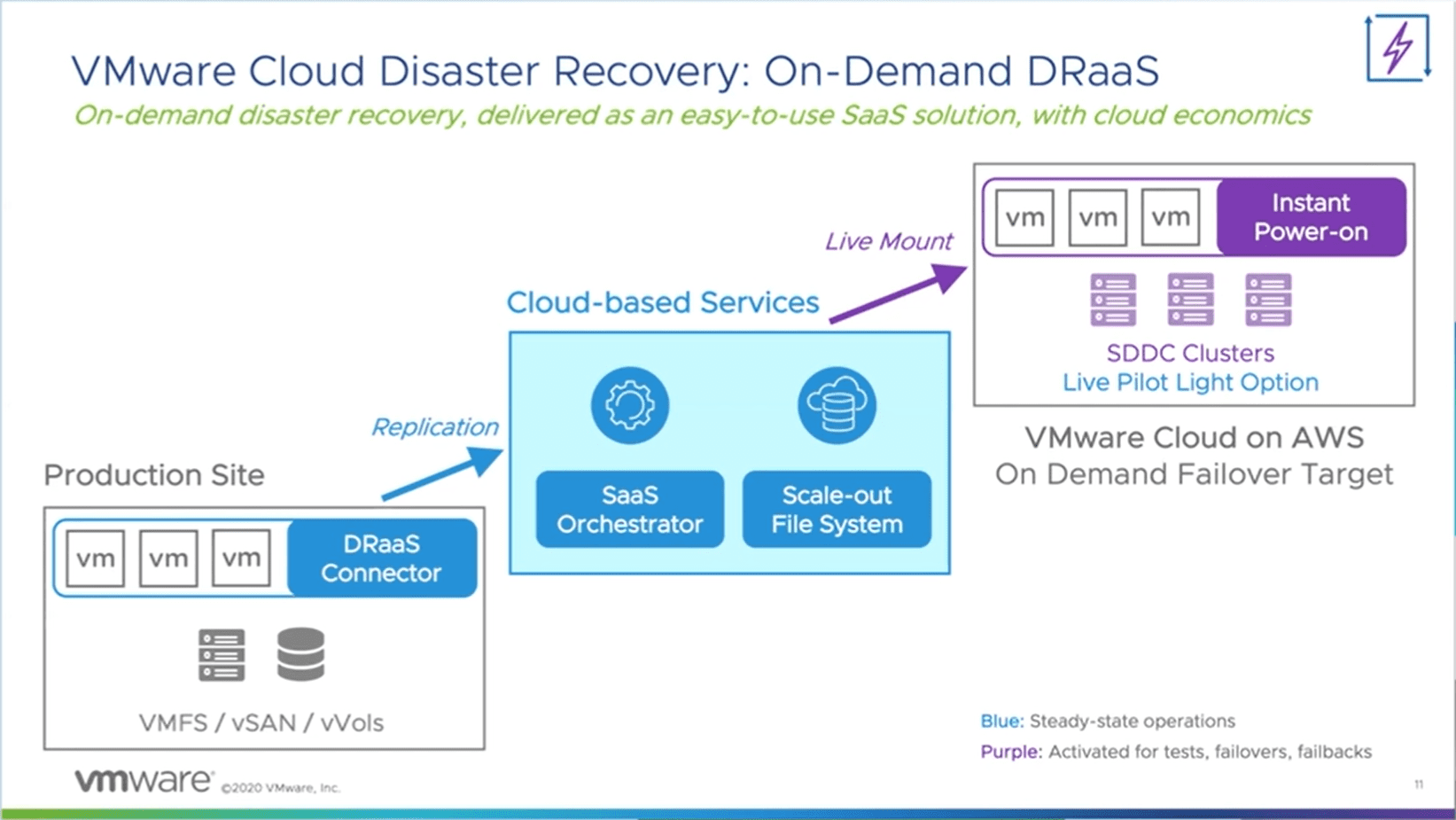 There were many exciting announcements at VMworld 2020 this year. One of the announcements that caught my attention was a new offering called VMware Cloud Disaster Recovery that provides an automated service for on-demand DRaaS, leveraging VMware Cloud on AWS. Disaster Recovery is an aspect of business-critical operations that can often be an afterthought or that isn't well thought through from an operations standpoint as well as a data resiliency standpoint. The new VMware Cloud Disaster Recovery service sets out to simplify many aspects of the disaster recovery process and help to ensure your business-critical data is protected. Let's take a look at VMware Cloud Disaster recovery: on-demand DRaaS and get a high-level overview of the service and its features.
What is VMware Cloud Disaster Recovery?
The new VMware Cloud Disaster Recovery service is a result of VMware's acquisition of Datrium not long ago. The new service provides the ability to replicate virtual machines from your on-premises data center into cheap cloud storage. This provides the benefit of what VMware calls cloud economics where you benefit from the data existing in the low cost cloud storage. However, it takes this a step further in that it allows a seamless and automated way to recover your workloads from the replicated cloud storage directly into VMware Cloud on AWS by means of a live mount of your data to VMC. Additionally, for management, there is no software to maintain or manage. The UI is a totally SaaS-based management interface so it is easy to access from anywhere.
It might seem like disaster recovery is an area of vSphere infrastructure and other virtualized solutions that is well covered and have existing tools and solutions in this space. While this is true to some degree, it is still an area of virtualization environments that customers still find very complicated, especially to leverage cloud environments into their DR plans. Also, disaster recovery is a mechanism that may be found in many organizations but isn't well tested, if at all.
Key Features of VMware Cloud Disaster Recovery – On Demand DRaaS
There are many great features to the VMware Cloud Disaster Recovery solution that we have already alluded to. However, these include the following:
It is a SaaS-based solution that leverages VMware Cloud on AWS
Features low TCO, RPO, and RTOs for your mission-critical workloads
Enables customers to protect an even broader set of services and resources
Easy to use SaaS based interface to interact with the service
Provides DR orchestration including failover and failback processes
Has the ability to instantly power on VMs with a Live Mount feature directly to VMC SDDC environment
Features a delta-based data copy mechanism
During failback scenarios, the solution is very aware of the data egress charges that cloud vendors charge for data leaving the environment. Failbacks only copy across the delta data changes that have occurred since the failover. In addition, VMware Cloud Disaster Recovery deduplicates and compresses those changes for an even smaller data egress footprint.
The service constantly performs health checks on the environment to proactively notify you if there are any issues with the environment. You don't have to wait for days to find out if there are issues. The service checks every 30 minutes by default.
VMware offers a Pilot Light where you can pre-provision a small environment in VMware Cloud on AWS ahead of time so you are not having to spin this up at the time of disaster to accelerate the time to recovery
From the entire process from replication, testing, to failover, failback, VM format conversion does not have to happen. The native vSphere VM format is kept intact
Built-in audit reports for handoffs to internal or external auditors
Works with VMFS/vSAN/vVols, or any supported storage technology in vSphere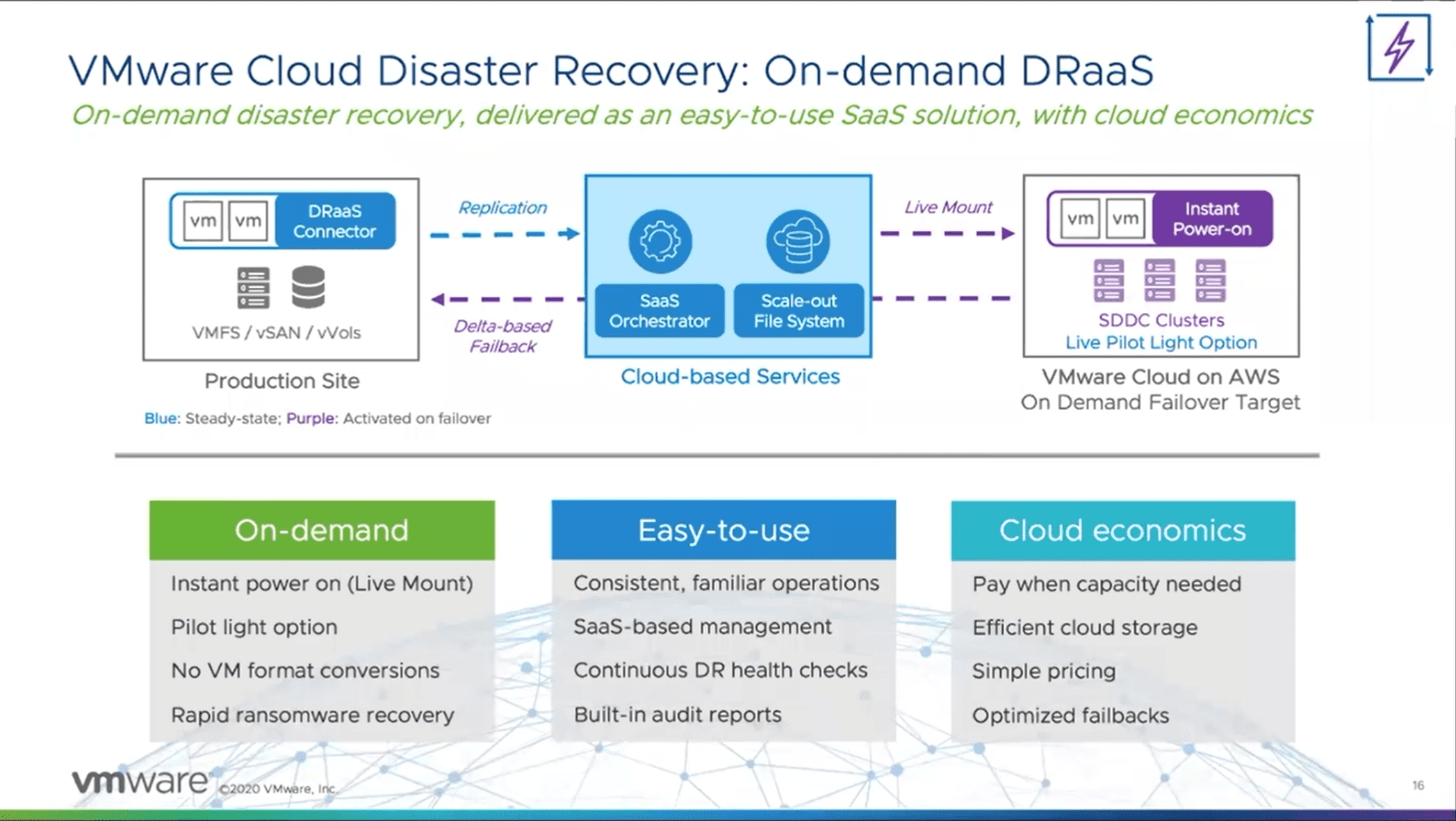 Where does this fit with Site Recovery Manager?
You may wonder how VMware is positioning this solution with the existing Site Recovery Manager? The VMware Cloud Disaster Recovery is positioned as a "Good RTO and RPO sufficient" whereas "VMware Site Recovery Hot DRaaS" is positioned as the "Best RTO and RPO required". So, the bottom line is that SRM will still provide the best RTO and RPO performance at a higher cost. However, this provides a great option to leverage cheap cloud storage at a lower cost solution that still provides the automation for turning up resources in VMC.
How Does it Work?
Using a Disaster-as-a-Service (DRaaS) connector appliance, the on-premises data is replicated to efficient cloud storage as a efficient and performant format.
The data is replicated using proxy VMs that are essentially OVA appliances that you deploy on-premises. You can deploy multiple VMs for performance and availability. These perform the data replication.
When the disaster recovery event happens with VMware Cloud Disaster Recovery you have two options:
On-demand power up your failover capacity at the time of failover. As soon as the capacity is up, you can use Live Mount to instantly power on the resources while rehydration is happening in the background
You can leverage the Pilot light option to pre-provision a small footprint to allow having the capacity available while you rehydrate the remaining capacity

With this option you can also preconfigure some of the networking and domain configuration with the goal of reducing the recovery time
The failback automation orchestration is an integrated part of the orchestration workflow so that you don't have to figure out this aspect of the DR plan.
Below is a look at the SaaS UI that is part of the VMware Cloud Disaster Recovery solution.
A look at the Protected Sites configuration.
Testing a failover plan.
Viewing protection groups configured.
Editing a protection group.
During a full failover, VMs are instantly powered on in the VMware Cloud on AWS environment.
You may wonder in which regions the service is available. This includes the regions where VMware Cloud on AWS is available shown below.
Wrapping Up and Thoughts
It is great to see this new VMware Cloud Disaster Recovery: On-Demand DRaaS option made available to customers. This will help bridge the gap between Site Recovery Manager and easily using cloud storage as part of disaster recovery from on-premises to VMware Cloud on AWS.
The solution looks to make the process of failing over and the failback extremely easy to use by leveraging technologies to ensure data is copied efficiently and giving customers the option of pre-provisioning a pilot light environment to accelerate the process of spinning up workloads in VMC.
Be sure to check out the VMworld 2020 Session:
Don't miss out on new posts! Sign up!