Backup Software
NAKIVO Backup and Replication v9.0 GA Released New Features
Just a short while ago, I covered the release of the NAKIVO Backup & Replication v9 Beta version released with new features including a brand new feature for those still running physical workloads that need to be protected. In classic NAKIVO style, just a short while after the beta version has been released, the GA follows. In this post, we will cover NAKIVO Backup and Replication v9.0 GA released new features contained in this now latest supported release from NAKIVO.
NAKIVO Easy Automatic Update to v9.0 GA
One of the great new features contained in NAKIVO Backup & Replication, released in version 8.5, is the automatic update feature. This provides an extremely easy way to get to the latest and greatest release with the new functionality provided. This shows that NAKIVO is maturing quite a bit. Before v8.5, you had to download an upgrade script to update the appliance to the latest version. This seemed to work well, however, the automatic update is certainly more what you would expect from a mature product that is giving customers what they need operationally.
Performing the update is as simple as following the notification prompts found in the NAKIVO web interface. The appliance will reboot as part of the upgrade process. Be sure to quiesce all jobs before running the upgrade to the latest version due to the reboot and restart of services.
Below is an example of how this looks in one of the previous updates of the NAKIVO appliance.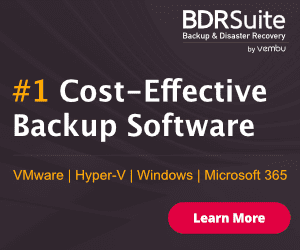 NAKIVO Backup and Replication v9.0 GA Released New Features
The big news with NAKIVO Backup & Replication v9.0 is the ability to protect physical Microsoft Windows Server workloads running in your environment in a seamless way.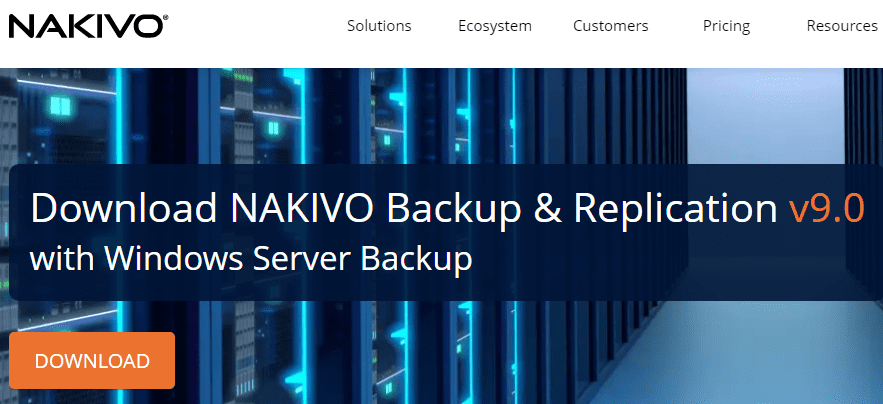 Even in the highly virtualized enterprise datacenters seen in most customer environments today, physical workloads are still needed and used to run applications or services that may require a physical server such as those used with specialized physical interfaces to equipment or devices.
Also, some customers may require the absolute top level of performance that only bare metal can provide. These and other scenarios and use cases are still found in the wild today, requiring customers have a means to protect and backup data found on physical Windows servers.
The great thing about this new feature is the functionality is included in the new appliance itself. There are no standalone agents you have to download separately and install on the physical workloads before connecting them to your NAKIVO Backup and Replication v9 environment. The service that is installed on the Windows Server workload is "pushed" out from the NAKIVO appliance.
While in this release NAKIVO is only releasing the functionality for physical Windows servers, we can certainly see the writing on the wall here that no doubt in a future release this functionality will be extended to physical Linux servers.
This certainly helps to round out NAKIVO's portfolio of workloads protected to include physical, virtual, and cloud environments from a single pane of glass interface empowering customers to have total visibility over all aspects of data protection in their environment across all workloads.
A few other highlights of the NAKIVO Backup & Replication v9.0 GA release related to physical servers includes the following:
Application-Consistent Backups
Global Data Deduplication
Instant Granular Recovery
Physical to Virtual (P2V)
Per-Machine Licensing
Additional features to note:
Application-Consistent Backups
Following suit with the functionality provided to virtual machines by NAKIVO Backup & Replication, the backups provided in v9.0 for physical Windows Servers allow for application-consistent backups. What are application-consistent backups?
Application-consistent backups allow taking advantage of Microsoft's Volume Shadow Copy (VSS) service to properly quiesce applications such as Microsoft SQL Server. Database applications like SQL Server rely on consistency of the data to protect against corruption and to ensure the data that comes out is the same data that put into the database.
A great feature of the physical Windows Server backups provided by NAKIVO Backup & Replication v9.0 is the ability to perform application-consistent backups of physical servers. If you have physical SQL Servers, this is an essential feature of a backup solution protecting your physical servers.
Global Data Deduplication
NAKIVO Backup & Replication provides extremely efficient and powerful data deduplication at the backup repository level. This means backups of your physical Windows Servers can be stored along side your VMs (VMware, Hyper-V, and Nutanix) and also your AWS EC2 instances.
Only the changed blocks since the last backup iteration are copied across. This dramatically saves in backup time windows, stress on production physical servers, and also the amount of data that is copied across the network and stored on disk.
Instant Granular Recovery
A great backup solution must be equally great at "restoring" your files. After all, it isn't really the backup that is special, it is the ability to restore the backup you have taken as this represents your data that can be recovered.
NAKIVO Backup & Replication v9.0 allows you to "instantly" recover granular items including files, folders, and Microsoft application objects such as Microsoft Active Directory, Exchange Server, and SQL Server. NAKIVO allows you to restore these items directly from deduplicated physical machine backups.
For other applications, NAKIVO has a Universal Application Object Recovery feature that allows recovering all other application objects.
Physical to Virtual (P2V)
A really great feature for NAKIVO now that the ability to provide backups of physical Windows Servers has been added is having the ability to perform physical to Virtual (P2V) operations. This can provide a two-fold purpose including migration as well as disaster recovery.
Some organizations may still be underway with physical to virtual migration initiatives. For NAKIVO customers the new addition of physical servers allows easily transitioning from physical servers to either VMware or Hyper-V VMs.
This provides great flexibility if you are still looking at a few physical workloads that you want to fold into your virtual environment. Having the ability to transition to either VMware or Hyper-V provides really great options for those looking at P2V objectives.
How can this be used for disaster recovery? Well, say you have a business-critical physical server that goes down. Having the ability to quickly restore the physical server as either a VMware or Hyper-V VM can provide a quick path to getting services restored without waiting on physical hardware replacements or repairs.
Per-Machine Licensing
Today's customers are operating across hybrid clouds and many different types of infrastructure. This can include physical, virtual, and cloud. NAKIVO is offering a really flexible per-machine licensing model starting at $17 per machine/year.
The great thing about this license structure from NAKIVO is that it applies to either a physical machine, VMware, Hyper-V, or Nutanix AHV VM, or AWS EC2 instance. This is a simple, easy-to-understand and cost-effective license model that will allow customers to have great value and coverage regardless of where their workloads live and what kinds of environments they are running on top of. This also helps to remove the barriers of the so-called "vendor lock in".
Additional Features including Hyper-V 2019 Support
Another great addition to NAKIVO Backup & Replication v9.0 is the addition of Hyper-V 2019 Support. Customers running Hyper-V in their environments who want to take advantage of the latest and greatest Hyper-V features and functionality will no doubt want to upgrade to the latest release of Hyper-V.
Data protection and backup functionality provided by your backup solution of choice is always one of the primary hold ups when thinking about upgrading your environment to the latest version of your hypervisor. If it isn't supported, then it is not possible to upgrade.
It is great to see NAKIVO getting this newest Hyper-V release on their list of supported platforms for customers. With NAKIVO Backup & Replication v9.0, Hyper-V 2019 is supported.
Wrapping Up
NAKIVO Backup and Replication v9.0 GA Released New Features brings great functionality to the table with the new physical Windows Server backups. All the really great capabilities that can be achieved with virtual machines can be performed with physical servers now with NAKIVO Backup and Replication v9.0 GA. This includes application-consistent backups, granular restores, etc. New features including Hyper-V 2019 support also brings great power and flexibility to this new release of NAKIVO. Check out the following resources for NAKIVO Backup and Replication v9.0: