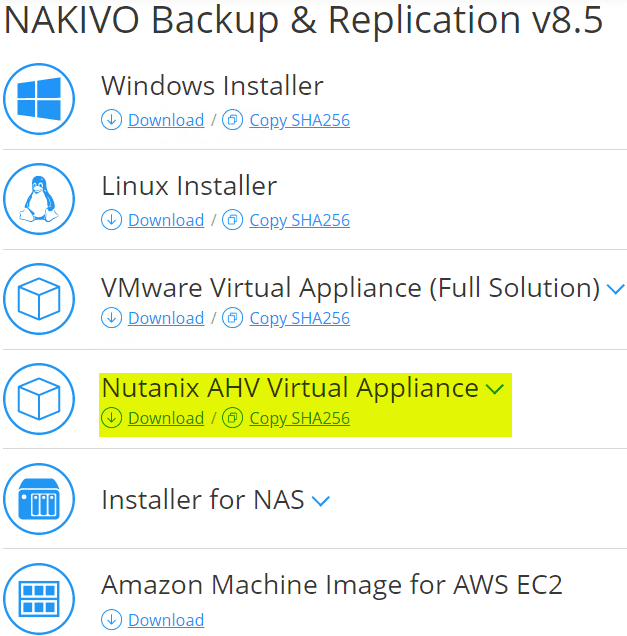 Not too long ago we covered the release of NAKIVO Backup & Replication v8.5 Beta and the new features contained within. The new release is chocked full of new features, including added support for Nutanix AHV environments which certainly opens the door to a large number of enterprise customers running on top of Nutanix AHV. There are many other improvements and notables to mention. Let's take a look at the new features of NAKIVO Backup and Replication v8.5 Released GA and see how these will benefit the existing and future customers of the product.
About NAKIVO
In case you haven't heard of NAKIVO, below is a good overview of the company:
"The winner of a "Best of VMworld 2018″ and the Gold Award for Data Protection, NAKIVO is a US-based corporation dedicated to developing the ultimate VM backup and site recovery solution. With 20 consecutive quarters of double-digit growth, 5-star online community reviews, 97.3% customer satisfaction with support, and more than 11,000 paid customers worldwide, NAKIVO delivers an unprecedented level of protection for VMware, Hyper-V, Nutanix AHV, and Amazon EC2 environments. Being one of the fastest-growing data protection software vendors in the industry, NAKIVO protects data of major companies such as Coca-Cola, Honda, and China Airlines, as well as works with over 3,600 channel partners in 140 countries worldwide."
A statement from Bruce Talley, CEO of NAKIVO concerning the latest release:
"We are excited to introduce support for Nutanix AHV to our customers," said Bruce Talley, CEO of NAKIVO Inc. "With the new per-machine subscription licensing, we are delivering one of the most feature-rich, flexible, and cost-effective solutions available on the market."
NAKIVO is certainly gaining momentum among enterprise customers due to their solid product, great features, and affordable price. Let's take a look at the features of this newest release.
NAKIVO Backup and Replication v8.5 New Features
As mentioned, there are a wealth of new features to speak of with NAKIVO Backup and Replication v8.5. Let's recap these new features.
Nutanix AHV Support – NAKIVO is added to the value of their data protection solution here by adding support for Nutanix AHV hypervisor. This is in addition to support for VMware, Hyper-V and AWS EC2 environments. The great thing about the solution is all environments can be protected from the same interface and same management tools.
Per-machine subscription licensing – This is becoming a more and more popular means of licensing data protection solutions and certainly makes sense for many environment looking to protect only a few VMs. NAKIVO customers can now purchase a per-machine annual subscription for NAKIVO Backup & Replication that works out to $17 per VM which is extremely reasonable. The definition of a machine here is a VM hosted on either VMware, Hyper-V, or Nutanix AHV. This helps customers to have flexibility in the workloads and infrastructures they run, not locking into specific vendors and this being dictated by their data protection solution.
Replication from Backup – This is a great new feature that allows customers to have more options when it comes to the source of replication jobs replicating VMs to a DR environment. Up until v8.5, customers only had the option to replicate VMs from the live production environment. In this release, the replication from backup option allows customers to replicate VMs from the backups themselves. This alleviates the extra load on the production infrastructure to replicate VMs to DR. Instead, the backup data is used to replicate the VMs. Jobs can be chained in such a way that replication jobs are ran after successful backups from production.
Ransomware-Proof Mini Backup Appliance Based on Raspberry Pi – A new extremely interesting use case is opened in this release of NAKIVO. Using Raspberry PI devices, NAKIVO can be loaded and allowed to serve as a very cost-effective backup appliance and recovery solution.
Software-defined Backup Appliance based on FreeNAS – With this release, NAKIVO Backup & Replication can be deployed on FreeNAS appliances, effectively turning it into a very cost-effective, hardware agnostic backup appliance with data protection and recovery capabilities.
Automatic Updates – NAKIVO has very much improved the update process and lifecycle management of the NAKIVO solution with Auto-Update functionality that allows it to be updated to the latest version with only a few clicks from the web interface.
Windows Server 2019 Support – This version of NAKIVO Backup & Replication offers the latest and greatest support from a Windows Server operating system standpoint with support for Windows Server 2019.
NAKIVO Backup & Replication continues to improve its stance as a major player in the realm of enterprise data protection solutions. There are many things I really like about the solution including the wide range of available options for installation. As you see below, not only does NAKIVO support protecting the Nutanix AHV environment, they also now offer running their solution as a Nutanix AHV Virtual Appliance along with the many other options that have been around for installing NAKIVO.
The deployment process for the NAKIVO virtual appliance is super easy and quick. You can literally be up and running, creating your first backup job within minutes of downloading the appliance. The OVA appliance for use with VMware environments as an example, makes this process extremely easy and quick to provision.
After deploying the NAKIVO appliance, you can add your hypervisor environment to get up and running with backup jobs. Below is a quick walk through of adding a new Nutanix AHV environment. Click the Settings button Inventory > Add New > Nutanix AHV cluster.

Enter the connection information for the Nutanix cluster.
When backing up the Nutanix environment, you will need to deploy a new Nutanix Transporter VM in the Nutanix environment which is easily done from the NAKIVO console.
Networking and other options available for the Nutanix Transporter.
The Nutanix Transporter is deployed in the Nutanix AHV environment and ready to begin backing up VMs.
Existing NAKIVO Backup & Replication Features and Functionality
When looking at the past several NAKIVO Backup & Replication releases, there are many great new features that have been released in the past few releases including the following new features:
Hyper-V Cluster backup and restore support – Hyper-V cluster support allows NAKIVO to be a real player in the realm of Hyper-V production data protection support as production Hyper-V environments will be running on a Hyper-V cluster
Policy-Driven Data Protection – This is a powerful new feature that allows protecting workloads based on policy which takes the heavy lifting out of keeping workloads that need to be protected, backed up
Bandwidth Throttling – Allows efficiently using bandwidth and preventing data protection jobs from taking all available bandwidth and protect from contention with production workloads
New NAS appliance support – Continued addition of additional NAS devices and vendors
Site Recovery – NAKIVO has added automatic site recovery that is automated which allows making use of automated logic to control site recovery automatically
Automated Failover – Working in conjunction with Site Recovery, the automated failover takes heavy lifting out of this process and automates many aspects of the process.
Wrapping Up
NAKIVO is a great data protection solution that I have been following for several years now. They continue to innovate and include great new features into the product with each new version released. NAKIVO allows you to have full access to the features with a Trial download of the appliance in the various formats. Check out the download page to download NAKIVO Backup & Replication v8.5 GA to try out in the lab.
Don't miss out on new posts! Sign up!