VDI
Praim ThinOX4PC Extending PC Life and Securing VDI Connectivity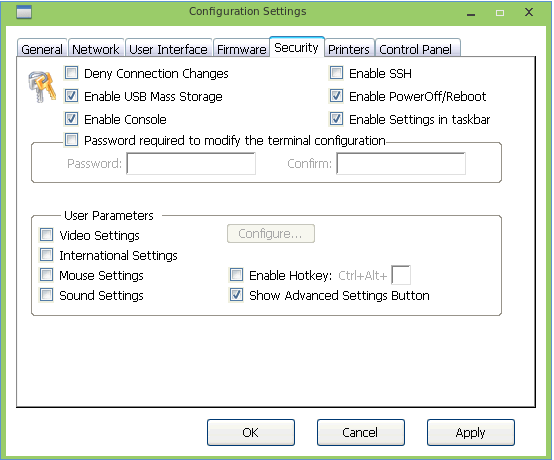 Organizations today looking at secure and efficient access to VDI environments both from on-prem as well as from mobile clients may be looking at a mixture of solutions and hardware devices that can solve the needs of VDI connectivity across the board.  This can lead to a mix of solutions and management challenges.  Lifecycle management of end user workstations is certainly one of the challenges faced by organizations with the tremendous capital outlay required to rotate out end user workstations.  Workstations are replaced for a number of reasons including end of support contracts or a performance profile that is no longer adequate to power current end user applications.  Businesses today may be looking at VDI initiatives where they may look to replace end user workstations with thin client devices.  Businesses who already have VDI infrastructure or who are looking to make the transition also need to consider mobile connectivity to backend VDI systems.  How can existing laptop devices be effectively utilized securely and efficiently as thin client devices?
What if organizations had a single solution that allowed provisioning mobile thin clients quickly and easily from existing laptops, greatly extended the life of end user workstations, improved the performance and security profiles, and negated the need to completely replace end user workstations for connecting to VDI infrastructure?  This may sound too good to be true, however, this is just what Praim's ThinOX4PC product allows businesses to accomplish with a single solution.  Let's take a closer look into Praim ThinOX4PC and how it allows organizations to accomplish thin client initiatives both in desktop/PC form as well as mobile thin clients.
What is Praim ThinOX4PC?
ThinOX4PC is the Praim software solution that is designed from the ground up to extend the life of your PC and transform it into a powerful and secure thin client solution.  Additionally, powerful mobile thin client devices can be provisioned with existing laptop devices quickly and easily.  ThinOX4PC enables doing this by installing the Linux-based operating system on the client or by booting the client with the "Live" version of ThinOX4PC.  This enables organizations to have a fully functioning thin client device, either stationary or mobile, that is able to extend hardware service life as well as transition over to a VDI environment to support organizations migration plans as well as mobile workforce.
The ThinOX4PC software is supported on a wide range of hardware including:
Certified hardware
ThinOX4PC (and also the Live version) will support x86 processor type (not ARM).
Certified Ethernet Adapter:
Intel
Realtek
Broadcom
Qualcomm
Certified Graphics Card:
AMD
Intel NVIDIA GEFORCE 210. The VID:PID of the card should be 10de:0a65.
VESA (is used as generic driver if the video card is not recognized)
Certified WiFi Adapter:
Intel AC3160
Intel N2200
Unex DNXA-116
Certified disks type:
The hardware above is tested by Praim. Nevertheless, ThinOX4PC supports a much wider range of hardware. If anyone tested Praim software and it wasn't compatible with their hardware, they are kindly asked to contact Praim (e-mail [email protected]).
Quickly and Easily Provision Mobile Laptop Thin Clients
Praim ThinOX4PC not only allows businesses to satisfy desktop/PC thin client use cases, it also allows for quickly and easily provisioning mobile thin clients by making use of existing laptop infrastructure.  The same installable or live boot environment can be used with laptops to turn these into powerful mobile thin clients.  ThinOX4PC can be installed directly on the laptop hard drive if needed.  However, the "Live" boot environment used in conjunction with a laptop device can allow a laptop to serve the dual purpose of both mobile Windows or Linux platforms as well as a secure and efficient way to safely access VDI environments.  Once an end user completes any VDI connectivity reliant work processes, the live boot USB device can be removed and the laptop can be booted normally into the existing locally installed Windows or Linux instance.
Additionally, ThinOX4PC allows organizations to make use of virtually any laptop vendor or configuration and not be relegated to a specific hardware vendor to provide secure, uniform VDI access.  This allows organizations to have a very cost-effective option for filling this very real business need of secure, mobile access to backend VDI environments all without the need to purchase new hardware.
ThinOX4PC a Cost-Effective Solution for Thin Clients
One of the tremendous challenges to organizations moving client access to VDI environments is the large capital expense that may be budgeted for refreshing end user client devices.  Many organizations may think they need to get rid of "fat client" workstations running Windows client operating systems.   However, organizations can utilize ThinOX4PC and keep existing workstations without the need for replacing existing hardware with new thin clients.  While cheaper than a full blown physical workstation, thin client devices can be considerably expensive.  It is a hard expense to swallow for organizations to get rid of existing hardware that may still be powerful and purchase new thin client devices when existing hardware can be utilized to make the connection to the backend VDI environment.  With a much cheaper ThinOX4PC license, organizations can simply reuse existing hardware, extending the life of their investment and still allow connecting to next generation VDI infrastructure.
Utilizing ThinOX4PC allows organizations a powerful management solution when utilized with Praim ThinMan Server.  ThinMan brings configuration management, automation, and an overall "single pane of glass" management platform for all end user clients.  This allows organizations to have a streamlined management tool they otherwise would not have with a workstation or PC environment.  The return on the hardware investment is much greater with ThinOX4PC and ThinMan server.
Installing or Running Praim ThinOX4PC
As mentioned earlier, there are a couple of ways that ThinOX4PC can be utilized on a workstation/PC.  The thin client software can either be installed which means the contents of the existing hard drive will be erased.  Alternatively, ThinOX4PC can be ran in the "Live" mode, which means the software is simply booted from a USB key and loaded in memory that way.  The existing contents of hard drive will not be overwritten using this method.  This essentially makes the PC serve either purpose.  With a quick boo off the USB key, the PC becomes a powerful thin client.  Eject the USB key and reboot, and the workstation boots from the existing Windows installation.
You can download a trial version of the ThinOX4PC software from the Praim website.  It is extremely easy to get the Live USB key created which allows either installing the thin client software or booting the live environment.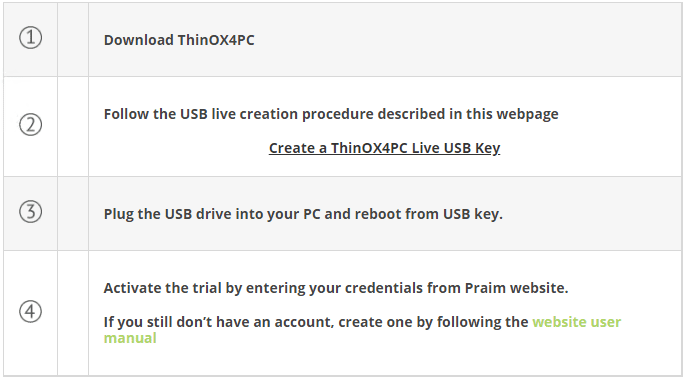 The USB key creation process is easily accomplished with the Rufus utility that comes along with the download obtained from Praim.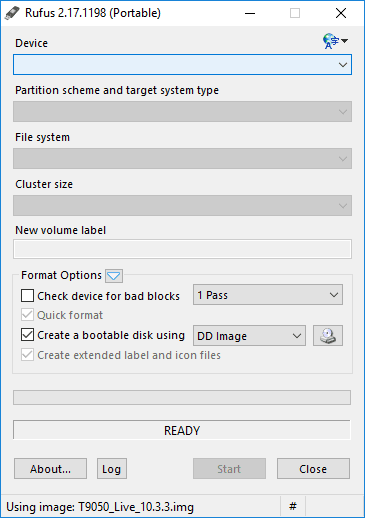 After creating the USB key, you simply boot the workstation or PC from the USB key.  ThinOX4PC allows connecting to many different types of VDI technologies, including the following:
Citrix Receiver
Remote Desktop Services
Citrix Xenapp
VMware Horizon View
Client VNC
Browsers
Printers
ThinOX4PC Secure Access to VDI environments from On-Prem and Mobile Environments
Security is of utmost importance for organizations today.  Businesses must secure access to business-critical data and services.  ThinOX4PC allows organizations to improve their security stance by enabling a secure connection from the ThinOX4PC thin client operating system to the backend VDI environment, whether on-prem or mobile.  Additionally, it ensures there no tampering with the device configuration as well as remains free from any malware that could potentially have access to or corrupt business-critical data.
ThinOX4PC ensures security by the following:
Installs a Linux-based operating system
Enables a secure mobile environment for users accessing the environment from outside
Enables total block writing of the disk making devices immune to malware
Guarantees only system administrators can perform updates, configurations and distributed connections to corporate resources
Ability to lock USB mass storage
Ensures strict control of workstations
When control and lockdown of sensitive data is of primary concern, utilizing VDI technologies such as VMware Horizon View allows organizations to ensure that no application data ever leaves the enterprise datacenter.  The connection from the Praim ThinOX4PC operating system to the backend VDI virtual machine is encrypted using the PCoIP encrypted data connection.  No information is stored on the local device.
Additionally, when ThinOX4PC is used in conjunction with ThinMan Server, there are a myriad of configurator options that allow administrators to control the access and configuration of the thin client device.  In the configuration security settings, you can see there are quite a few options to control the user environment within ThinOX4PC and also controlling the configuration of the environment.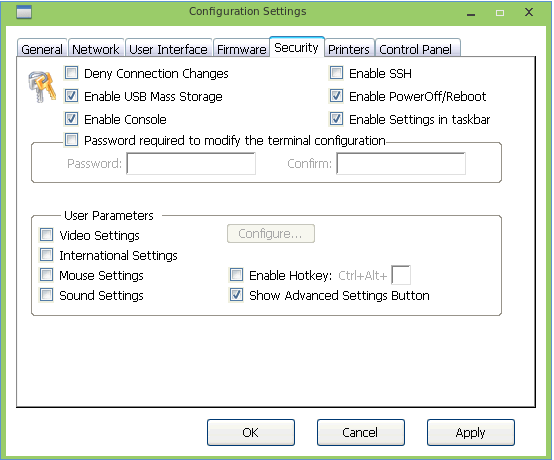 When ThinOX4PC is used with ThinMan Server, it also allows interacting with 802.1X authentication and other security mechanisms that organizations may utilize as part of their overall security mechanism and infrastructure.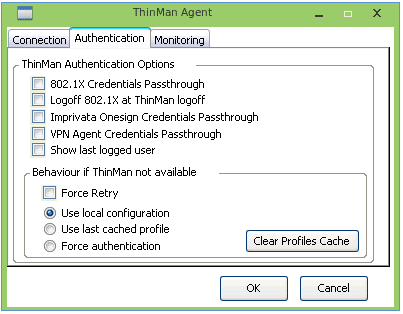 Concluding Thoughts
Hardware costs are not insignificant.  Organizations may have a tremendous capital investment already tied up in existing end user workstations/PCs as well as laptops that have been assigned to users.  One of the most challenging deterrents to any VDI initiative is cost.  With Praim ThinOX4PC Extending PC Life and Securing VDI Connectivity is easily accomplished.  When organizations utilize Praim ThinOX4PC, they are able to greatly extend the life of existing end user client hardware and even extend their capabilities.  With ThinOX4PC, end user workstations and mobile laptops have the ability to easily and securely connect to backend VDI environments.  This provides tremendous cost savings when compared to transitioning all end user devices to all new thin client hardware.  Additionally, in today's security conscious world, ThinOX4PC gives organizations complete control and confidence that end user devices, both on-prem and mobile, are secure from malware and have the ability to secure both the configuration and encrypt data in flight.
Don't miss out on new posts! Sign up!