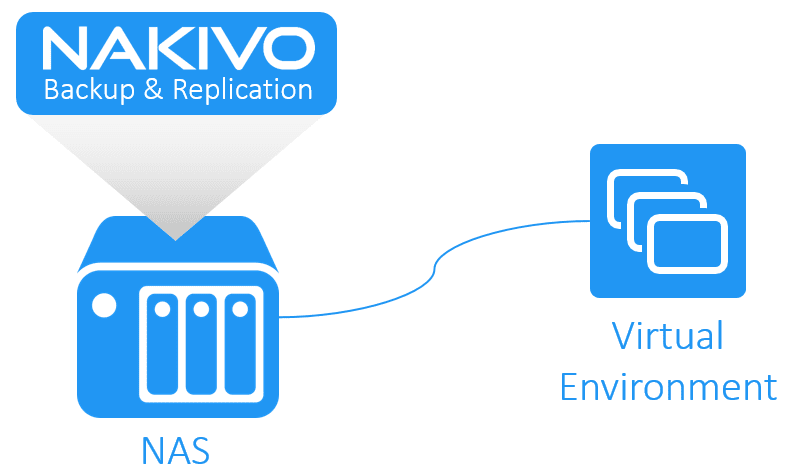 VMware historically has provided a few good backup technologies that used to meet the needs of many SMBs and even small enterprise environments. Recently, one of those products – vSphere Data Protection (VDP) – was announced to be end-of-life. However, even earlier in the VMware's backup technologies production, there was a product called VMware Data Recovery (VDR), and some organizations may still have their data protection plans relying on it. Let's take a look at VDR and some of its features and functionality many organizations have traditionally relied on, as well as find out why it is imperative that you start thinking about a replacement for this solution, if you are still using it.  Let's take a look at VMware Data Recovery Finding the Best Replacement and a great solution provided by NAKIVO Backup & Replication for those migrating from VMware Data Recovery in their environment.
Benefits of VMware Data Recovery
There are many reasons why organizations used VMware Data Recovery for their data protection needs. As VDR was included with VMware vSphere, many treated it as a built-in solution without cost that would, for the most part, handle their backup and recovery needs. Also, VDR had the following benefits, to name a few, that organizations were able to take advantage of:
It had a GUI that was integrated into vSphere GUI via a plugin;
It was virtual appliance-based, which meant organizations had no additional hardware costs;
It was easy-to-deploy and setup;
In later releases, it added CBT and other improvements with VMware architecture;
It had a "wizardized" interface to handle backup job creation, etc.
Why You Need to Transit from Using VMware Data Recovery
However, in 2011, VMware Data Recovery ceased being supported at version 2.0. Thus, if you plan to use the latest versions of VMware vSphere (i.e., VMware vSphere 5.1 or higher), you will need to look for a different product, as VDR is not supported by them.

If you wish to get all of the benefits offered by VMware Data Recovery, but do not want to continue using an end-of-life product (as this could lead to high risk in case a disaster strikes) and want to have a supported, effective, and efficient data protection solution to underpin your organization's data protection plan, you should draw your attention to modern backup solutions with even more powerful features than those of VDR.
After all, the processes and procedures for backing up and restoring data are built around the capabilities, features, and functionality of the product being used. Therefore, you need to choose a data protection product that would encompass all of the features and functionality you depended upon with VMware's VDR, as well as utilize all the latest features included with the most recent vSphere releases and technologies that allow you to be agile and utilize public cloud resources to accomplish data diversity. Take a look at NAKIVO Backup & Replication, which is a modern data protection solution that meets both today's industry needs and the needs of tomorrow, including the cloud technologies.
A Replacement to VMware Data Recovery
NAKIVO Backup & Replication is a super powerful, modern, and cloud-integrated data protection solution that can be a replacement to the legacy VMware Data Recovery product. In this article, we will cover the following key areas:
NAKIVO Backup & Replication as an efficient and powerful platform for data protection;
Flash VM boot, powerful recovery of virtual machines and files;
Application-aware backup and recovery;

Ability to recover Microsoft Active Directory, Microsoft Exchange Server, and Microsoft SQL Server objects;

Powerful VM replication;
VM backup copy jobs that allow having an additional copy of a VM backup at another site or storage, including in the cloud;
Possibility to create a versatile NAS-based VM backup appliance.
NAKIVO Backup & Replication – Efficient and Powerful Platform for Data Protection
With NAKIVO Backup & Replication, a VA can be downloaded and deployed in vSphere in literally minutes as a self-contained OVA appliance. The very quick and efficient HTML 5 interface allows for easy provisioning of backup, restore, backup copy, and replication jobs. The new Calendar Dashboard provides a visual representation of all past, current, and planned jobs and makes the job creation and scheduling process very intuitive.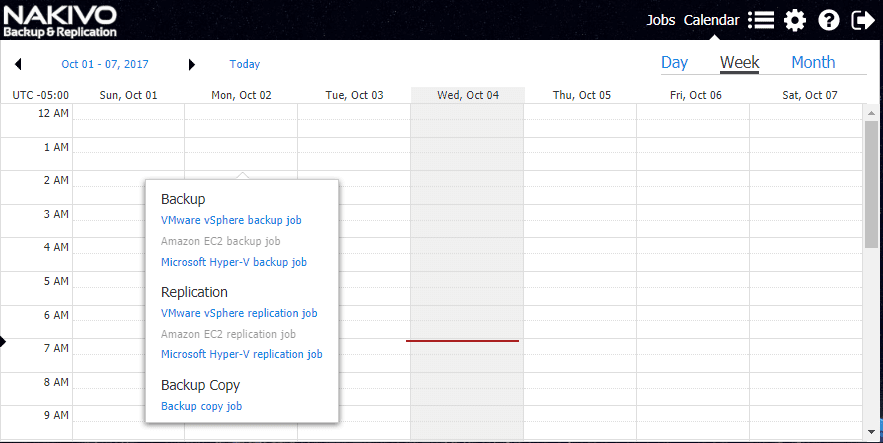 Also, the interface of NAKIVO Backup & Replication doesn't rely on any plugin for the vCenter web client, which has definite advantages if thinking about trying to get to your backup solution when there is a problem with vCenter.
NAKIVO Backup & Replication is efficient from the storage and backup window perspective as well. The product deduplicates data at a repository level, so all blocks are deduplicated, even across hypervisor platforms. All jobs are forever-incremental. Every recovery point "knows" all the data blocks that are needed for recovery. This is referred to as the "Full Synthetic Data Storage" in that the need for backup transformation is eliminated.
Instant Virtual Machine, File, and Application Object Recovery
When it comes to the need to restore business-critical data as soon as possible, NAKIVO Backup & Replication has this aspect covered. The product includes the following powerful features for restoring data:
Traditional VM recovery;
Flash VM boot;
Instant file recovery;
Application object recovery.
NAKIVO Backup & Replication provides powerful restore options, including Flash VM boot and application object recovery. Flash VM boot technology allows, actually, booting a VM directly from compressed and deduplicated VM backups, without having to recover the VM data first. This allows for rapid RTOs, as VMs can be restored in minutes and not hours.
Instant file recovery is a cinch with the interface of NAKIVO Backup & Replication. You simply select a VM backup and a recovery point, and then easily find files and folders you need to restore by using the built-in search bar. Afterwards, you can also download or even email the files you restore.
Below, you can see the File Recovery Wizard, where you can easily mount a recovery point and pick a single file to restore if need be. Also, you can search for a particular file to restore in the recovery point.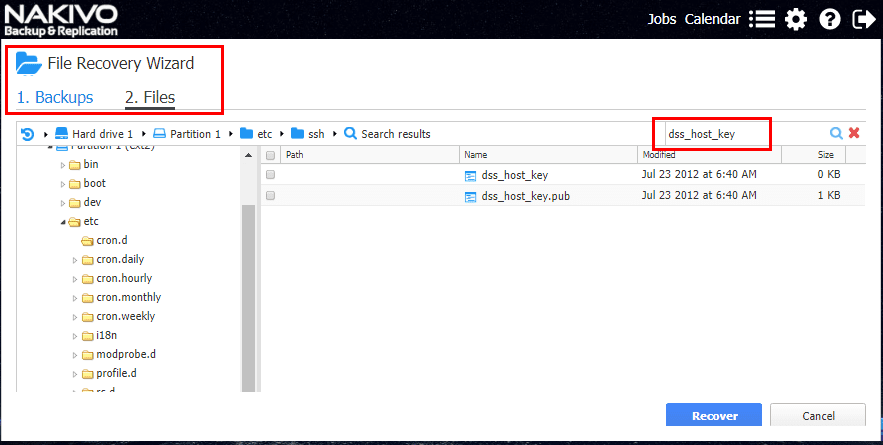 Application-aware Backup
NAKIVO Backup & Replication enables you to backup and restore Microsoft Active Directory objects (such as users), Microsoft Exchange objects (such as emails), and Microsoft SQL Server objects (such as databases and tables). Using the powerful application-aware approach to making backups, the product is able to provide consistent application-aware backups that require no additional procedures to maintain transactional consistency.
Application-aware backups utilize the Volume Shadow Copy service found in Microsoft operation systems, as well as special hooks into this service called VSS writers. The VSS writers provide specialized application hooks into specific applications that allow for consistent backups of database-related applications by flushing in memory data to disk before the backups happen. This allows the backups to be in a consistent state and avoid data corruption in the transactional process.
NAKIVO's product can not only back up applications, such as Microsoft SQL Server and Microsoft Exchange, with application consistency, but also perform maintenance operations, such as truncation of SQL or Exchange log files. Below, you can see an example of the backup job settings for the app-aware mode, where you can choose to truncate SQL Server logs or Exchange logs.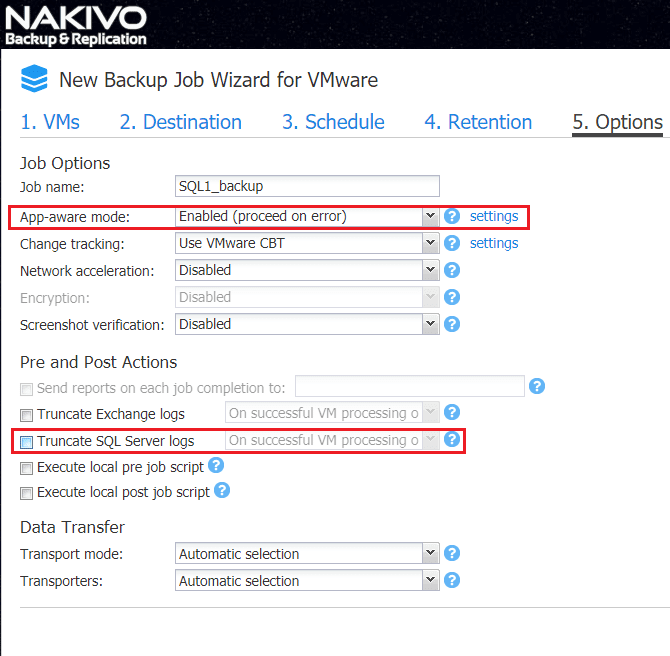 In the Object Recovery Wizard for Microsoft SQL Server, you can perform the granular selection of objects you need to restore, such as databases or tables, and then easily recover those items.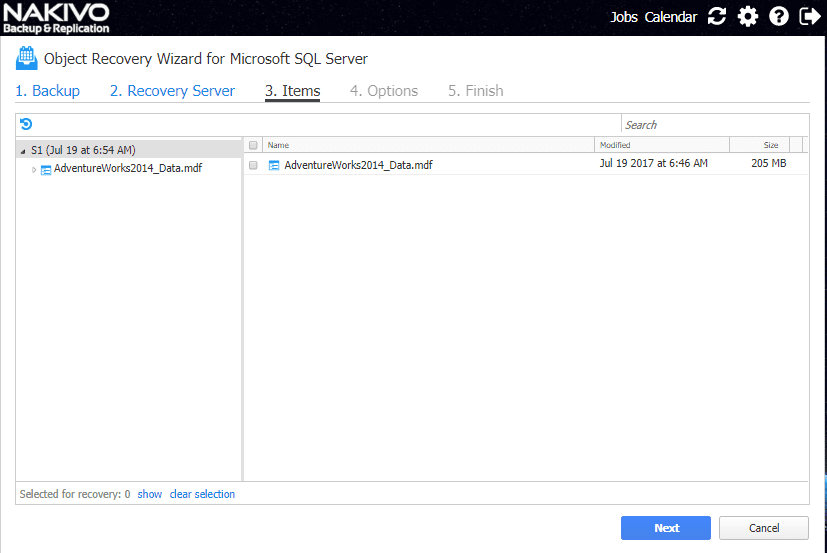 Powerful Offsite VM Replication
NAKIVO Backup & Replication provides powerful options to copy VM replicas of production virtual machines to another VMware environment in an offsite DR location. The resulting VMware VM replicas are updated with each replication cycle. VMware VM replicas can have their own recovery points by way of using snapshots. As each backup cycle completes, the oldest snapshots or recovery points are rolled off the VM.
So, why do you need to think about offsite VM replication? VM replication helps you withstand a complete site failure. If the entire production site is lost or down, VM replication allows for failing over to the secondary location, which contains replica virtual machines. This allows you to form a resilient infrastructure in the case of a DR scenario.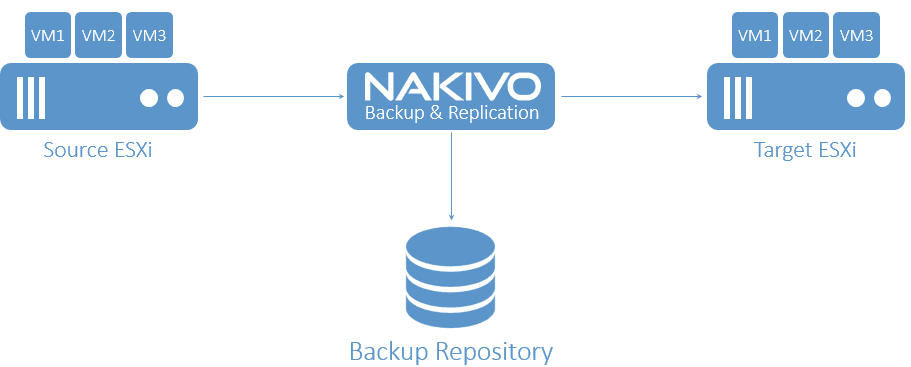 Backup Copy Jobs Which Allow for Multiple Copies of Backups
When thinking about the worst-case scenario of experiencing a site-wide disaster and having not only production data, but also VMware VM backup data stored in the same location, you need to make sure you have multiple copies of your backups. Ideally, these backup copies should be stored in separate geographic locations. This allows for backup data diversity, making sure you are able to recover even in the event of a site-wide disaster by using the additional copies of our backups.
With NAKIVO Backup & Replication, you can even make use of multiple public clouds, including Amazon AWS and Microsoft Azure, to store copies of our production backups. When thinking about a modern, efficient, scalable, cloud-ready backup solution, NAKIVO's product allows you to take advantage of most current technologies with backup strategies.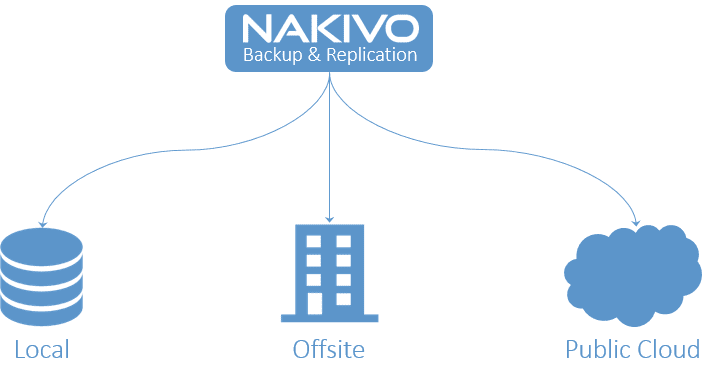 Versatile NAS-based VM Backup Appliance
Making the good even better, NAKIVO Backup & Replication allows you to create your own VM backup appliance – an all-in-one reliable, high-performance, energy-efficient, and cost-effective solution, which combines backup software, backup hardware, backup storage, and data deduplication in a single device. To get such an incredible appliance, you just need to install NAKIVO Backup & Replication on any NAS by QNAP, Synology, ASUSTOR, or Western Digital you have.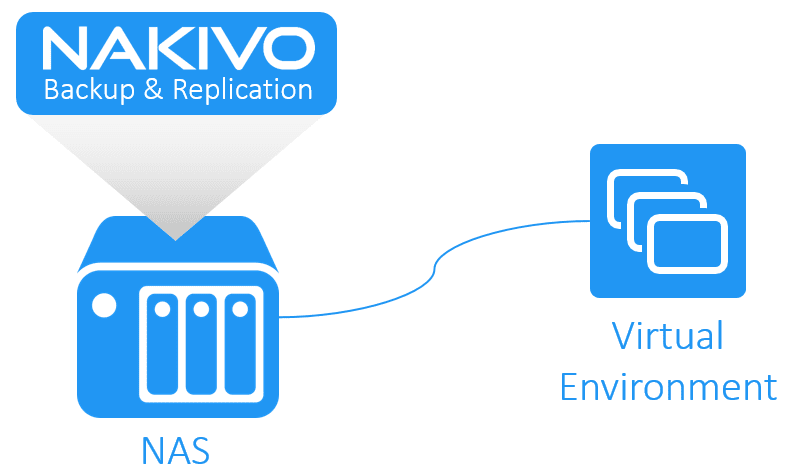 By using a NAS-based VM backup appliance, you can:
Separate your VM backups from the rest of your infrastructure, so that your infrastructure resources are not consumed by backup workloads, and your VM backups remain unaffected and can be used for recovery in case a disaster strikes or your infrastructure or its part goes down;
Increase the overall VM backup speed by up to 2X owing to the product's awesome performance improvement features and writing backups directly to NAS disks, bypassing the overhead of NFS and CIFS;
Recover your important data within seconds, anytime and anywhere;
Save up to 5X costs on VM backup, as this solution turns out to be much less expensive than pre-built backup appliances.
Concluding Thoughts
Many organizations have been using VMware technologies, such as VMware Data Recovery (VDR), for years now. However, the product has reached its end of life, and those who used to rely on this product now need to consider switching to another capable solution, which would offer them at least the same set of functions as VDR, while taking their data protection plans into the future by integrating current and trending technologies such as the public cloud. NAKIVO Backup & Replication is a full-featured product and allows you to both protect your virtual infrastructure in the traditional sense and take advantage of the site-wide protection by using VM replication and backup copies. Application-aware backups allow for consistent application backups and granular recovery, as well as log file truncation. Tight integration with public clouds enables you to be agile, forward thinking, and versatile when it comes to protecting your data. Finally, yet importantly, possibility to be installed on a NAS and get an all-in-one VM backup appliance is another key reason to prefer NAKIVO Backup & Replication over legacy and no-more-supported solutions, such as VMware Data Recovery (VDR) by VMware.
Don't miss out on new posts! Sign up!