Backup Software
NAKIVO Backup and Replication v7.3 GA released new features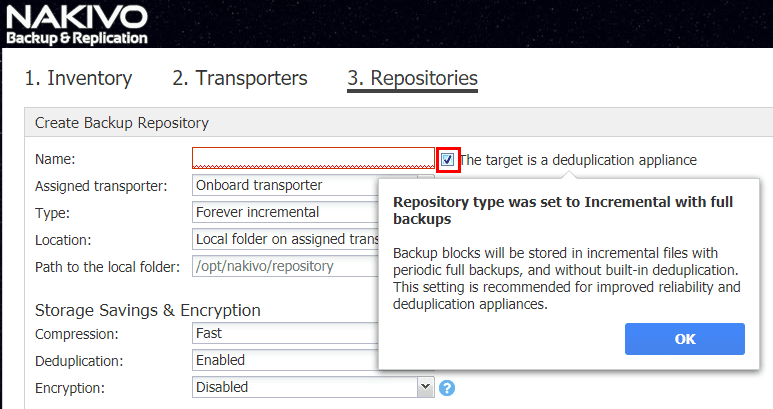 NAKIVO is still blazing a trail with rapid development, aggressive release cycles, and listening to customer input. It is excellent to see a company that is driven for providing what customers want to see along with innovation to existing platforms. NAKIVO announced today that NAKIVO Backup & Replication v7.3 is now GA. It has a host of exciting new features mainly surrounding the storage subsystem and NAKIVO now being able to provide support for storage solutions that have their own deduplication solution at the hardware level. Let's dive into a quick look at NAKIVO Backup and Replication v7.3 GA released new features.
NAKIVO Backup and Replication v7.3 GA released new features
The new version of NAKIVO Backup & Replication v7.3 GA includes the feature of a new repository type that customers can choose if they are utilizing a supported hardware vendor that is implementing their own form of deduplication. Supported appliances include NEC Hydrastor, EMC Data Domain, HP StoreOnce, and Quantum DXi.
Why should customers be concerned if their backup solution is optimized for use with storage solutions that employ hardware deduplication? Most appliances that are optimized for deduplicated storage perform best with sequential large block I/O from backup software and if the backup software is not optimized to take this into consideration, it can create a performance bottleneck with VM backups due to this type of traffic resulting in random I/O if not handled correctly.
NAKIVO Backup & Replication v7.3 GA provides a solution to this issue with a new type of backup repository that is optimized for deduplication appliances which effectively disables deduplication on the NAKIVO side of things and allows the deduplication appliance to handle this natively. The normal backup repository is still the default repository type which still enables global deduplication across the board when customers are not utilizing a deduplication appliance.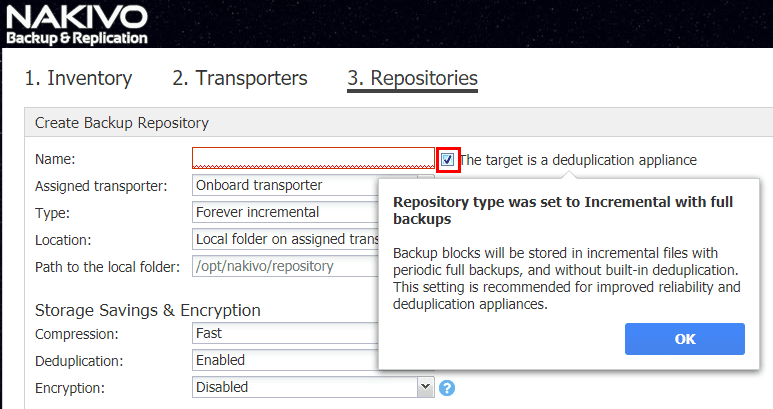 In real world testing performed by NAKIVO with a customer, utilizing a high-end NEC Hydrastor deduplication appliance along with the new repository type included in NAKIVO Backup & Replication v7.3 produced blistering performance at the rate of 3.2 GB/sec which was 53X the performance of the regular backup repository used with the same device.
NAKIVO has also made improvements in this release to the underlying folder structure that is created on the backup repository for each VM backup. In NAKIVO Backup & Replication v7.3, each backup with recovery points is stored in separate folders.
NAKIVO is definitely listening to the needs of its customers and each release is proving that point. Bruce Talley, CEO and co-founder of NAKIVO related the following:
"We listen to our customers' feedback and continue improving NAKIVO Backup & Replication so that our customers can back up and restore their data more efficiently. By providing support for deduplication appliances, we aim to help businesses leverage leading storage solutions while maintaining high data protection performance…"
Thoughts
I have been following NAKIVO Backup & Replication for quite some time now and the company is definitely one to watch.  They are gaining momentum and making sure they listening to customer requests.  It is great to see that NAKIVO is also taking performance into consideration along with new functionality features as performance is certainly a key consideration for enterprise customers where RTO objectives must be met. Having very performant backup and restore processes ensure customers are able to effectively meet the demands of their SLAs. Be sure to download and check out the trial version of NAKIVO Backup & Repliation v7.3 here.
Don't miss out on new posts! Sign up!