Security
Sophos Home Edition Installation and Configuration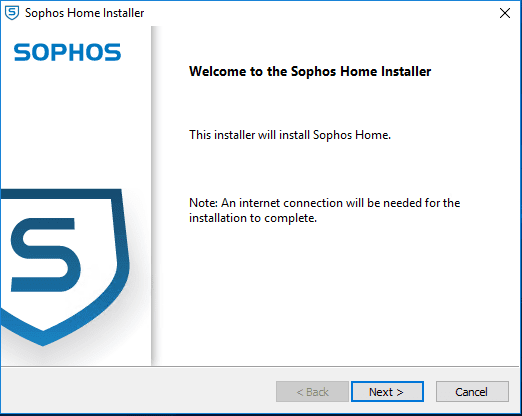 If you are looking for an enterprise class virus scan package for home for multiple pcs that is free, you may want to take a look at Sophos Home edition. With Sophos Home, you can secure 10 MAC & Windows home computers per account. The installation is super easy and the visibility from the cloud console makes the product extremely powerful. Let's take a look at Sophos Home Edition Installation and Configuration.
Sophos Home Edition Installation and Configuration
To begin with, you need to signup on the Sophos Home site.  The account is free and signup involves the usual "confirm your email address" process.  After signing up and confirming your email address, you can then add computers and gain access to the Dashboard.
What really shines with the Sophos Home Edition is the cloud console/dashboard. You don't have to sneakernet an install around to various computers although you could do that. On each machine that you want to protect, you simply login to your Sophos Home account and select the "Add Device" button which brings up the "Add a Computer" Dialog box. This allows you to see a customized link that you can copy to each computer, or you can simply click the "Install" button to download the installation file to install on your computer.
As you can see when you login to your console, you see a high level view in the Dashboard of all your machines you have added as well as any alerts that may be active.  As you can see below, there is a machine with a Potentially Unwanted App or PUA that was found.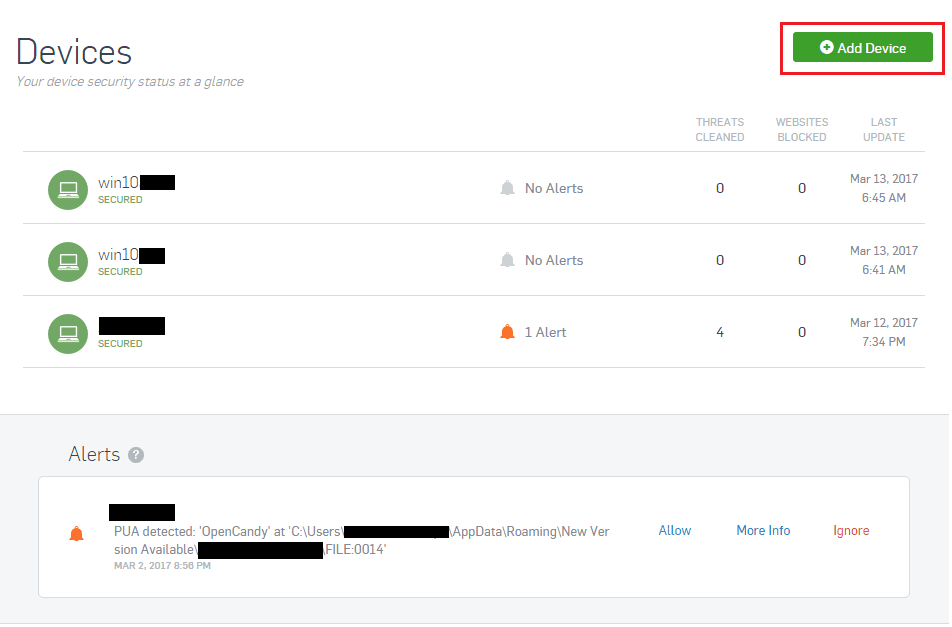 As mentioned above, when you click to Add Device you get the Add a Computer dialog that presents with a link you can copy or a simple Install button to initiate the download of the installation file.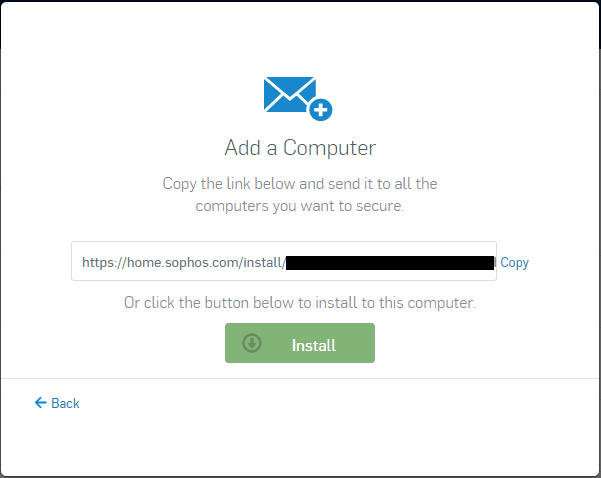 Below is the Window you get if you copy the link into a browser to download.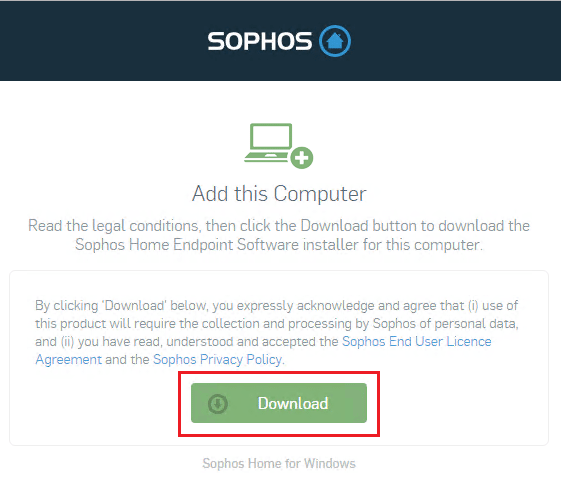 One downside to the install of the Sophos Home client is the size of the download.  It is a hefty 225 MB or so and you have to download the full client before you can kick off the installer.

Once the download of the installer finishes, you can install the client.  I won't bore anyone with all the screenshots from the installer as it is pretty straightforward as you would expect.  Note as it mentions below, you need an active Internet connection to complete the install.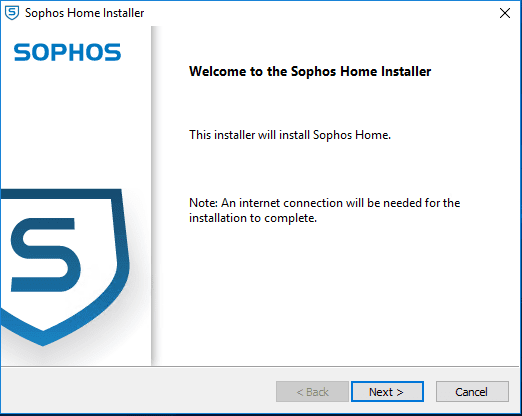 After you have added a machine to the Sophos home portal, you can click the machine as it is listed in the Dashboard.  You are then taken to a screen where you can initiate a scan or configure options.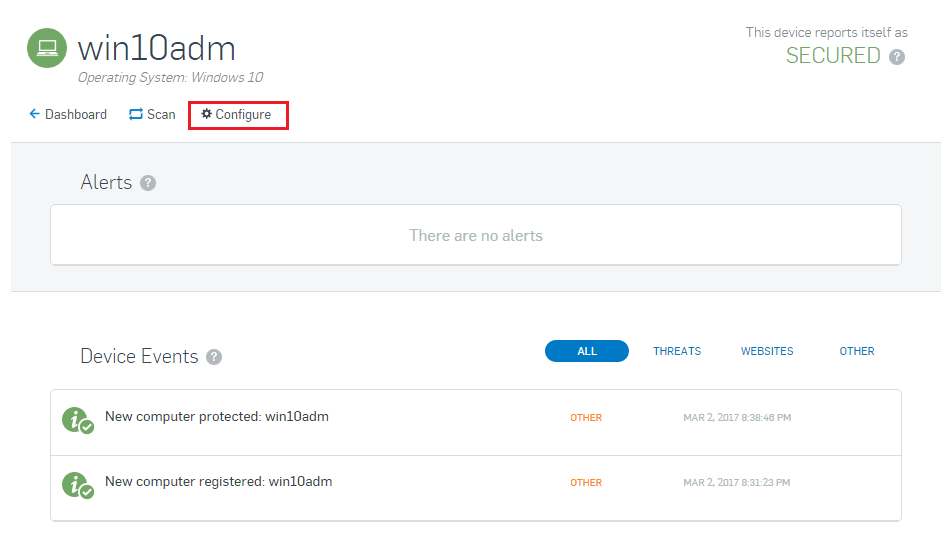 Below is a screenshot of the options available.  As you can see, you can turn on and off options for malware, PUA, and web filter.  Also, below is what options are turned on by default including Web filter preferences.  The categories section of the web filter is easily flagged over to Warn or Block particular categories.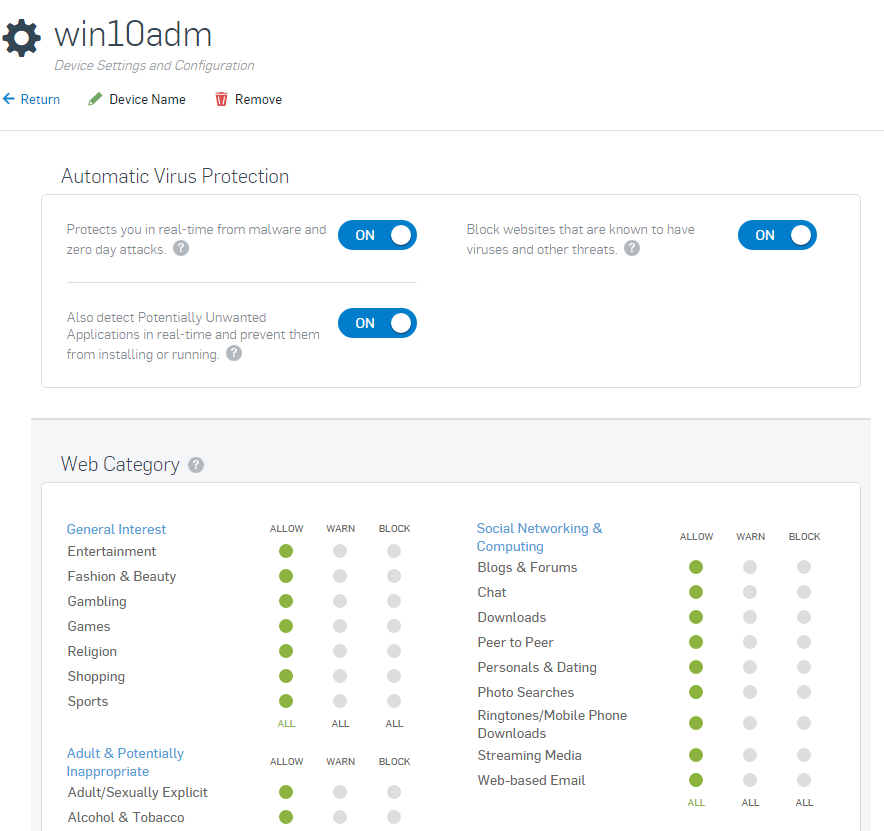 Thoughts
I was impressed with the ease of which you can get up and running with Sophos Home Edition.  After signing up and confirming an email address, you are ready to start protecting your devices.  With the cloud connection, you have access to your installation software as well as current scan statistics anywhere you have an Internet connection  As shown in our post, Sophos Home Edition Installation and Configuration is a snap and definitely worthy of taking a look at if you have 10 devices or less, either Windows or Mac you want to protect.
Don't miss out on new posts! Sign up!