IT Thoughts
Great Weather Website including Radar for techies
Do you enjoy geeking out on the Weather?  Do you like to have access to RADAR, Satellite and other imagery?  If you haven't heard of Intellicast yet, this is a great resource for all weather geeks out there who want to have access to high quality imagery and at the best price – FREE!
Intellicast even has a high quality iPAD app to display local weather information as well as RADAR and Satellite imagery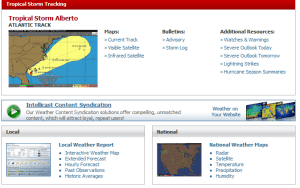 Check out the iPad App here.