VMware
VMware Resource Pool vs Cluster Comparison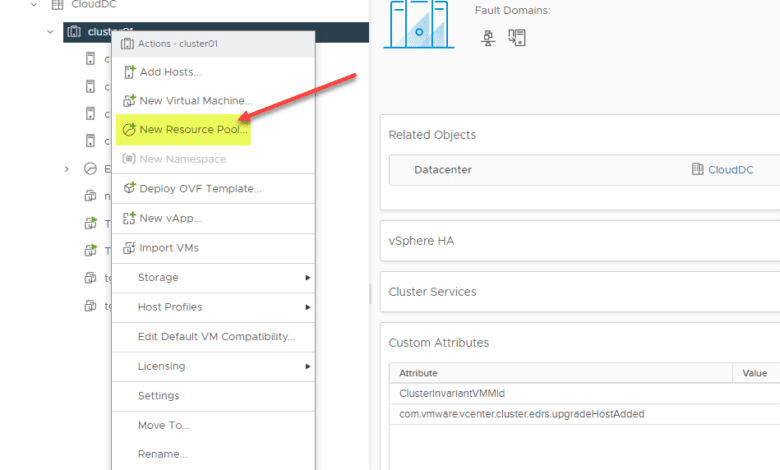 There are many different constructs as part of the VMware vSphere environment with vCenter Server and ESXi. VMware vSphere provides many excellent capabilities and tools as part of the vSphere cluster resources for critical workloads. Two components in vSphere provide many capabilities to your virtualized environment running virtual machines – resource pools and cluster resources. What is each of these? Let's look at the VMware resource pool vs. cluster comparison to see what each is, what they do, and how you configure them.
VMware Resource pools
The VMware resource pool is the first component we want to look at. What is a resource pool? Resource pools in VMware are a logical abstraction providing the type of management we have all grown used to with a virtualization environment, managing resources virtually.
It provides flexible management of virtual resources and the hardware resources of the physical ESXi host to which they have access. In the diagram below, you can see how using resource pools. You can define which virtual machines are entitled to which compute resources between the two resource pools. As you can see below, at the resource pool level, CPU and memory resources are defined for each resource pool.
In the below example, we have set resources for each resource pool, for the two virtual machines on the left for the QA department and then the three virtual machines on the right for the Marketing department.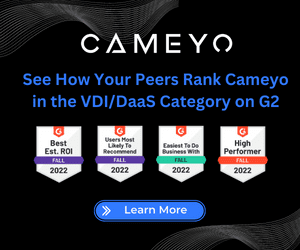 This virtual resource management allows carving up hardware resources on a physical ESXi host and deciding which VMs can access which resources.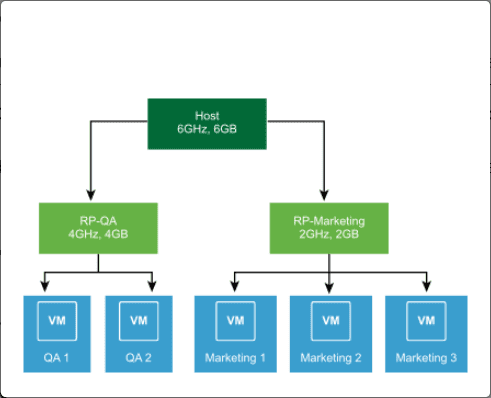 Define resources and performance
When using a resource pool, you can group resources to define shares of the performance available for the virtual machines running on the ESXi hosts in a cluster. It includes CPU and memory resources for the virtual machine objects defined in the resource pool.
This provides the means to allocate resources based on the business's needs and the workload's performance requirements. Adding more VMs to the environment also helps ensure that one or more VMs do not monopolize the performance of entire clusters.
Default resource pool is created
In fact, by default, every installation of an ESXi standalone host and any host in a DRS-enabled cluster has an invisible root resource pool that groups all the workloads running on that host or cluster.
Resource pool hierarchy
Resource pools are arranged with a parent resource pool and contain child resource pools, virtual machines, and both. This construct allows you to hierarchically partition the shared resources. The higher-level objects are called parent resource pools, and the lower levels are children. Objects at the same level are siblings and can be defined at the VM level.
You can create child resource pools as direct children of parent resource pools. VI Admins can delegate control over resource pools using the fine-grained permissions in vSphere for access control.
Resource pool licensing
It is important to note that resource pools are a part of vSphere Enterprise or vSphere Enterprise Plus licensing.
Read the official documentation on VMware resource pools here:
Resource pool benefits
There are many benefits to resource pools used correctly in vSphere according to best practice methodologies. When you create resource pools, you can achieve the following:
Organize resources for resource allocation assigned to the resource pool

Isolate resource usage between different departments and make sure different departments do not affect other resource pools

Access control for role-based access over resources for specific departments

Abstracted resource allocation from the actual physical hardware

Grouping of virtual machines for multi-tier services in a specific resource pool to ensure the entire application stack receives the appropriate resources for the application
Creating VMware resource pools
Creating VMware vSphere resource pools is easy using the vSphere Client. To create a resource pool, you must be at the cluster level, right-click the cluster, and choose New Resource Pool.
You will see the option to create the new resource pool displayed in the context menu.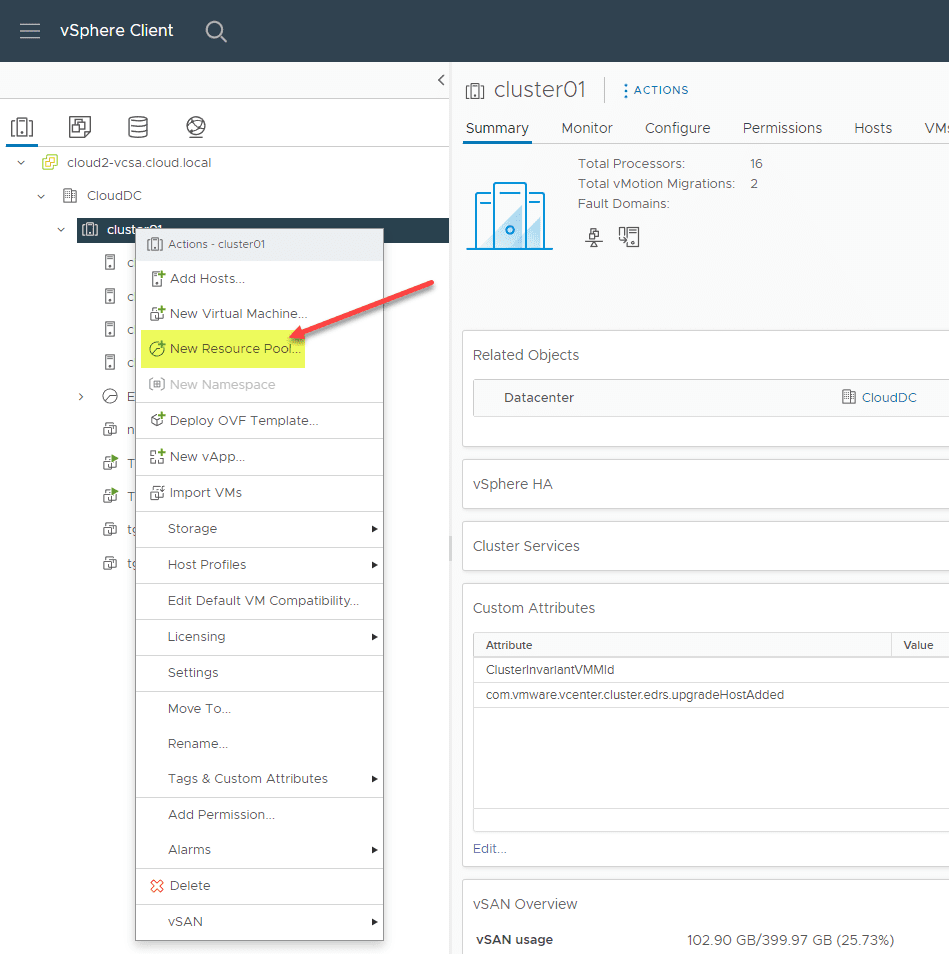 When you choose to create a new resource pool, you can define many different settings in the resource pool itself related to the reservation configuration, priority, CPU shares, memory, limit settings, etc.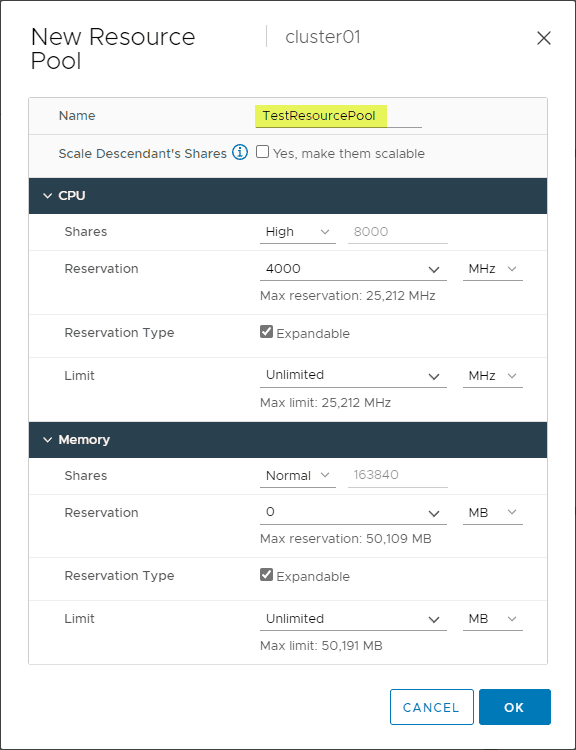 What is a VMware Cluster?
In VMware, a vSphere cluster is a group of hosts with individual host resources becoming part of the cluster's resources. Once the hosts are added, the cluster manages the resources of all hosts within it and provides aggregate allocation of resources. Multiple hosts contribute to the overall resources of the cluster.
The hosts in the cluster share compute, networking, and storage resources between them, allowing workloads to move between different hosts in the VMware cluster seamlessly between the cluster pools of resources of the actual hosts.
When you create a vSphere cluster, you can enable the high availability (HA) and distributed resource scheduler (DRS) solutions if licensed for DRS with Enterprise.
VMware High Availability (HA) provides a way to run virtual machines so that if a single ESXi host fails, the virtual machine will be restarted on a healthy host remaining in the vSphere cluster.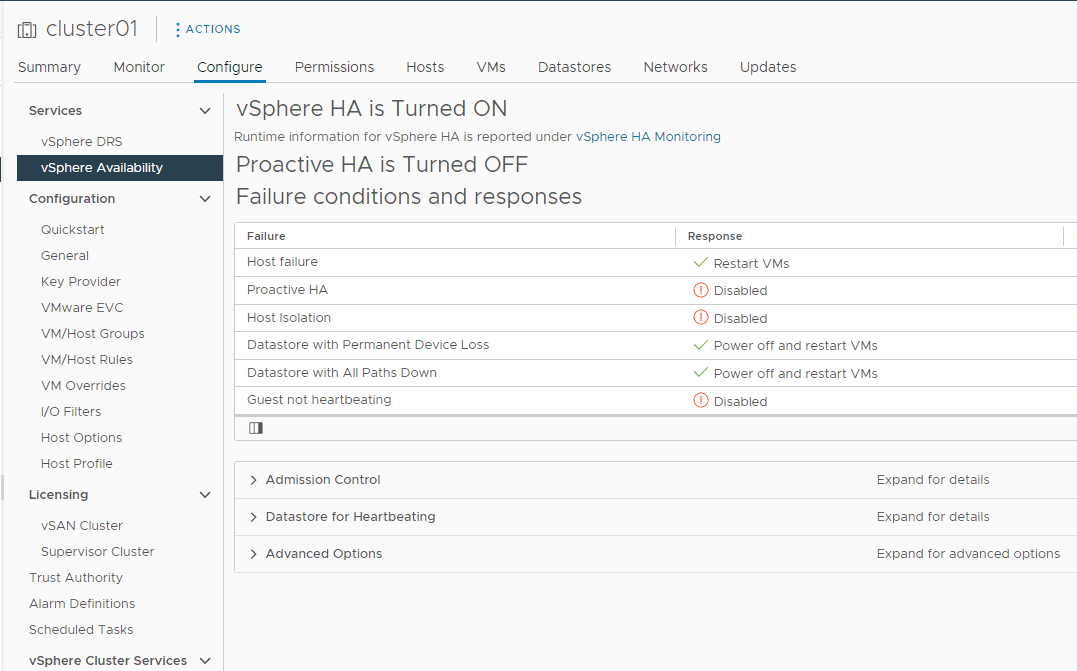 VMware Distributed Resource Scheduler (DRS) ensures resources are evenly distributed between the ESXi hosts in the cluster. When you create and start a new VM in a vSphere cluster, DRS decides which host the VM is placed on.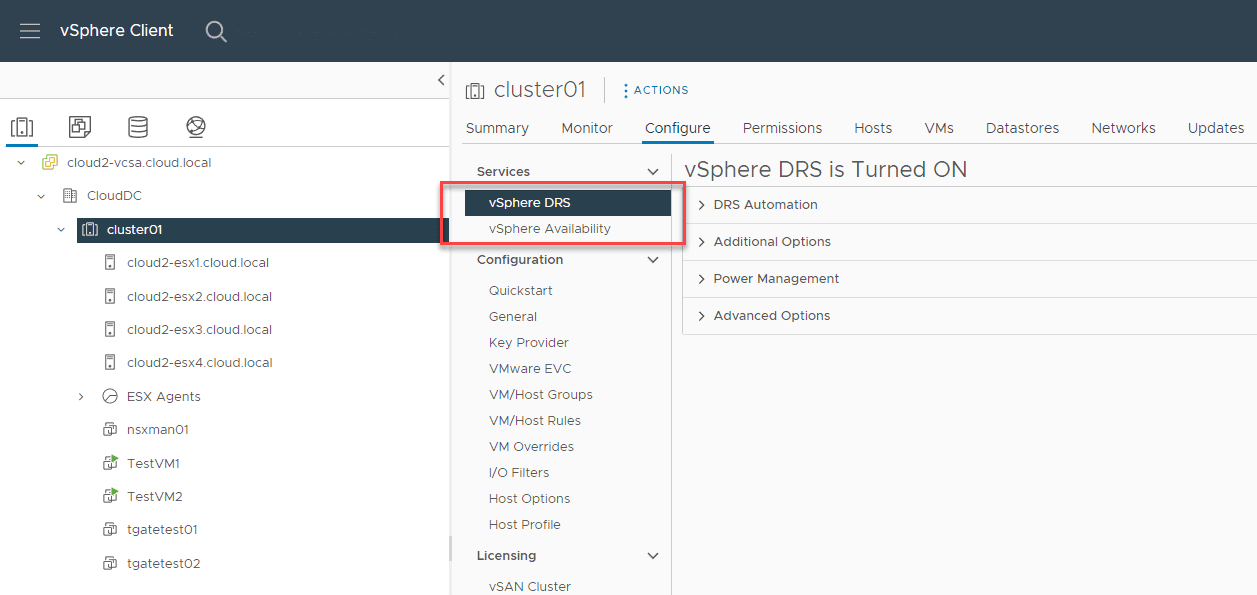 Resource Pool vs. Cluster Comparison
There may be some confusion on which construct is used, or that resource pools and clusters are competing technologies, and you must choose one. This is not the case. Resource pools work alongside vSphere clusters to allow VI admins to control and allocate resource usage across their vSphere estate effectively.
Single, standalone hosts can also create resource pools, enabling VI admins to assign resources or give more performance to specific virtual machine workloads running on the ESXi host.
VMware vSphere clusters provide the functionality of high availability (HA) and distributed resource scheduler (DRS) to further allow running business-critical workloads effectively. HA helps to ensure workloads remain running and have as little downtime as possible. DRS ensures the load is spread across the cluster hosts efficiently and also selects which host a virtual machine is started on in the vSphere cluster.
It helps to give more control when capacity planning in the environment and allocating resources to the physical hardware.
High availability and resource allocation are not disaster recovery
We have learned about high availability and resource allocation as we have described some differences between resource pools and VMware clusters. One thing to note. High availability and resource allocation do not protect your data. You still need to be aware of your data protection strategy and follow data protection best practices.
The 3-2-1 backup best practice rule says you must have at least 3 copies of your data stored on 2 different media types, with at least 1 copy of your data offsite. Having a competent data protection solution in your environment with the features needed to fully protect your data and align with the 3-2-1 backup rule is essential.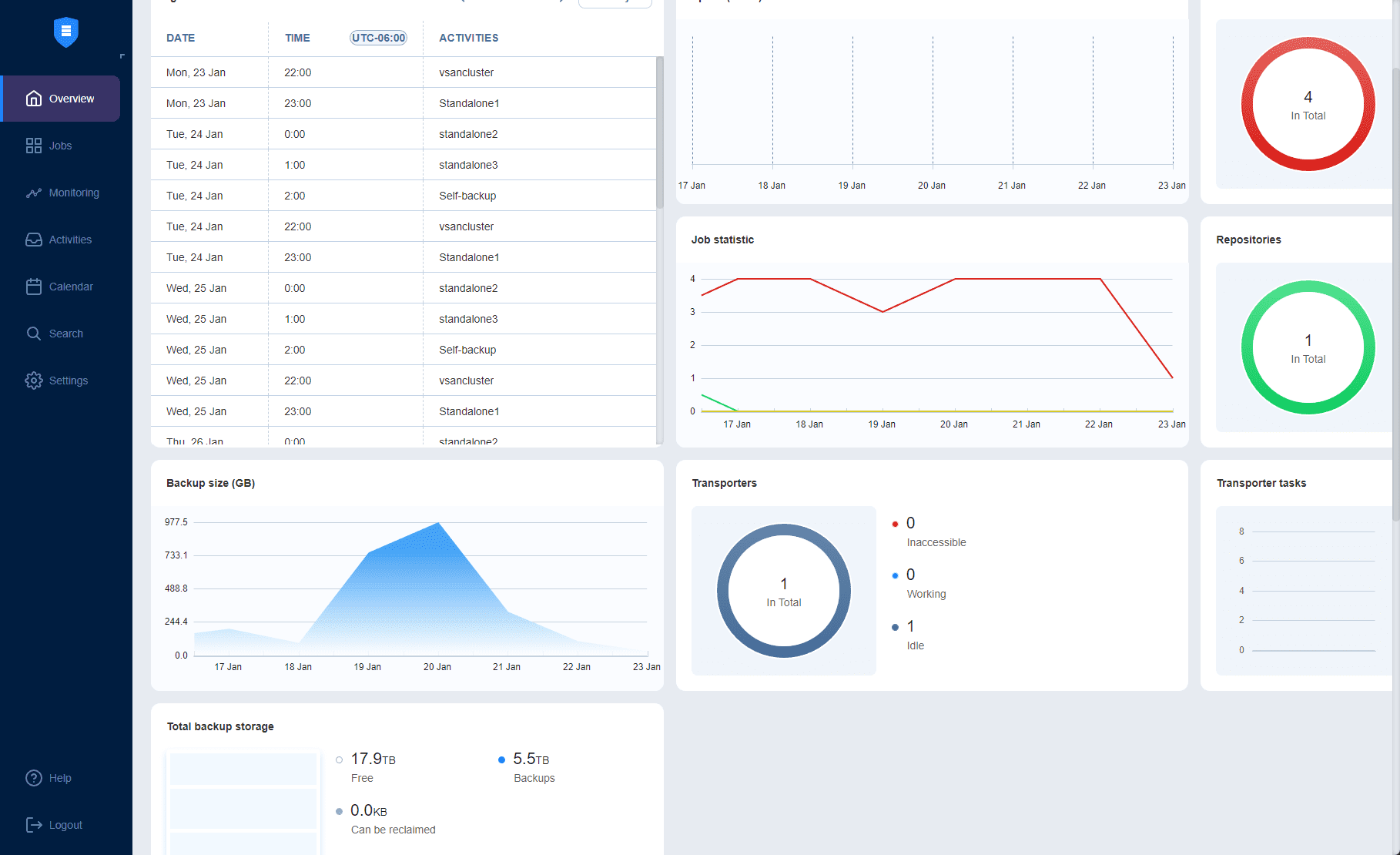 NAKIVO Backup & Replication is a great solution that protects your critical VMware vSphere data with the 3-2-1 backup rule. You can backup your vSphere virtual machines, replicate these virtual machines to another location, and also create backup copies to store additional copies of your data in another location.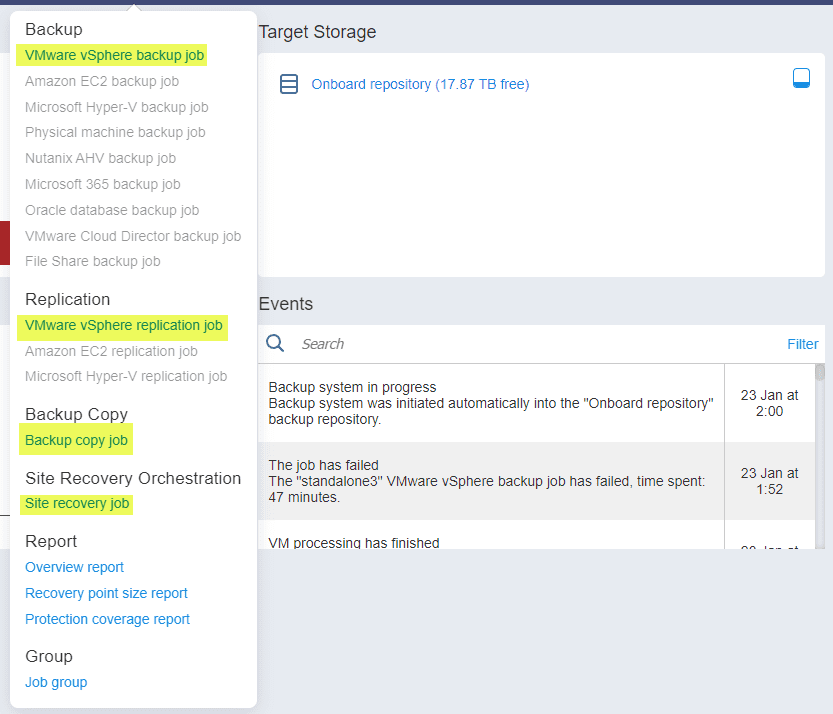 NAKIVO also provides site-level disaster recovery orchestration. So, you can failover virtual machines running in your production environment to a location running in your disaster recovery facility or secondary data center.
You can run NAKIVO Backup & Replication as a self-contained virtual appliance, bare-metal installation, or even run NAKIVO on top of your NAS appliance, such as a Synology NAS device. This option provides a great way to have a self-contained backup appliance outside of your virtual infrastructure or other production hardware.
Check out my latest NAKIVO posts here:
Check out NAKIVO Backup & Replication here: Free Backup for physical, virtual, and cloud.