Automation
VMware Automation with vROPs Automation Central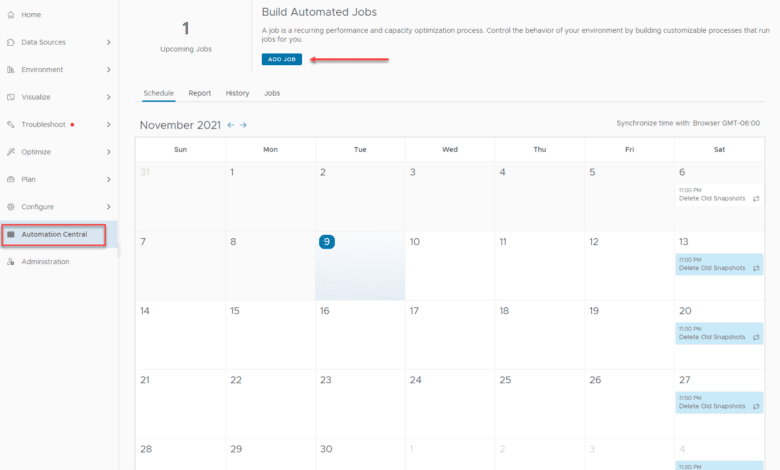 There are many basic tasks that most vSphere administrators want to automate to keep a tidy and lean vSphere environment. Automating housekeeping tasks in vSphere or any other infrastructure environment helps ensure these are carried out frequently, consistently, and on time. There is a really great new feature found in vRealize Operations Manager called Automation Central that allows admins to do just that. Let's take a look at VMware automation with vROPs automation central and see how this new tool can be used to automate basic vSphere tasks.
What is vROPs Automation Central?
Automation Central is a new tool found in vRealize Operations Manager v8.4 and higher that creates automated jobs for performance and capacity optimization. It helps to maximize your operational efficiency for your whole SDDC all from a single management tool.
The new Automation Central is a great new tool in my opinion that helps organizations find even more value in their vROPs installation. It provides a way to make vROPs a more proactive platform instead of just a platform that provides alerts and notifications along with visibility.
Let's take a look at how easy it is to use the new automation central dashboard to schedule powerful tasks in the environment.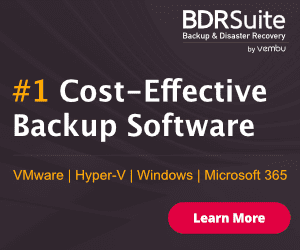 VMware Automation with vROPs Automation Central configuration
One of the first things you will note about the vROPs automation central dashboard is it is uncluttered, easy to follow, and intuitive. I like how VMware has built the tool around a calendar look and feel to easily visualize the automated events and scheduling in the environment.
The first step in the Create Job wizard is naming the job and selecting the actions. You will note the current automation central built-in tasks are divided into three categories:
Reclamation

Delete old snapshots
Delete idle VMs
Power off idle VMs
Delete powered off VMs

Performance Optimizations

Downsize oversized VMs
Scale-up undersized VMs

General Operations
While there is not a long list of actions at this point for VMware automation, the included tasks contain many of the most common automated tasks desired. Arguably the most common on the list is the ability to Delete old snapshots. I can't tell you how many environments I have seen with old lingering snapshots on VMs that are months and even years old. Storage capacity suffers, performance suffers, and things just get in a bad state all the way around.
Having the ability to easily set a scheduled operation to delete old snapshots using vRealize Operations is awesome. In the walkthrough below, I am setting up a quick task to Power off idle VMs. Note how you have the ability to set the number of days as a threshold for the idle VM criteria. By default, idle VMs are VMs that are using no more than 100 MHz CPU.
After selecting the desired action, you can then set the scope of the automation action. This is a great feature out of the box that allows selecting how granular you want the scope to be for the automation tasks. If you don't want this to run at the vSphere data center level, you can select the individual clusters you want to include in the scope. To select, just double-click the cluster resource.
Note how you have the Set Filter Criteria dropdown. If you want, you can further filter your automation task if the scope selector isn't enough. You can select from:
Metrics
Relationship
Properties
Object name
Tag
With the built-in settings, you can get as granular as a single VM if you want.
Next, you can create the schedule for the automated task. On the Schedule screen, you can choose the start date, recurrence, and notifications. The selector is extremely intuitive. Also, on the notifications, you can enter an email address that allows sending out notifications for the scheduled event.
Click Create to create the automated task.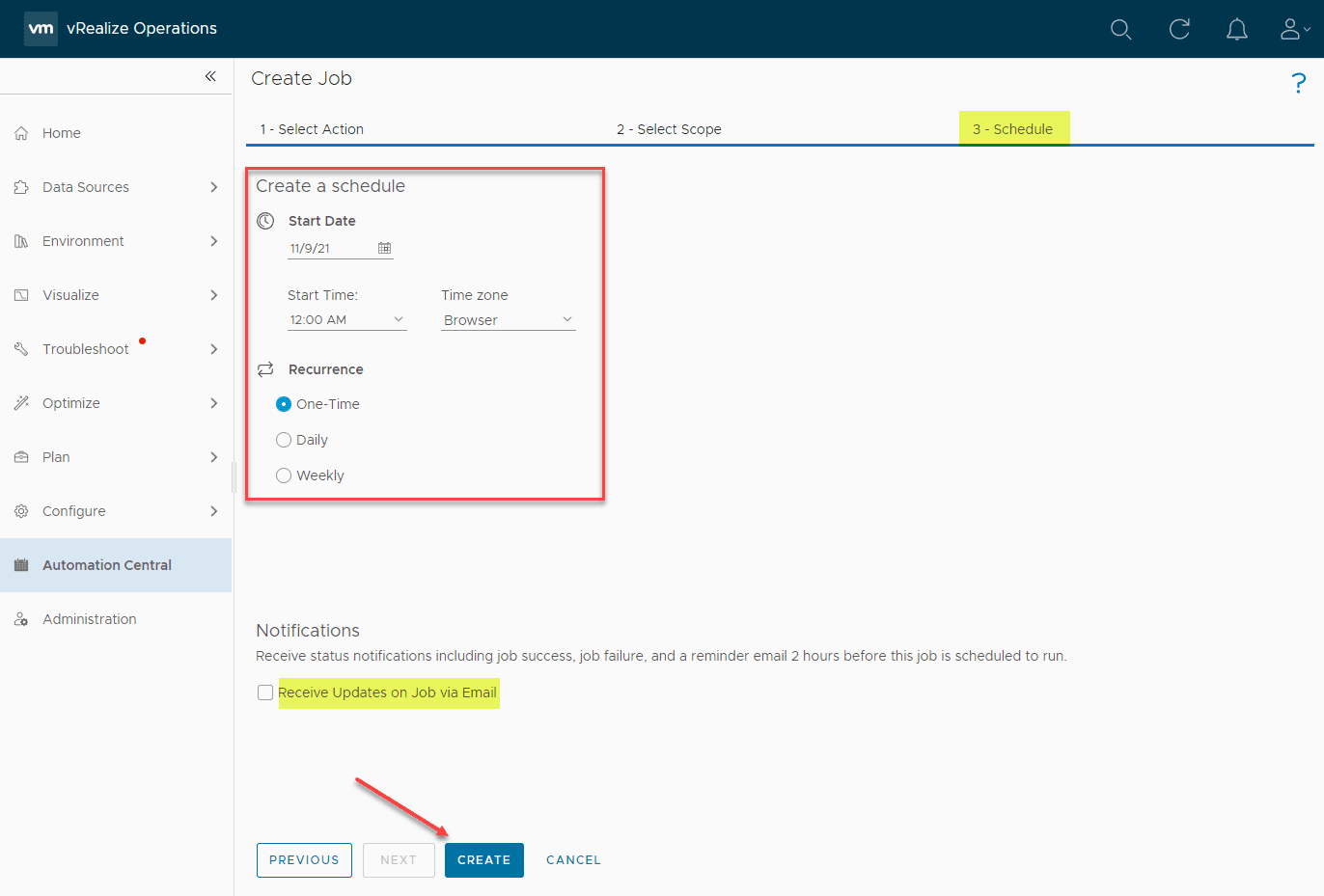 One of the things I like about the notifications sent is it sends a "pre-event" notification of sorts. It sends an email 120 minutes out stating it will be running the scheduled task and the changes that will be made (which snapshots will be deleted, the space reclaimed, etc). Pretty cool!
Future features?
The automation central tool is awesome out of the box. However, like me, you are probably thinking – how can we run or create our own automated tasks? It will be interesting to see how far VMware evolves the automation capabilities found in vRealize Operations to possibly include the ability to create or call custom PowerCLI scripts, etc.
Wrapping Up
The new VMware Automation with vROPs Automation Central is a great way to get started automating low-level tasks in your vSphere environment which brings about many benefits, with little effort across the board. If you are using vRealize Operations in your environment currently, this is a great way to realize even further benefits from the newest features contained in vROPs.
The vROPs platform is great and is certainly a solution I recommend to anyone running a vSphere environment as it helps to keep a handle on the health and operations of your vSphere environment. The new automation central feature helps to turn vROPs into an even more proactive platform that is able to go out and perform tasks on your behalf. If you are like me, it is difficult to find the time to review the vROPs recommendations on sizing and implement these. With the automation central tasks, you can allow vROPs to do this for you automatically.