Skyline
What is VMware Skyline Advisor Pro?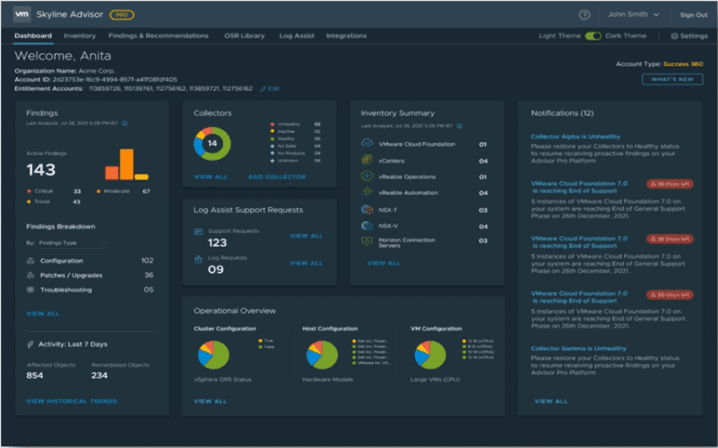 VMware has had a product for a while now called VMware Skyline that provides proactive monitoring, analysis, and support for your VMware environment. It monitors your VMware installation and will notify you when issues arise. However, one of the interesting previews and announcements coming from VMworld 2021 is the announcement of VMware Skyline Advisor Pro. What is VMware Skyline Advisor Pro? Let's detail this new offering from VMware and see how it will improve their proactive
What is VMware Skyline Advisor Pro?
So, let's get into the "meat and potatoes" of the topic – What is Skyline Advisor Pro? The short answer is, it takes all the goodness of Skyline Advisor and extends it with deeper insights and accelerated data analysis to boost issue avoidance. Service that is faster, smarter, and simpler to use. It is available to all production, universal, and Success 360 customers at no cost.
Current Skyline customers and want to move over to skyline advisor pro, this is a quick process. It only takes a few minutes to activate. All you have to do is follow in product guidance. What products does Skyline Advisor Pro cover? It covers a wide range of VMware solutions.
A few examples include:
vRealize Automation
vRealize Lifecycle Manager
VMware Cloud Foundation
vSphere
NSX
vSAN
Horizon
vRealize Operations Manager
It will continue to grow to support more features and solutions in the future. VMware has taken a lot of feedback from customers with VMware Skyline and what they would like to see improved about the current Skyline offering and rolled those enhancements into VMware Skyline Pro. These enhancements include the following customer-requested enhancements:
Faster – Unlike VMware Skyline that might take as long as 48 hrs to surface an issue, VMware Skyline Pro can surface issues and inventory changes within 4 hours with faster data processing.
Smarter – VMware Skyline Pro offers more intelligence. There are two new insights features, including end of life and historical insights. Success 360 customers get access to exclusive features, including a new proactive insights report and you get access to a VMware expert who can provide remediation guidance.
Simpler – The interface has been redesigned for a simpler user experience. It now offers a new REST API to integrate findings data into your tools for automation workflows.
VMware Skyline Pro is Faster
Skyline Advisor Pro is 12X faster than the previous VMware Skyline, taking only 4 hrs compared to 48 hrs. With this accelerated analysis, you see the latest critical issues and security issues. You can validate the remediation results instead of waiting for two days for these to go away in the legacy VMware Skyline offering. You can also provide a more accurate snapshot of the status of the environment with your extended team with up-to-date reporting.
VMware Skyline Pro is Smarter
It is all about insights with the new VMware Skyline Pro offering. First, there are end-of-life insights. These tell you when you installed solutions will no longer receive support. With the ability to see at a glance when support is ending, you have time to plan upgrades to ensure business continuity.
Second, there are historical insights. It provides the ability to associate historical changes with future issues. It helps to correlate whether a change caused issues or made current issues go away.
Finally, there are insight reports. These are bi-weekly and exclusive to Success 360 customers. These provide a health check or wellness check with findings. It allows interacting with the Success 360 team, including VMware experts.
VMware Skyline Pro is Simpler
VMware Skyline Pro provides the ability to work more simply. Customers have wanted the ability to use the findings data provided by VMware Skyline Pro and not just have it as a passive data set. With that, VMware is introducing a VMware Skyline Pro API that allows customers to not only view Skyline's findings and recommendations but also take action on these.
With the new API, you can take Skyline's finding data and extract it from the API to automate whatever you want:
Create a ticket from the findings
Use configuration automation tools
Send findings to Slack
How do you get VMware Skyline Pro?
The upgrade to VMware Skyline Pro is going to be a simple upgrade for existing VMware Skyline customers. It will simply involve upgrading your VMware Skyline collectors. If you want to have the features and functionality of VMware Skyline Pro available to you as soon as it is released and available, VMware recommends turning on the auto-upgrade functionality in your current VMware Skyline collectors. No additional action is needed. When the update goes live, all of the previous Skyline data will be available in VMware Skyline Advisor Pro.
Learn more about VMware Skyline Advisor Pro and other new VMware offerings at VMworld 2021. Watch here: