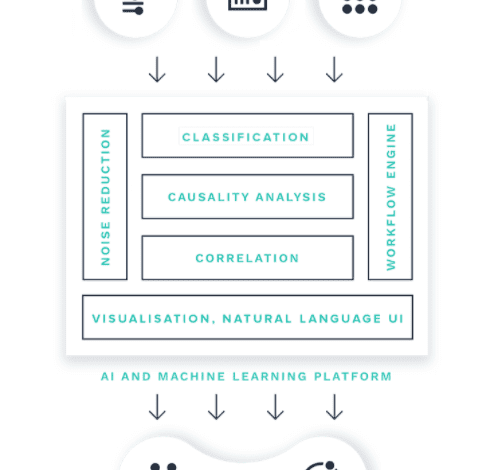 Backups are one of the basic forms of protecting business-critical data. However, the infrastructure that organizations are making use of today to host business-critical services is anything but basic. Cloud Software-as-a-Service (SaaS) environments such as Google Workspace and Microsoft Office 365 are wildly popular environments and have only grown in popularity since the onset of the global COVID-19 pandemic. Businesses today can no longer use "basic" or "traditional" backups to protect their data. Intelligent, next-generation backup is needed for today's cloud SaaS environments. I want to introduce you to Afi.ai Intelligent backup. It provides an interesting, next-generation cloud SaaS backup solution. Let's take a look at Afi Cloud Backup Review, and see how you can achieve intelligent cloud SaaS backup with Afi.ai.
Features of Afi cloud backup
Afi.ai is a solution described as using artificial intelligence (AI) as part of the solution to perform important tasks in protecting your data. How does Afi.ai leverage AI in the solution?
AI-assisted cloud SaaS protection
It incorporates AI-assisted intelligence in the following ways:
AI Data governance – As part of the AI-assisted data governance, Afi.ai identifies and reports on data that is orphaned and user accounts used by organizations that could potentially present legal risks. This provides an effective means to monitor compliance with such data regulations as GDPR. With GDPR data location is tremendously important.
Intelligent defense against security threats – When it comes to security the Afi.ai AI engine can detect changes to your data and can switch to high-frequency backups during critical moments. Key recovery points are automatically labeled to help with recovery.
Disaster forecasting & prevention – One of the extremely interesting things that Afi.ai can do is provide disaster forecasting which according to Afi.ai, uses 1000's of data points to help predict downtime and potential data loss events. It uses many available information sources including SaaS availability metrics, API metrics, IaaS VM logs, and even incorporates weather forecasts into the disaster forecasting it performs.
Multi-channel Natural Language User Interface (NLUI) – NLUI helps to simplify the UI. It enables admins and users to request operations such as recovery operations through email, messengers, or phone.
Supported Applications
The following applications are supported by Afi.ai: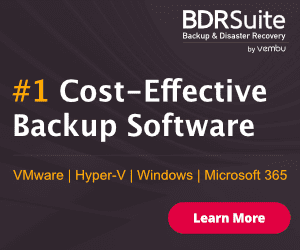 G Suite (now Google Workspace)
Gmail
Drive
Shared Drive
Calendars
Hangouts
Contacts
Sites
Office 365
Exchange
OneDrive
SharePoint
Calendars
Contacts
Teams
Afi.ai backs up many additional details as part of the backup solution. What other details are included as part of the backup solution?
Afi.ai backs up sharing and permissions, not just the files
Metadata is backed up fully with Afi, including Document IDs, file metadata (dates and author information)_
Full structure of email (labels folders & threads)
Backup, Search & Recovery, Administration, and Security
Afi.ai includes some interesting features as part of the solution's capabilities, including backup, search & recovery, administration, and security. Take note of the following:
Backup – Afi.ai includes the unique option of not only normal daily backups of cloud SaaS environments, but also high-frequency backups that are taken in times of danger to your data (the AI-assisted disaster forecasting mentioned earlier). It also includes a feature for SLA-based backup and unlimited retention.
Search & Recovery – AFi.ai includes full-text search capabilities which eans you can search and find context with data content, and not just the metadata search fields. You can perform granular item-level recovery or perform what Afi.ai describes as instant account restore. You also have access to instant online preview and export to native file format features.
Administration – Interesting administration features, includes automated archiving of deleted G Sutie/O365 users which is free & retained forever by Afi. You can also manage multiple G Suite/O365 domains in a single Afi account. There is also an end-user self-service recovery portal that can empower end-users with the ability to restore their data.
Security – Afi contains really great security features that are AI-based, including an anti-ransomware engine that performs pre-emptive backups and provides alerts and warnings in case of an attack. Afi stores backups in an immutable and encrypted cloud backup format that protects backups from rogue administrators, malware, modifications, and other access attempts.
Afi Cloud Backup Review
For testing the backup capabilities and features of Afi, I integrated the solution with my Microsoft Office 365 domain. So, I will be presenting the remainder of the review and screenshots from that context. Integrating Afi into your cloud SaaS environment is as simple as granting the OAuth permissions delegation needed to integrate Afi with the environment.
Integrating Afi with Microsoft Office 365
The process to integrate Afi with Microsoft Office 365 was painless and easy and similar to any other third-party application to which you delegate permissions in Office 365.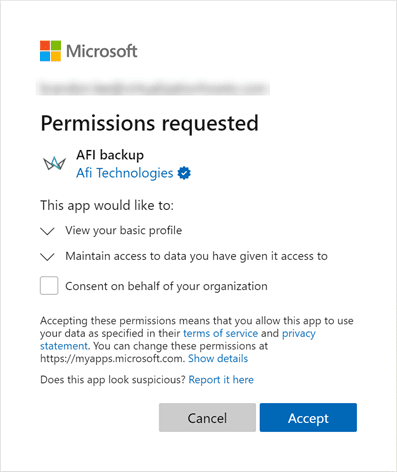 Choosing the time zone for Afi during installation.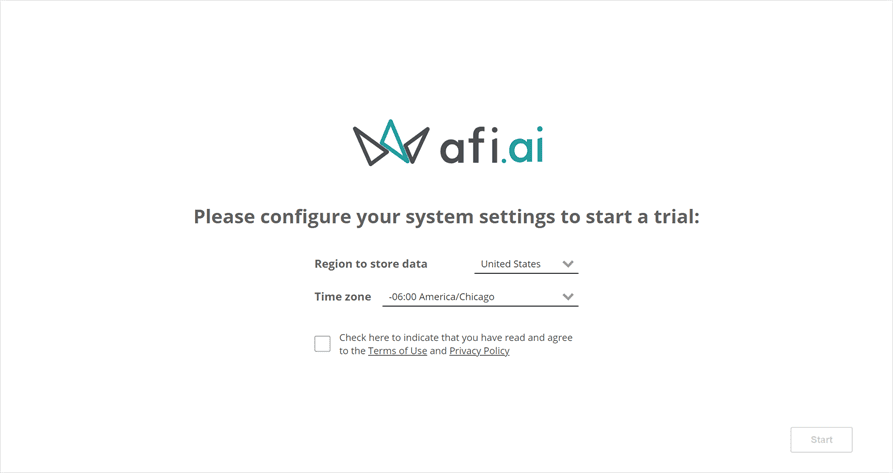 Once you have selected the time zone, you will proceed with installation by clicking the install button.
Here you will select to grant a further round of permissions needed for Microsoft Office 365.
The installation process begins for Afi.ai. Afi.ai interface, backing up, settings, recovery
One of the things that strikes you about the Afi.ai interface is the clean, modern design that is easy to navigate and it is intuitive. Even though I wasn't familiar at all with the interface and the workflows, it only took a couple of minutes of clicking to feel at home in the UI. Like other good products, they are abstracting a lot of complex processes and settings so you don't have to worry about tweaking these for backups to work correctly and for your data to be protected.
As mentioned under the features section, Afi works off of an SLA configuration format for setting up backups for your users. Under the SLA column, you have the option to set the SLA for your users: Gold, Silver, Bronze, and Manual.
What do the various SLA levels mean? These define the backup configuration of your users. As you can see below, the SLAs define the number of backups and which days the backups run. Navigate to Service > Settings > SLA. Below are default settings, out-of-the-box.
As you would expect, you can also run an ad-hoc backup of a user with Afi as well. Click the Backup now button.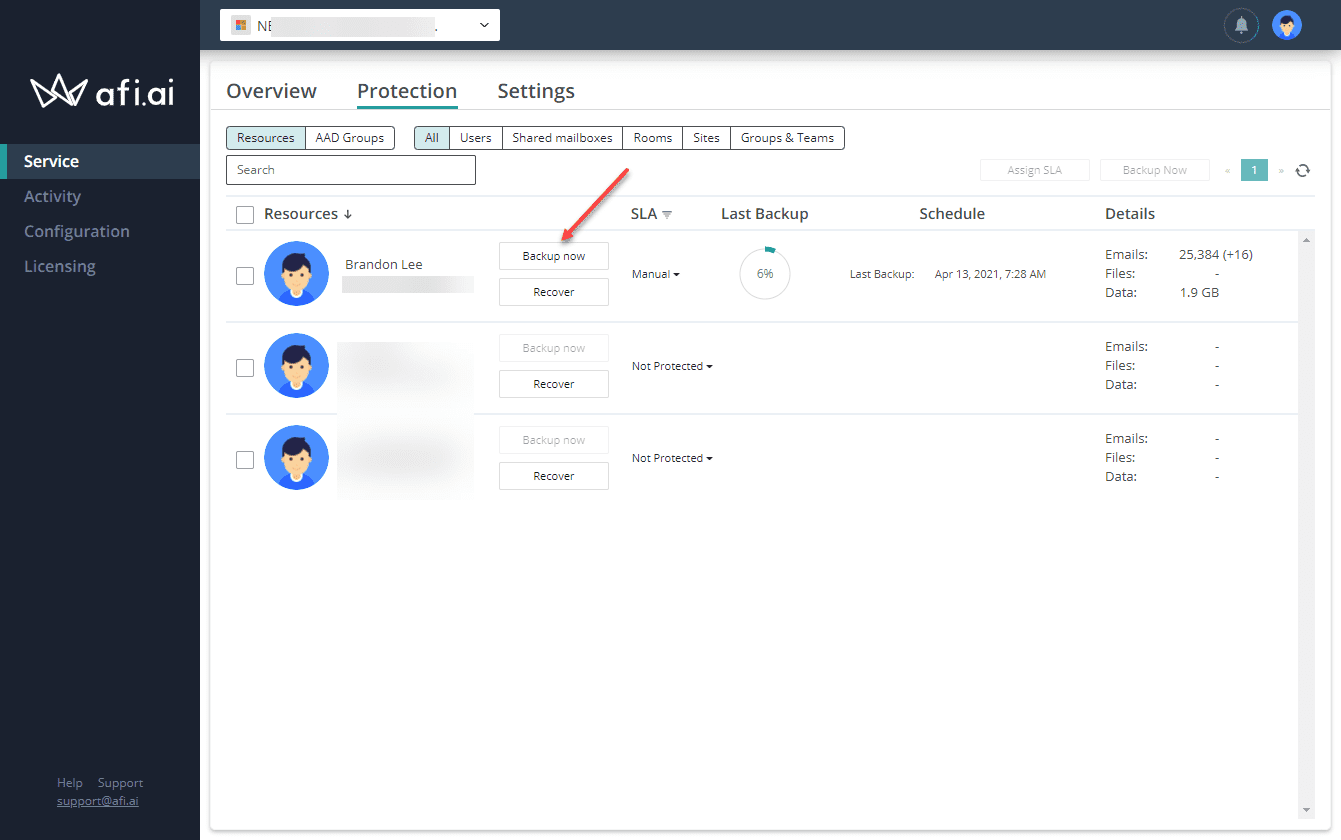 Below, you can see the Roles & Self-Service settings for Afi. These are default settings.
After running a backup on one of my accounts, back to the Overview screen shows the protection status of your environment which is a great feature. This provides an easy way to see if you are missing data that you assume is protected.
Afi also provides the ability to send this information in various ways, including email, and Slack and Teams webhooks.
Also, as we mentioned in the capabilities and features of Afi, you can effectively add multiple data sources, even different cloud SaaS solutions! This means your Afi environment is not locked to a specific cloud SaaS environment. Having the ability to protect multiple data sources under the same Afi account is an excellent feature.
Recovering your data is simple and intuitive. On the Protection screen, for each user there is a Recover button.
One of the things that struck me about the recover screen is how quickly I was shown my data. It instantly appeared in preview. There was no delay in waiting for the data to load or appear to select.
When you click in the search field, you will be shown the search configuration and advanced settings for search, including Full-text search.
Choosing an item to recover brings up the detailed configuration of the item recovery. Note the capabilities below:
Ability to recover items granularly or the full account
Recovering data to a separate folder, overwrite settings, etc
Recover data to a different account than the back is from (allows migrating data, offboarding, etc)
Thoughts and Impressions
In this Afi Cloud Backup review, I have covered a few of the highlights of this very capable cloud backup solution. I was quite impressed with the ease of installation and integration with Office 365 environment, look and feel, features, capabilities, and just overall modern approach of Afi, including their use of artificial intelligence (AI). They certainly have a great product here. It is going to be interesting to see where they take many of the AI-driven features that are already present in the product and see how they make use of these in future versions of the solution.
Be sure to learn more about Afi.ai and sign up for a free trial version of the product here.