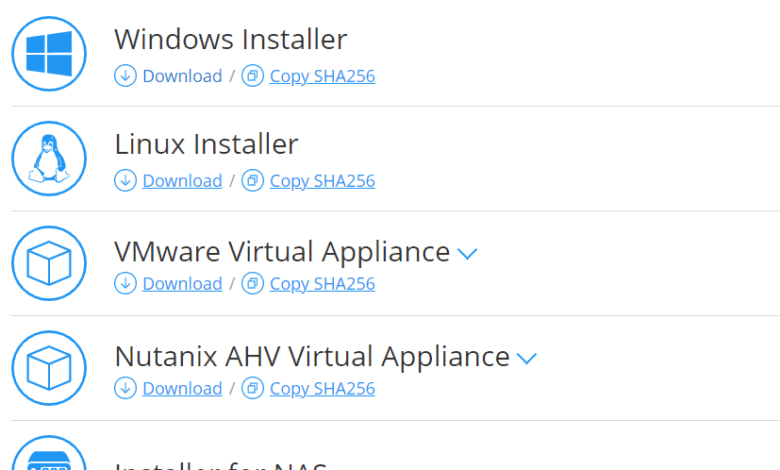 Not long ago, we detailed the release of NAKIVO Backup & Replication v10.1. NAKIVO has just announced the release of NAKIVO Backup & Replication v10.2 Beta. NAKIVO has been steadily strengthening their cloud capabilities with more features that allow leveraging both cloud environments to store backups as well as protecting cloud Software-as-a-Service environments. Let's take a look at NAKIVO Backup and Replication v10.2 Beta new features to see how this release continues to keep in line with strengthening NAKIVO's hybrid cloud capabilities.
What sets NAKIVO apart from competitors?
With so many data backup solutions on the market from many different software vendors, it can be difficult to understand why you would pick one solution over another. When it comes to NAKIVO Backup & Replication, what makes NAKIVO's solution different from others on the market and why would organizations choose NAKIVO for protecting their business-critical data.
I have been using and writing about NAKIVO's solutions for a few years now. It has been great to see the NAKIVO solution grow and mature into the product that it is today. Since beginning to use NAKIVO's platform some years ago now, I have always been amazed at their aggressive release cycle and commitment to improving the solution.
They have shown they listen to their customer base with the features and functionality they develop to go into each subsequent release. They also do a really great job at providing Beta releases for customers to use and test out the new features in each release with a GA shortly to follow the Beta program. I really like their cadence and release cycle as it seems to work well to showcase new features, find bugs, and produce solid releases when they are released as GA.
Additionally, the simplicity of the solution makes you ask each time you deploy a NAKIVO appliance, "why isn't everyone making it this easy?" The NAKIVO self-contained backup appliance is a small Linux distribution that allows you to download, provision, and get up and running in just a few minutes with the appliance. You can literally be creating and starting your first backup job using NAKIVO in around 10-15 minutes. You can't really find another solution that makes it that easy to install and use. I definitely applaud their efforts to architect a solution that is easy from start to finish as the last thing you want to be complicated is your backups.
There are many other features to detail regarding NAKIVO, including:
High-performance backup speed – NAKIVO makes use of the latest in changed block tracking (CBT) technologies, depending on the environment, to ensure fast data transfer and network acceleration
Small backup size – NAKIVO provides deduplication at the repository level. Additionally, you get variable backup compression, and log truncating of both SQL and Exchange Server
Site Recovery – Automated site failover and failback in NAKIVO allows you to migrate production workloads in a non-disruptive manner and also test your process as well
Guaranteed recoverability – Testing backups is generally a process that falls through the cracks in most environments. However, NAKIVO makes this process easy by including instant backup verification capabilities built right into the product.
Instant recoverability – With NAKIVO, you can instantly recover VMs, files, and application objects to the original location, perform P2V recovery, and cross-platform recoveries
NAKIVO Backup and Replication v10.2 Beta New Features
What new features are included in this newest NAKIVO Backup and Replication v10.2 Beta release?
SharePoint Online Backup – With NAKIVO Backup and Replication v10.2 Beta, NAKIVO is improving on their ability to protect Microsoft Office 365 environments by adding SharePoint Online Backup. SharePoint is a major service that many businesses are making use of in the Microsoft Office 365 environment, alongside Exchange Online, and OneDrive for Business. What features are part of the SharePoint Online Backup included with NAKIVO? You can backup entire SharePoint Online sites and subsites, use search functionality to retireve items you need for compliance and e-discovery purposes, and also perform granular restores of your SharePoint Online data, including lists and document libraries.
Ransomware-Proof Backups with Amazon S3 Object Lock – Ransomware is arguably one of the most dangerous threats to your business-critical data today. It can silently encrypt production data, both on-premises and in the cloud. Businesses must make use of various means to protect their data from ransomware threats posed to their business. One of the insidious things that modern ransomware variants look for is your backups. If the bad guys can encrypt your backups along with your production data, organizations are much more likely to be forced to pay the ransom demands by the cybercriminals. With this new NAKIVO Backup and Replicaton v10.2 Beta release, NAKIVO has added support for Amazon S3 Object Lock functionality. This capability allows storing objects using a write-once/read many (WORM) model. The object lock functionality protects backups from accidental deletions, overwriting, and ransomware. This is also very beneficial and useful for compliance and other governance requirements your business may be subject to. By locking an Amazon S3 repository in NAKIVO Backup and Replication v10.2, you allow your backups to be immutable.
Tenant Resource Allocation – One of the areas that NAKIVO has worked to improve in the product is its multi-tenant capabilities. This includes features and functionalities for MSPs and large enterprise with multiple business divisions. The new **Tenant Resource Allocation allows admins in multi-tenant environments to provide backup resources to tenants. This includes assigning hosts, clusters, VMs Backup repositories, transporters and others. This could be to MSP client companies or departments in a large enterprise organization.
Sign-Up for the NAKIVO Backup & Replication Beta Program
To get your hands on NAKIVO Backup & Replication v10.2 Beta, you can simply sign-up on the NAKIVO Beta page found here:
NAKIVO provides the ability with the download and testing of the Beta release to claim an Amazon eGift card as part of testing the solution. NAKIVO provides a list of things they want you to test and actions to perform in the Beta release. Afterwards, you sent your support bundle from your Beta appliance to [email protected].
Concluding Thoughts
NAKIVO Backup and Replication v10.2 Beta New Features strengthen NAKIVO's cloud capabilities as well as new features businesses are looking for to protect their backups as well as provide multi-tenant capabilities. Using NAKIVO Backup and Replication v10.2, organizations will be able to protect business-critical SharePoint Online data, along with their Exchange Online and OneDrive for Business environments. This will help to round out NAKIVO's Microsoft Office 365 offering for current customers as well as those looking to choose a new data backup solution that provides both on-premises and cloud SaaS capabilities.
Don't miss out on new posts! Sign up!