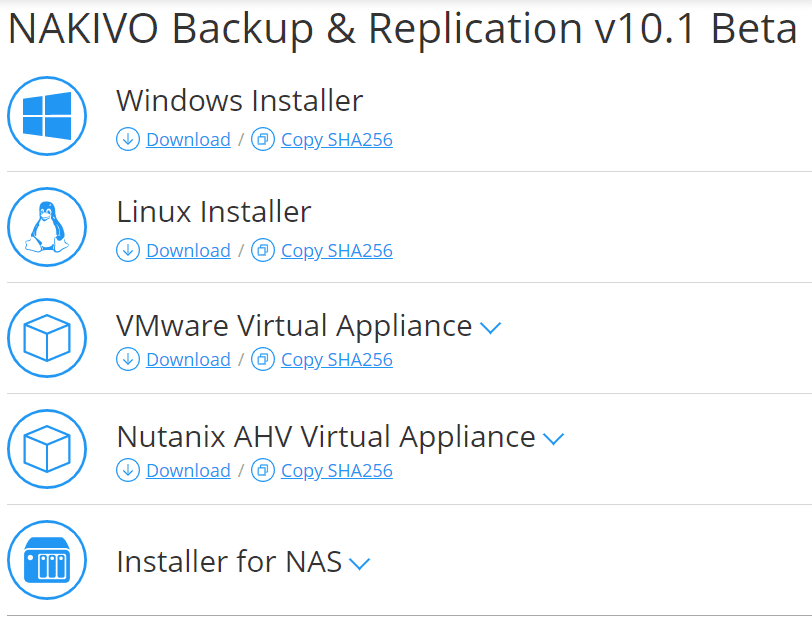 Hot on the heels of the latest NAKIVO release, NAKIVO Backup & Replication v10.0, NAKIVO has released the latest beta version of NAKIVO Backup & Replication v10.1 beta. There are a couple of really nice features that are contained in this release of NBR that will certainly appeal to certain environments for both cloud storage as well as HPE integration. Let's take a look at NAKIVO Backup and Replication v10.1 beta new features to see what is offered with this latest beta version from NAKIVO.
NAKIVO Backup and Replication v10.1 Beta New Features
There are a couple of new features with the beta release of NAKIVO Backup and Replication v10.1. These include the following:
OneDrive for Business Backup
HPE StoreOnce Catalyst Integration
Let's put some laser focus on these two new features and see how they will serve to extend the NAKIVO offering.
OneDrive for Business Backup
There is no question that organizations are migrating to the public cloud in droves. Especially since the first of the year when the global pandemic hit, public cloud has seen a boon in adoption across the board. Back in April, Microsoft's Teams platform had grown by 70%. Cloud for data storage makes a lot of sense. Cloud storage is virtually infinitely scalable and can be scaled in either direction as organizations need more or even less storage.
There is a misconception that exists among many who migrate business-critical data to public cloud SaaS environments however, in that it is assumed that data in the cloud can never be lost. This is just not the case. While cloud service providers like Microsoft and Google have world class datacenters with resiliency that could only be dreamed of with on-premises datacenters, resiliency does not mean your data cannot be accidentally or intentionally deleted. Ransomware is also still a threat to cloud data.
Even though cloud providers are making strides to improve the resiliency of business-critical data stored in the cloud by such mechanisms as file versioning, this is still not a true form of enterprise backup. The versioning that exists is only good for a specific window of time up to 30 days and at this time, in the Microsoft world, only covers OneDrive and SharePoint.
It is important that organizations have a true backup of their business-critical data in the cloud. With the release of NAKIVO Backup & Replication v9.2, NAKIVO added the ability to backup Office 365 Exchange Online email.
Now, with the release of NAKIVO Backup & Replication v10.1 beta, NAKIVO is adding support to backup your data contained in OneDrive for Business.
This allows protecting your business-critical files such as documents, spreadsheets, presentations, and others from threats such as ransomware attacks, data deletions, and other data disasters as a result of hardware issues and others.
NAKIVO allows restoring files from the OneDrive for Business backups in a granular way to the original location or to a different location.
With this release, NAKIVO is now covering the two core services that most are using Office 365 or Microsoft 365 for – email and file storage. I suspect that more services will be added in future releases.
HPE StoreOnce Catalyst Integration
Before looking at this new feature, what exactly is HPE Catalyst? Catalyst is an HPE-developed backup protocol optimized for disk-based data protection.
It offers the following benefits:
Simplicity – it is a simple to use solution
High-performance – works with storeonce deduplication to increase performance and reduce backup times
Flexibility and control – Catalyst copies can create secondary copies and create copies in the cloud
Security – Catalyst encrypts data with simply clicking a box.
NAKIVO Backup & Replication now integrates with the HPE StoreOnce Catalyst solution which allows providing source-side deduplication for virtual environments.
It uses the StoreOnce Catalyst protocol to send only deduplicated backup data to HPE StoreOnce appliances. This lends itself to achieving even faster backups and restores including both granular restores or full VM recoveries.
Additionally, this allows NAKIVO to piggy-back onto the features of Catalyst architecture including the ability to:
Provide low-bandwidth deduplication
Use Catalyst Copy which replicates Catalyst backups and can create copies in multiple locations
Cloud Bank Storage which allows sending catalyst copies to the cloud and store backups linked to object store repositories in AWS, Azure, and Scality
StoreOnce also helps you to protect against ransomware since it uses a proprietary Catalyst protocol that is unknown by ransomware so it is not able to read the data.
Trying out NAKIVO Backup & Replication v10.1 Beta
One of the great things about the new NAKIVO beta releases is the ease of which you can try these out in your own environment. NAKIVO provides an easy to install and deploy virtual appliance that allows getting up and running very quickly on a new version or beta release.
As you can see below, you have a wide range of options for downloading the new NAKIVO Backup & Replication v10.1 beta release. For quick testing and getting up and running as fast as possible, the VMware Virtual Appliance is extremely powerful. However, many options available here.
After deploying the appliance, I quickly went in and under the Add Existing Backup Repository option under the settings, you will now see the option for HPE StoreOnce under the Deduplication Appliance.
Additionally, you will see the Microsoft 365 account as available as part of the Inventory to add to the NAKIVO environment.
Wrapping Up
NAKIVO Backup and Replication v10.1 Beta New Features shows NAKIVO continues to do a great job of aggressively adding new features that are capabilities that customers can use in their environments. With the NAKIVO Backup & Replication v10.1 beta release, they are continuing to strengthen their cloud backup offering as well as integration with third-party backup appliances and solutions.
Additionally, NAKIVO offers a pretty appealing beta program that allows claiming an Amazon eGift card simply for trying out the new beta versions of the product.
Be sure to checkout the beta release page below to sign up for the beta and try out the new features and get rewarded at the same time:
Don't miss out on new posts! Sign up!