vSphere 7
VMware vSphere 7 Update 1 GA Released for Download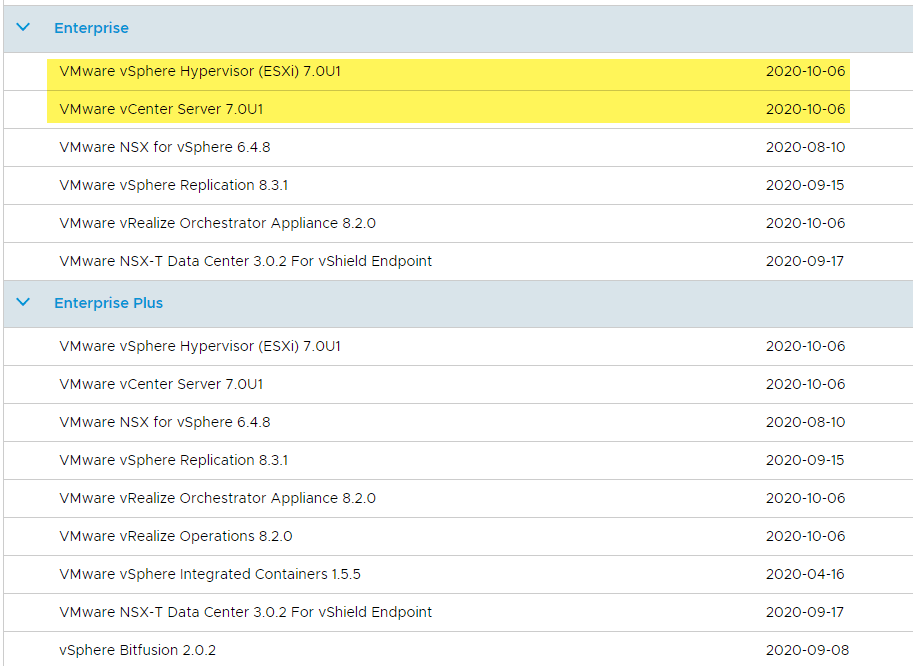 Today is beautiful news to the ears of all vSphere administrators who have been longingly awaiting the availability of vSphere 7 Update 1. The vSphere 7 U1 release contains many great features and enhancements that are well worth the upgrade from any previous release of vSphere, but including even vSphere 7.0 "flat". In this post, we will take a look at VMware vSphere 7 Update 1 GA released for download and take a look at the features and capabilities and download links.
VMware vSphere 7 Update 1 New Features
You can take a look at the much more detailed post containing the new vSphere 7 Update 1 features here:
One of the biggest features to vSphere 7 Update 1 is the introduction of vSphere with Tanzu baked into the vSphere 7 Update 1 release. This means that you no longer need VMware Cloud Foundation (VCF) to deploy Tanzu Kubernetes.
The new vSphere 7 Update 1 has new configuration maximums that far exceed previous vSphere releases. New with vSphere 7 Update 1, you can create VMs with the following specs:
768 vCPUs and 24TB of RAM
This will allow new sizing for "monster" VMs that will readily be used for workloads such as SAP HANA and other database technologies.
New vSphere Lifecycle Manager provides exciting new features and functionality to help manage and administer the lifecycle operations in your vSphere 7 Update 1 environment. These include the ability to install and configure NSX-T. The new vSphere Ideas allows submitting ideas right from the vSphere Client.
The new vCenter Connect allows managing on-premises vCenter SErvers along with VMware Cloud instances all from the same unified console.
There are also many exiting new features available with vSAN running on top of vSphere 7 Update 1. These include the following:
HCI Mesh
Shared Witness capability
Compression only option
Improved enterprise file services
vSAN Data Persistence Platform
vSAN IO Insight
Data encryption in-flight
Secure Disk wipe
Improved vSphere Lifecycle Manager (vLCM)
vSAN Layer 3 GUI network gateway configuration
Faster host reboots
Take a look at the more extensive blog post of new features included in vSAN 7 Update 1 here:
vSphere 7 Update 1 Download Links
You can download the new vSphere 7 Update 1 GA release from the following download links:
Wrapping Up
I can almost hear the bits flying across the wire as vSphere admins and homelabbers alike have the news of VMware vSphere 7 Update 1 GA Released for Download. This is going to be a landmark release in the vSphere product line that will really help to push Kubernetes adoption to the mainstream as well as take vSphere operations to the next level for most.
The new vSAN features and capabilities that are unlocked with this release make this one to go for if you are running vSAN in the environment. Be sure to check out this latest release and the new features offered by vSphere 7 Update 1 which is now GA.
Don't miss out on new posts! Sign up!