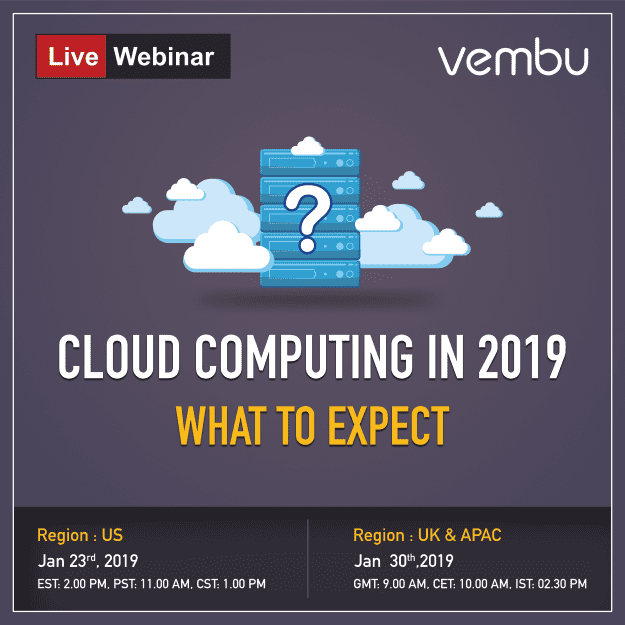 There is no question that interest in and investment by organizations today in the cloud is continuing with fierce momentum with no one expecting this to slow down anytime soon. In fact, most organizations are designing and fitting cloud into their infrastructure designs if they have not already. Leveraging cloud technologies and infrastructure is a smart move from a flexibility, capability, efficiency, and agility standpoint and allows businesses today to continue to ride on the latest waves of innovation from the cloud front and reap the benefits of the new functionality and capabilities that are afforded by placing their infrastructure in cloud environments. Investing in cloud is easily seen by the proposed budgets for 2019 and where businesses are planning on spending their money for infrastructure and other projects. Let's take a look at Cloud Computing Trends in 2019 and see where both the technology and business needs are headed.
Budget Related Trends in Cloud Computing in 2019
Recently, Spiceworks published a "State of IT in 2019" report that looked at various aspects of the IT landscape, including budgets. Often, it makes it a bit easier to see trends developing by following where the money is being placed. It was a very interesting read and also helps to see where the money is being spent in 2019 when it comes to Cloud technologies.
The section "Hosted/Cloud Budget Breakout for 2019" detailed Cloud expenditures as follows:
15.2% – Online backup/recovery
11.1% – Email hosting
9.1% – Productivity
9.1% – Web Hosting
7.1% – Business support apps
7.0% – Don't know
6.1% – Industry specific apps
6.1% – Security solutions
6.1% – IaaS
5.1% – Cloud storage
5.1% – IT Management
4.0% – PaaS
3.0% – Communications
2.0% – Developer Tools
2.0% – DaaS
2.0% – Other
There is no question from the above poll metrics that online backup/recovery is a huge area where organizations are utilizing cloud environments. Why Cloud for online backup/recovery?
There area lot of reasons that cloud online backup/recovery makes a lot of sense. The 3-2-1 Backup best practice methodology states that you want at least (3) copies of your data stored on (2) different kinds of media, with at least (1) copy of the data stored offsite. Utilizing cloud as an offsite disaster recovery location is a great way to satisfy two of the design requirements for effective disaster recovery.
First, cloud can be considered to be a different kind of media in a sense. Second, storing copies of backup data in the cloud allows easily storing the data offsite and having complete geographic diversity for your data which is extremely important in case of a disaster that strikes a specific geographic region.
Cloud backup infrastructure allows having a great deal of flexibility in storage options. Cloud storage allows easily expanding and growing your backup storage infrastructure as the storage needs grow or change in the future. This easy elasticity in the storage environment for data protection allows growing and shrinking the storage needs as backup demands change over time. These types storage characteristics are not as easily accomplished in on-premises environments.
Cloud Computing Trends in 2019 Webinar
When thinking about data protection and the benefits that come with utilizing cloud storage for backups, you want to choose a data protection vendor that offers strong capabilities and integration with the public cloud and cloud storage. An extremely powerful data protection solution that allows leveraging the power of today's cloud environments is Vembu BDR Suite. Recently, Vembu released BDR Suite v4.0 which offers even more powerful capabilities in protecting your organizations diverse workloads and hybrid infrastructure environments. Additionally, when thinking specifically about cloud, Vembu's BDR Suite v4.0 allows organizations to have powerful options when it comes to protecting today's diverse environments.
Vembu BDR Suite v4.0 is a product that I use in the home lab environment as well as recommend to customers looking for a powerful, cost-effective solution to meet the growing demands for businesses today around business continuity and disaster recovery.
Vembu holds some really great webinars that help to educate audiences in general to changing demands in the enterprise and how businesses can meet those demands. An upcoming webinar will cover several topics related to Cloud Computing Trends in 2019 including:
What 2019 holds for cloud computing?
Bendfits of having a backup for your cloud data
What makes Vembu the right choice?
Live product walk through and demo of features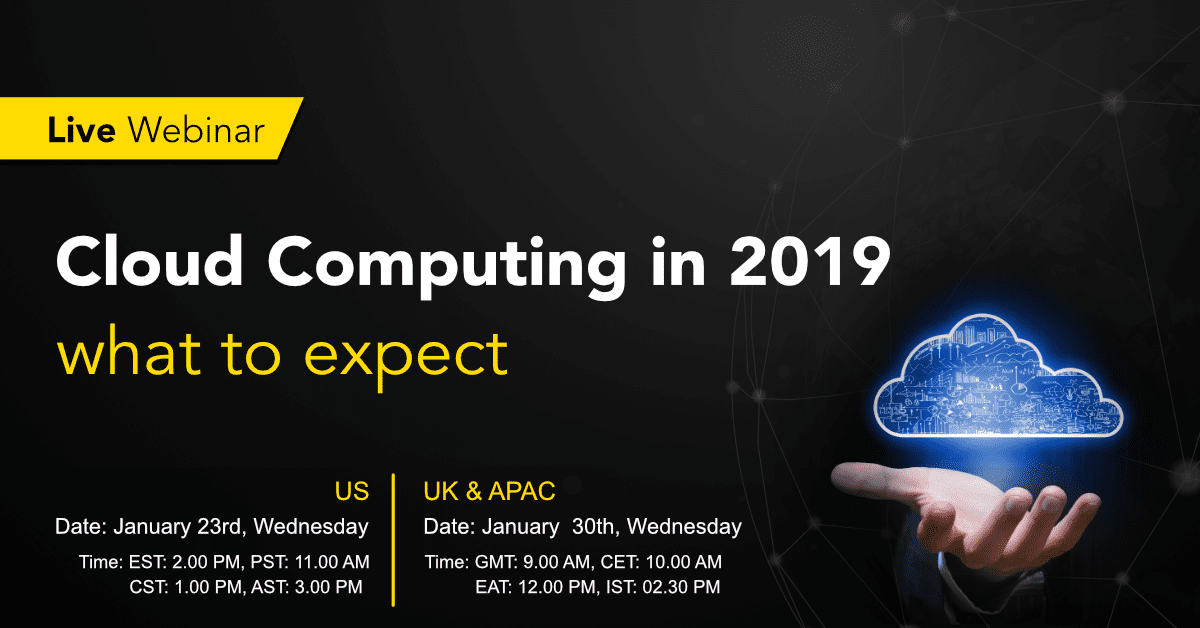 US Region Webinar Details:
Jan 23rd 2019
EST: 2:00 P.M, PST 11:00 A.M., CST: 1:00 P.M.
UK and APAC Region webinar details:
Jan 30th 2019
GMT: 9:00 A.M., CET: 10:00 A.M., IST: 2:30 P.M.
Other great benefits and features of the webinar include Vembu is giving away free NFR keys to Spiceheads who attend the event. NFR keys are a great way to test and use production software in a non-production environment and allow all the same features and functionality to be used in a lab environment.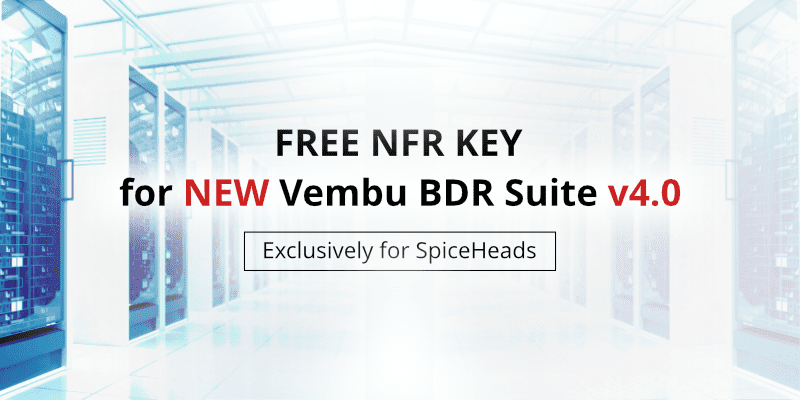 Additionally, attendees will have the opportunity to win an Amazon Gift Voucher.
Great things are definitely in store for the Vembu Cloud Computing Trends in 2019 webinar. There are certainly many exciting technologies that are on the horizon. Cloud is on the mind of everyone, from management, IT architecture groups, and development. Most organizations will soon have some or even most of their infrastructure in the cloud at some point.
According to the data, one of the primary business spends when it comes to investment in cloud technology is in the realm of data protection and backup storage. Companies are seeing the real value of leveraging cloud storage for the purpose of data protection, disaster recovery, and business continuity strategies.
Cloud holds out several benefits and capabilities as discussed for satisfying data protection requirements and needs. By leveraging cloud as an integral part of that BC/DR strategy, organizations can bolster their disaster recovery strategies and ensure that data is protected. This also helps to reduce RPO and RTO SLAs.
For those interested in learning the latest in these and other cloud trends in 2019, be sure to signup and attend the upcoming Vembu webinar. Also, be sure to download a trial copy of Vembu BDR Suite v4.0, or by attending the webinar, you can receive a free NFR key for the home lab.
Don't miss out on new posts! Sign up!