VMware
Tools to Improve Virtual Machine Performance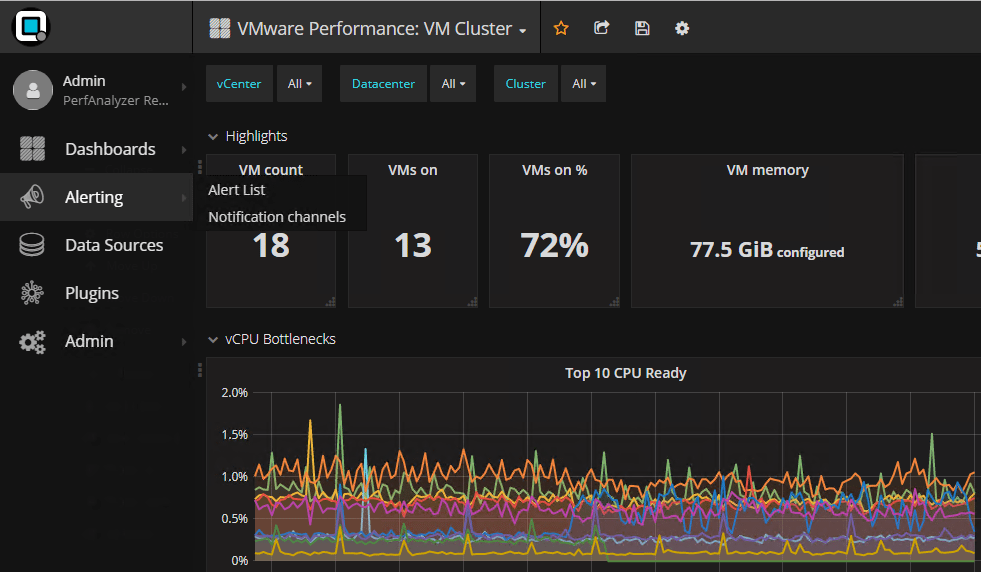 One of the key areas that a VMware virtualization administrator must key in on with his or her vSphere environment is performance.  After all if the production workloads running in the virtualized environment are not running with adequate performance, problems will arise.  Performance monitoring is essential to discover where performance bottlenecks may exist in the vSphere environment.  The ability to see what is going on at cluster, host, or even the virtual machine level is key to understanding the overall performance picture and where performance problems may exist.  What kind of tools can VMware vSphere administrators utilize so they can identify where performance issues may exist?  Let's take a look at tools to improve virtual machine performance and how these can be used to identify and correct performance bottlenecks.  We will take a look at built-in free tools that administrators can use as well as the pay for tools that also provide tremendous value in VMware virtual machine performance monitoring.
Tools to Improve Virtual Machine Performance
As mentioned, there really are a couple of categories for tools we can utilize – free tools that may be built into the Hypervisor or vCenter itself as well as the paid tools that provide value but do cost money.  We will key in on the following:
Free Tools:
ESXTOP and Visual ESXTOP
Builtin vCenter Performance Monitoring
Paid Tools: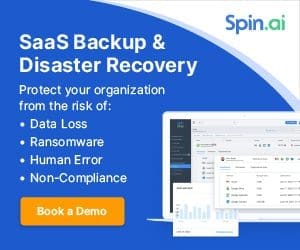 VMware vRealize Operations Manager
Opvizor
Veeam One
Runecast
ESXTOP and Visual ESXTOP
There is probably not a more well known tool for performance troubleshooting than ESXTOP.  It is a commandline utility that is built into ESXi natively that can be used to troubleshoot everything from CPU, memory, network, and disk issues that may be hard to identify otherwise.  The information provided by ESXTOP is realtime and you can see the changes in the environment as they happen.  A great resource to get up to speed with ESXTOP is the ESXTOP guides written by Duncan Epping found here.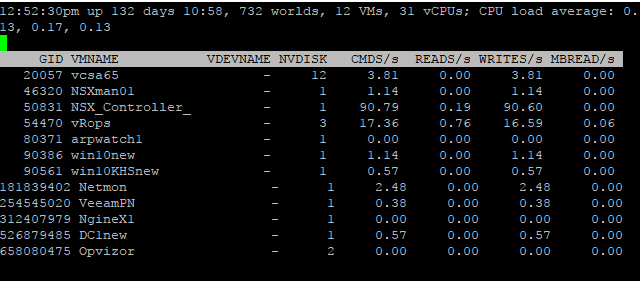 Additionally, there is a great VMware Fling called Visual ESXTOP that has a GUI wrapper around the ESXTOP utility.  You can download the Visual ESXTOP fling here.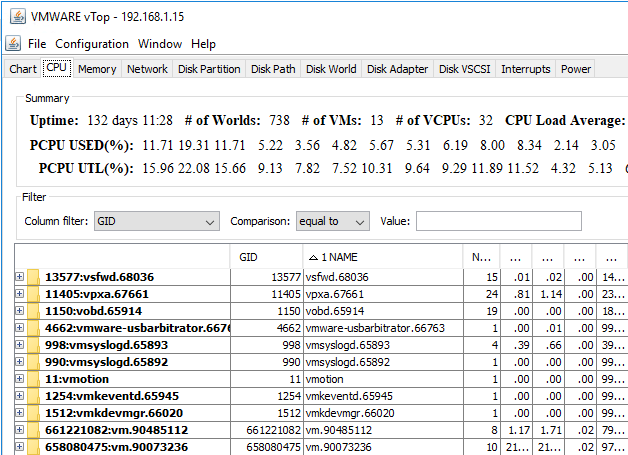 Builtin vCenter Performance Monitoring
In vCenter Server itself, there are some great performance monitoring tools that provide basic views of your environment and potential performance problems.  They are fairly basic tools, however, to get a great overview of performance in a vSphere environment using the builtin tools, they are a good place to start.  Notice in the combo box, you can select any of the primary performance areas of concern to get a graphical view of load, performance metrics, etc.  Also, to the left, you can select from historical views aside from the Real-time view.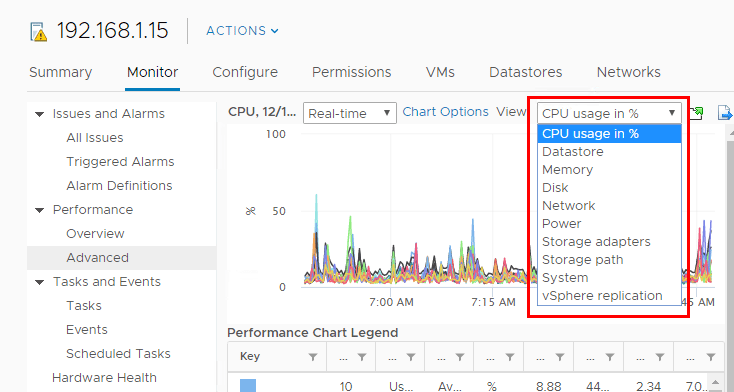 As a side point, while we are primarily focusing on virtual machine performance here, you can also use the builtin tools to monitor and troubleshoot vCenter performance as well.
vRealize Operations Manager
Starting the list of paid tools to improve virtual machine performance is vRealize Operations Manager.  This is VMware's own product for monitoring and analyzing VMware vSphere environments.  It provides proactive analysis of the environment and looks for issues related to performance, sizing, failures of connectivity, load related issues, CPU, memory, disk, network, etc.  It provides recommendations as to how to improve the vSphere environment.  The vRealize Operations Manager platform is a great tool to help identify "hotspots" in an environment.  I really like the sizing reports as well that can be generated to identify "oversized VMs" or possibly "undersized VMs".  This is very useful to make the most of available hardware resources.  Also, there are "endpoint agents" that allow further visibility within the VM itself.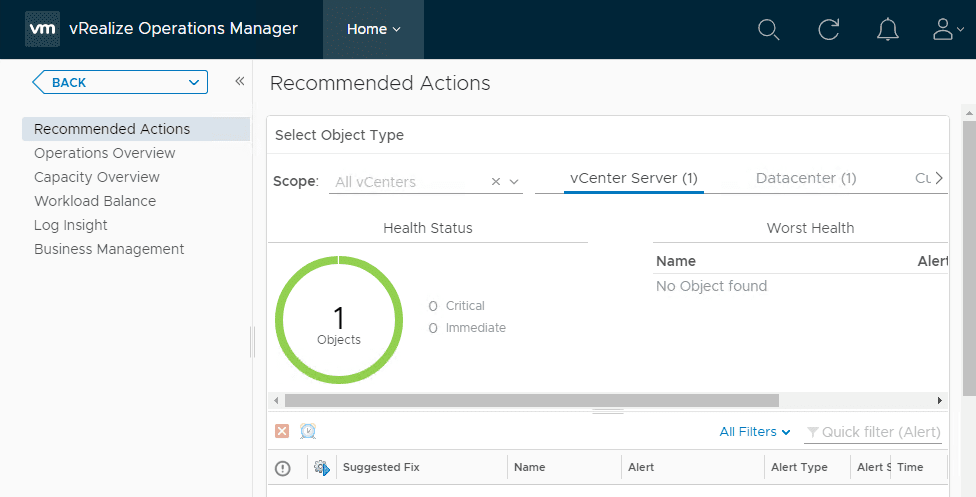 A look at some of the reports available (only showing a couple below).  Note the Oversized VMs Report.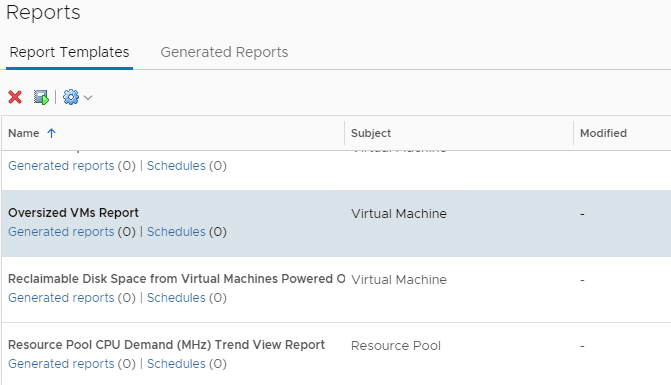 Opvizor
Opvizor is a great turnkey solution by way of deploying a virtual appliance that provides a really great view of a vSphere environment and helps to easily identify performance bottlenecks. The graphs and interface provided by Opvizor look great and are snappy. They are based on the open graphana platform.  There are also various plugins that can be installed to extend functionality.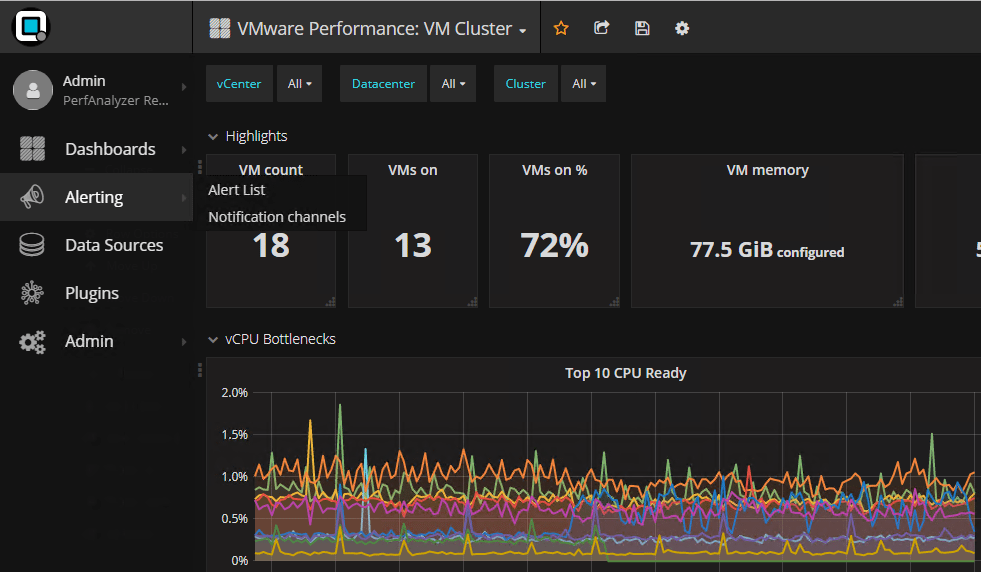 Opvizor provides the ability to setup alerting and has many prebuilt dashboards included out of the box.  You can create "snaphshots" of dashboards to share as well as share direct links to dashboards to have others view the information.  It also provides builtin hooks into applications such as Microsoft SQL Server as well.
Veeam One
If you are a Veeam shop, and if you have access to the Veeam Availability Suite licensing, then you can "freely" (license included in Veeam Availability licensing) run Veeam One to monitor and analyze your vSphere environment.  Veeam One provides some unique abilities mainly since it is tightly integrated with Veeam Backup & Replication.  This is a great option if you have Veeam in the environment and the licensing as mentioned since it monitors your Veeam environment along with your VMware vSphere environment.  It provides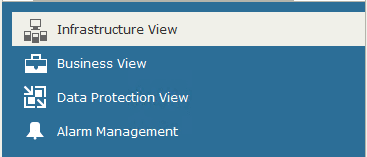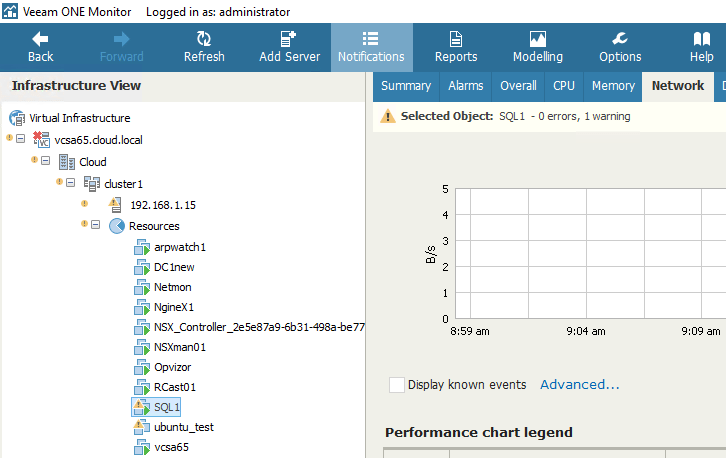 With Veeam One you have the available performance metrics for various virtual machines such as an overall view, CPU, memory, network, datastore, virtual disks, tasks and events, etc.
Runecast Analyzer
While Runecast Analyzer is a bit different than the other products mentioned above, I wanted to include this in the listing since making sure your environment is running according to best practices certainly bodes well for overall performance.  There is really no other product out there doing what Runecast is doing to make sure vSphere environments are running smoothly and according to the latest KB articles available from VMware.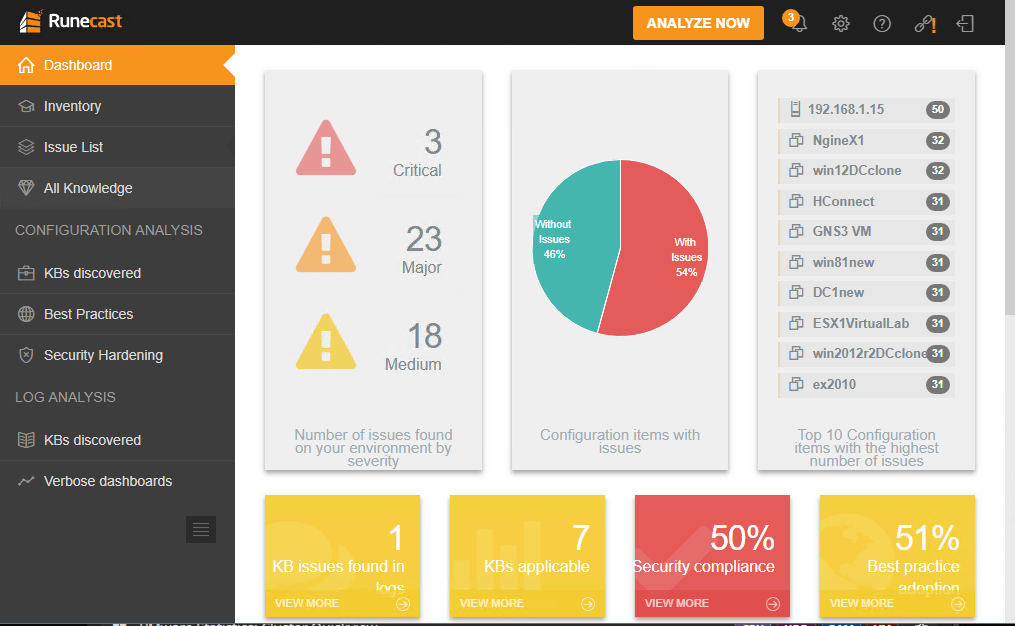 Many VMware KBs released have to do with configuration best practices or known issues.  Having the visibility to these "issues" or KB articles helps administrators be proactive in bringing their vSphere environments in line with best known configurations and definitely can boost performance.
Thoughts
There are many Tools to Improve Virtual Machine Performance out there which may not be mentioned in the above listing.  However, the tools mentioned above are great resources to help analyze and monitor a VMware vSphere environment and certainly to improve virtual machine performance across the board.  Depending on your licensing and other factors in your environment, one tool or another may be a better fit.  Make use of both the native and third-party tools available and vSphere virtual machine performance will benefit.