Backup Software
Vembu Quick VM Recovery Ensures Business Continuity with Minimal Downtime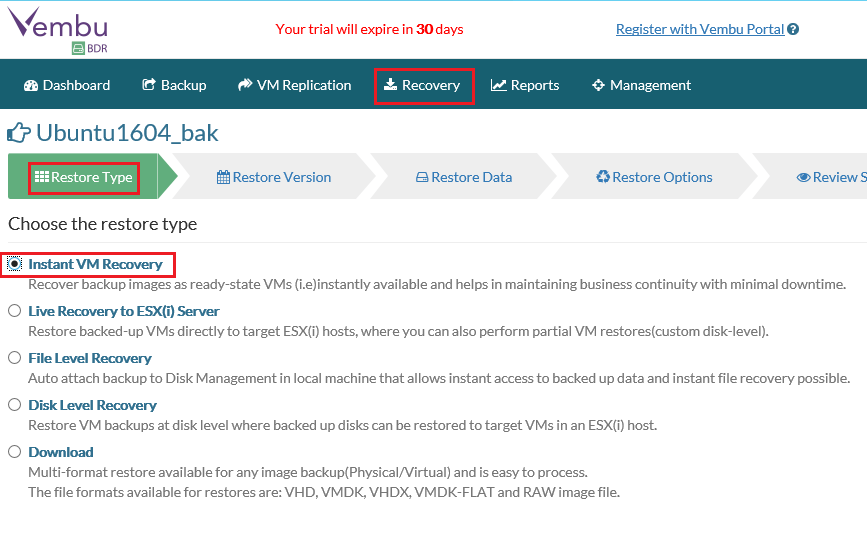 When disaster strikes and business operations are interrupted by either software or infrastructure failure, the RTO (recovery time objective) or quite simply "how long does it take to recover?" time is crucial.  Vembu BDR Suite provides a complete approach to both protecting and restoring business operations in the event of a minor or major software/infrastructure disaster.  One of the great features that I really like in Vembu BDR Suite is the Quick VM recovery.  This feature allows "instant" VM recovery by reading directly from the compressed and encrypted backup data contained in the Vembu BDR Suite storage targets.  The obvious advantage of the quick "instant" recovery is the VM is reading directly from the backup file, so you don't have to first restore the VM data to the target location with the resulting wait time involved.  Vembu Quick VM Recovery Ensures Business Continuity with Minimal Downtime
Vembu BDR Suite accomplishes this by creating a virtual copy of the VMDK, VHD, VHDX or IMG disks from the backup data after each backup schedule.  By using the virtual disk, the VM can be created on ESXi, VHD/VHDX facilitates creation on Hyper-V, and KVM hypervisor uses the IMG format for provisioning.
Another great feature of Vembu BDR Suite here is this process is hypervisor agnostic in that it allows you to instantly recover mission critical VMs or even physical machines on a wide range of hypervisors – VMware, Hyper-V, KVM, etc.  Let's take a look at the Quick VM Instant recovery process and the steps involved.
Vembu BDR Suite Instant Recovery
Using the Vembu BDR Suite backup process, VM(s) are backed up to storage as normal on either your physical or virtual Vembu BDR Suite server.  In this walkthrough, Vembu BDR Suite is loaded on a guest OS VM located in the vCenter infrastructure.  As you can see below, the VM we wish to configure for backup is selected from our vCenter server.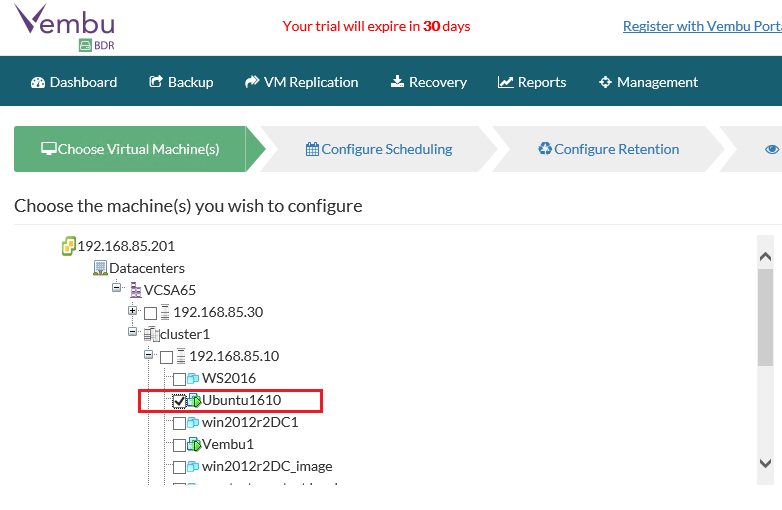 After we have successfully backed up our VM or VMs, to choose the Quick VM recovery, navigate to the Recovery option and select Instant VM Recovery.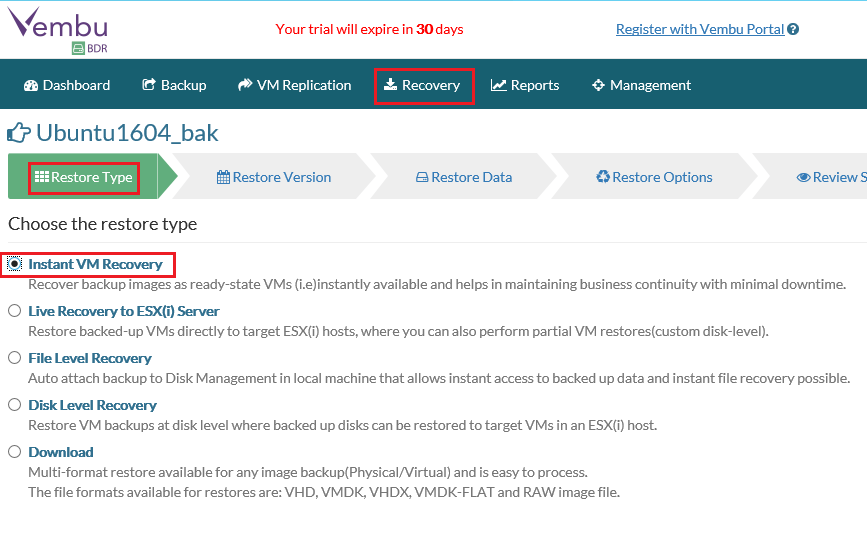 Next in the Instant VM Recovery restore wizard, is selecting the restore version.

Next we select which restore data to be restored.

When the BDR backup server is installed on a virtual machine, an NFS share is used to present the VM to the hypervisor for provisioning.  Vembu BDR Suite uses a modified version of the WinNFSD utility.  Part of the wizard is downloading and installing this GPL open source utility.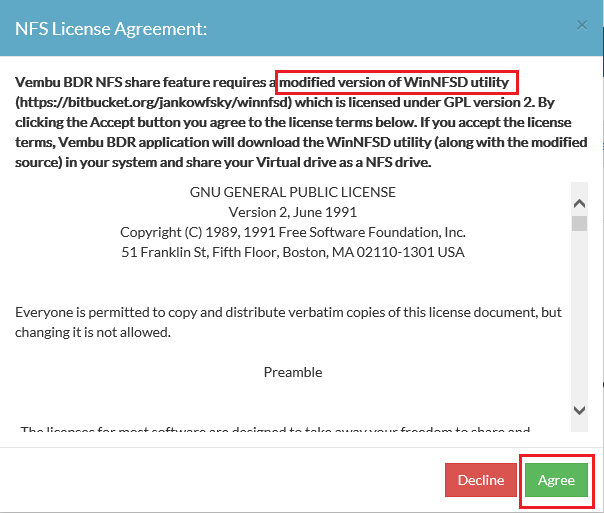 Afterward, we select the target hypervisor information for running the VM.  Below we have selected a VMware host platform to present the VM for Instant VM recovery.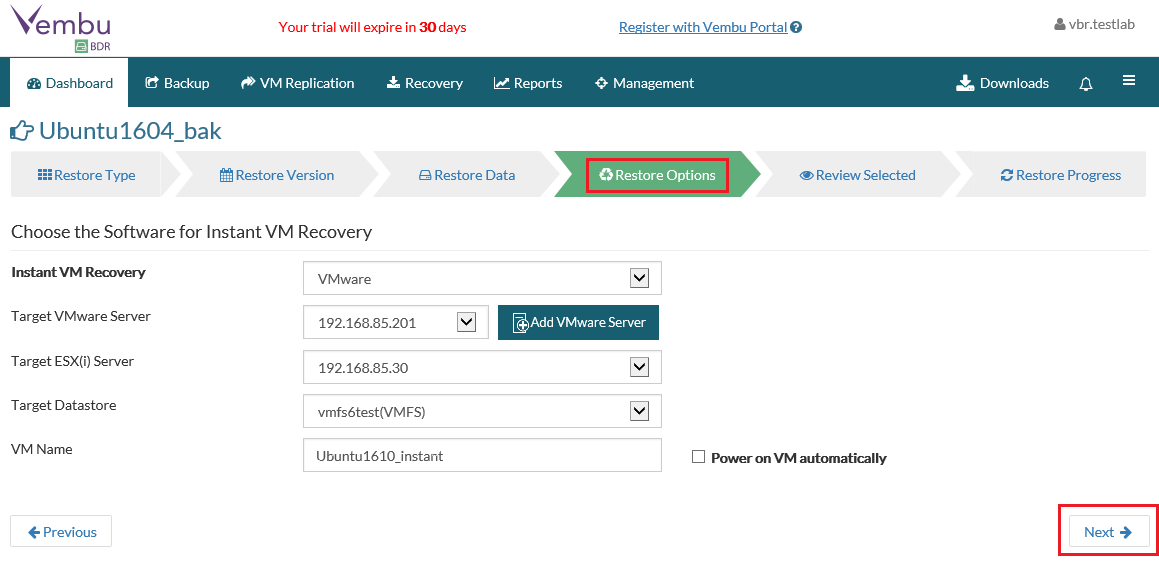 Finally, we are asked to review the Instant VM restore information.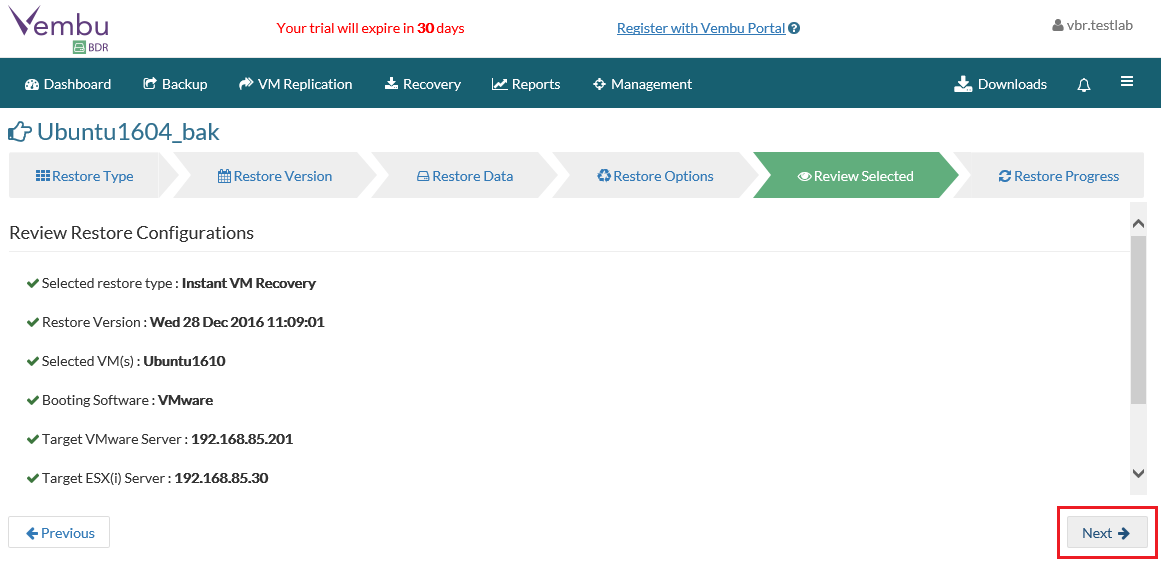 The wizard asks for confirmation to proceed with the restore.

Restoration begins.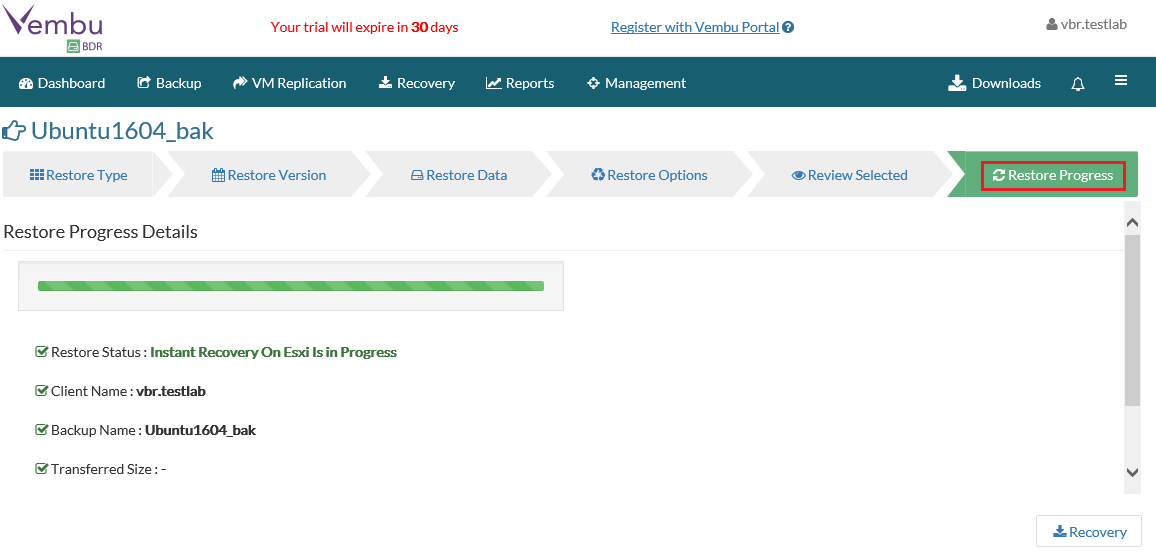 Very quickly, we see the VM appear in vCenter.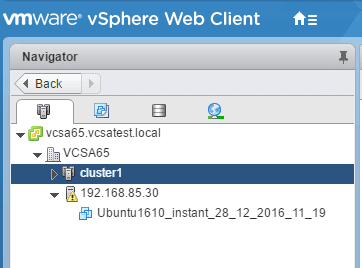 In just minutes, the restore is complete.

Interestingly, we now see the VembuBDR_<Vembu_ID> datastore listed under our datastores in vCenter.  This new volume is an NFS volume pointed back to our BDR backup server.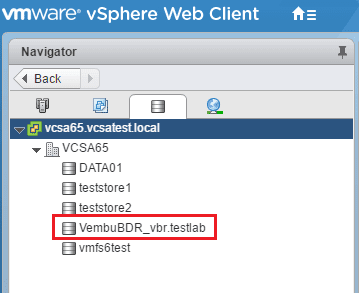 After the very quick restore of the VM using the Instant VM recovery process, we are powering on our restored VM.

The VM boots normally.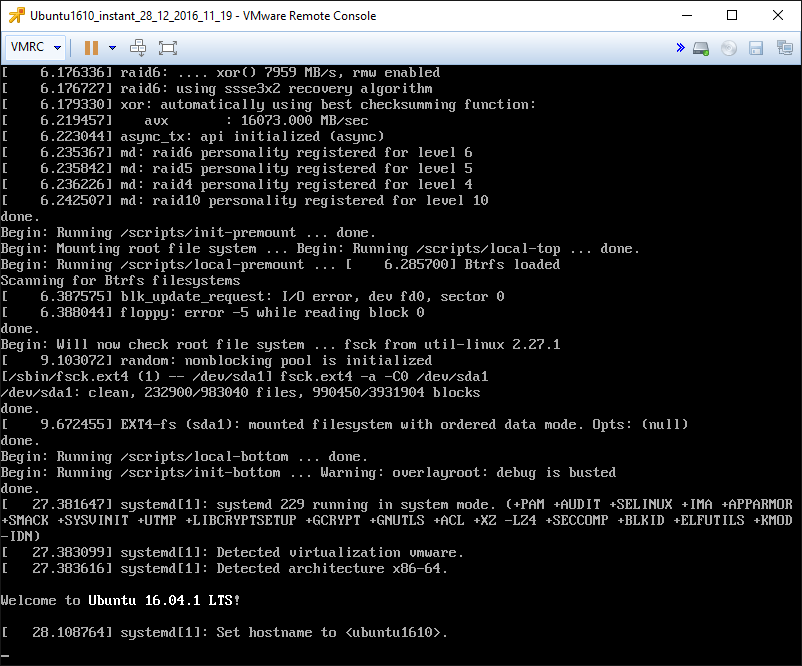 The VM completes the boot and is fully functional.

Thoughts
In today's age of web and technology driven companies, every minute counts when a disaster happens that threatens data and business continuity.  With the Instant VM Recovery process provided in Vembu's BDR Suite, Recovery Time Objectives are easily minutes instead of hours to recovery so that business continuity and mission critical applications are back online as soon as possible.
Vembu BDR Suite provides a Swiss Army knife selection of tools and utilities built-in to the suite that cover the gamut of disaster recovery objectives in the enterprise and beyond.  If you are looking for a great backup utility to protect business critical applications along with Instant VM Recovery that will have you back to business as usual in a few minutes, take a look at Vembu BDR Suite.
Don't miss out on new posts! Sign up!