Windows
How to Increase the number of remembered servers remote desktop list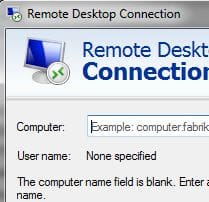 In working with many who use remote desktop to connect to servers, workstations, etc, the question has been asked – How can you increase the number of remembered servers in the remote desktop connection list?  Of course for true administrative use, we highly recommend the use of the remote desktop connection manager which provides a powerful interface for grouping, saving, and connecting to RDP resources.  However, if one simply wants to continue using the builtin RDP tool provided with Windows and wants to increase the number of servers listed, this can be achieved not by a registry tweak or even an option in your Remote Desktop connection properties, but by increasing the size of your Jump Lists value.
In order to increase this value:
Right click on your Windows button and select Properties
Click the Start Menu tab and click the Customize button
Down at the bottom you will see the Start menu size options including the "recent programs to display" and the "recent items to display in Jump Lists:" value
Increase the size of the Jump Lists value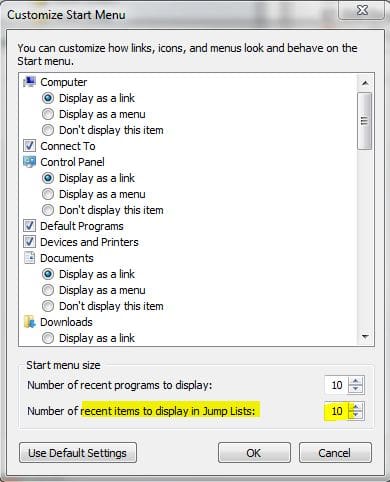 ***Update*** Windows 10 
The method listed above doesn't work for Windows 10 as there is no "Start Menu" tab in the final release of Windows 10 to modify settings for.  There is however, a way to do this from the registry.  There are two DWORD value keys that need to be added to the registry of the Windows 10 machine here:
HKLMSOFTWAREMicrosoftWindowsCurrentVersionExplorerAdvanced
JumpListItems_Maximum
Start_JumpListItems
Change the BASE of the DWORD value you are adding to Decimal and enter the Value Data as the number of items you want to be show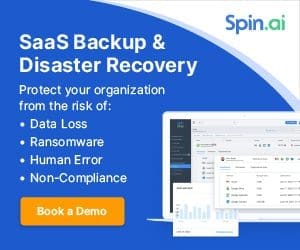 After you reboot, you can right click on the open program in the Task bar and you should have the new number of recent items listed.  NOTE, in my testing, the change didn't affect the drop down box in the remote desktop connection box when launched, only the task bar program recent items objects.